Montgomery prepared to be flexible again in '19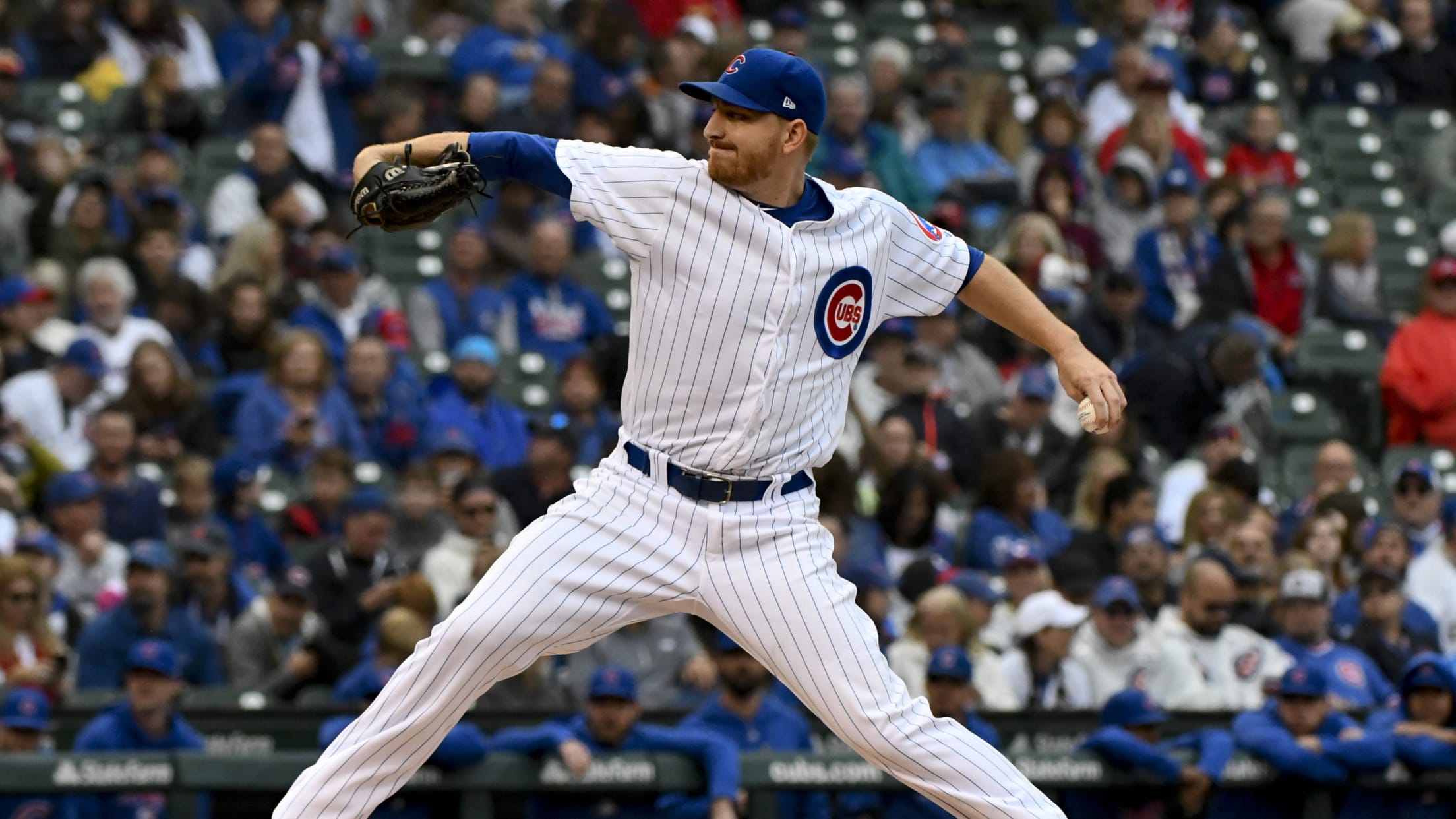 MESA, Ariz. -- Mike Montgomery was hoping the Cubs would pick up Cole Hamels' option over the offseason. Montgomery understood that the decision could directly impact his place in the rotation, but the left-hander believes he has found a comfort level with his sometimes unpredictable role. "Definitely," Montgomery said, "I
MESA, Ariz. -- Mike Montgomery was hoping the Cubs would pick up Cole Hamels' option over the offseason. Montgomery understood that the decision could directly impact his place in the rotation, but the left-hander believes he has found a comfort level with his sometimes unpredictable role.
"Definitely," Montgomery said, "I was rooting for us to sign him in the offseason."
That domino fell in November, when the Cubs exercised the $20 million team option to keep Hamels in the 2019 rotation picture. That, combined with Yu Darvish continuing to move forward with no restrictions after last year's right arm troubles, has squeezed Montgomery out of the starting five. Jon Lester, Kyle Hendricks and José Quintana occupy the other three spots.
Montgomery has come to terms with the reality that he will exist as the "next man up" on Chicago's staff, beginning in the bullpen barring a setback above him on the depth chart. His preference would be to have the keys to a full-time rotation job handed to him, but the lefty said he has an improved mentality about what is an important job.
"The mental game is, as everyone knows, really important," Montgomery said. "That's one of the areas that everyone can improve on, is just being good at what you do despite the role. So having been through that the last couple years, I feel comfortable with it. And I feel clear in my head about whatever comes my way."
Montgomery's schedule has been slower at the outset of this spring due to left shoulder stiffness that developed shortly before camp opened. The left-hander has been playing catch on flat ground, though, and is slated for long toss on Friday, with a bullpen session right around the corner. With roughly five weeks to go, the Cubs are not concerned with his status for the start of the season.
What the Cubs will concern themselves with is how to best utilize the versatile Montgomery.
Last year, Montgomery had relief appearances on no days, one day, two days, three days, four days, five days and six or more days of rest. He entered a game as a reliever in the third, fifth, sixth, seventh, eighth, ninth, 10th and 11th innings. He had seven multi-inning relief outings, and logged anywhere between one out to nine outs. He made 19 starts, had 19 relief appearances and had his pitch-count range from eight to 100.
Montgomery did just about everything and was on call to be used as a reliever or starter at any time. He's expecting the same to start this year. The 29-year-old lefty said the biggest challenge involved with that kind of job description is finding the right routine to stay fresh and prepared.
"I've been used kind of in every role there, so I know what to expect," Montgomery said. "We've got a really good bullpen here, so chances are it's just going to be, be versatile. Be a guy that can start 20 games or close 20 games, because it has to be [that way]. I think anything is on the table. So, yeah, I'm ready for it."
That kind of attitude pleases manager Joe Maddon.
"He's ready to rock and roll," Maddon said. "He's been all over the map regarding different roles, and the beauty of him is the fact that he's ready to accept them all. So we've just got to continue to work on a couple little fine-tuning things, but his enthusiasm is always fantastic."
And Montgomery still has Hamels in the fold as a catch partner.
"He's almost like another pitching coach," Montgomery said.