Welcome to the postseason of the Gen-Z superstar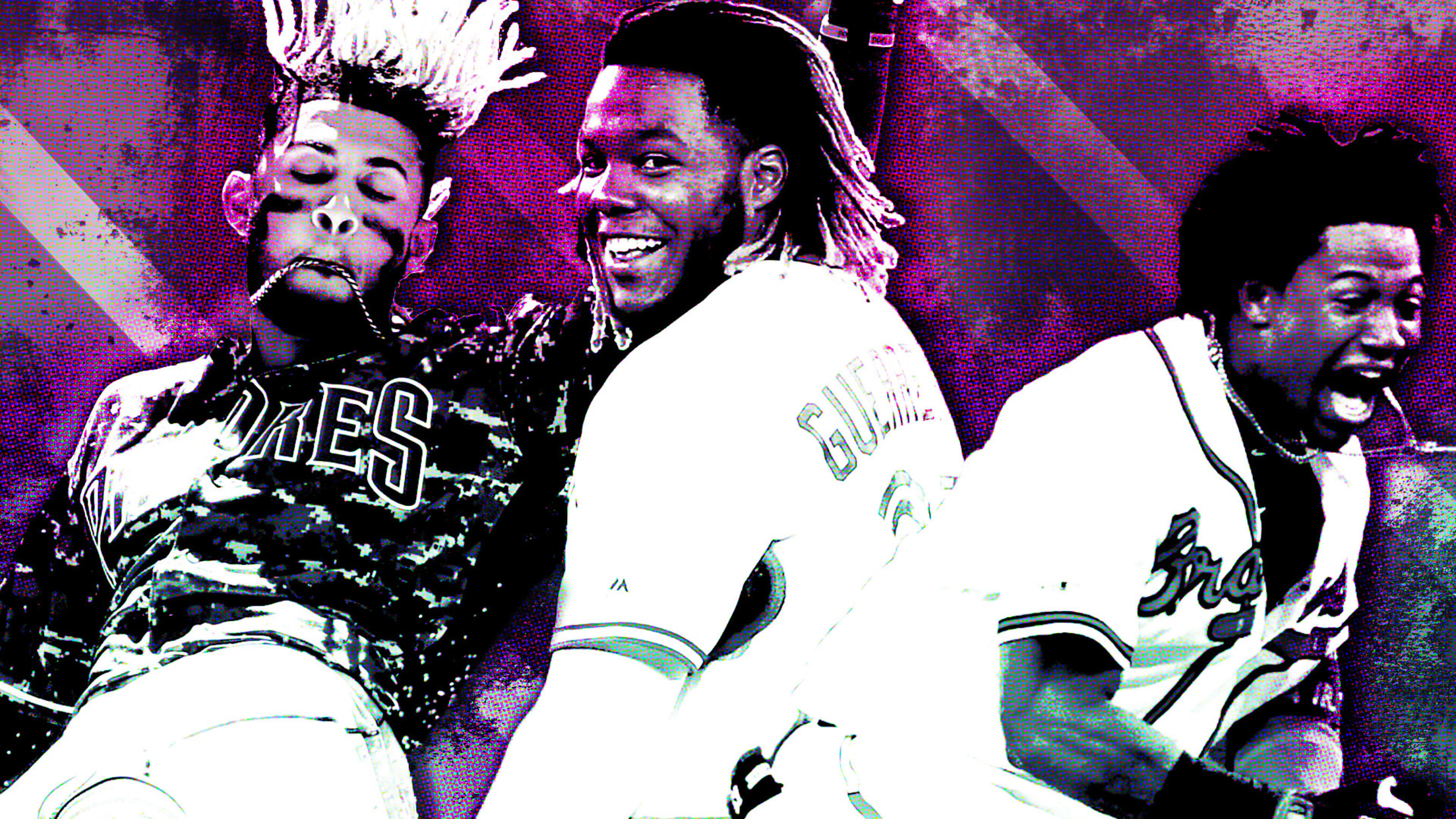 If I had to pinpoint the moment it began, I might say April 5, 2019. Fernando Tatis Jr. -- the No. 2 prospect in baseball, Major League legacy, owner of quite possibly the best hair in sports and an all-around dreamboat -- shocked everybody by breaking camp as the Padres' starting shortstop at just 20 years old. But he struggled out of the gate. Then, as San Diego came to St. Louis to start a series against the Cardinals, he didn't stay struggling for long.
FERNANDO. TATÍS. JR. 🚀 🚀 🚀#FriarFaithful | @Padres | @MLBONFOX pic.twitter.com/mtNnN6Kc1a

— FOX Sports San Diego (@FOXSportsSD) April 5, 2019
In a cathedral of American sports, the weight of a whole franchise on his shoulders, not even old enough to buy a beer yet, Tatis Jr. parked a 97-mph fastball in the seats in the seventh inning of a one-run game. And that's not even the cool part. The cool part was the bat drop:
Drop it, @tatis_jr. pic.twitter.com/6S0NIs0DIi

— MLB GIFS (@MLBGIFs) April 5, 2019
That is a bat drop that knows that you know what just happened. To paraphrase the poet Will Smith: You know the difference between him and just about every other big leaguer? He makes this look good.
And so began the Tatis Jr. coming-out party. Before his season got cut short by a back injury, the shortstop spent a couple months casually terrorizing teams across the country. He hit 22 homers in 84 games, stole 16 bases and just generally looked like one of the best athletes on planet Earth.
Players like him get framed as preternaturally mature, a veteran in a kid's body. Sports hand us a lot of conventional wisdom about young players: that adjusting to the pros is brutally difficult, that it takes time to learn how to Play the Right Way, that they aren't supposed to do stuff like that. This feels backwards, though. Tatis doesn't play like he's somehow beyond 20 years old -- he plays exactly like he's 20 years old, which is to say he plays like it's 2019: too young to know better, too brash to stop smiling, flexing at every turn like the world is watching.
Even better, he's very much not alone. Each generation gets superstars of its own, and this baseball season has given the kids theirs -- an army of just-barely-20-somethings who would like to suggest that maybe their way is the right way. And this postseason, they get to take center stage and start remaking sports in their image.
Ronald Acuña Jr. goes oppo for the game-tying home run then celebrates accordingly. pic.twitter.com/7E9ztxtdl3

— FOX Sports South (@FOXSportsSouth) August 4, 2019
This here is Ronald Acuña Jr., treating the Braves' nine-figure stadium like it's his personal playground -- not for the first time, and certainly not for the last -- as he leads them to an NL East crown.
From the moment he debuted in the big leagues last year, just a few months past his 20th birthday, it was obvious that he was different. He won NL Rookie of the Year honors, and then, in his first postseason game in Atlanta -- home crowd losing its mind all around him, the juggernaut Dodgers looking to go in for the kill -- he did this:
The Braves won exactly one game that October, and still, it might have been the most iconic image of the month. It's one that really only Acuña could have provided -- not for all the obvious on-field reasons, but because who else would treat the bases loaded in an elimination game like trying to dunk on your friend in the backyard?
This is how it works now. Home runs get bat flips. Rivals get trash talk. Making quite possibly the most anticipated debut in baseball history? No sweat. First time in the Home Run Derby? Blow a bubble. Every moment, no matter how big, is an opportunity to do you and get yours.
The Nationals were bordering on cursed: four times they'd made the postseason, four times they'd failed to make it out of the first round in truly heartbreaking fashion. Their franchise legend, the most famous guy in the sport, had just left for their division rival. Then in stepped Juan Soto, and he started blasting baseballs all over the place -- with a smile and a swagger so big that it's hard to remember that this team has ever once felt sad about anything.
"I say, 'I not gonna be here for a long time, so don't worry about it,'" Soto responded when, at age 18, his Minor League teammates asked him why he slept on an air mattress instead of buying a real one. "A week later, they call me up."
After a year spent erasing a franchise's worth of bad mojo, one smiling swing at a time, Soto's got the Nats in position to claim the first NL Wild Card spot. He's not even 21 yet.
Now the postseason is upon us, and this time the kids aren't just here for a cameo -- they're in starring roles, squaring off against each other with the hopes of teams and their fans on their backs. Acuña and Soto in the NL, the Astros' Yordan Alvarez (22) trying his best to pulverize a baseball in the AL. Tatis Jr. will be back next year, ready to roll with the Padres. Vlad Guerrero Jr. (20) and Bo Bichette (21) lurk in Toronto.
It won't look much like Octobers of old, all icy glares and buttoned-up tension. Of course, they wouldn't have it any other way.
Players in this article:
Topics in this article: