Johnson among prospects to be reassigned
Outfielder acquired in Yan Gomes trade has had impressive spring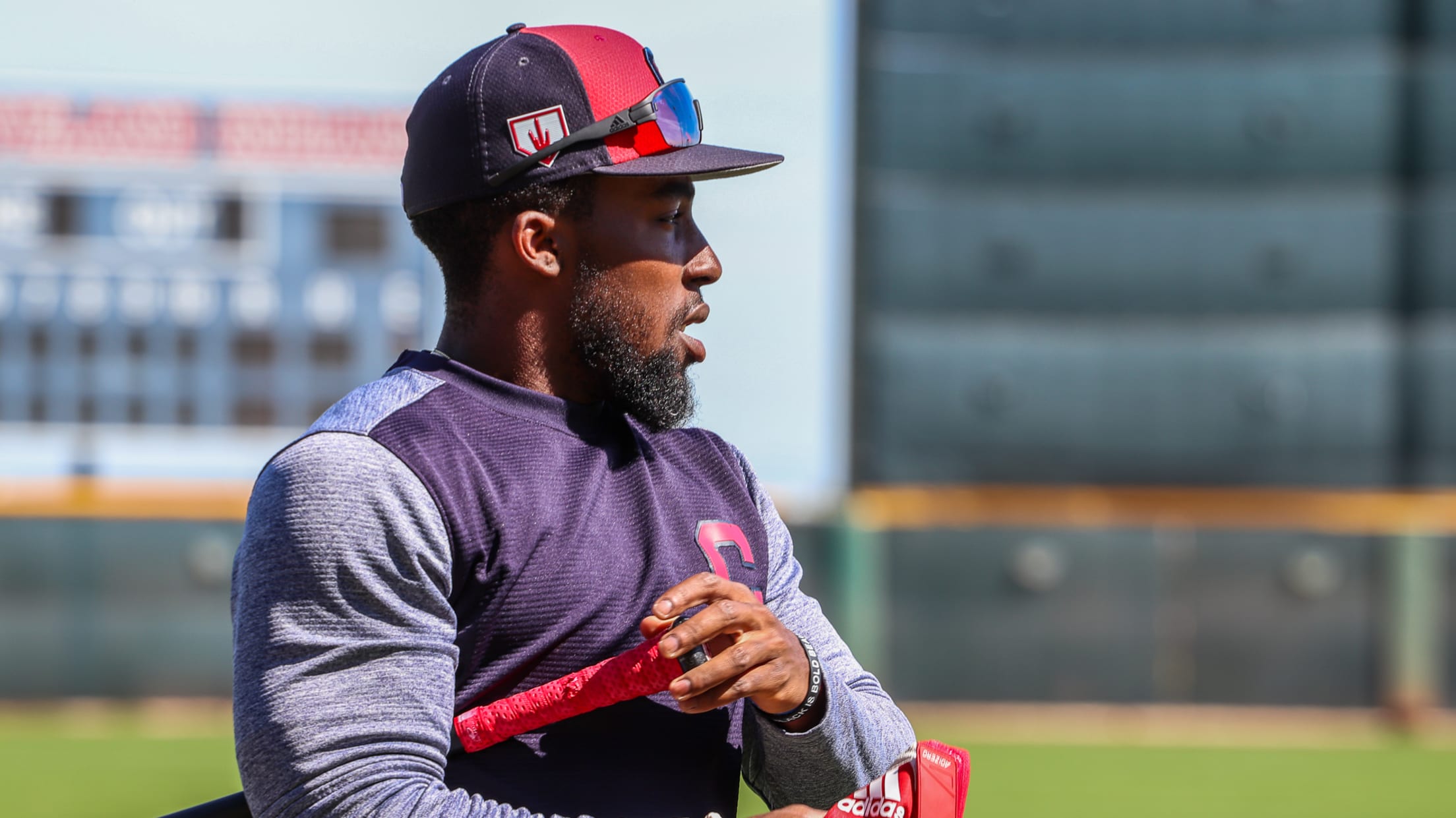 GOODYEAR, Ariz. -- The core group of the Indians' top Minor League prospects have finished up their time at big league Spring Training, including 23-year-old outfielder Daniel Johnson, who made quite a first impression on his new organization. On Friday morning, the Indians announced that they optioned right-hander Chih-Wei Hu
GOODYEAR, Ariz. -- The core group of the Indians' top Minor League prospects have finished up their time at big league Spring Training, including 23-year-old outfielder Daniel Johnson, who made quite a first impression on his new organization.
On Friday morning, the Indians announced that they optioned right-hander Chih-Wei Hu to Triple-A Columbus and reassigned Johnson, as well as righty Henry Martinez, left-hander Josh Smith and infielders Ernie Clement and Mark Mathias to Minor League camp.
Johnson left a vivid memory in his big league coaching staff's mind by blasting the first grand slam of his career -- dating back to high school -- in Thursday's 9-3 victory over the Rockies, which ended up being his final game on the Tribe's big league Spring Training roster. Johnson said he tried to fight back a grin as he rounded the bases and finally cracked a smile as he touched home plate and was greeted by his teammates.
"Honestly, I didn't realize I did it," Johnson said. "I hit it and I knew it was a home run and when I was rounding the bases, I'm like, 'Wait, I hit a grand slam. I've never done that before. That's pretty cool.' It was good to hit at this level [rather] than, you know, high school or college or something like that. So, it was good to get the first one here."
Indians manager Terry Francona was finally able to get a glimpse of the highly discussed prospect who the Indians acquired from the Nationals on Nov. 30 in the Yan Gomes trade -- and the skipper has only had positive things to say about what he's seen in the four-week span. In 27 at-bats, Johnson slashed .259/.375/.630 with two doubles, one triple, two homers, nine RBIs and seven strikeouts.
"It's been good," Johnson said of his spring with a new organization. "Playing good, seeing the ball well, met some good guys. It's been a good experience. I've enjoyed it."
This round of moves sent down some of the Tribe's top prospects, with Clement ranked No. 15 in the organization and Johnson checking in at No. 22, according to MLB Pipeline. Martinez also had an impressive spring, tossing six scoreless frames.
Although many of these players impressed, as young non-roster invitees they realized their time at big league camp was limited. However, Francona said they stayed around longer than he may have anticipated due to their enthusiasm every time they stepped on the field.
"[Those] three guys were as fun of meetings that I think I've ever had," Francona said of his final meetings with Johnson, Mathias and Clement. "The reason they played so much is not because of whether they hit or not, it's because how they approached the game and how they respected -- whatever inning they were put in, they just played like it was their last inning. … We would've actually liked to keep them. In fairness to them, they need to go play."
Francona meets with each player before the cuts are announced and had an open and honest conversation with Hu, who allowed 12 runs in his four spring innings.
"We usually ask the guys their take on camp and he said, 'I didn't pitch very well,' and we're like, 'Well, the three innings you threw in March, nobody's gonna remember come June, July or August,'" Francona said. "And he understood that. He got a pretty good feel for himself. So in fairness to him, he needs to start going to get stretched out."
The Spring Training roster is now at 45 players.