Indians Spring Training FAQs, dates to know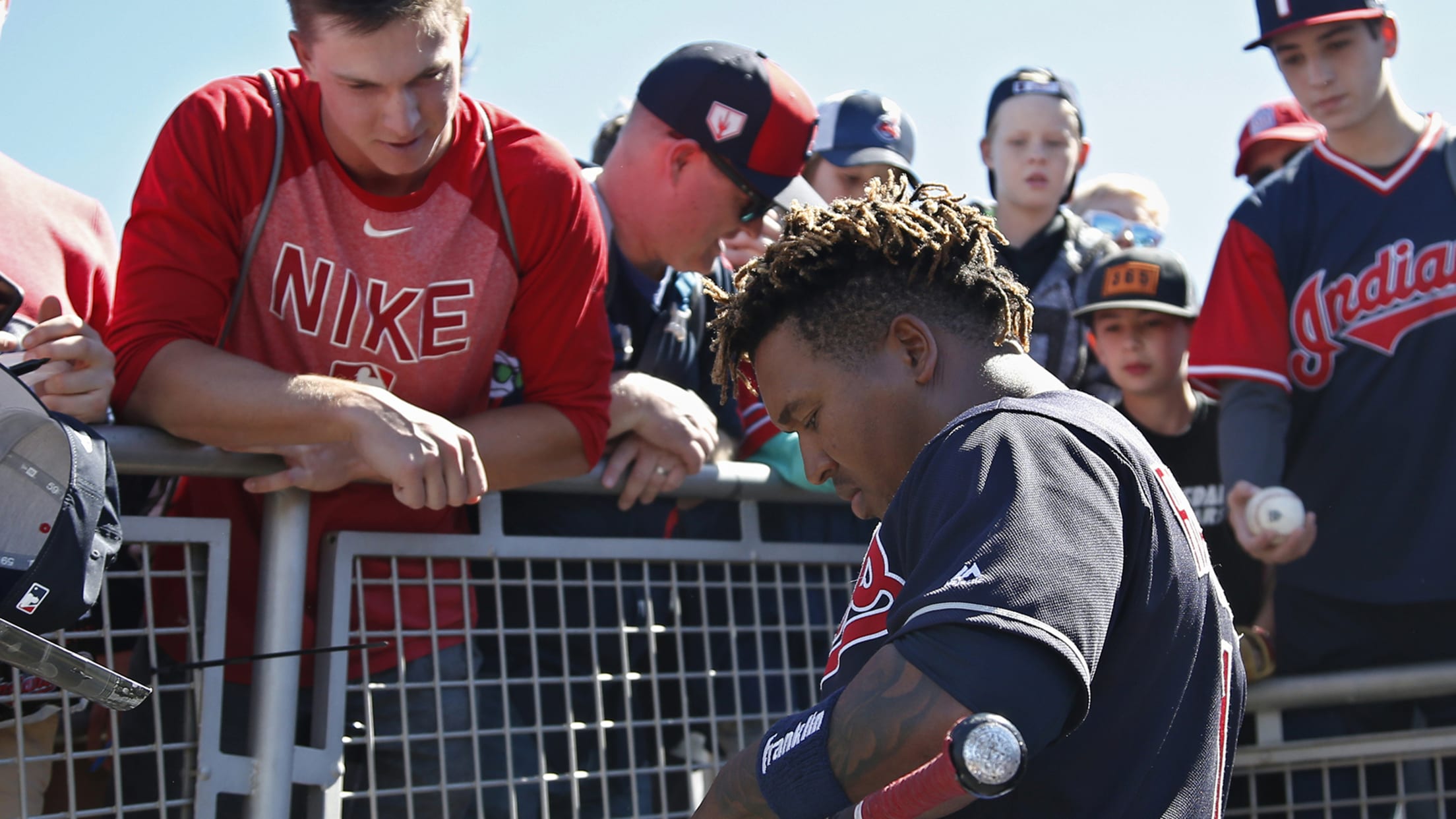 GOODYEAR, Ariz. -- Last year, Francisco Lindor, José Ramírez, Corey Kluber, Jason Kipnis and Carlos Carrasco looked around the Indians' Spring Training clubhouse and saw a brand-new team than the one they had played with the previous few seasons. Manager Terry Francona sat down with the media for the first
GOODYEAR, Ariz. -- Last year, Francisco Lindor, José Ramírez, Corey Kluber, Jason Kipnis and Carlos Carrasco looked around the Indians' Spring Training clubhouse and saw a brand-new team than the one they had played with the previous few seasons. Manager Terry Francona sat down with the media for the first time and said it was the most turnover the Tribe had experienced during his time in Cleveland.
Fast forward a year later and -- aside from Kluber, who was traded to the Rangers in the offseason, and Kipnis, who became a free agent -- the Indians return nearly their entire team from the 2019 season. As pitchers and catchers officially reported to the Tribe's Spring Training facility on Tuesday, there were much fewer introductions and many more hugs and handshakes. The club is ready to build on the momentum its young players began building last year to prove it can remain in contention with the Twins and White Sox in the American League Central in 2020.
"Some of our younger guys continue to not just carry a load, but get better," Francona said. "Guys like [Zach] Plesac and [Aaron] Civale and even [Emmanuel] Clase, [James] Karinchak, guys like that that maybe don't have a huge track record yet, but come to Cleveland and pick up where some of these other guys have."
The youth movement has taken over the Tribe. The average age of the 40-man roster as of Tuesday's report date is 26.5, even with 38-year-old reliever Óliver Pérez included. But the team saw last year just how effective its young players could be. Oscar Mercado became a consistent bat and solid everyday center fielder. Plesac and Civale began the season at Double-A Akron and helped lead an injury-plagued rotation to the sixth-best ERA (3.81) and strikeout per nine innings rate (9.5) in the Majors. Now, the two excitedly enter their first big league Spring Training.
"I was definitely ready to get here," Plesac said. "I was at that point where I was feeling good and was ready to see some hitters. You're at a point where you're, in your buildup progression, ready to start throwing hard again. So, it's definitely exciting knowing you're almost ready to start playing some games, and then the atmosphere out here where it's competitive. Guys are trying to make a team, or just being around your teammates, showing the work you put in, just proving yourself that you're gonna contribute and you're gonna help us win. That's the exciting part for me."
The first day of stretches, light throwing and bullpens for the hurlers is in the books. What's yet to come? Here's everything you need to know about what's ahead for the Indians this Spring Training.
First pitchers and catchers workout
Feb. 13
Full squad report date
Feb. 15
First full-squad workout
Feb. 17
New faces to know
RHP Emmanuel Clase
C Sandy León
INF Christian Arroyo
2B César Hernández
OF Delino DeShields
C Beau Taylor
Top prospects to know
RHP Triston McKenzie
OF Daniel Johnson
RHP James Karinchak
INF Ernie Clement
OF Ka'ai Tom
Where is the facility?
The Indians play their spring games at Goodyear Ballpark, which is located at 1933 South Ballpark Way in Goodyear, Ariz. It's located half a mile away from the team's Spring Training facility.
Can fans attend workouts?
Yes, fans can stand in a fenced-in viewing area down the third-base line of Field 1. Spectators can also get a glimpse of the action beyond Field 1's outfield fence. These designated areas are free and open to the public daily after 9 a.m. local time.
First game
The Indians will host the Reds -- with whom they share Goodyear Ballpark -- on Saturday, Feb. 22, at 3:05 p.m. ET.
First TV game
SportsTime Ohio will be broadcasting 10 spring games, beginning with the Tribe's matchup against the Dodgers at 3:05 p.m. ET on Feb. 27.
The remaining nine games will be aired on Feb. 29 (4:05 p.m. ET vs. A's), March 1 (4:05 p.m. ET vs. A's), March 3 (3:05 p.m. ET vs. Angels), March 4 (3:10 p.m. ET vs. D-backs), March 9 (4:10 p.m. ET vs. Angels), March 13 (4:05 p.m. ET vs. Brewers), March 17 (9:05 p.m. ET vs. Reds), March 18 (9:05 p.m. ET vs. Rangers) and March 22 (3:05 p.m. ET vs. Reds).
One other notable game
The Indians will travel to Las Vegas on Feb. 29 and March 1 to take on the A's at Las Vegas Ballpark for a split-squad series. The facility is home to the Las Vegas Aviators, Oakland's Triple-A affiliate.
Last game in Arizona
The Tribe will play its last game in Arizona on March 22 as the away team at Goodyear Ballpark against the Reds at 3:05 p.m. ET.
Any additional exhibitions before the regular season?
Before the club travels back to Cleveland, the Indians will play two exhibition games against the Astros at Minute Maid Park on March 23 and 24.
Opening Day date, time, opponent and location
The Indians' 2020 season will officially begin on March 26 at 1:10 p.m. ET against the Tigers at Progressive Field.