Indians host kids from PLAY Campaign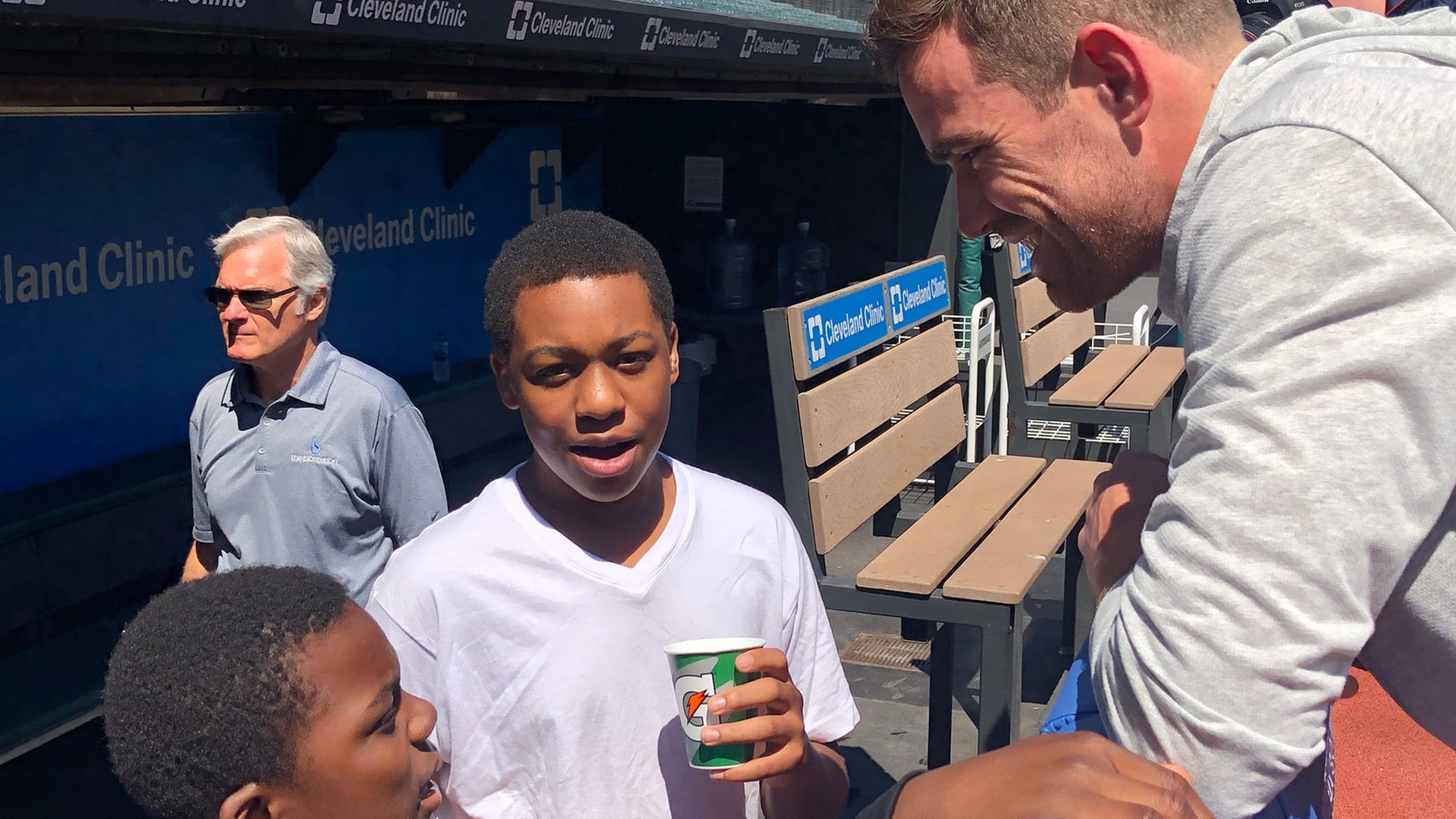 CLEVELAND -- In a world of smartphones, tablets and video games, it's important to remind kids of not only the pleasures of getting outdoors, but the importance of leading healthy lifestyles. That's where the PLAY Campaign steps in. The 2019 National PLAY Campaign made a stop at Progressive Field on
CLEVELAND -- In a world of smartphones, tablets and video games, it's important to remind kids of not only the pleasures of getting outdoors, but the importance of leading healthy lifestyles. That's where the PLAY Campaign steps in.
The 2019 National PLAY Campaign made a stop at Progressive Field on Tuesday morning, as local members from the Boys & Girls Clubs of America and National Down Syndrome Society filled the seats behind the home dugout, ready to meet the Indians' training staff and starting pitcher Shane Bieber.
The campaign was created in 2004 by the Professional Baseball Athletic Trainers Society to raise awareness about childhood health issues and disability inclusion in the United States. In 2014, it became the first program in professional sports to include children with disabilities, and it partnered with the philanthropic Ruderman Family Foundation and the National Down Syndrome Society in 2017.
"Oh, it means the world to us," National Down Syndrome Society interim president and CEO Kandi Pickard said. "For us, health is a human right, and so we're really excited to be able to just have our young individuals with Down syndrome be with their peers and be included in an everyday activity like baseball. How cool is that?"
The day began with a quick talk from Indians head athletic trainer James Quinlan about what makes a healthy lifestyle. Then, Tavis Piattoly from the Taylor Hooton Foundation echoed Quinlan's message, adding in the importance of playing sports steroid-free. The kids split into three groups, stopping at three health-related stations.
One spot was in the third-base dugout, where Bieber fielded questions from the kids about his workout routine, personal life and pitching.
"It's awesome," Bieber said. "It's something we're really excited about, just to be able to share with these kids and to be able to be a resource for them. You never know what people are going through, so being able to be a resource for them, answer their questions, be there for them and really promote activity is big for us."
The participants also made stops in the Indians' batting cages, and they ran through agility drills and went through stretch routines in the team's workout room.
"It's a once-in-a-lifetime experience," Pickard said. "Even for me, to be on a field of a Major League Baseball [team] … to meet the players, to just be part of this incredible day, it's the best."
PLAY has conducted more than 350 events inside all 30 big league ballparks, hosting tens of thousands of kids nation-wide.
"I can honestly say I was always out there running around [as a kid]," Bieber said. "… We were always out there running around and getting a lot of exercise, and I think that's extremely important for youth, especially nowadays, to have those resources and be able to go out there and have fun with their friends and playing and being active."
Futures Game coaching staff
Indians fans may see a few familiar faces in the SiriusXM All-Star Futures Game on July 7 during All-Star week. Here's a look at the coaching staffs of the American League and National League teams:
AL
Jim Thome -- Manager
Dave Burba -- Bullpen
Sean Casey -- Hitting coach
Ever Magallanes -- Third-base coach
Charlie Manuel -- Bench coach
Juan Nieves -- Pitching coach
Nick Punto -- First-base coach
NL
Dennis Martinez -- Manager
Carlos Baerga -- Hitting coach
Alvaro Espinoza -- First-base coach
Jerry Manuel -- Bench coach
Charles Nagy -- Pitching coach
Ruben Niebla -- Bullpen coach
Omar Vizquel -- Third-base coach
Kluber update coming Thursday
Indians manager Terry Francona said that Corey Kluber is set for his six-week follow-up for his right ulna fracture (sustained in his May 1 start in Miami) on Thursday.
"That's a full scan and all that stuff," Francona said. "So we'll have a lot more info then."
This date in Indians history
1976: Frank Robinson hit a walk-off two-run homer in the 13th inning to beat the White Sox, 5-4.