Straily avoiding typical sequencing during spring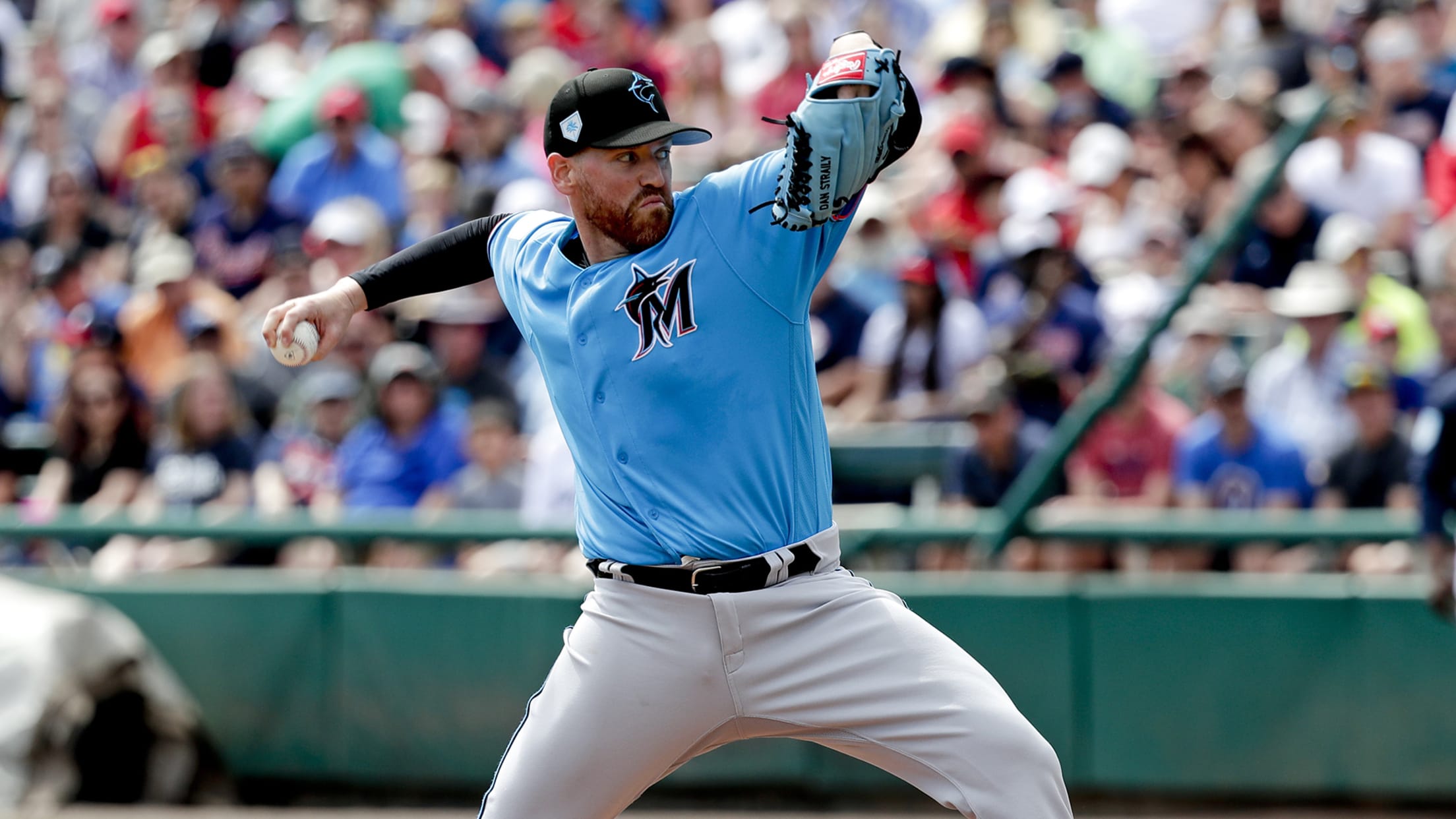 LAKE BUENA VISTA, Fla. -- Facing a division rival in Spring Training presents some challenges. For Marlins right-hander Dan Straily, his objective vs. the Braves on Sunday was to get outs without showing much of the sequencing that he would typically use during the regular season. "We put some kind
LAKE BUENA VISTA, Fla. -- Facing a division rival in Spring Training presents some challenges.
For Marlins right-hander Dan Straily, his objective vs. the Braves on Sunday was to get outs without showing much of the sequencing that he would typically use during the regular season.
"We put some kind of made-up rules on ourselves today," Straily said. "I was trying to get guys out in the zone with my stuff. Not trying to get guys to chase, but force guys to hit the ball. Honestly, for the most part, we accomplished what I was trying to do today."
The Braves, powered by two home runs from Adam Duvall, walked off Miami, 6-5, at Champion Stadium.
Straily surrendered a two-run home run to Tyler Flowers and a solo shot to Duvall, while walking two and striking out two in 2 1/3 innings. He threw 46 pitches.
"Dan knows we're going to see these guys 19 times during the year," manager Don Mattingly said. "He's going to get them two, three, maybe four times over the course of a year. You want to work on things, but you don't want to try to pitch them like you would during the season."
Nothing has formally been announced yet, but Straily is lined up to be Miami's No. 2 starter, behind Jose Urena, who has already been announced to face the Rockies on Opening Day.
For his next spring start, Straily also anticipates doing more game-planning for opponents.
"It's like taking a test without studying before when you go out there without a game plan," Straily said. "If I didn't study for a test, I was hard pressed to get anything right. We can all get the obvious answers right.
"I'd say these last couple of weeks, everybody has already gotten their feet wet. It's like I'm halfway to my pitch-count goal. I want to finish spring around 100 pitches. I'm halfway there now. Now, I can really start focusing on, fine tuning the last few weeks."
Eveld turns heads with impressive inning
Throughout Spring Training, Tommy Eveld has impressed the staff with the way he goes about his business. On Sunday, the hard-throwing right-hander turned heads by the quick work he made of the Braves during a clean seventh inning.
Eveld struck out two of the three batters he faced, and gave the organization more reason for optimism that he could be a factor in the bullpen at some point in 2019.
"He's fun," Mattingly said. "He's really an athletic guy. He's a tough look. He's closed up. He's got some weapons. He's got some funk to him. He's a little different look for guys. He's got a plan."
The Marlins acquired Eveld from the D-backs last July for Brad Ziegler.
"I've watched his bullpens," Mattingly said. "He's very organized in what he does. He's got a plan in that bullpen. How many pitches he is throwing here. How many pitches he's throwing there. He's been impressive in camp."
Up next
The Marlins are back at Roger Dean Chevrolet Stadium on Monday vs. the Nationals at 1:05 p.m. ET, with left-hander Wei-Yin Chen scheduled to make his second Grapefruit League start. Martin Prado and Curtis Granderson are both expected to be in the lineup.