Cooper stays hot, awaits final roster decision
25-man just about set; Alfaro to return on Saturday vs. Astros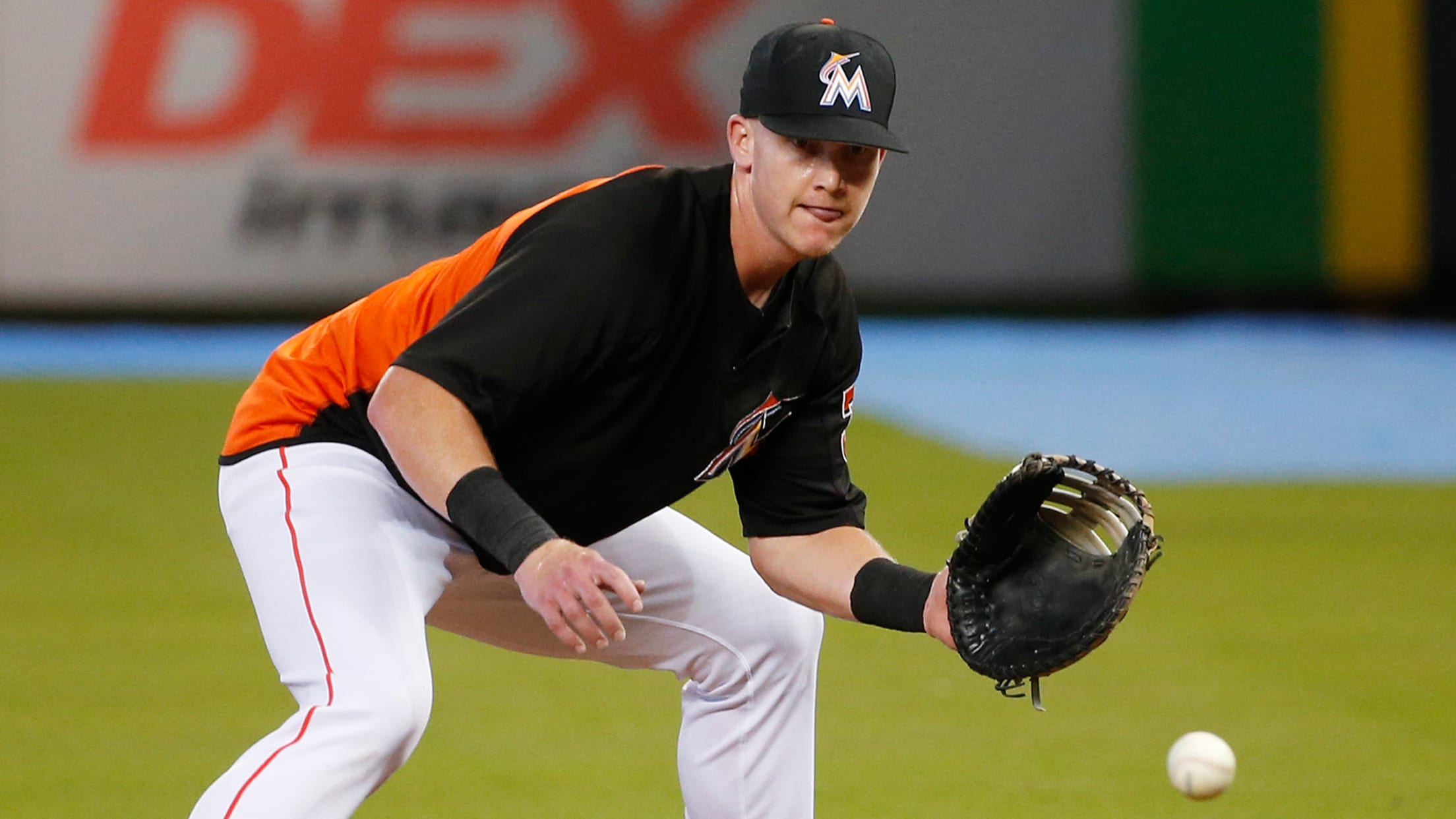 JUPITER, Fla. – Quiet by nature, Garrett Cooper has let his performance do the talking in Spring Training. The 28-year-old outfielder collected two more hits on Friday night, raising his Grapefruit League batting average to .421 in the Marlins' 5-5 tie with the Nationals at Roger Dean Chevrolet Stadium. Cooper
JUPITER, Fla. – Quiet by nature, Garrett Cooper has let his performance do the talking in Spring Training.
The 28-year-old outfielder collected two more hits on Friday night, raising his Grapefruit League batting average to .421 in the Marlins' 5-5 tie with the Nationals at Roger Dean Chevrolet Stadium.
Cooper came into camp on a mission, looking to show that he's healthy after missing almost all of 2018 with a right wrist injury, which required surgery.
"Freak accidents happen," Cooper said. "I'd never been injured more than 10-12 days in my whole career, playing-wise. It was definitely a mental aspect that I came into the offseason to make it hard for them, to make it hard for whoever is making the decision on the roster."
Last Spring Training, Cooper won Miami's Opening Day right-field job. But in the second game, he was hit on the wrist by a pitch, and the injury sidetracked him the rest of the season. He played in just 14 games in 2018.
This spring Cooper showed he's healthy, but did he convince the organization he should be on the Opening Day roster?
That decision is expected in the next day or two.
Peter O'Brien also is in the mix for a corner-outfield spot. Curtis Granderson had his contract selected this week, and will be on the team, as will center fielder Lewis Brinson.
"Coop's definitely made it a hard decision," Marlins manager Don Mattingly said. "He's swung the bat really well. He's been fine anywhere we've put him. We put him in left. We put him in right. We put him at first. He's been good everywhere. He's surprised me with how good he's looked. We knew he could swing the bat and hit. He's had a really good spring."
Roster almost set
Setting the final roster may pretty much be a formality for the Marlins' staff.
The staff and front office have had a good indication on most bubble positions for a few days. The staff will meet on Saturday as they move towards setting the 25 players who will break camp.
"It's pretty much complete, I would think," Mattingly said. "We've put guys in different spots, just to see what it looks like in different areas. These last 10 days is really when guys kind of got their swings together. They've had enough at-bats. Their timing is there. It's what it looks like now. Not what did it look like in their first eight, 10 games, where, you know, guys are searching for timing."
Dan Straily, who gave up four runs (two earned) in 5 1/3 innings on Friday, is projected to be one of the five in the rotation, but he doesn't know where.
"I'm just glad I'm not a decision-maker," Straily said. "I've been on both ends of these decisions. I was once the top prospect coming up. … However it shakes up, there's going to be somebody that's not going to be in the rotation who feels they deserve to be there. I think that's a good spot the organization's in. These guys have to make some really tough decisions."
Another bubble player is outfielder Isaac Galloway, who belted the game-tying, two-run home run in the ninth inning on Friday.
"Ike's fun to watch," Mattingly said. "He really is."
Alfaro to return Saturday
Jorge Alfaro is scheduled to play on Saturday night against the Astros. It will be the catcher's first Grapefruit League game action since March 5.
Alfaro has missed most of camp due to a bruised right knee, but the club is confident he will be ready for Thursday's opener against the Rockies at Marlins Park.
"We're really confident with where he's at," Mattingly said.
Although he hasn't played in a Grapefruit League game in about three weeks, Alfaro has been getting at-bats in Minor League games, and doing drills on back fields.
On Friday, he had nine at-bats on the back fields and ran the bases. On Thursday, he had four more at-bats.
"He was all over the bases today," Mattingly said. "He scored from first. He scored from second. He did all the catching drills today. He's feeling good. You can see it. He's got a confident look in his face. He knows he's healthy now."
Up next
The Marlins are under the lights again on Saturday at 7:05 p.m. ET against the Astros at Roger Dean Chevrolet Stadium. It will match a pair of Opening Day starters -- Jose Urena for Miami and Justin Verlander for Houston. Right-hander Caleb Smith is also scheduled to throw in relief.