Urena falters early vs. Acuna, Braves
Righty tagged for two homers, six runs in three-plus innings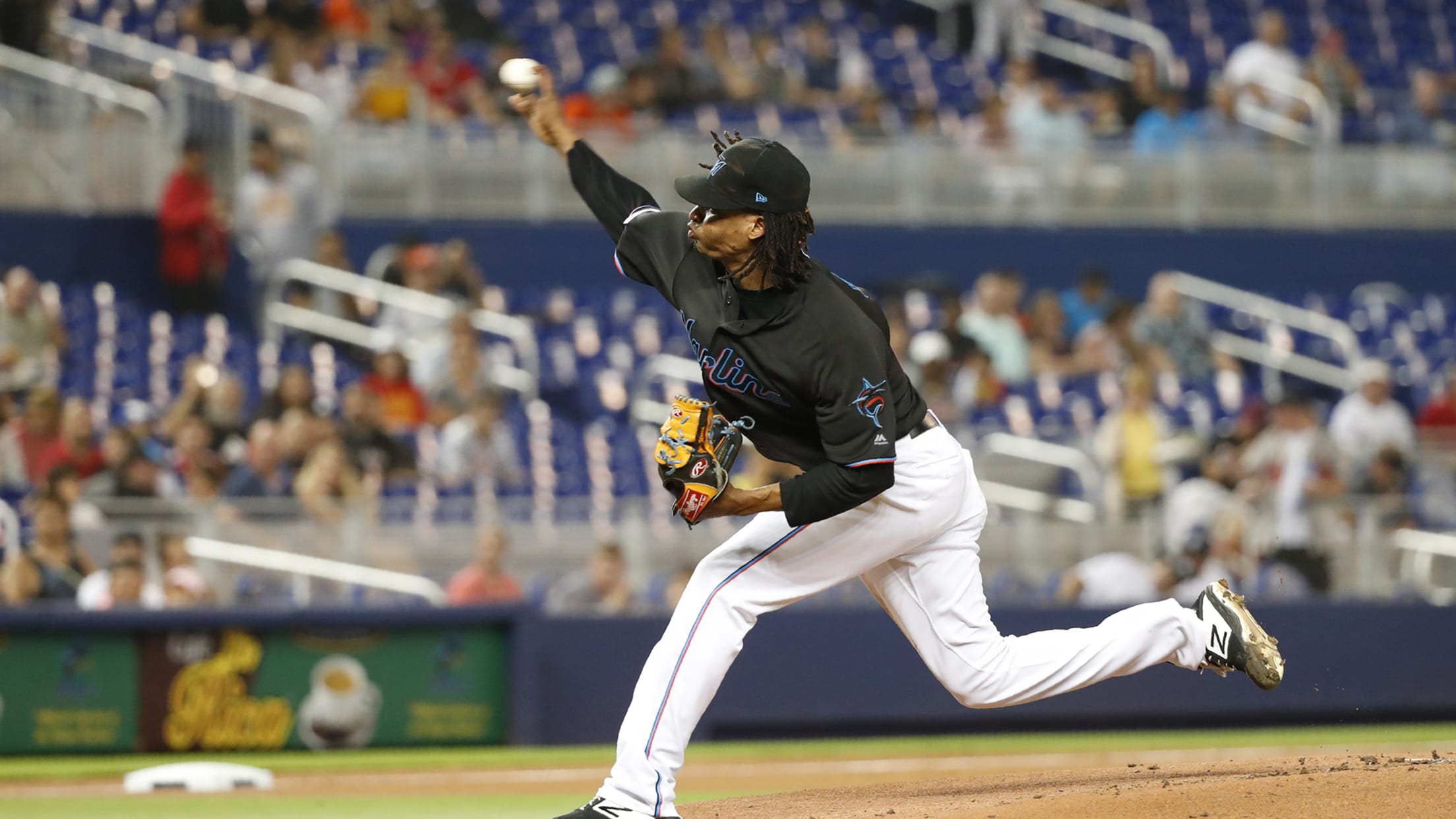 MIAMI -- Jose Urena has been a workhorse for a young Marlins rotation, entering Friday night riding a string of nine consecutive starts of throwing at least six innings. But on Friday, a familiar nemesis got to Urena again -- and in the process, Ronald Acuna Jr. gained a measure
MIAMI -- Jose Urena has been a workhorse for a young Marlins rotation, entering Friday night riding a string of nine consecutive starts of throwing at least six innings.
But on Friday, a familiar nemesis got to Urena again -- and in the process, Ronald Acuna Jr. gained a measure of revenge by blasting a home run and celebrating it with a bat flip near first base.
The Braves tagged Urena for two home runs and breezed to a 7-1 victory over Miami in the series opener at Marlins Park.
"It's a little bit tough when you've been facing [division] teams, and they know what you've got, and they know the way you work," Urena said. "But you have to keep doing things. You can't give up."
A looming question heading into the game was whether there was still some bad blood stemming from Urena plunking Acuna last August in Atlanta. That appeared to have settled itself after Kevin Gausman threw at, but missed, Urena on May 3 in Miami. Gausman was tossed from that game, and benches cleared, although nothing escalated.
With the count full, Urena went with his two-seam fastball, and Acuna didn't miss it.
"I don't want to walk him, so I went with my best," Urena said. "He hit the two-seam, good for him."
Urena surrendered a two-run homer to Freddie Freeman in the first inning, and the Braves made it 3-0 in the second on Acuna's RBI single, a shot that went off the wall in left field. But Acuna got his ultimate payback with his opposite-field home run to lead off the fourth inning.
Following his home run, projected by Statcast at 398 feet, Acuna carried the bat down the first-base line and tossed it in the direction of the Braves dugout as the ball cleared the fence.
Urena noticed the bat flip.
"If he feels good with that, good for him," the Marlins right-hander said. "That's part of the game."
Acuna's thoughts?
"There's not much to say," the Braves outfielder said. "You all saw it."
On Friday night, Braves starter Mike Soroka didn't throw at Urena, but the Braves' offense punished the Marlins' most dependable innings-eater.
"They were pretty aggressive," Urena said. "It looked like they were sitting on the [fastball]."
Soroka silenced the Marlins' offense. But in the second inning, Starlin Castro crushed a double to center field for career hit No. 1,500. Castro broke in with the Cubs in 2010, and his first MLB hit was a home run, off Homer Bailey of the Reds on May 7 of that season. Castro's RBI single in the ninth helped Miami avoid the shutout.
"It would have been more fun if we won the game," Castro said. "When I got to the big leagues for the first time, I didn't know if I'd get 1,000 hits. Now, I get 1,500. I feel pretty good for me and my family."
Castro said he plans to give the milestone ball to his father.
"That's the guy who motivated me to be a baseball player," the veteran second baseman said.
Urena didn't record an out in the fourth inning, and was lifted after three-plus innings, allowing six runs on 11 hits. Acuna has nine career home runs against the Marlins.
In his career, Urena fell to 2-8 with a 6.64 ERA against the Braves. Otherwise, the 27-year-old right-hander has been his team's most reliable starter.
"You've got to get pitches in the right areas, and you've got a better chance," Marlins manager Don Mattingly said. "Freddie is a really good hitter. Does a lot of things really well. Again, you've got to get the ball to the right spots to give yourself a better chance."
Heading into Friday, since April 14, Urena was 4-3 with a 2.95 ERA in nine starts. He had given up 50 hits in 58 innings, 19 earned runs and six homers.
The Braves, though, had his number on Friday.
"You prepare yourself to try to get deep into the game," Urena said. "Every time you get out there, you try to make a good pitch. Sometimes the pitches go somewhere else."