Urena throws live BP: 'Baby steps'
Marlins' Opening Day starter could pitch out of bullpen in return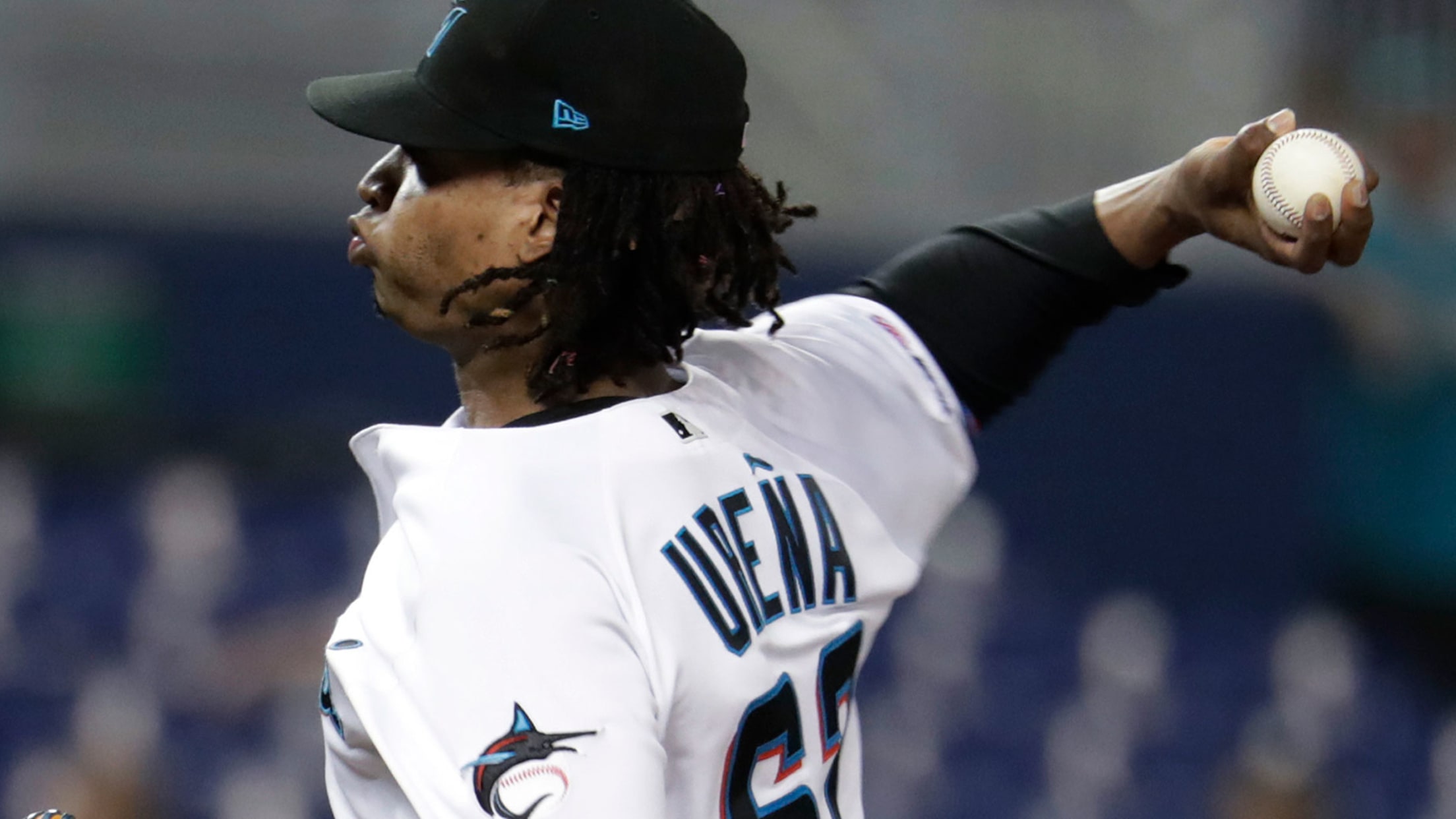 MIAMI -- José Ureña may have been the Marlins' Opening Day starter, but when the 27-year-old is ready to come off the injured list, his role likely will be working out of the bullpen. Exactly when that will be is unclear, but it likely will be at least a couple
MIAMI -- José Ureña may have been the Marlins' Opening Day starter, but when the 27-year-old is ready to come off the injured list, his role likely will be working out of the bullpen.
Exactly when that will be is unclear, but it likely will be at least a couple of more weeks. Urena remains on the 60-day IL with a herniated disk. The lower-back injury has kept him out of the rotation since he last pitched in the Major Leagues on June 7.
"The hardest thing is getting the starter built up to throw 90 pitches or so," Marlins manager Don Mattingly said. "We've talked about different options for Jose. Possibly out of the bullpen. But the main thing right now with him is getting him built up. Getting him strong, and then we'll make that decision."
Urena threw a 24-pitch live batting practice session at Marlins Park on Tuesday, and he was able to mix in all his pitches. At the rate he's progressing, the right-hander could be headed to a rehab assignment before the end of August.
No matter the role, he foremost wants to be back in the big leagues.
"It doesn't matter," Urena said. "Baby steps. We've got to find out the best way. The [injury] was a serious thing. We've got to do the best thing. It's late in the season. The main thing is to be healthy and be ready for the next time."
In 13 starts, Urena is 4-7 with a 4.70 ERA. He has 51 strikeouts in 74 2/3 innings.
The Marlins are considering a six-man rotation for September, but it doesn't appear Urena would be an option to start. He could be used in any number of roles, perhaps even as an opener or multi-inning reliever.
"It's just progression," Mattingly said. "It's his first time throwing against live hitters in a while. This is the start of him continuing on, and probably moving into more live hitters in some type of game soon."
Urena has been a workhorse for the Marlins the past few seasons. In 2018, he made 31 starts and threw 174 innings.
Urena last was used in the bullpen in 2017, when he made 28 starts and six relief appearances, throwing 169 2/3 innings.
The Marlins have gone with Urena as their Opening Day starter the past two seasons.
Foremost, Urena just wants to pitch in the big leagues before the season ends to get some peace of mind going into the offseason.
"I really want to because I want to see how my back is," he said. "And see how it will be for next year."
Pablo progressing
Right-hander Pablo López (right shoulder strain) threw a bullpen session on Tuesday, and he is getting close to pitching again in a rehab assignment game. The right-hander has had his struggles in three rehab starts for Double-A Jacksonville, where he is 0-3 with a 21.60 ERA in five innings. He last threw on Wednesday, giving up six runs in 2 2/3 innings.
"Right now, we're just talking about getting him sharp again," Mattingly said. "That's the biggest thing. He's had enough time off, where, coming off the shoulder thing. It's just a matter of getting him back into game mode."