Brinson looking to produce in pivotal season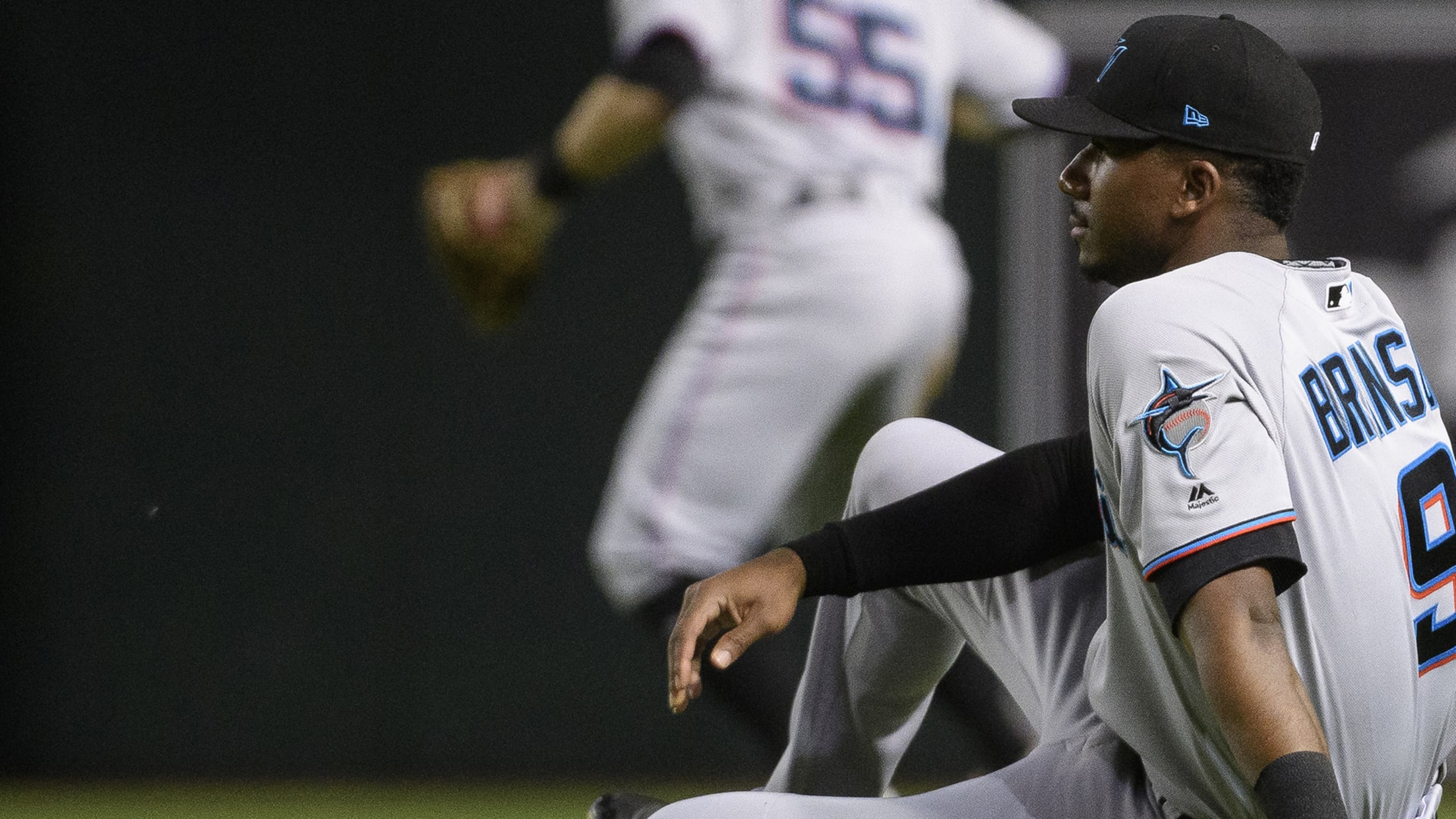 The time is now for Marlins outfielder Lewis Brinson. Two years removed from being one of the top prospects in baseball, Brinson will be on a short leash when the Marlins open Spring Training in mid-February. The 25-year-old has labored in his first two seasons with Miami, and the organization
The time is now for Marlins outfielder Lewis Brinson.
Two years removed from being one of the top prospects in baseball, Brinson will be on a short leash when the Marlins open Spring Training in mid-February. The 25-year-old has labored in his first two seasons with Miami, and the organization is looking for some results.
If they don't see them, the Marlins have several outfield prospects knocking on the door ready to take over in center field.
For Brinson, the numbers in 2019 weren't pretty. In 75 big league games, he had a slash line of .173/.236/.221 with no home runs and 15 RBIs. He had a minus 1.7 WAR, according to Fangraphs. And that followed up a 2018 campaign, when he hit .199 with 11 homers and 42 RBIs.
Brinson, of course, was the centerpiece in the Marlins' 2018 trade that sent Christian Yelich to the Brewers. In return, Miami received Brinson, Monte Harrison, Isan Díaz and Jordan Yamamoto.
But entering his third season with the Marlins, the organization is looking for more than just potential for Brinson.
"He's going to have to produce," manager Don Mattingly said at the end of the 2019 season. "I think he's had a lot of opportunity. He's going to have to produce."
What went right
Not much at the big league level, but when Brinson was optioned to Triple-A New Orleans at the end of April, he showed signs of why he was a top prospect. In the Minors, he started to figure things out, and hit .270/.361/.510 with 16 home runs and 56 RBIs.
At Triple-A, Brinson was able to work with hitting coach Justin Mashore. The two have history together -- they once were both in the Rangers' system at the same time.
"When you look at Lewis' abilities, there's bat speed, there's athleticism," Marlins president of baseball operations Michael Hill said. "There's hand speed, there's power, there's foot speed. There's a lot of things that you like."
What went wrong
Brinson just never was consistent with his swing. Mechanically, he was out of sorts, with his lower half and upper often not working together. Pitchers exploited his weaknesses by feeding him plenty of offspeed pitches. He hit .080 against breaking pitches, and .179 against breaking balls, according to Statcast.
"When we talk about Lewis, he had all of 2018 to figure things out in the big leagues," Hill said. "In 2019, he spent time in the Minor Leagues. Consistency is what you search for with him."
Best moment
Brinson showcased his athletic ability in center field on Aug. 17 in an 11-4 loss at the Rockies. Tony Wolters blistered a long drive off Hector Noesi that sent the speedy Brinson to the warning track. The Marlins outfielder sacrificed his body by making a leaping grab before crashing into the wall. Shaken up for a moment, Brinson recovered and turned in one of the top defensive plays of the season. According to Statcast, Brinson covered 93 feet to make the play.
"To be honest, I could always get better jumps to where I don't have to make those plays look so hard," Brinson said after the game. "I could get there more easily."
2020 Outlook
Brinson will head into Spring Training with every opportunity to be the Marlins' everyday center fielder. But since he has an option, he could start off at Triple-A, if he struggles.
"There's still a belief that he's going to be a very productive Major League player," Hill said.
Now he has to show it. In two seasons with the Marlins, Brinson has appeared in 184 games, and he has a combined slash line of .189/.238/.294 with 11 home runs and 57 RBIs.
"It's just up to him to put it all together," Hill said. "What we've all been working on with him is becoming more of a consistent player, and taking care of the swing mechanics so that all of that ability can show up on the field, every day."