Inbox: Marlins' 2021 options behind the plate
Beat reporter Joe Frisaro fields fans' questions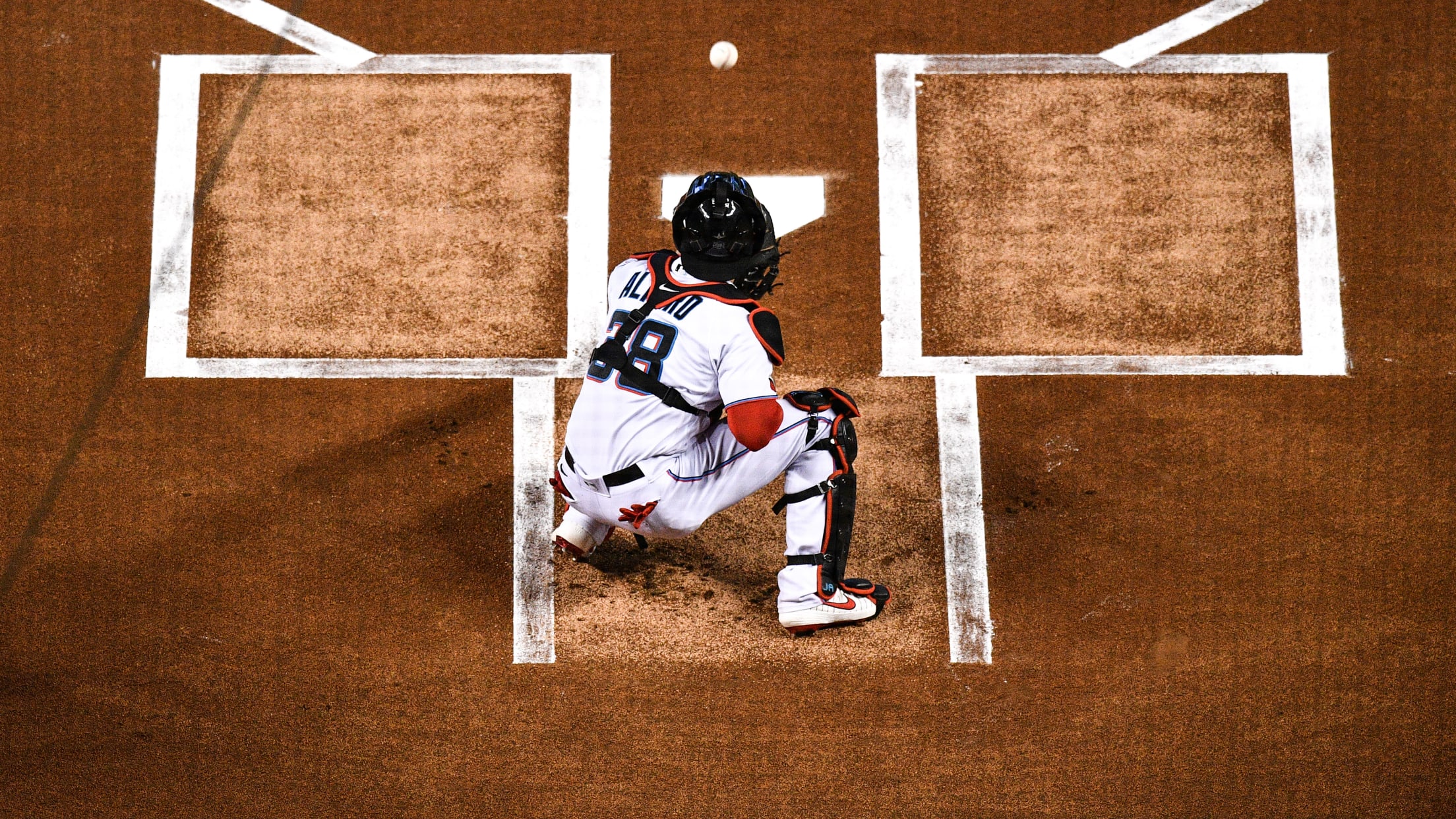 What are the chances the Marlins go after J.T. Realmuto? -- @KingHamlet23 As enticing as a reunion with Realmuto might sound, the chances of it actually happen appear to be very slim, especially at his expected asking price. Todd Zolecki, MLB.com's Phillies reporter, is hearing Realmuto is seeking a deal
What are the chances the Marlins go after J.T. Realmuto?
-- @KingHamlet23
As enticing as a reunion with Realmuto might sound, the chances of it actually happen appear to be very slim, especially at his expected asking price. Todd Zolecki, MLB.com's Phillies reporter, is hearing Realmuto is seeking a deal in the $200 million range, which would be an all-time contract high for a catcher. Realmuto, who will turn 30 on March 18, certainly has established himself as the best all-around catcher in the sport. He also earned his right to test the free-agent market, and he should be paid accordingly. The question for Miami then becomes, would he be a smart investment? Probably not at this stage of where the Marlins are.
• J.T. Realmuto's 6 likely suitors
They have third baseman Brian Anderson about to enter arbitration this year, and Sandy Alcantara will reach it next year. Both are potential extension candidates, if not this offseason then in the next couple of years. If Realmuto's average annual value (AAV) exceeds $20 million, that may impact signing one or either of them, plus any other players in line for raises.
The Marlins limited their usage of Jorge Alfaro down the stretch. Is he still in their plans at catcher moving forward?
-- @nanofish42
In my opinion, catching is the biggest question for the organization to address this offseason. The fact that Chad Wallach got the starting nod in each of the five playoff games is telling. The decision was based mainly on his ability to handle the position defensively and work with the pitching staff -- more specifically, the starters. One defensive metric shines light on the decision. According to Statcast's catcher "framing" metric leaderboard, Alfaro's strike percentage behind the plate this year was 41.3 percent. For Wallach, it was 45.8 percent, a pretty significant jump. While that one metric doesn't tell everything, it is one indicator.
With the Marlins having so many young pitchers, they'll clearly want a catcher capable of leading them.
Alfaro, 27, is entering arbitration. Francisco Cervelli has announced his retirement, so he's not an option to share the position. Wallach does a nice job in his role, but he's more suited to be a backup.
My guess is that Miami will not give up on Alfaro and will look to help his development next year. I could see the club looking for another veteran to share the position, or they could potentially trade for an everyday candidate. I just don't see Miami making a free-agent play for Realmuto or even James McCann, who is expected to have a big market.
What are some realistic expectations for the Marlins next season?
-- @Joshypoo_24
That's easy: make the playoffs. They reached the postseason this year, and they have a young nucleus just reaching the big leagues and beginning its prime. I know it was an abbreviated 60-game regular season, but this team is starting to have the overall organizational depth to compete over 162 games. There aren't many glaring weaknesses, and the starting pitching has the potential to be among the best in the National League.
Alcantara, Sixto Sánchez and Pablo López are a really impressive top three in the rotation, and next year, Edward Cabrera could be joining them.
Which prospects can we expect to see next year?
-- @DolphinsPain
The Marlins had 18 players make their MLB debuts this season, including seven on MLB Pipeline's Marlins' Top 30 list -- Sánchez (No. 1), Jazz Chisholm (No. 4), Jesús Sánchez (No. 5), Braxton Garrett (No. 7), Lewin Díaz (No. 8), Trevor Rogers (No. 9) and Monte Harrison (No. 10). Each has a chance to be a big contributor in 2021.
More specific to your question, Cabrera, the team's No. 6 prospect, has a chance to make the 2021 Opening Day rotation. Closely behind him is Max Meyer (No. 3), who was Miami's first-round Draft pick this year.
But the prospect I think may make the biggest leap forward and find himself in serious 2021 NL Rookie of the Year Award talks is outfielder JJ Bleday, the club's No. 2 prospect. Bleday, the fourth overall pick in 2019, may not be on the Opening Day roster, but I feel he will be a big part of the '21 season with Miami.
What are the chances Joc Pederson, Yasiel Puig or Yoenis Céspedes signs with the Marlins?
-- @ErikTheJetsFan
For me, low to none on all three. The Marlins made a serious push for Puig last offseason, and a deal wasn't reached. They ended up signing Corey Dickerson, who has panned out nicely so far. Dickerson is under contract for 2021. Pederson is strictly a left-handed platoon bat. He had just nine at-bats this season against lefty pitchers for the Dodgers. Céspedes, 34, has dealt with injuries and hasn't played in more than 100 games since '16. At most, he would be a designated hitter option. Of the three, Pederson might make the most sense for a role similar to the one Matt Joyce filled this year. But would the Marlins go that route instead of, say, Sánchez, a left-handed-hitting corner outfielder? And what happens when Bleday is ready?