Inbox: When will Marlins' top pick reach MLB?
Beat reporter Joe Frisaro answers questions from fans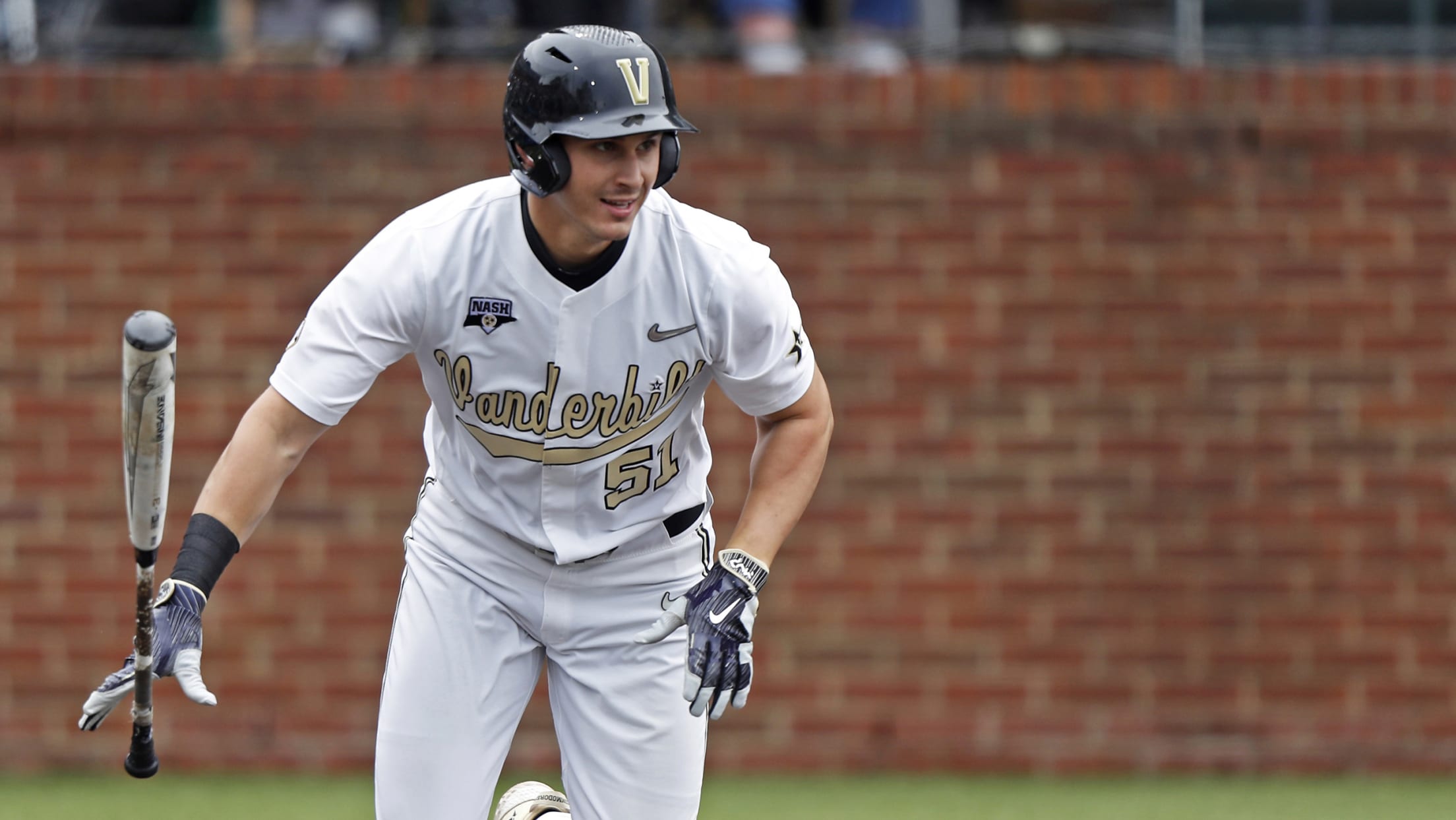 Is Harold Ramirez now a part of the team's long-term plans, or is he a young stopgap? What year is most likely that we see JJ Bleday on the Major League squad? -- @SlimDownDadBod First, let's start with Bleday. The fourth overall pick in the 2019 Draft, Bleday is a
Is Harold Ramirez now a part of the team's long-term plans, or is he a young stopgap? What year is most likely that we see JJ Bleday on the Major League squad?
-- @SlimDownDadBod
First, let's start with Bleday. The fourth overall pick in the 2019 Draft, Bleday is a left-handed-hitting outfielder from Vanderbilt who is going for a championship in the College World Series. When the CWS is over, look for Bleday to be signed by the Marlins, who have $6,664,000 of bonus pool money for the No. 4 Draft slot. Getting the deal finalized is something that should happen within a matter of days. Once the business side is wrapped up, the Marlins will decide if Bleday starts off playing immediately or gets a little bit of rest. Remember, he's been on the go since his college season started in February. The Marlins will be mindful of how much he's already played. I could see Bleday being at Class A Advanced Jupiter at some point this season. And at age 21, he could move quickly through the system. A realistic estimated time of arrival to the big leagues could be 2021, or perhaps late in '20, after he gets a taste of at least Double-A pitching.
As for Ramirez, he's been an excellent signing. The organization deserves credit for getting him after he spent last season at Double-A with Toronto. The Yankees, among others, really pushed hard for the right-handed-hitting outfielder. Absolutely, I see Ramirez as a part of where Miami is headed. He's a corner outfielder, best suited for left field. But he will be pushed by prospects like Monte Harrison next year.
With the Marlins having a solid base of starting pitching, what are the prospects for middle relievers? And are there any left-handed hitters in the pipeline? Preferably with some pop.
-- @OversteerTV
I find this question interesting because you are correct about the depth of starters in the organization. Yet, from the pool of prospects they have from the big leagues down through the system, they have big league-caliber arms, but not all will profile as rotation pieces at the MLB level. I could see Jorge Guzman, for instance, the hard-thrower at Double-A Jacksonville, eventually moving from the rotation to the bullpen. I'm going to throw another possibility at you. When José Ureña, Miami's Opening Day starter, comes off the 60-day injured list (herniated disk), I wouldn't be surprised if he moves to the bullpen, perhaps even closing.
Left-handed power bat? The one to watch is second-base prospect Isan Diaz, ranked by MLB Pipeline as No. 6 in Miami's system, is waiting in the wings to take over for veteran Starlin Castro, who may get moved by the July 31 Trade Deadline. Diaz has 16 homers at Triple-A New Orleans. He's missed the past few games due to a sore left leg, but is expected back in the lineup, perhaps as early as Monday.
We've seen our young pitchers get called up and have success. Do you think our young bats like Isan Diaz and Monte Harrison will get called up after the Trade Deadline?
-- @TDup25
Post-Deadline sounds about right on an estimated arrival time for two to make the leap from Triple-A New Orleans to the big leagues. It may actually be closer to September or as a September callup. Of the two, I anticipate Diaz getting the nod first. Diaz has shown more consistency. Harrison has dealt with some injury issues, most recently a hamstring. Also, there is more swing and miss in Harrison's game. Both are already on the 40-man roster, so that isn't an issue. Diaz, 23, could get promoted earlier, if Castro is traded by July 31. With Harrison, the top priority is his continued development. Either way, I do think the organization would like for both to get at least a taste of the big leagues this year and come into 2020 ready to compete for everyday jobs.
Will the Marlins trade Sergio Romo, with his high trade value right now?
-- @EricPabon2
The Marlins are listening on many players, and Romo, who is on a one-year contract, is a likely candidate to be dealt. It's the nature of the business, and several teams have already checked in on Romo and some other players. Infielder Neil Walker (right quad strain) is close to being reinstated. Also signed through the end of the season, Walker is another possible trade candidate. Earlier in the month, the Phillies were among the clubs interested in Walker, but Philadelphia ended up acquiring infielder Brad Miller from the Yankees for cash considerations.
Castro, outfielder Curtis Granderson, lefty reliever Adam Conley and shortstop Miguel Rojas are among the players who could potentially be moved.
If right-handers Jordan Yamamoto and Zac Gallen stay, who are the odd men out in the rotation?
-- @Shaun285
Left-hander Caleb Smith (left hip inflammation) is going to make at least one rehab assignment start before being reinstated. And Pablo López (right shoulder strain) is on the 10-day injured list. Lopez, thus far, has avoided the 60-day IL, but he will not be rushed back. He's expected to miss a bit of time, even though the club feels his strain is mild. Smith also won't be rushed, so Yamamoto and Gallen, and Elieser Hernandez, are expected to be around at least for another start or two. Barring any setbacks, Smith will be the back, perhaps by the end of the month, or early July.
If everyone is healthy, who would be sent back to New Orleans? It probably would be decided by several factors. First, the organization is monitoring innings, and there may be some shuffling of the rotation as the season progresses. So starters with options may be sent back and forth based on usage and performance.