Superstars' health key to Marlins' 2016 hopes
Full campaigns by Stanton, Fernandez would boost Miami's chances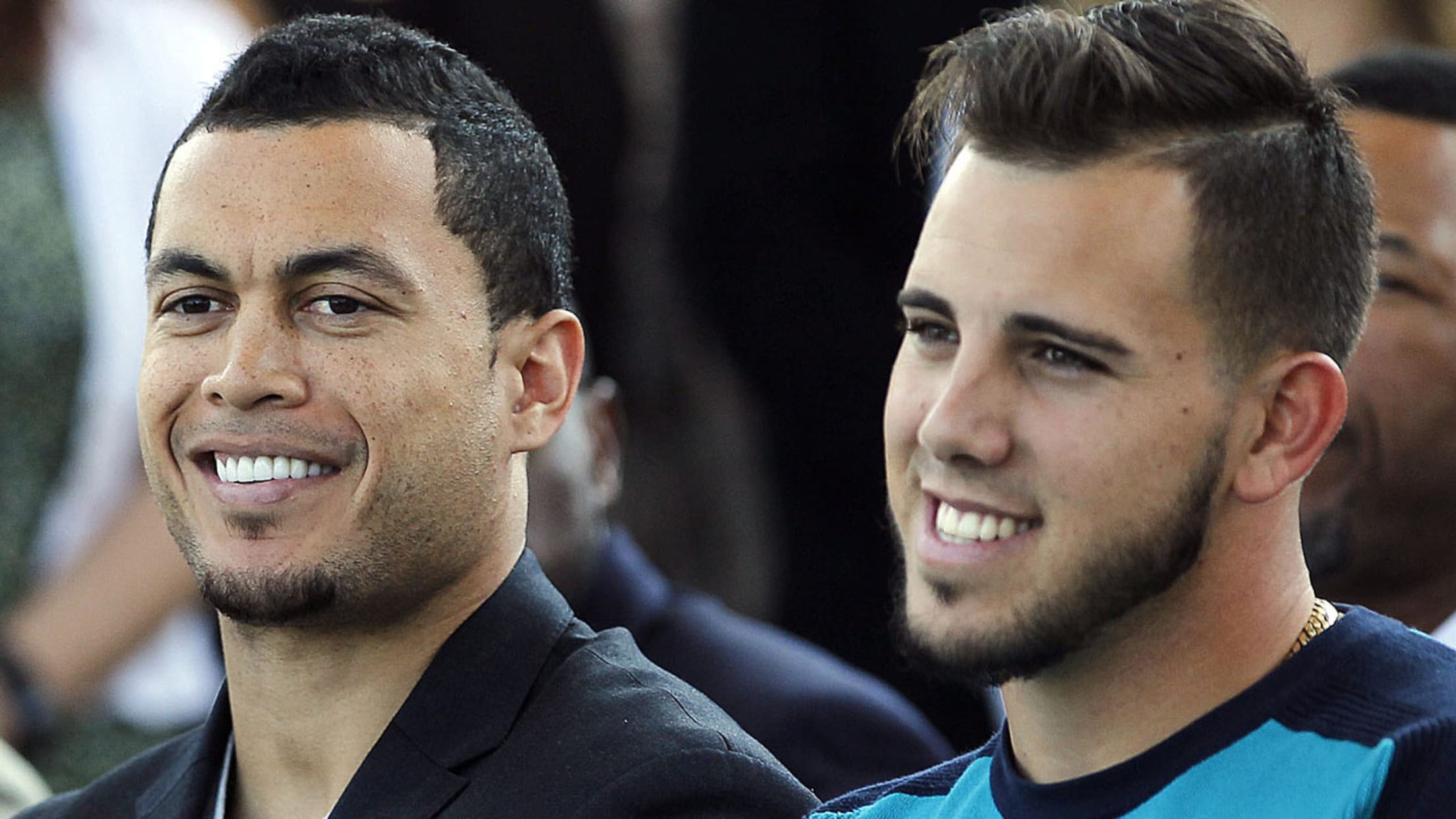 If Giancarlo Stanton and Jose Fernandez can both remain healthy in 2016, there will be plenty of reasons to smile in Miami. (Getty)
JUPITER, Fla. -- Can we all just stop freaking out about Jose Fernandez not starting on Opening Day? It's one game out of 162. Given the way their off-days align in this season's slate, the Marlins feel their task of spreading Fernandez's 180 innings over the course of those 162
JUPITER, Fla. -- Can we all just stop freaking out about Jose Fernandez not starting on Opening Day? It's one game out of 162. Given the way their off-days align in this season's slate, the Marlins feel their task of spreading Fernandez's 180 innings over the course of those 162 is better served by starting him on the second day of the season, rather than the first. Besides, let's give a gift to those indie-film-loving, deep-cut-listening people who are too hip for Opening Day and will be there the next day, OK?
And while we're at it, can we please stop spreading the silly storyline that Barry Bonds beat all the Marlins -- including the herculean Giancarlo Stanton -- in a Home Run Derby? Didn't happen. Like most things in life, the real story is more complex. There was a situational hitting competition in which Bonds, playing on the same "team" as Stanton and Christian Yelich, started uncorking long balls while the others were, at times, more focused on spraying the field with line drives off breaking balls. But some context-deprived tweets from the scene allowed the fairy tale to spread like wildfire.
• Spring Training:Schedule | Tickets | Complete info
Now that we've addressed all the controversy emanating out of Marlins camp at the moment, let's instead focus on the bottom line: Fernandez and Stanton are healthy.
That matters more than any furor over whether Fernandez should be toeing the rubber in the opener or whether Stanton can outslug a 51-year-old.
• Fernandez: 'I don't want to get shut down'
What would it mean if both of these guys stay healthy for the entirety of 2016?
"Oh man," Fernandez said. "That's the biggest part. ... If we stay healthy [as a team], I'll take our chances against anybody in the league."
This is a better team than it gets credit for. A Marcell Ozuna bounceback would significantly lengthen a lineup which boasts batting champ Dee Gordon, Yelich, an outstanding on-base threat and Justin Bour's power. Adeiny Hechavarria has become a defensive gem at short, while J.T. Realmuto is an underrated asset behind the plate. Wei-Yin Chen (the unexpected Opening Day starter) lengthens the rotation, and keep an eye on Adam Conley as a sleeper stud there.
But we all know who the big fish on the Fish are.
Fernandez and Stanton were two ships passing in the night last season.
Stanton fractured his hamate bone on June 26 and never played again. Fernandez made his much-anticipated return from Tommy John surgery exactly one week later. Much of the hope associated with the return of one superhero was offset by the absence of another -- and the Marlins' place in the standings wasn't exactly worth writing home about, either.
We'd like to tell you there's a guarantee neither guy will go down in '16, but, well, you know how it goes in this game.
Stanton knows more about that than most. Routinely considered an MVP in the making, Stanton has had a good portion of his career robbed from him, often through no fault of his own. He's missed nearly 200 games since the start of 2011, with the two recent culprits being a Mike Fiers fastball to the face in a would-be MVP bid in '14 and the hamate fracture sustained on a swing in the middle of a '15 season that was shaping up to be his statistical best.
Already this spring, Stanton missed a week and a half of Grapefruit League action with minor knee soreness, though he's back up and running now.
"Obviously, you want to be out there," Stanton said. "[Missing time is] nothing I sit and bang my head over. I didn't do anything that I shouldn't be doing. The biggest thing is being in and out of the clubhouse and not going through everything with my teammates."
One teammate said he understands the difficulty, not just of missing time but the label that comes with it.
"I've been hurt a little, too, the last few years -- and just people talking about it and questioning your ability to stay healthy gets frustrating," Yelich said. "A lot of the injuries he's had are fluke injuries. You can't control getting hit in the face or breaking your hamate bone. Hopefully, he's gotten all his fluke stuff out of the way."
Stanton missed the entire second half last season and still finished tied for 10th in the National League in home runs (27). He's got the sixth-most homers in baseball (159) since the start of '11. But if you don't know by now, you ought to know that he's more than just a physical freak with the most routinely ridiculous exit velocity in the sport. He's emerged as a strong defensive outfielder, and he's proven to have a discerning eye at the plate.
"If he can stay on the field the whole year," said Yelich, "there's really no limit to what he can do."
For baseball's sake -- not just the Marlins' sake -- let's all hope that happens in 2016.
Furthermore, let's be glad the Marlins are nipping this Fernandez innings situation in the bud now, rather than becoming embroiled in some late-season controversy should the Marlins be in contention come September.
"I've watched, from afar, [Matt] Harvey's situation last year, [Stephen] Strasburg a couple years ago," manager Don Mattingly said. "It always seemed to me like, why would you not have this set from the start and try to map the whole thing out? Obviously things change. You can have a guy turn an ankle and miss three starts and then it just changes your plan. But we're just trying to have some kind of plan where everybody understands the situation and is on board -- from Jose to our pitching guys to [president of baseball operations] Michael [Hill], the doctors, Scott [Boras], all of it."
They've got a schedule in mind for Fernandez, who has a 2.40 ERA and 336 strikeouts in 289 innings over 47 career starts. He won't be pitching the first game of the season? Well, that's a far better scenario than if he were unable to take the ball the last week of the season. All that matters is that those 180 innings are spaced-out appropriately and that Fernandez delivers the way he's done his entire career, to date.
"He loves to pitch," Mattingly said. "That's what you've got to love about him. I don't ever want to take that from him. I love that part of Jose. But he understands that, in general, you're trying to protect him."
The arm matters more than the opener. And the arm, Fernandez insists, is in fine working order.
As he said: "Body feels good, arm feels good, no worries."
If Fernandez and Stanton are feeling good all season, that might be the only Marlins storyline that matters.