In a marathon stretch, Marlins adjusting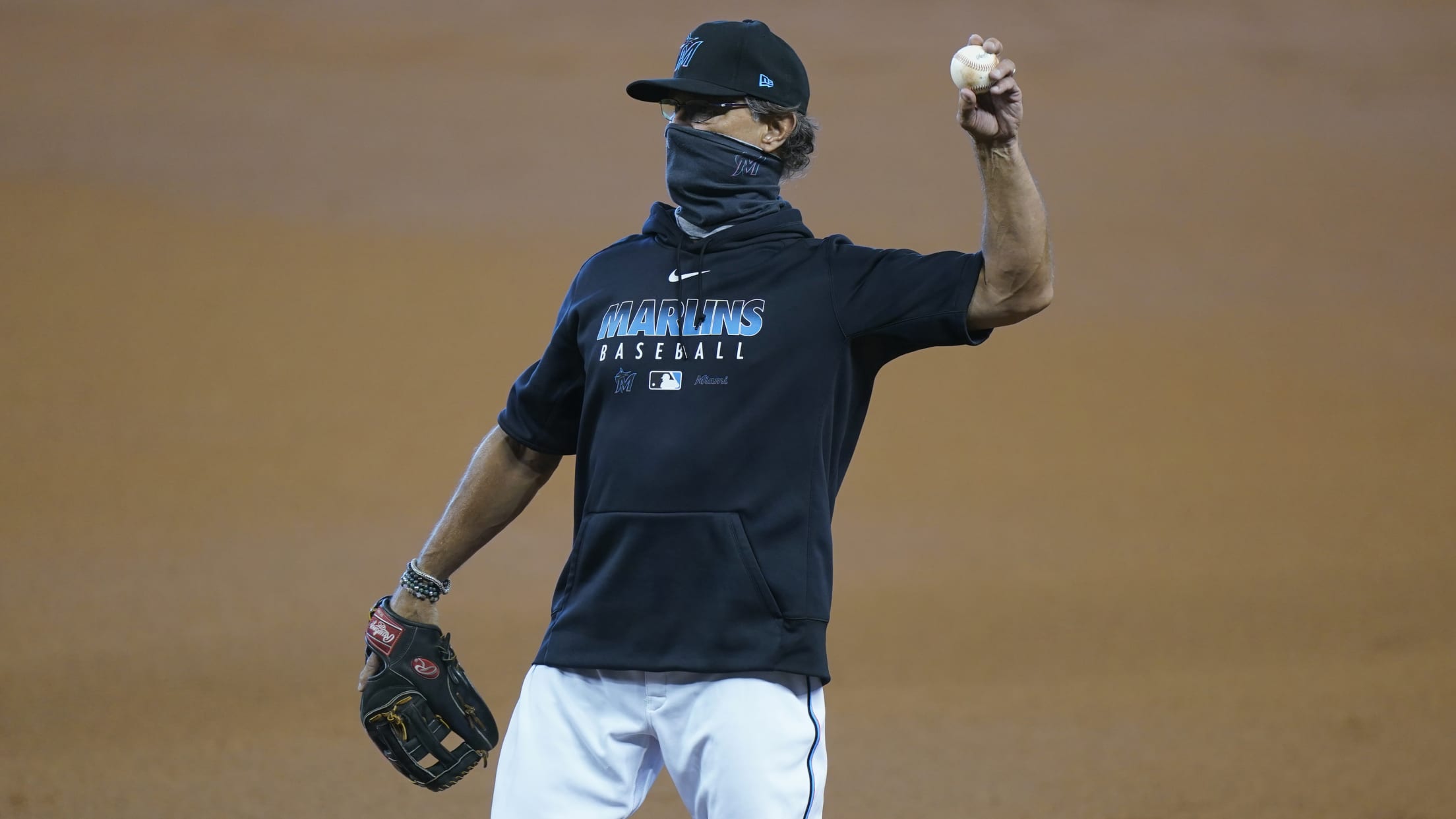 What has been billed as a 60-game sprint of a season has now entered a test-of-stamina stretch for the Marlins, who are being taxed mentally and physically. Still in the thick of the playoff race, the Marlins played the Phillies in a seven-inning doubleheader on Sunday. Their marathon of seven
What has been billed as a 60-game sprint of a season has now entered a test-of-stamina stretch for the Marlins, who are being taxed mentally and physically.
Still in the thick of the playoff race, the Marlins played the Phillies in a seven-inning doubleheader on Sunday. Their marathon of seven games in five days ends in Monday's finale. Through the grind, the Marlins have held their own on the field; after winning a series against the National League East-leading Braves, they've split the first four games of their extended set with the Phillies.
Asked about how his players are doing, manager Don Mattingly said on Sunday morning: "I'd say they're pretty beat up, honestly."
At stake in their series with the Phillies is second place in the NL East, which automatically guarantees a berth in the playoffs. And when the Phillies leave town after Monday's finale, the Marlins still have to play eight games in six days, which will close out their exhausting 15-game, 11-day homestand.
"Guys are physically beat up, but I think we have to look at it like other teams are being pushed to the limit, too," Mattingly said.
To help stay as fresh as possible, third baseman Brian Anderson said guys are doing more hitting in the cages and spending less time pregame on the field.
"Guys are hitting in the cage a little bit more than I think they would over the course of a [162-game] season," Anderson said, "just because you have so many games packed into a short time frame."
Rojas recovering
Shortstop Miguel Rojas, who jammed a finger on his right hand after tripping while taking his position on Saturday night, was not in the starting lineup in the first game of Sunday's doubleheader but returned to start at shortstop in Game 2.
An X-ray came back negative for Rojas.
"The X-rays were negative, so it's going to be a matter of getting that finger loose and seeing what he can do," Mattingly said.
Record for debuts
When Johan Quezada took the mound on Saturday night, the 6-foot-9 right-hander became the 17th Marlins player to make his MLB debut this season. That's the most in franchise history. The number grew to 18 in Game 2 when left-hander Braxton Garrett was announced as the starter.
Garrett, Miami's No. 7 prospect, was the seventh overall pick in the 2016 MLB Draft. The lefty reached the big leagues with limited experience above Class A Jupiter. Last year, Garrett logged 105 innings with a 3.34 ERA at Jupiter, and he made one start at Double-A Jacksonville, throwing 1 2/3 innings.
"This is not a normal season," Quezada said. "Most of the guys that came here, I asked them, 'How does it feel?' They told me it is amazing. It's the same baseball that we play [in the Minor Leagues]. Don't try to do too much, just be yourself.'"
Not much has been ordinary in this 60-game season. According to Elias, the 18 Marlins debuts passes the 16 in 2010. And Elias added that no MLB team in history has had as many as 17 debuts in its first 60 games.
Roster moves
Before Sunday's games, the Marlins optioned left-hander Dan Castano to the alternate training site in Jupiter, Fla. Left-hander Brandon Leibrandt was transferred to the 60-day injured list, while infielder Eddy Alvarez was designated for assignment. Right-hander Nick Neidert was reinstated from the injured list, and left-hander Braxton Garrett had his contract selected. He was optioned to the alternate training site and then selected as the 29th man for Sunday's doubleheader.