Chen, Lopez in Marlins' rotation battle
Southpaw, righty both pitched Friday vs. Braves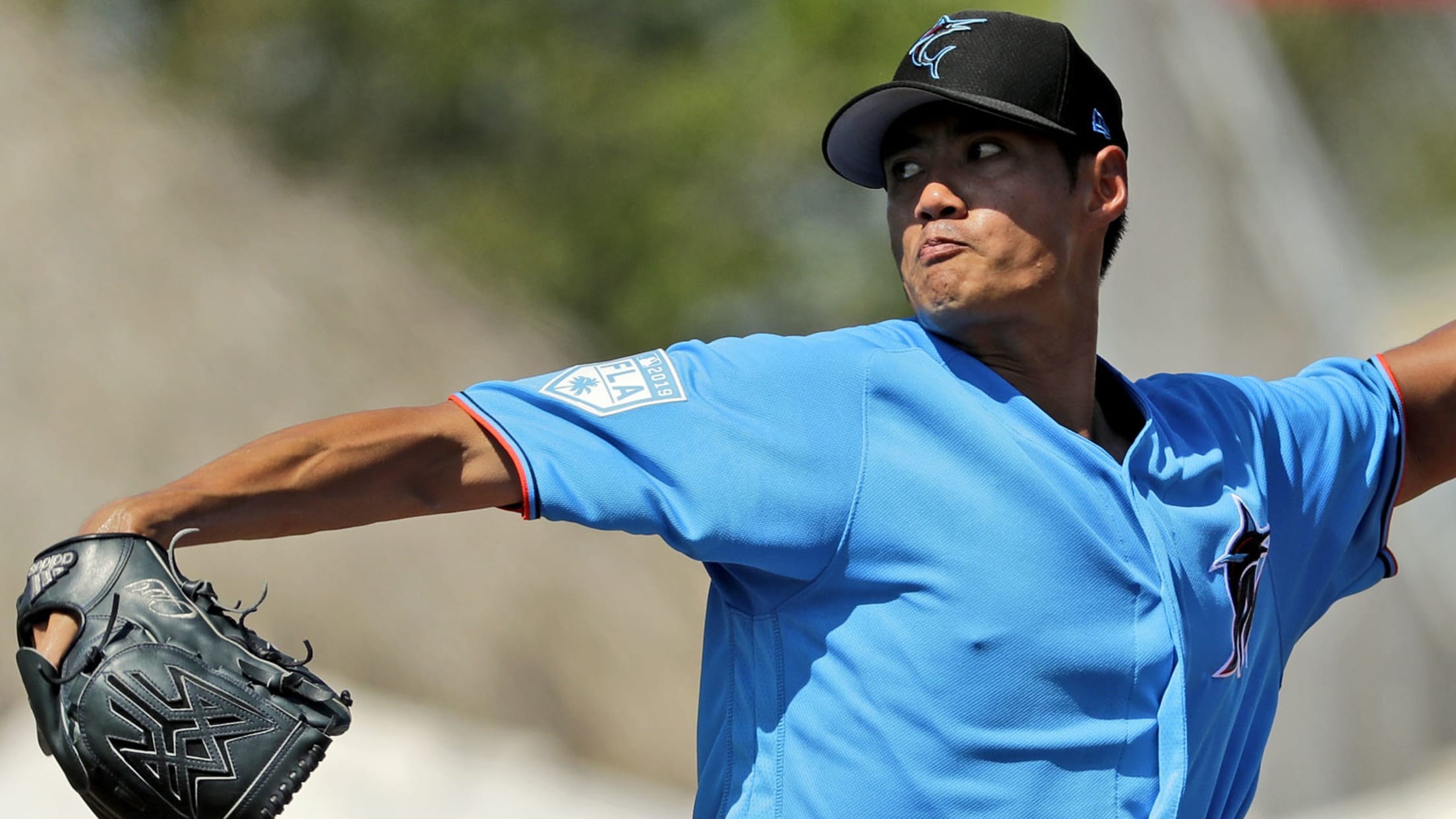 LAKE BUENA VISTA, Fla. -- The Marlins used Friday's 7-6 win against the Braves as the latest rendition in their rotation battle between left-hander Wei-Yin Chen and right-hander Pablo López. Neither excelled this time. Chen started the game and allowed baserunners in each of his four innings pitched. The Braves
LAKE BUENA VISTA, Fla. -- The Marlins used Friday's 7-6 win against the Braves as the latest rendition in their rotation battle between left-hander Wei-Yin Chen and right-hander Pablo López.
Neither excelled this time.
Chen started the game and allowed baserunners in each of his four innings pitched. The Braves scored three runs off him with seven hits and one walk.
"With men on base, sometimes I missed my spot," Chen said through an interpreter. "I think I should be able to command my fastball well enough. … I have to be patient. I will keep making adjustments and hope I can be ready at the start of the season."
Though Chen induced three double plays to limit damage, he also did not strike out any batters. Despite getting ahead with two strikes in several counts, Chen gave up hits. In the second and fourth innings, Nick Markakis singled after falling behind 0-2. Josh Donaldson's two-run homer in the bottom of the third followed a 1-2 count.
"Sometimes when I throw my off-speed pitches, I tend to be a little too fine, to hit a perfect spot," Chen said. "If you miss a little bit, there are good hitters that will hit it. I think for me, I just need to be more focused on the moment. Try to execute my pitch instead of trying to hit that very perfect spot."
Although Chen threw four shutout innings in his last outing, March 9 against Washington, Friday's start continued his overall trend of allowing several runs this spring. Between his first two starts, he allowed nine earned runs in just 3 1/3 innings. Nonetheless, Chen said he was on the right track with gaining feel for his pitches as Spring Training progressed.
"It wasn't that great at the start of the game, but in later innings [I] was able to start to feel what I wanted to feel," Chen said. "The fastball is my main weapon, so I was trying to work on the life of my fastball. Today I think I'm making progress."
With the bat, Chen singled home Yadiel Rivera in the fourth. His two-out slap single down the right-field line tied the game, 3-3.
"I just tried to make contact," Chen said. "I was kind of surprised that it just went right on the line."
Manager Don Mattingly said Chen and Lopez didn't seem as sharp as their last outings, but they limited damage.
"Both of those guys pitched together last game too," Mattingly said. "We flipped them [in order of appearance]."
Lopez, who started and threw four perfect innings in that prior game March 9, relieved Chen Friday and pitched the last five innings. After Lopez struck out two while retiring the first six batters he faced, he ended up with a blown save from two runs allowed in the bottom of the seventh.
"I didn't think his breaking ball was as good today," Mattingly said of Lopez's performance. "It's been getting better. Looked a little 'rolly' today, but in general he hangs in there and can make pitches."
Leadoff batter Raffy Lopez homered to right field, making the score 5-4 in favor of Miami. Ender Inciarte singled on a bunt and then advanced on each of the next two at-bats: Dansby Swanson's groundout to second and Rafael Ortega's flyout to right field. Charlie Culberson reached on Pablo Lopez's throwing error, enabling Inciarte to score and tie the game.
"I was feeling a good rhythm the first couple innings," Pablo Lopez said. "On my third inning, I let the game speed up on me a little bit. … The catchers and I were on the same page all the time, making sure we stuck to our plan."
He said Friday's objective was to get ahead mostly with fastballs and work atop the zone with his four-seamer. He also was working on mixing in off-speed pitches and focusing on quality first pitches.
"One thing is to get ahead; another thing is to get ahead with a quality pitch," Lopez said. "If you can get soft contact early in the count, that's going to be good for the pitch count."
Lopez got six straight Braves out again between the last out in the seventh and two groundouts to start the bottom of the ninth. Pedro Florimon, who started the bottom of the ninth on second base as part of Major League Baseball's experimentation this Spring Training, advanced on both groundouts to score. With a 7-6 lead and one out remaining, Lopez gave up consecutive singles to Riley Unroe and Rafael Ortega. Culberson popped out to second base to end the game.