Here's every team's Trade Deadline strategy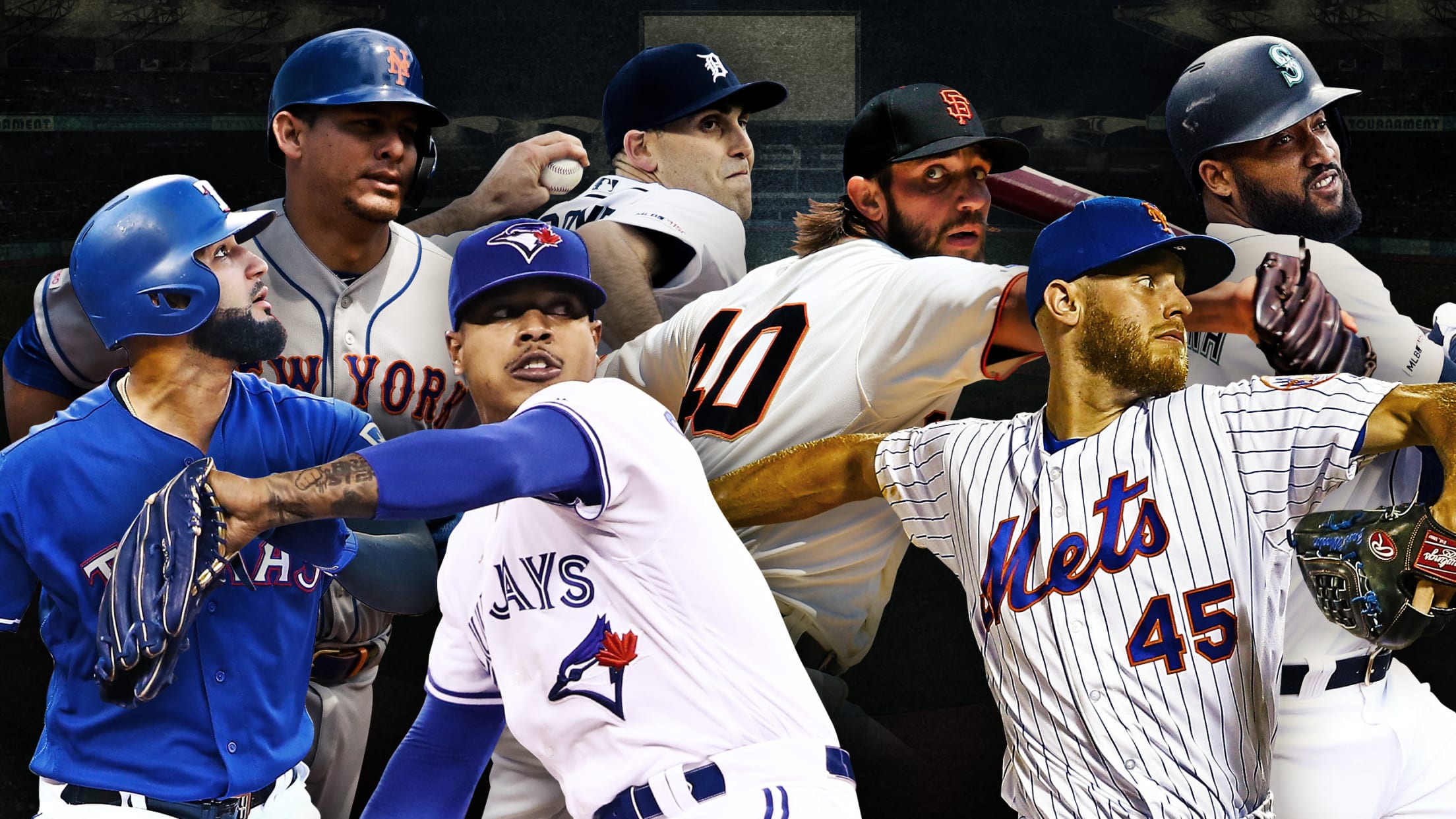 The All-Star break was a blast, but it's already in the rearview mirror with the Astros and Rangers opening the second half of the season tonight in Arlington. That means it's time to get down to business -- as in trades. The annual July 31 Trade Deadline looms, and all
The All-Star break was a blast, but it's already in the rearview mirror with the Astros and Rangers opening the second half of the season tonight in Arlington. That means it's time to get down to business -- as in trades.
The annual July 31 Trade Deadline looms, and all 30 clubs have a decision to make over what strategy they will take in the coming weeks. Is it time to buy, sell or hold?
(And remember, July 31 is now the only Trade Deadline, as the August "waiver trade" period was abolished this past offseason. In other words, if a team wants to trade for a player from outside of its organization, it must do so before the July 31 Deadline.)
With that in mind, here is a rundown of where each team stands as the second half gets underway.
AL EAST
Blue Jays -- Seller: The rebuilding Blue Jays have two of July's most interesting trade chips in right-hander Marcus Stroman and closer Ken Giles. Unlike some of the other notable pitchers on the block who are eligible for free agency this winter (Madison Bumgarner, Zack Wheeler and Will Smith), Stroman and Giles are under team control through 2020, which should make them a bit more valuable on the trade market. More >
Orioles -- Seller: A year ago, the O's decided to change course and focus on the future, swapping Manny Machado, Zack Britton and Jonathan Schoop for young players and prospects. Baltimore will take a similar approach this summer by targeting trades for controllable talent under new GM Mike Elias, but the O's have fewer enticing names to move with righty Andrew Cashner and perhaps infielder Jonathan Villar their most attractive pieces. More >
Rays -- Buyer: Tampa Bay is in the thick of the AL postseason picture, so the team will look to add with the aim of reaching the playoffs for the first time since 2013. The Rays' main area of need? Bullpen help, as injuries to Diego Castillo and Jose Alvarado have hampered the relief corps. With a loaded farm system, the Rays have plenty to offer potential trade partners -- but will the small-market club be cautious and steer clear of the very top available relievers? More >
Red Sox -- Buyer: Having overcome a slow start, the Red Sox are in position to defend their World Series crown. The offense is clicking, but Boston's pitching staff could use a boost along the lines of what Nathan Eovaldi provided down the stretch in 2018 (and might again when he returns from injury). With Rafael Devers and Michael Chavis coming into their own, would the Red Sox dangle fellow young corner infielders Triston Casas and/or Bobby Dalbec? More >
Yankees -- Buyer: Injuries have plagued the Yankees all year long, and yet they sit atop the division by a comfy 6 1/2 games entering the season's second stanza. Having already added Edwin Encarnacion to a fearsome lineup that should get slugger Giancarlo Stanton back next month, GM Brian Cashman is on the prowl for pitching, especially with question marks still surrounding Luis Severino and Dellin Betances. More >
AL CENTRAL
Indians -- Buyer and Seller: At the start of June, the Tribe was 28-29 and 10 1/2 games behind the upstart Twins and looking very much like a clear seller. An AL-best 22-9 mark since then has the Indians not only in the Wild Card race but also in range of the division at 5 1/2 games back. Somewhat strapped by a tight budget, they could attempt to do a mix of both buying and selling by dangling controllable studs like Trevor Bauer and Brad Hand for an upgrade on offense, ideally in the outfield. More >
Royals -- Seller: Kansas City's rebuild remains ongoing amid a potential second straight season in the cellar. Given that it's unlikely the Royals would move Whit Merrifield, Jorge Soler or Alex Gordon, their main trade candidates are players on expiring contracts like center fielder Billy Hamilton, lefty reliever Jake Diekman and backstop Martin Maldonado, all of whom could help contenders but won't bring back top-end prospect talent. More >
Tigers -- Seller: Fresh off his contract extension, GM Alex Avila will be looking to push the pace of Detroit's rebuild by being active this month. That could mean adding impact prospect talent on offense by trading free-agent-to-be Nicholas Castellanos and All-Star closer Shane Greene, who hits the open market after 2020 -- and possibly breakout lefty Matthew Boyd, who has three years of control beyond '19. More >
Twins -- Buyer: A number of young Twins have taken steps forward this year, particularly on offense as Jorge Polanco, Max Kepler, Byron Buxton, etc., have helped put the club in a surprising spot atop the division. Minnesota might not want to part with elite prospects Royce Lewis and Alex Kirilloff, but what if it meant landing multiple impact arms simultaneously, like Bumgarner and Will Smith or Stroman and Giles? More >
White Sox -- Buyer and/or Seller: The White Sox aren't entirely out of the AL postseason picture, thanks to the young core of Lucas Giolito, Eloy Jimenez, Yoan Moncada and Dylan Cease taking shape. But they're still prioritizing the future over the present, so any buying opportunity for GM Rick Hahn will be based on club control for 2020 and later. Meanwhile, free-agent-to-be Jose Abreu would draw plenty of interest, but the Sox value him so highly it's hard to see him being swapped. More >
AL WEST
Angels -- Holding: The Halos are one game below .500 and 6 1/2 games out of the second Wild Card, meaning their performance over the next few weeks will likely determine what they do at the Trade Deadline. If they get hot, they could turn into buyers. If they slump or continue to tread water, however, they might be forced to sell. Angels starters currently have the fourth-highest ERA (5.31) in the Majors, so look for L.A. to pursue rotation help if it decides to buy. If the Angels sell, they may look to move slugging outfielder Kole Calhoun and his pending $14 million player option for next year. More >
Astros -- Buyer: The Astros are once again at the top of the AL West, 7 1/2 games in front of Oakland. But after falling short in last year's ALCS against the Red Sox, they'll likely be looking to make their roster even stronger at the Trade Deadline. Houston could use more rotation depth beyond Gerrit Cole, Justin Verlander and Wade Miley, which means it could be in the market for Wheeler or Bumgarner. More >
Athletics -- Buyer: While they've slipped 7 1/2 games back of the Astros, the A's are just 1 1/2 games out of a Wild Card spot. Their top priority will likely be addressing the bullpen, which has already blown 16 saves this year. Accordingly, they may look to add stability by dealing for a proven closer such as Smith, Giles or Greene. More >
Mariners -- Seller: The Mariners were unable to sustain their hot start and are now last in the AL West, 16 games below .500 and 20 games behind the Astros. Despite their injuries, they still have some trade-worthy assets such as Domingo Santana, Dee Gordon, Mike Leake and Tim Beckham. Seattle could also shop some of its relievers, as Roenis Elias and Corey Gearrin may be appealing to contenders. More >
Rangers -- Buyer/Holding: The Rangers stayed in contention during the first half and are only three games out of the Wild Card, making them potential buyers at the Trade Deadline. Their offense has carried them but they need pitching help, as Texas currently has the 11th-highest ERA in the Majors. With their young talent, they'd likely prefer a controllable arm rather than a rental, which would make them candidates for Boyd, Robbie Ray or Stroman. More >
NL EAST
Braves -- Buyer: Six games ahead in the standings, Atlanta will add. Even after signing Dallas Keuchel, the pursuit of a starter is the priority, especially with breakout rookie Mike Soroka facing an innings limit and last year's ace Mike Foltynewicz trying to find his form at Triple-A. The Braves also would benefit from bringing in a proven late-inning piece for their bullpen and have the prospects to make some waves. More >
Marlins -- Seller: Having brought in and developed oodles of arms in the first phase of their rebuilding project, the Marlins are turning their attention to offense. Alas, veterans like Sergio Romo, Curtis Granderson and Neil Walker won't be enough to compel buyers to move all that much in return, and it remains to be seen if Miami would part with young pitchers like Caleb Smith or Trevor Richards to try to pique interest. More >
Mets -- Seller: The first half did not go according to new GM Brodie Van Wagenen's plan, so it's all but certain the Mets will look to part with walk-year players in exchange for assets that could help in 2020 and beyond. While veterans like Todd Frazier and Jason Vargas could be on the table, the biggest such chip is Wheeler -- unless an overzealous suitor comes calling for fellow righty Noah Syndergaard. Unlike Wheeler, Frazier and Vargas, who are all eligible for free agency this winter, Thor is under team control through 2021. More >
Nationals -- Buyer: For all the speculation a few weeks ago that the Nats could consider swapping superstar starter Max Scherzer, that's not happening (if it ever was) after they went an MLB-best 23-9 since June 1. It's no secret Washington needs bullpen help, but with a depleted farm system and a hefty payroll, GM Mike Rizzo's options could be limited, although dangling top prospect Carter Kieboom certainly would open doors. More >
Phillies -- Buyer: Philly is in the buyer bucket, but just how deep GM Matt Klentak dips his toe in could depend on the upcoming seven-game homestand that brings the Nats (three games) and Dodgers (four) to town. The earlier acquisition of Jay Bruce (10 HR, 29 RBIs in 28 games with Philly) proved prescient with fellow outfielder Andrew McCutchen out for the year. Could a deal for a pitcher help preempt another potential pitfall with Jake Arrieta battling a bone spur in his right elbow? More >
NL CENTRAL
Brewers -- Buyer: No division is tighter than the NL Central -- only 4 1/2 games separate first and last places -- so expect plenty of transaction action. If the Crew is to defend its division crown, pitching help is a must, particularly a durable, reliable starter to lead the club's many out-getters. Despite being buyers in recent years, the outfield-rich Brewers still have prospect pieces like Tristen Lutz and Corey Ray who could intrigue sellers. More >
Cardinals -- Buyer: Despite a somewhat disappointing 44-44 mark, the Cards could improve a talented but flawed roster by making a key move or two in the second half. The offense has struggled at times, but pitching might be the bigger focus for the Cardinals, who might have to count on surges from corner bats Matt Carpenter and Paul Goldschmidt. More >
Cubs -- Buyer: Chicago holds a tenuous half-game lead over Milwaukee in the Central, and although that could evaporate in an instant, president of baseball ops Theo Epstein said, "You want to try to finish off the division if you can" go on an early second-half run. With closer Craig Kimbrel in tow, the Cubs' bullpen should be better but could still use a late-inning lefty. More >
Pirates -- Holding: Pittsburgh's status isn't all that different from what it was a year ago. Could the Bucs' last-minute decision to buy -- sending Austin Meadows, Tyler Glasnow and Shane Baz to the Rays for Chris Archer and snagging Keone Kela from the Rangers -- make them a little more hesitant this time? Those two arms have been ineffective and injured, respectively, and expected ace Jameson Taillon remains on the sideline, so if they add, pitching makes more sense. More >
Reds -- Buyer/Holding: Cincy is in last place but only 4 1/2 games out of first, so its strategy ahead of the Trade Deadline is likely to come down to, well, the deadline. If the Reds surge, bullpen help would be a priority; but if they falter, they could try to flip Yasiel Puig, Scooter Gennett, Tanner Roark and Jose Iglesias, all of whom are in line for free agency. More >
NL WEST
D-backs -- Holding: They traded star first baseman Goldschmidt and lost left-hander Patrick Corbin and center fielder A.J. Pollock to free agency last offseason, yet the D-backs are in Wild Card contention heading into the second half. The next nine games could provide a pivot point for Arizona in terms of deciding whether to buy or sell. If the D-backs are buyers, starting pitching depth is an area of need. If they're sellers, there are some very intriguing names they could put out on the market. More >
Dodgers -- Buyer: The Dodgers enter the second half with a 13 1/2-game lead in the NL West, and it appears they'll cruise to their seventh straight division title. The question is, what happens after that? It's World Series championship or bust in Los Angeles, and that will mean acquiring a reliever or two to bolster the bullpen, which has been the only weak spot you can point to with the two-time defending NL champs. More >
Giants -- Seller: Two words: Madison. Bumgarner. The Giants had a disappointing first half, albeit ending on a nice note with victories in seven of their last nine games. General manager Farhan Zaidi doesn't feel the team is "up against a wall" with any imperatives leading up to the Trade Deadline, but given the right upper-system prospects who are nearly big league ready, Bumgarner and/or Smith will likely end up wearing a different uniform on Aug. 1. Outfield and starting pitching prospects are on the Giants' radar. More >
Padres -- Buyer and Seller: It's been nine years since the Padres were last .500 or better heading into the second half. At this point, it's hard to peg whether they'll be buyers or sellers. But either way, San Diego has a lot to offer: the franchise boasts the No. 1 farm system in baseball, according to MLB Pipeline, and outside of MacKenzie Gore and Luis Patino, some high-level talent could be packaged for a frontline starting pitcher. On the other hand, the club has attractive candidates if it opts to sell, particularly closer Kirby Yates and slugging outfielder Hunter Renfroe. More >
Rockies -- Buyer: Could Bumgarner or Stroman end up pitching home games at Coors Field this season? It's a question Colorado's front office will have to ponder as we near the Trade Deadline. It would take high-level prospects to land either, but particularly with respect to Stroman, the Rockies and Blue Jays made a midseason deal just last year when Colorado acquired reliever Seunghwan Oh. The bottom line for the Rockies? You probably won't catch the Dodgers for a division title, but you can try to assemble the right roster to beat them in October. More >
Jason Catania is an editor and reporter for MLB.com. Follow him on Twitter at @JayCat11.
Manny Randhawa is a reporter for MLB.com based in Denver. Follow him on Twitter at @MannyOnMLB.
Tyler Maher is a reporter for MLB.com.