Toronto enters Deadline season in enviable spot
Disappointing record at season's midpoint may lead to forward-looking deals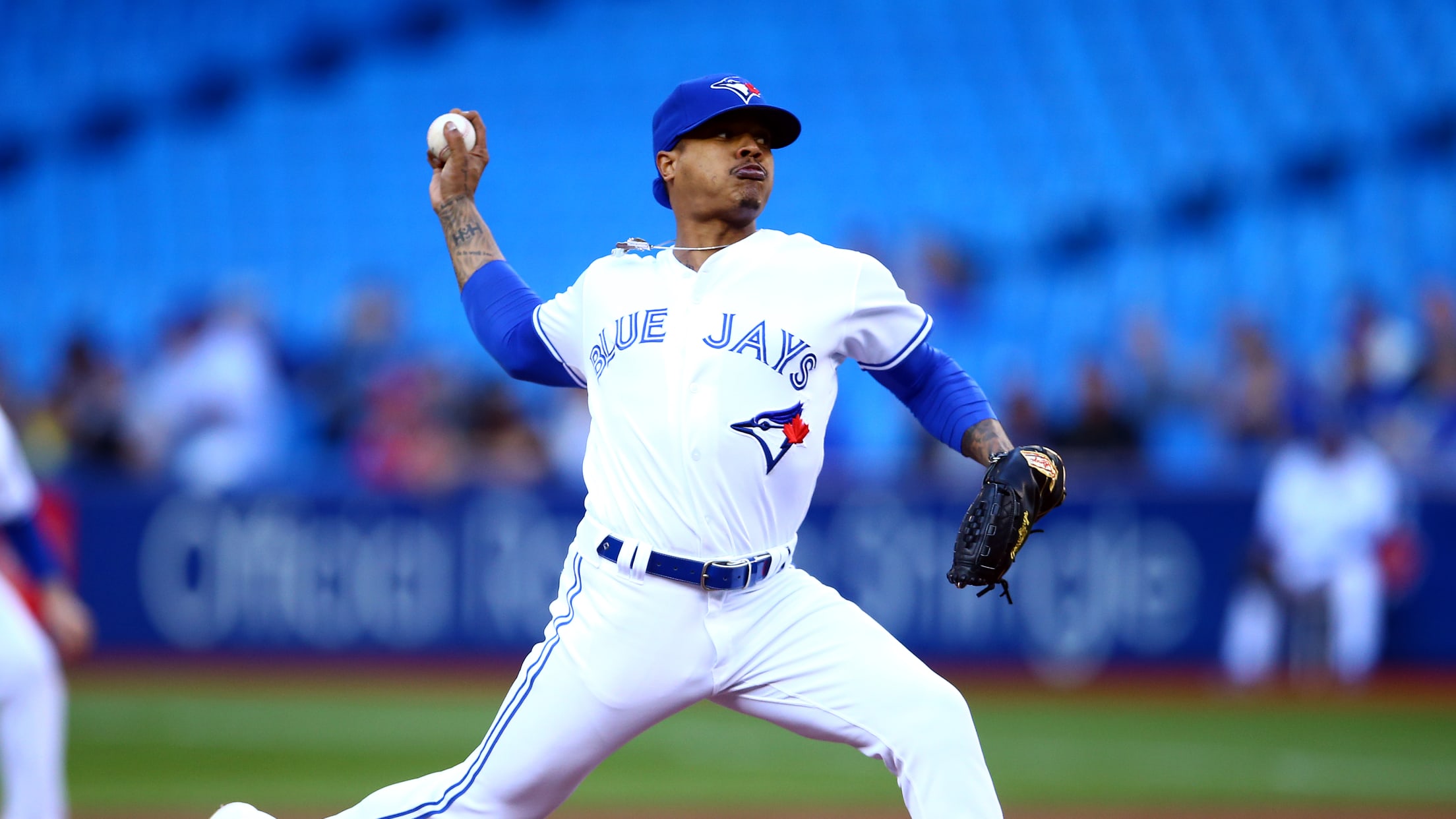 TORONTO -- Amid a season that has been about providing opportunity to young players and giving a glimpse of what the Blue Jays hope to be a bright future for the organization, Toronto's brass understood that the club might lose more than it would win. But what the Blue Jays
TORONTO -- Amid a season that has been about providing opportunity to young players and giving a glimpse of what the Blue Jays hope to be a bright future for the organization, Toronto's brass understood that the club might lose more than it would win.
But what the Blue Jays didn't expect was to be on pace for one of the worst finishes in franchise history, with a 34-57 record at the All-Star break and a spot near the bottom of the standings. To blame are the early season injuries Toronto experienced, a starting rotation that has underperformed expectations, and a young core that appeared to need some time to adjust.
The club believes it has made progress of late, however, and hopes it can pick up momentum in the second half.
"We have provided more opportunity to young players than any other team in baseball," Toronto general manager Ross Atkins said. "And when you do that, there are risks of losing more than you win. What we expected was to score a few more runs. We certainly planned for some injury, but we expected to not have them all happen at the start of the year on the pitching front.
"When I said we didn't expect to lose as much as we have, that was true. It comes from those two things. We didn't score as much from some of the slow starts and slower transitions of younger players. We're now seeing the Danny Jansen that he is over the last weeks, we're now seeing the Brandon Drury that he is, and the transition to Teoscar [Hernandez] in centre field has been exciting. Randal Grichuk has been much more productive recently, and Lourdes Gurriel is playing at a rate that is more indicative of the player that he is.
"A lot of those things weren't happening at the start of the year, so combined with the injuries resulted in more losses than we expected."
Current status: seller
With opportunities abound for the franchise's up-and-comers, the Blue Jays are looking to the future of the club. Because of that, they have become sellers in the current marketplace, with talent at the top level that might elicit some more intriguing long-term return.
That doesn't mean that Toronto would shy away from taking a look at trade packages that might include some Major League prowess on the receiving end, but the Blue Jays are likely to be more willing to part with their veteran big league players in return for young and controllable talent.
What they are seeking
"We're always trying to get better," Atkins said. "That may come in the form of pitching, that may come in the form of acquiring position players. It is the clear focus that we get more depth across our pitching, and that started a year-and-a-half ago. We've continued to acquire pitching at every opportunity that we can [and] feel good about the Draft on that front.
"At the same time, if there's a much better player available who is a position player -- albeit a Major League performer who's coming right into this environment or a Double-A shortstop -- then if that's the best talent, we'll have to acquire that."
What they have to offer
The name most often heard among the trade rumours out of Toronto this season has been Marcus Stroman. The 28-year-old right-hander earned his first All-Star nod after posting a 3.18 ERA over 18 starts and 104 2/3 innings in the first half.
"Marcus has put himself in an incredible position, throughout his career, not just over the last four months," Atkins said. "He has been durable, he has performed at an exceptionally high rate. He's one of the better pitchers in baseball over the last three years and because of that, he's in a great position for his future with the Toronto Blue Jays.
"And there are 29 other teams that are thinking the same way, that they would love to have someone who has been durable and has been productive, so we'll see. With another year of control for us, that's attractive to us, that's extremely attractive to other teams as well. But, he's put himself in a remarkable spot and earned all of that respect."
Ken Giles has joined Stroman among the most watched Blue Jays ahead of the July 31 Trade Deadline, as one of the season's most impressive relievers. The righty, also 28, owns a 1.45 ERA over 31 games and 31 innings, with nine walks and 53 strikeouts.
Aaron Sanchez's name was more frequently discussed early in the season, before the 27-year-old right-hander went through the worst month of his career in June. Battling through finger issues at the beginning of the year, and continually working to stay ahead of hitters, Sanchez is 3-12 with a 6.16 ERA over 19 games and 92 innings with 56 walks and 77 strikeouts. His losses and walks are the highest in the Majors.
First baseman Justin Smoak's name has also been floated among the veterans on Toronto's roster. Working around a quad injury this season, the 32-year-old switch-hitter headed into the midway point of the season slashing .217/.358/.418 with 14 homers, seven doubles and 37 RBIs in 71 games. Smoak will be a free agent at the end of the year.
Ahead of the all-star break, veteran #BlueJays first baseman Justin Smoak talked about the first half, the challenges rookies face, and the potential for superstardom in Toronto: https://t.co/ZDGpYVanhc

— Alexis Brudnicki (@baseballexis) July 7, 2019
Possible scenario
Though the Blue Jays are likely to depart with some veteran talent as the Deadline approaches, it would seem probable that they would be asking for a significant return.
Stroman, Giles and Sanchez are all under club control through the end of next season, and would elicit a bigger ask on the receiving end. In all likelihood, a noteworthy Minor League package including a number of prospects who might not be far from the Majors.
While the opportunities are plentiful on the field this season for Toronto, the front office has plenty of reason to feel opportunistic as the Deadline approaches as well.
"We do have some opportunities," Atkins said. "There's nothing for sure at a Trade Deadline, but do feel that we'll have some opportunities coming forth to acquire more talent."