All you need to know about today's Deadline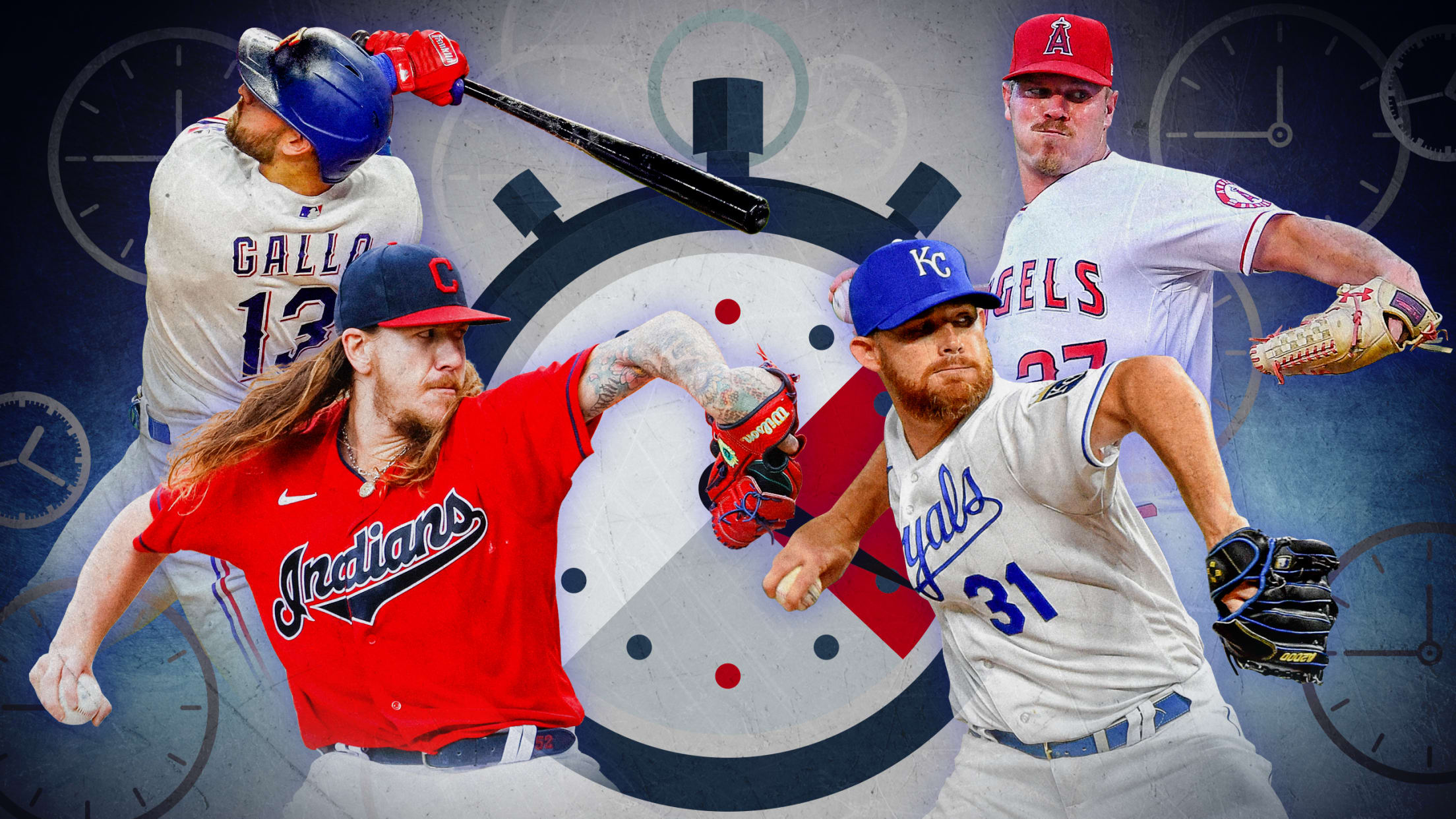 The clock is ticking. It's Trade Deadline day. All 30 Major League front offices will be assessing their rosters, playoff chances, organizational depth charts and much more between now and the 4 p.m. ET deadline, so here's a primer on what to watch for on one of the biggest days
The clock is ticking.
It's Trade Deadline day. All 30 Major League front offices will be assessing their rosters, playoff chances, organizational depth charts and much more between now and the 4 p.m. ET deadline, so here's a primer on what to watch for on one of the biggest days on the baseball calendar.
• 9 Trade Deadline predictions
30 teams, 7 clear 'sellers'
This is the question on the mind of most people around the game. If almost everybody is within shouting distance of a playoff spot, which teams are going to be selling off pieces?
As of this morning, 14 of the 15 teams in the National League are within 2 1/2 games of a postseason berth, the Pirates being the lone exception.
The American League has a bit of a bigger spread, with nine teams sitting either in a playoff spot or within two games.
That means 23 of 30 clubs are well within striking distance of a ticket to October.
"There are teams hanging in this thing because they're in the hunt," an NL executive said. "That likely wouldn't be in a normal year that allowed the typical separation to occur."
That leaves the Pirates, Mariners, Royals, Angels, Rangers, Red Sox and Orioles in the seller category, while the Giants, Marlins and Tigers could go either way. Some of those teams began to sell on Sunday, getting the trade wheels in motion in advance of the Deadline.
The other 20 teams? Almost nothing would be a surprise one way or another. That's not to say that the Dodgers, Rays or Athletics are going to start selling off pieces, but those front offices -- as well as a number of others in contention -- could get creative in an effort to improve their rosters for September.
Ah, yes, September. That's another key factor in trying to determine what could happen today. Teams are dealing for players who, in the case of impending free agents, will be with them for only one month (plus the postseason, assuming they qualify).
With only five weeks of games to assess their situation, it's easy to understand why some front offices may be skittish about making any huge moves today. Others -- Padres GM A.J. Preller, for example -- see an opportunity to make a deep postseason run and are taking a more aggressive approach.
• Padres, Mariners complete 7-player deal
For starters, it'll be an arms race
Nothing juices up a trade market like starting pitching, especially when a number of contenders are in search of rotation help.
That's the case this year, as the Yankees, White Sox, Astros, Athletics, Braves and Padres are among the teams trying to give their respective rotations a boost.
The top arms on the market were Mike Clevinger and Lance Lynn, whose names were being bandied about for most of Sunday. Clevinger went to the Padres in a nine-player deal on Monday morning, according to sources. Catcher Austin Hedges, right-hander Cal Quantrill, outfielder Josh Naylor, shortstop Gabriel Arias (No. 7 Padres prospect), left-hander Joey Cantillo (No. 9) and infielder Owen Miller (No. 11) are headed to Cleveland. Along with Clevinger, the Padres get Greg Allen and a player to be named.
Clevinger, the talented right-hander who was called back up this week after being sent to the Indians' alternate training site after violating COVID-19 protocols, has two years of club control after this one, making him a desirable player. Cleveland has a plethora of pitching and is in dire need of outfield help.
Lynn has been one of the best starters in the Majors this season, and although the Rangers aren't in a position where they must trade Lynn, a deal looks increasingly likely. Lynn is owed about $2.5 million for the rest of this season and roughly $9 million in 2021, but given the dearth of frontline starters on the market, teams might be willing to overpay given the extra year of control.
Lynn's teammate, Mike Minor, is among the impending free agents who could be traded by the Deadline. Others in that group include Kevin Gausman and Robbie Ray, who both could be dealt by 4 p.m. ET.
The Angels have been fielding calls on Dylan Bundy (under control through 2021), while the Orioles could very well move Alex Cobb (owed about $2.25 this season and $15 million in 2021, though a good chunk of that is deferred).
There has been plenty of speculation this week about Trevor Bauer, who will be a free agent this winter, but the Reds are only 1 1/2 games out of a playoff spot, making it more likely that they would be buyers, not sellers. With a 1-2-3 combo of Bauer, Sonny Gray and Luis Castillo, Cincinnati will have a chance in any short series if the Reds are able to reach the postseason.
• Tracking every deal before Trade Deadline
Impact bats a rare Deadline commodity
In the two weeks leading up to the 2018 Deadline, we saw Manny Machado, Mike Moustakas and Eduardo Escobar get traded. Last year, the biggest deals made involved pitchers (Zack Greinke, Marcus Stroman and a slew of relievers were moved -- more on the relievers later), while Nick Castellanos was among the few notable hitters to be traded.
(The three-team, seven-player megadeal that sent Trevor Bauer to the Reds, Yasiel Puig and Franmil Reyes to the Indians, and Taylor Trammell to the Padres was a fascinating mix of pitchers, sluggers and prospects, but deals like that tend to be outliers.)
Will any game-changing hitters be moved Monday?
The smart money is on no, but the Trade Deadline has a way of pushing teams outside of their comfort zone.
According to a source, Francisco Lindor's name has come up in some preliminary trade talks, though there's no indication the Indians -- who are in first place in the AL Central -- plan to move the superstar shortstop. Still, most consider it a foregone conclusion that Lindor will be shopped this offseason, so it's possible that Cleveland could be overwhelmed by a team looking to make a huge splash.
Could the Red Sox trade either J.D. Martinez or Xander Bogaerts? Martinez is owed $38.75 million in 2021-22, but he also has the ability to opt out after this season, while Bogaerts will earn full no-trade rights next week thanks to a clause in the six-year, $120 million extension he signed last year.
It would be something of a surprise if either player is moved, but first-year Boston exec Chaim Bloom didn't sign either player and has no attachments to them, so it's possible he could decide to shake things up during this disappointing season.
Kyle Seager of the Mariners is another big bat with trade potential, though like Martinez, his contract presents a potential problem. Should Seager -- who is due $18 million next season -- be traded, his $15 million club option for 2022 automatically becomes a player option, which may scare some teams away as they deal with the financial fallout of this season.
Joey Gallo's name also popped up in rumors on Sunday, and while the Rangers trading him would be a surprise, they might decide to try a quick rebuild if they are also trading Lynn and Minor. Gallo has two more years of club control after this one.
Clint Frazier (Yankees); Kevin Pillar and Jackie Bradley Jr. (Red Sox); Jose Iglesias and Hanser Alberto (Orioles); Gregory Polanco (Pirates); Andrelton Simmons and Brian Goodwin (Angels) are among the other position players that could be on the block.
Beefing up bullpens
We've already seen the Phillies acquire Brandon Workman and Heath Hembree, while the Padres traded for Trevor Rosenthal on Saturday to bolster their bullpen for the stretch run. On Sunday, the Rockies added Mychal Givens in a deal with the Orioles.
Expect to see a number of relievers moved today, which would continue a trend from recent Deadlines.
Last year, the Braves (Shane Greene, Mark Melancon, Chris Martin), Rays (Nick Anderson), Nationals (Daniel Hudson, Hunter Strickland), Brewers (Drew Pomeranz), Dodgers (Adam Kolarek) and Twins (Sam Dyson) all added relief arms in the final two days before the July 31 Deadline.
Having already dealt Rosenthal, the Royals could still move Greg Holland and/or Ian Kennedy, while Red Sox reliever Matt Barnes could follow Workman and Hembree out of Boston.
Other relievers to watch Monday include the Giants' Tony Watson, the Marlins' Brandon Kintzler, the Mariners' Matt Magill (who is on the injured list), the Pirates' Keone Kela (also on the IL), and the Angels' Cam Bedrosian.
Buying blind
There are plenty of strange aspects to this year's Trade Deadline, but the one most commonly mentioned is the lack of scouting and analytic information available.
In a regular year, teams would have scouts peppered around the country watching players, while analysts would be scouring data from every level for weeks and months leading up to the Trade Deadline. Whether their team was a buyer, a seller or somewhere in between, the more information a front office had, the better prepared it felt for any opportunity that presented itself.
Now, with the limitations in place for 2020 -- players not on 60-man Player Pools can't be traded during the season, teams can't trade players drafted this year as a players to be named, nor can they deal compensation picks or international pool slots for the next two years -- front offices don't have the full complement of tools they're accustomed to.
• 7 prospects who should be untouchable
"It's a very bizarre set of circumstances," one NL executive said.
Because of the pandemic, clubs have not been permitted to send scouts to games around the Majors. There is a limited amount of data available from a number of alternate training sites, but compared to the wealth of info that is gathered in a normal year, it's minuscule.
Because of that, teams may be dealing for players who haven't been seen in live action since last year, or possibly the first part of this year's Spring Training.
"This is where all of this data that's available is really going to be valuable," the exec said. "It might be the most recent info in a lot of situations."
Mark Feinsand, an executive reporter, originally joined MLB.com as a reporter in 2001.