Rookie greats who never reached that level again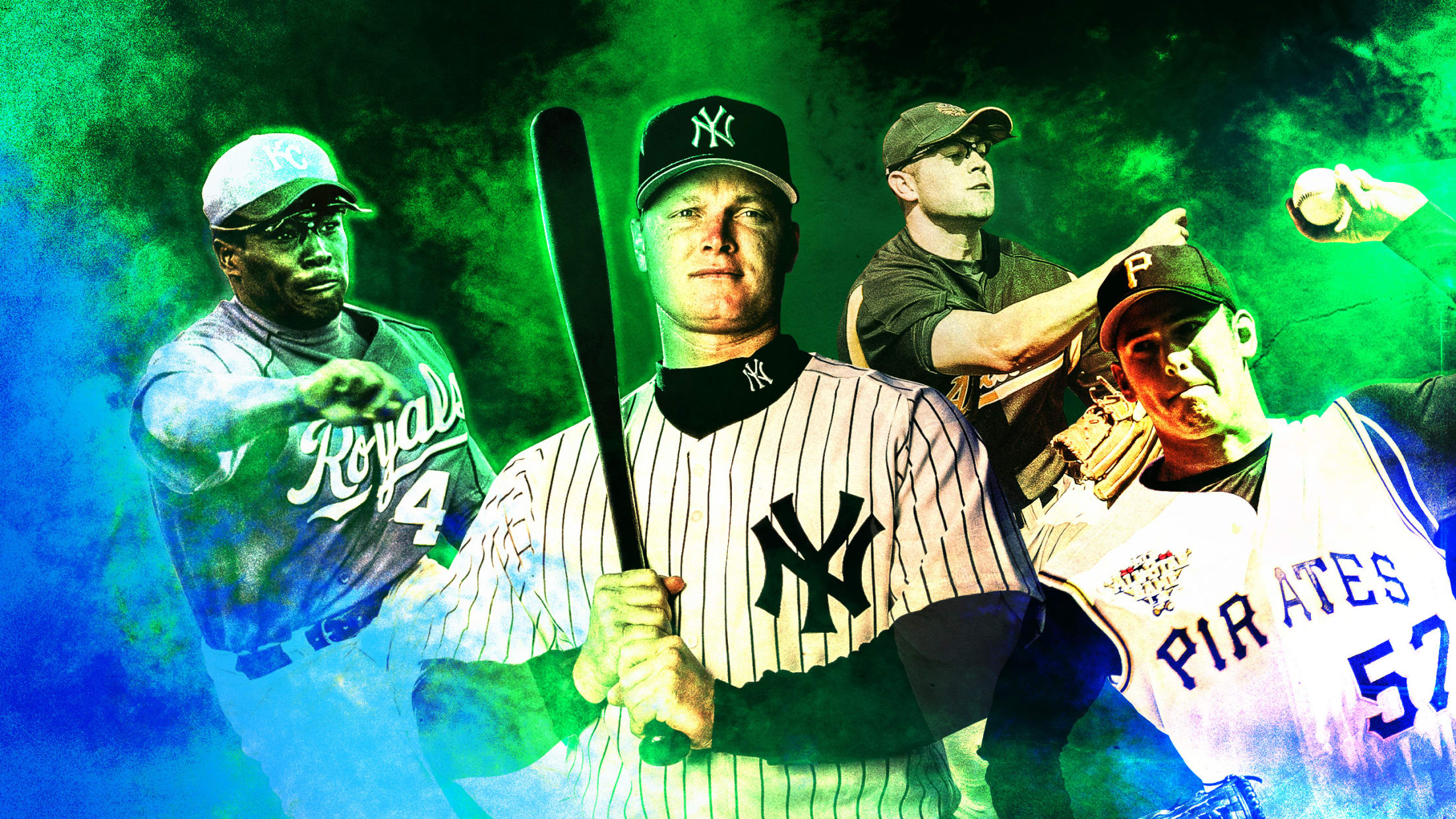 (Tom Forget / MLB.com)
Rookies are hope personified. When the new farmhands are called up -- fresh-faced and looking every bit like they were plucked from some CW pilot, all they have is a dream. Maybe they're a top prospect hoping to see the first steps toward a Hall of Fame career. Or they
Rookies are hope personified. When the new farmhands are called up -- fresh-faced and looking every bit like they were plucked from some CW pilot, all they have is a dream. Maybe they're a top prospect hoping to see the first steps toward a Hall of Fame career. Or they could be a player you've never heard of who kept impressing until they burst onto the Major League scene.
Rookies are supposed to struggle, too. So, when that formerly anonymous youngster comes up and dominates like he always belonged there, it captures our imagination. Who knows what the future could hold?
Sometimes they go on to have great careers, damning the odds and less-than-glowing scouting reports. Other times, they become like Shane Spencer, the Yankees rookie who came up, blasted roughly 800 home runs in about a week and then slowly disappeared into the ether.
Today, we're honoring those players whose peaks were brief, but when they shone, oh, how bright they were.
Angels: Willie Smith
Fifty-four years before Shohei Ohtani joined the Angels and showed off what a two-way player could do, there was Smith. Originally a pitcher in the Negro Leagues, the Tigers traded him to the Angels after a short big league debut in 1963.
Acquired to help the bullpen, Smith was soon getting reps in the outfield. Smith put together some remarkably impressive numbers: A .301 average with 11 home runs in 373 plate appearances, and a 2.84 ERA in 31 2/3 innings on the mound.
He moved to the outfield full time the next year, and played well again, hitting 14 homers with a .731 OPS. But that would primarily be it. He struggled after being moved to a part-time role the next season, and he bounced between a few more clubs before wrapping up his big league career in 1971.
Smith had one more skill: A velvety singing voice. He shared lead vocals on the Cubs' "Pennant Fever" song they recorded in 1971:
Astros: Mitch Meluskey
Meluskey looked to be one of the best offensive catchers in the game in 2000. He hit .300, smashed 14 dingers and, were it not for an ill-timed vacation that found him unreachable, would have been Mike Piazza's injury replacement at the All-Star Game.
Of course, Meluskey also found himself at odds with Houston's veteran leaders and even punched teammate Matt Mieske in the eye after an argument around the batting cage.
Meluskey was traded to the Tigers for Brad Ausmus that winter and missed all of the 2001 season with an injury. After that, Meluskey appeared in just 20 big league games -- never hitting another home run.
A's: Bobby Crosby
When Crosby took over for the departed Miguel Tejada, it looked like the A's had their shortstop for the next decade. Crosby won American League Rookie of the Year honors in 2004 after bashing 22 home runs and lacing 34 doubles. Sure, he only hit .239 and showed a penchant for striking out -- but these were the "Moneyball" A's, and Crosby was plenty happy to take a walk, tallying 58.
Unfortunately, Crosby's average never improved and injuries kept him off the field for large chunks of the next three seasons, eventually pushing him into a utility role.
Blue Jays: Gustavo Chacin
After dominating in the Minors in 2004, Chacin got his chance to pitch a full season with the big league team in 2005. The left-hander and his trademark goggles became a Toronto sensation, winning 13 games and posting a 3.72 ERA in 203 innings. It was enough that he even got his own promotion night, and the Blue Jays gave away "Chacin" cologne to the first 10,000 fans.
Check out this amazing ad that promoted the event:
Injuries ruined his chance for a follow-up. Chacin threw just 153 innings the rest of his career with a 5.06 ERA.
Braves: Jeff Francoeur
If we were going to name an award for this kind of player, it could be called The Frenchy.
Francoeur was a revelation when he reached the big leagues -- with an OPS over 1.000 through his first 50 games, Sports Illustrated put him on the cover and called him "The Natural." Forget the Hall of Fame, Braves fans were probably dreaming of erecting a statue to the outfielder outside the stadium.
On this day 14 years ago, a cover where we may have gotten a little ahead of ourselves… https://t.co/OT3MCnkfsd pic.twitter.com/0HKhubgjdC

— Sports Illustrated (@SInow) August 29, 2019
While Francoeur was blessed with a lightning-quick bat, a strong throwing arm and a smile that could inspire a meme, his lack of a batting eye meant that the dreams of stardom that seemed so certain at the outset of his career never came true.
Brewers: Pat Listach
Ah, speed, that fickle beast. How often has a young player come up and set fans' hearts alight with a blend of cocksure youth and legs that create Looney Tunes-esque trails of smoke?
Here's just a brief sample of what Listach did when he got on the bases:
After beating out Kenny Lofton for the 1992 AL Rookie of the Year Award behind a .299 batting average and 54 steals, Listach looked to be at the center of Milwaukee's future plans.
Unfortunately, when Listach failed to get on base, he wasn't able to use that speed. The infielder stole only 62 bases the rest of his career as he could only get on base at a .290 clip.
Cardinals: Rick Ankiel
After dominating as a rookie -- posting a 3.70 ERA and striking out over a batter per inning in 2000 -- it all fell apart on national TV as Ankiel couldn't find the strike zone. Ankiel walked 11 batters in just four innings that postseason.
While players had dealt with "Steve Blass disease" in the past, no one had been hit so hard and so suddenly as Ankiel. Within four years, the future of the Cardinals' rotation was back in the Minors, reinventing himself as an outfielder.
It's a testament to Ankiel's skills and strength that he succeeded and made it back to the big leagues with his bat, but the pitching part never recovered.
Cubs: Jerome Walton
1989 had all the makings of a magical year for the Cubs, as their young roster led by Greg Maddux and Shawon Dunston finished with the best record in the National League. Rookie center fielder Jerome Walton was a big part of that campaign.
The speedster easily won the NL Rookie of the Year Award with 22 of 24 first-place votes (teammate Dwight Smith got the others) after hitting .293 with 24 steals and displaying strong defense in the outfield. He even had a 30-game hitting streak along the way.
Unfortunately, that infield single probably says a little too much about Walton. With no power to speak of, Walton soon saw his hits dry up, and he lost his starting spot on the Cubs' roster. Though he played through 1995, he only stole another 34 bases the rest of his career -- getting caught 22 times along the way.
D-backs: Chris Young
An athletic center fielder, Young came within three steals of a 30/30 season in his rookie year -- something that only Mike Trout has ever pulled off.
Young went on to have a long big league career -- and even made it to the All-Star Game with Arizona in 2010 -- but his lack of plate discipline would prove his undoing. He never reached the 30-homer plateau again and only had two seasons as a starter with an OPS+ better than league average.
Dodgers: Billy Grabarkewitz
How different things could have been if Grabarkewitz made his big league debut today. Grabarkewitz got his big break in 1970 and made the most of it: He earned a trip to the All-Star Game thanks to a team-leading 17 home runs and an ability to play every position in the infield.
Unfortunately, no one in the team's front office cared that he led the team in walks or on-base percentage, but they were quite concerned that he struck out more than everyone else. So, they soon started asking Grabarkewitz to cut down on his swing and aim for the opposite field.
After slumping at the start of '71, Grabarkewitz was moved to a utility role and barely eclipsed the number of plate appearances he received in his rookie season over the next -- and final -- five years of his career.
"I have so many splinters from sitting on the bench that if somebody struck a match, I might catch fire," the infielder once told the Sporting News.
Giants: Matt Duffy
The man with the biggest cat in sports, Duffy showed up without much fanfare in 2015 and briefly gave Kris Bryant a run for the NL Rookie of the Year Award. Duffy hit 12 home runs and posted a .762 OPS while playing all over the infield.
He wasn't able to live up to those standards in his sophomore year, and he was traded to the Rays. Injuries wiped out his 2017 campaign, and he has yet to recapture the form from his rookie season.
Indians: Joe Charboneau
Charboneau is still a cult hero for his one magical year on the field and the wild tall tales spun off it. While "Super Joe" led the 1980 Indians with 23 home runs, helping inspire a local hit single "Go Joe Charboneau," it was all the things he did away from the park that really captured people's attention.
He could drink beer through his nose, opened bottles with his biceps and had people break large rocks on his chest for fun in a game he called "The Incredible Hulk." Unfortunately, back issues soon cropped up (wonder if it had anything to do with that particular game), and he would hit only six more home runs in his career.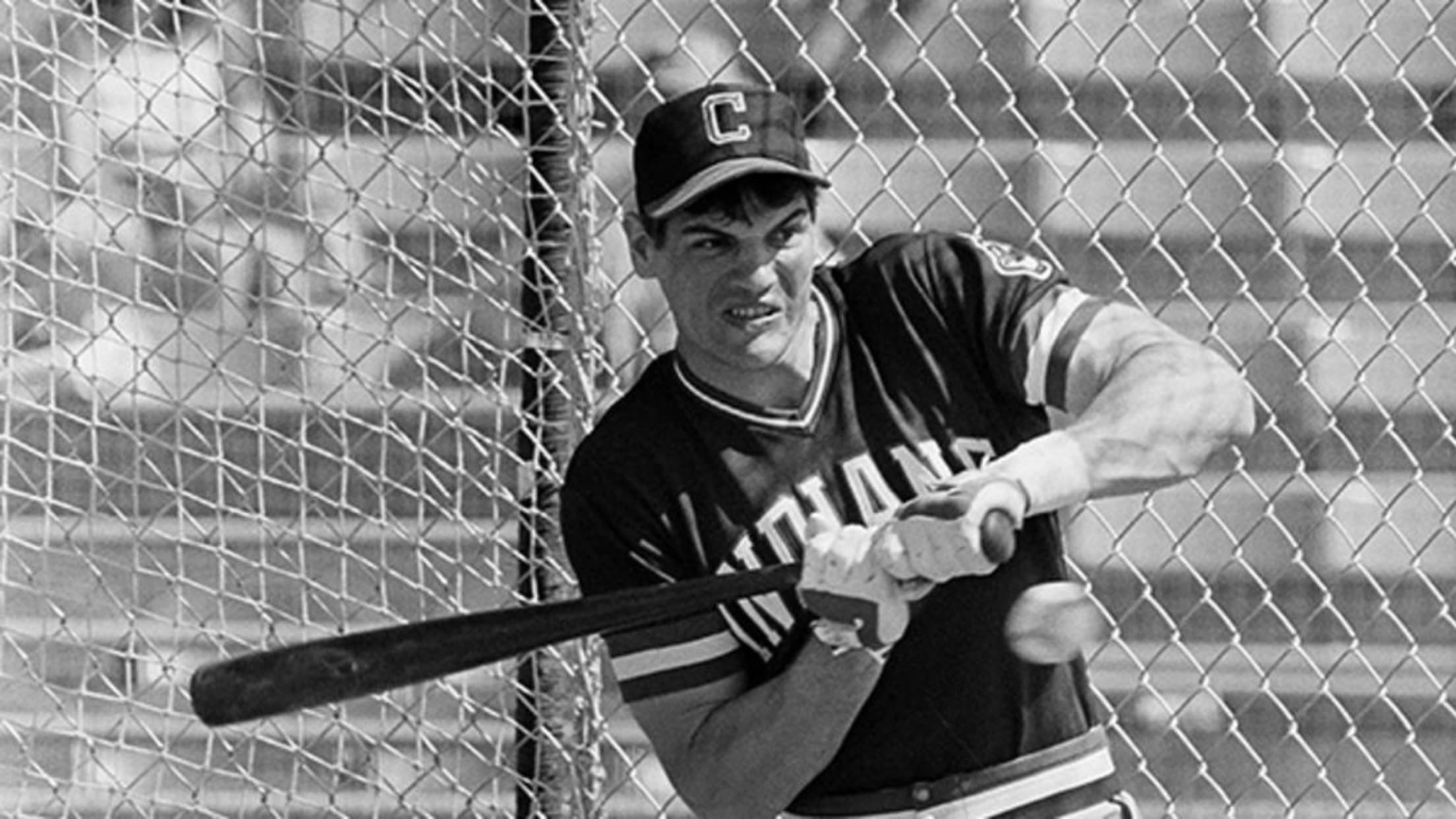 Mariners: Greg Briley
The 1989 Mariners had two rookie outfielders put together impressive seasons. One was Ken Griffey Jr., who, uh, well, you know what he did.
The other was Briley. Five years older than Junior, Briley posted a higher batting average, on-base percentage and slugging percentage than his teammate. Sadly for Briley, the rest of his career didn't follow Junior's path: He would play in the Majors for only four more years, never posting a league-average OPS again.
Marlins: Chris Coghlan
At the end of the 2009 season, Coghlan did things that got him mentioned alongside Ichiro: Namely, back-to-back 40-plus-hit months in August and September as a rookie. That was part of a second-half stretch that saw the outfielder hit .372 and win the NL Rookie of the Year Award.
Unfortunately, that was the last time Coghlan hit .300 in a big league season. Five years later, he had a brief resurgence as a utility player for the Cubs, but his most memorable moment came later when he leaped over Yadier Molina as a member of the Blue Jays.
Mets: Eric Valent
Valent is the type of player you can't help but wonder about. A star at UCLA on an absolutely stacked roster with Troy Glaus, Eric Byrnes, Chase Utley and Garrett Atkins, Valent was drafted 42nd overall by the Phillies.
He struggled to latch on there, and eventually wound up with the Mets as a Rule 5 Draft pick in 2004. In New York, he looked the part of a first-round pick, hitting .267/.337/.481 with 13 homers in 300 plate appearances -- the kind of numbers that warrant a place on the roster, if not in the starting lineup.
But the next year, Valent received only 50 plate appearances and never saw the big leagues again.
Nationals: Terrmel Sledge
The owner of arguably the coolest name in baseball history, Sledge made a pretty big impact on the team -- even if he didn't last there very long.
Sledge recorded the final RBI in Expos history, hit the first dinger in Nationals history and made his most significant impact by ... not being on the team.
After hitting 15 homers and posting a respectable .799 OPS in Montreal, he played only 20 games in Washington before being included in the trade to Texas that brought Alfonso Soriano to D.C.
Orioles: Wally Bunker
Bunker was just 19 years old when he burst onto the scene in 1964 -- going 19-5 with a 2.69 ERA. While he wasn't expected to be in the rotation, he made sure he stuck by starting with three consecutive complete games -- giving up just two earned runs along the way.
"[Bunker]'s too young to pitch," said pitching coach Harry Brecheen at the time. "He should be enjoying ice cream like the other kids."
Unfortunately, injuries would do him in. Bunker soon found himself in a swingman role before eventually being picked in the expansion draft by the Royals.
Padres: Ryan Schimpf
Schimpf's career is an odd one. He signed with the Padres as a Minor League free agent in 2016 and immediately lit Triple-A on fire, swinging the bat like he had never done before. That earned him a callup to the Majors, where his hot streak continued. Schimpf launched nine home runs in July to win Rookie of the Month honors.
Though he fell off that pace, he still finished the season with 20 dingers -- an impressive total for a second baseman -- though it came with a low average (.217) and more home runs than singles. While he showed power the next season, his average dipped below the Mendoza line, and he was traded three times before being released by the Angels during the 2018 season.
Phillies: Chris James
James was impressive enough as a rookie in 1987 (17 homers, 124 OPS+) that even after a rough season the next year, he was named the starting third baseman after Mike Schmidt abruptly retired during the '89 season. But after four hitless games at third -- running his hitless streak to 31 at-bats -- James was traded to the Padres.
He may have been too tightly wound for Major League Baseball. An article in the LA Times shortly after his trade to San Diego highlighted the bottle of antacids that James kept in his locker to deal with an ulcer that the stress of playing gave him.
Pirates: Zach Duke
Pirates fans thought the team had found its ace of the future when he debuted in 2005. The southpaw started his career with a 0.92 ERA through his first six starts, eventually finishing the year with an 8-2 record and a 1.81 ERA.
That would prove the high point of Duke's career. The lefty stayed in the rotation through 2010, though he would lead the league in hits allowed and losses in separate seasons, before finding success in the bullpen for eight other teams.
Rangers: Dave Hostetler
For the first half of the 1982 season, Hostetler made Rangers GM Eddie Robinson look like a genius. Hostetler was originally a throw-in from the Expos in the Larry Parrish-Al Oliver trade. After being called up in May, Hostetler was hitting .278/.364/.590 with 12 home runs in just 41 games at the All-Star break and was the power-hitting star the Rangers were looking for.
Unfortunately, Hostetler hit just .208/.266/.350 the rest of the way and lost his first-base job the next season. After hitting only 11 home runs in '83, he was relegated to bench duty and then the Minors before making one last appearance in the big leagues for the Pirates in 1988.
Rays: Rolando Arrojo
Not a whole lot went right for the Rays in their first season -- which is to be expected for an expansion team. But the signing of Arrojo after he defected from Cuba the year before was one thing that went very well.
Arrojo was the team's lone All-Star representative while going 14-12 with a 3.56 ERA before finishing second to Ben Grieve in the AL Rookie of the Year Award voting.
Unfortunately, Arrojo was already 32, and he posted a 5.18 ERA the next year before being traded to Colorado in 2000.
Reds: Wayne Simpson
Despite their long history and multiple dynasties, the Reds have never had a pitcher win the NL Cy Young Award. Had things gone differently, perhaps Simpson would have pulled it off.
Armed with a wicked fastball -- Johnny Bench claims no one threw harder -- Simpson got off to a fast start in his rookie season. Simpson went 14-3 that year with a 3.02 ERA, but things went screwy when Simpson tore his rotator cuff that July 31.
Because this was 1970, Simpson made an appearance two weeks later and another in September, but the magic was gone. He would stay in the league through 1977, but he was never an effective starter again.
Red Sox: Walt Dropo
The Moose from Moosup, Conn., surprised everyone with his rookie season. Dropo wasn't on the Red Sox's roster when the 1950 season began, but when Billy Goodman got hurt early in the season, Dropo was summoned to the Majors.
All he did was hit. Dropo posted a batting line of .322/.378/.583 and knocked out 34 home runs, beating out Bobby Doerr, Vern Stephens and Ted Williams (who only played in 89 games, but still) to lead the team. He was voted the AL Rookie of the Year ahead of Whitey Ford, and he finished sixth in MVP voting.
Struggling the next season, Dropo was sent to the Minors and was traded to Detroit in '52. He played in the Majors through '61 -- hitting 152 career dingers along the way -- but he never came close to matching that rookie year.
"Everybody has a moment in his lifetime when everything comes together," Dropo told Sports Illustrated in 1993. "You can't measure what happens to you. You can't identify what happens to you. You look at athletes in all sports -- there is a time when everything is just right. My time was 1950."
Rockies: Clint Barmes
Barmes burst out of the gate in 2005, hitting an Opening Day walk-off homer, and he had an OPS as high as 1.000 on May 20. Unfortunately, in early June, Barmes broke his collarbone while carrying a bag of venison up his stairs given to him by teammate Todd Helton.
That injury is seen as one of the silliest in baseball history, and while Barmes returned and established himself as one of the best defensive infielders in the game, the bat never lived up to his first two months in the bigs.
Royals: Angel Berroa
Sure, Berroa committed a lot of errors during his 2003 rookie season, but that's OK when you're a young shortstop hitting close to .300 with nearly 20 home runs. That was enough to give him a narrow victory over Hideki Matsui for the AL Rookie of the Year Award.
Unfortunately, that was his best campaign. Berroa's average, on-base percentage and slugging percentage dropped every year for the next four seasons and his fielding never improved. Berroa's 71 errors from 2004-06 were the most in the Majors, while his OPS was seventh-worst.
Tigers: Mark Fidrych
While he became a fan favorite for his antics near the mound, Fidrych was even better when on it. The curly-haired hurler went 19-9 with a 2.34 ERA and led the league with 25 complete games in 1976. That earned "The Bird" the AL Rookie of the Year Award.
Unfortunately, all that stress on his arm was too much. A knee injury early in 1977 was soon followed by an arm injury, and Fidrych pitched only 162 more innings in his big league career.
Twins: Lew Ford
After impressing in a 34-game audition in 2003, Ford earned a full-time job the next year and took advantage of it. Playing all three outfield positions, Ford hit 15 home runs, stole 20 bases and led the team with a .381 on-base percentage.
Ford struggled the next season and soon was relegated to a bench role. However, Ford's story doesn't end there.
He joined the Hanshin Tigers of the Japanese NPB in 2008, returned to play in the Minors for the Reds the next year, went to the independent Atlantic League, made it back to the Majors with the Orioles in 2012, and has played for the Long Island Ducks since then.
Ford is still active. He re-signed for his seventh season as a player-coach this winter, and he would have suited up for the Ducks had the coronavirus pandemic not caused the Atlantic League's season to be indefinitely postponed.
White Sox: Daniel Palka
Only two years into his career, Palka could easily remove himself from this list. But his sophomore season was one of the most unexpected campaigns possible.
The outfielder showed off a powerful bat and a penchant for adventurous outfield routes in his 2018 rookie season. Still, 27 home runs and a 110 OPS+ was a good start for his big league career.
Then last year happened. Palka had only one hit in his first 56 at-bats, and a hot finish over the final weeks of the season saw Palka raise his batting line to a meager .107/.194/.179 -- good for an OPS+ of two.
Yankees: Shane Spencer
People say playing in New York is hard, but Spencer made it look easy when he was called up at the end of the 1998 season. Over the season's final two months, Spencer hit 10 home runs -- including three grand slams (a then-rookie record since broken by Alexei Ramirez) -- en route to countless comparisons to Roy Hobbs and the role of New York folk hero. He kept that up with two home runs in the Yankees' sweep of the Rangers in the AL Division Series.
Though Spencer would play for six more years, he never topped 12 homers in a season and never again matched those three scorching hot months in his rookie season.
Kevin Maas, who hit 21 of his 65 career homers in 79 games during his 1990 rookie season, is another acceptable answer, but we'll go with Spencer since his dingers helped propel the Yankees to another World Series title.
Michael Clair writes for MLB.com. He spends a lot of time thinking about walk-up music and believes stirrup socks are an integral part of every formal outfit.