Will Phillies go after another starting pitcher?
Beat reporter Todd Zolecki answers fans' questions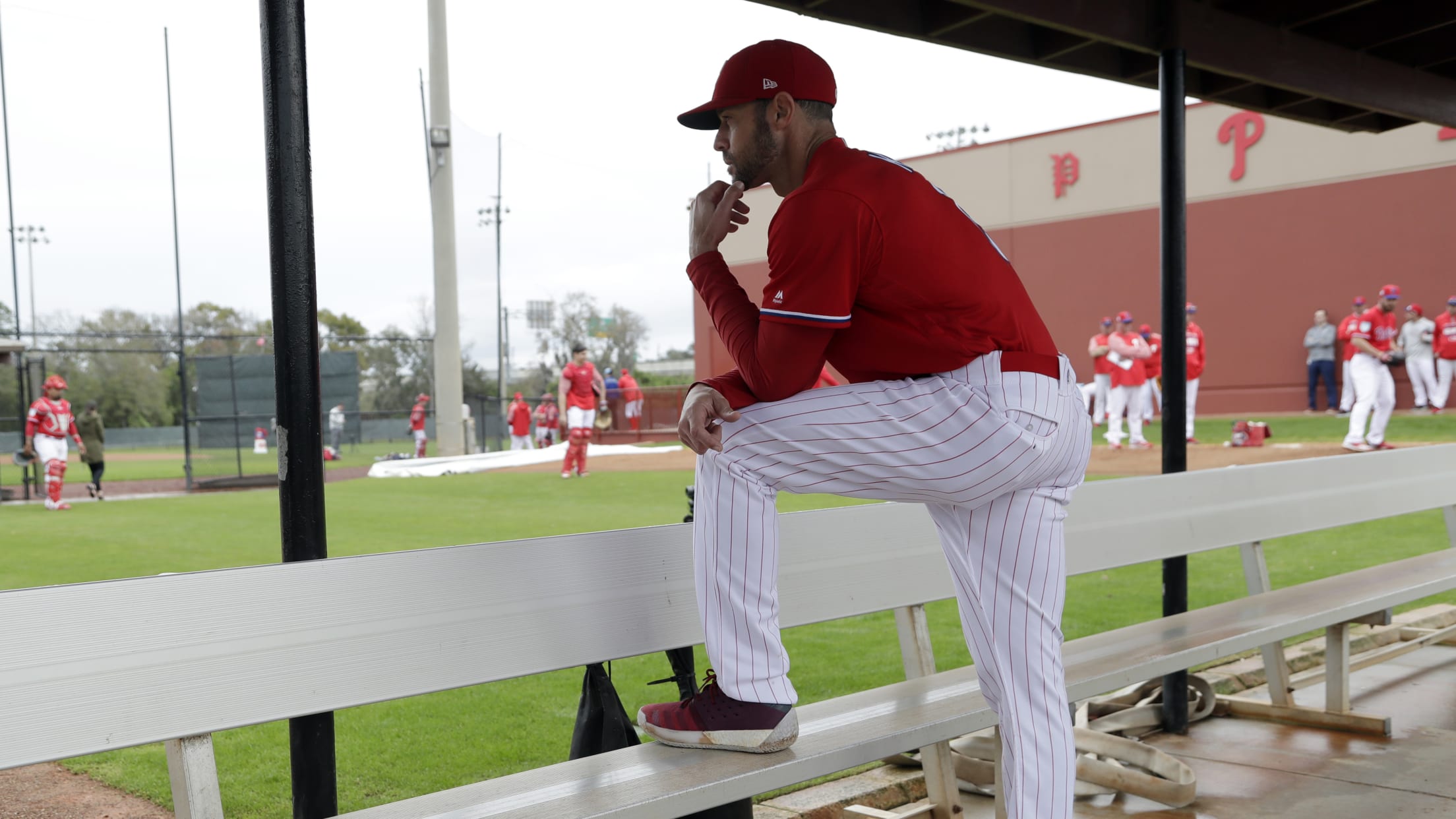 The Phillies do not play today, but there is always plenty to talk about with Opening Day just 16 days away. Do you think we still go after a starting pitcher? Free agent or potential trade? -- @ElJimmadorUK
The Phillies do not play today, but there is always plenty to talk about with Opening Day just 16 days away.
Do you think we still go after a starting pitcher? Free agent or potential trade?
-- @ElJimmadorUK
It is my understanding that the Phillies would be interested in free-agent left-hander Dallas Keuchel on a short-term deal, meaning a one-year contract. I'm not sure if I see that happening, but it would not surprise me, either.
It might make more sense for the Phillies to move forward with what they have and adjust in July, if needed. Teams can find starting pitching in the summer. The Phillies got Jamie Moyer in August 2006, Kyle Lohse in July '07, Joe Blanton in July '08, Cliff Lee in July '09 and Roy Oswalt in July '10.
The Phillies could open the season with Aaron Nola, Jake Arrieta, Nick Pivetta, Zach Eflin and Vince Velasquez, and see who steps up and who does not. If somebody struggles or is injured, they could pull from their pool of Triple-A talent that is likely to include Jerad Eickhoff, Drew Anderson, Enyel De Los Santos and Ranger Suarez. If they are not viable, long-term solutions, the Phillies could consider a trade.
Do you think Gabe will stick with Cesar at the top? I personally love him leading off. He knows how to work the first AB by taking pitches, has good speed, and makes contact. Only wish is for him to trust his legs and steal more bases. Your thoughts?

— Head Chronicles (@JustinIVC) March 12, 2019
It sounds like Cesar Hernandez will be the Phillies' leadoff man, assuming he is ready to play by Opening Day. Hernandez has not appeared in a game since Feb. 25 because of a strained right hip flexor, but Phillies manager Gabe Kapler said recently he could play in a Grapefruit League game in about a week. Kapler likes Hernandez in the top spot because he is a high on-base percentage guy who can run (sprint speed of 29.2 feet per second ranked 39th out of 549 players last season).
Yes, we know Hernandez is not a proficient base stealer, considering his speed. But again, he gets on base and he can run.
If Hernandez struggles for some reason or he is not healthy, Kapler can use Andrew McCutchen in the leadoff spot. He provides a nice combination of on-base ability and power. It could be a good look for the Phillies' offense.
Anything new with Nick Williams? He is still the odd man out?

— JD (@JDul001) March 12, 2019
It sounds to me like Roman Quinn (strained right oblique) could open the season on the injured list. If he does, it buys the Phillies time in making a tough decision on their remaining outfielders. But Nick Williams is in a difficult spot. Kapler said on Monday that Bryce Harper is his right fielder and McCutchen is his left fielder. Each is expected to get more than 600 plate appearances this season.
That is not a surprise, but it also leaves Odubel Herrera, Aaron Altherr and Quinn jockeying for playing time in center field.
Kapler said Williams is not an option in center field, meaning there really is nowhere for him to play or even get semi-regular at-bats. The Phillies could use Williams as a left-handed bat off the bench, like Ross Gload of seasons past, but Williams is young enough that he probably needs to play semi-regularly. It is why a source said a couple months ago that if the Phillies sign Harper, the Phillies are most likely to trade Williams. Of course, Williams has options remaining, so they theoretically could start him in Triple-A, too.
As we get closer to opening day & figuring out the 25 man roster there's lots of talk about which players have options... What exactly are options, how many do players have & how is that determined?

— Larry Davis (@thephillyguy) March 12, 2019
It is important to remember which players have options remaining -- particularly when it comes to the Phillies' outfield and bullpen battles -- as the team finalizes its Opening Day roster. Because while it is important to put the very best roster together, it also is important to maintain depth for a six-month season in which multiple players will be injured.
For example: Player A puts up OK numbers in the spring (or even has a bad spring) and makes the team over Player B, despite the fact that Player B had a great spring. But Player A is out of options and Player B has at least one option remaining. Rather than risk losing Player A, who might have just had a bad spring, the Phillies open the season with him. If he pitches great, great. If he struggles, they can make a move to Player B later.
Notable Phillies on the 40-man roster who are out of options are: Altherr and Quinn; Hernandez; right-handers Tommy Hunter, Pat Neshek, Hector Neris and Juan Nicasio; and left-handers Adam Morgan and Jose Alvarez.
Is the four-man bench pretty much set in stone? Any chance they go with a fifth bench guy? Or does Gabe covet that 8th bullpen arm too much?

— Jeff (@JeffLyons) March 12, 2019
The new normal for the Phillies is a five-man rotation and an eight-man bullpen. The means they will carry a four-man bench again.