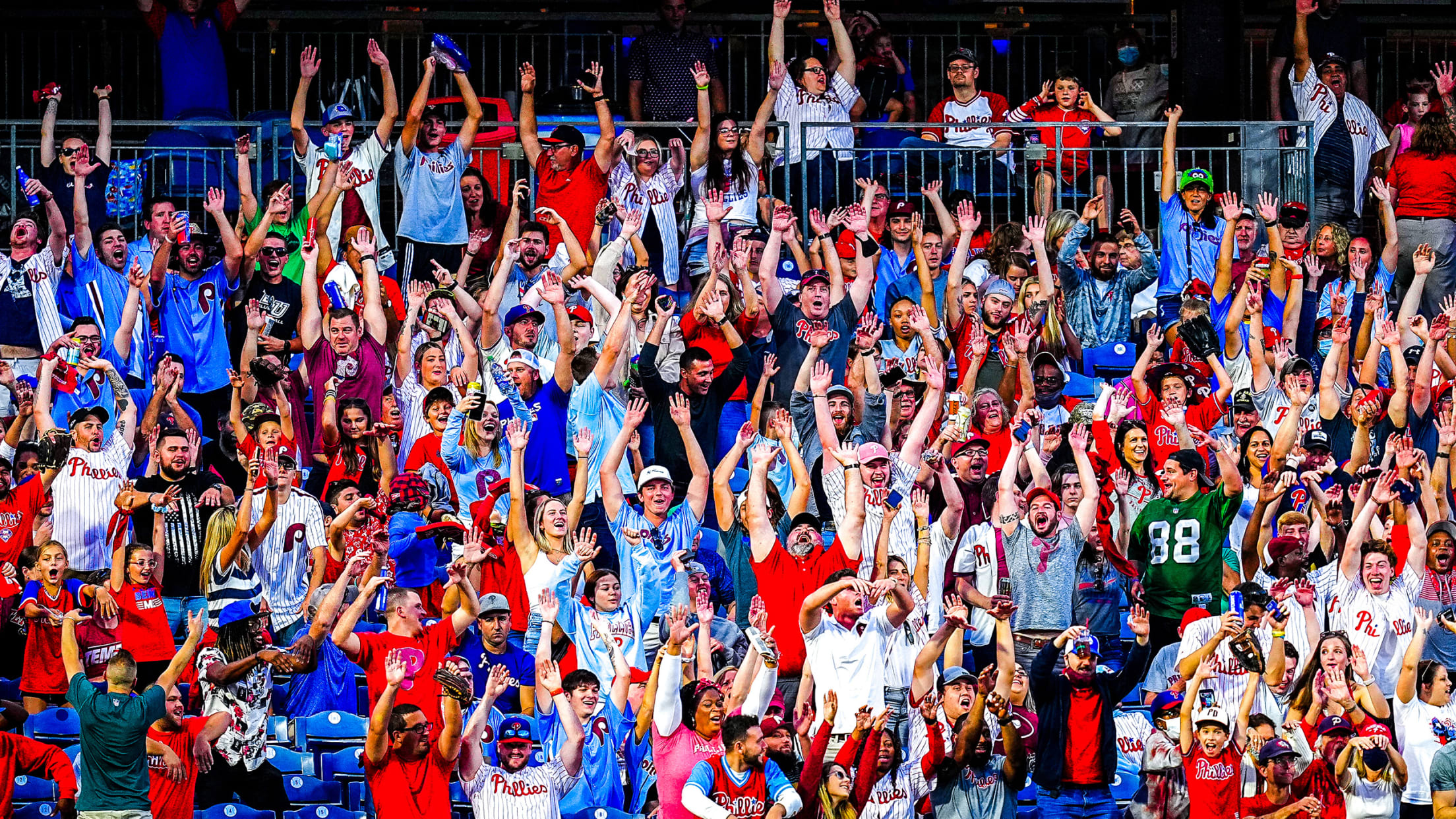 2022 Group Tickets are on sale now
Attending a Phillies game is more fun in groups! Be sure to gather your friends and family and join us for a game at beautiful Citizens Bank Park!
Ordering tickets for your group of 25 or more is easy! Simply contact the Phillies Group Sales Office at 215-463-5000 or [email protected]. For most group ticket purchases, a $5 per ticket, non-refundable credit card deposit (MasterCard, Visa, Discover or American Express) and $15 processing fee per game is due at the time the group order is placed. Final payment is due 45 days prior to the game date. Tickets are issued once final payment is received, but delivery may be delayed.
When booking a Suite, Hall of Fame Club Deck, or Hospitality area, a $500 per facility non-refundable deposit is due at the time of order and final payment is due 45 days prior to the game. The Phillies, however, reserve the right to require full payment for the group order at any time for any game. All online orders include a $40 order charge per game and payment in full is due at the time of purchase.
All groups of 25 or more will be recognized prior to the game on the main scoreboard and during the game on the side auxiliary message boards. Groups also receive ticket discounts in select locations for most games, based on the following structure:
| Discount per ticket, based on total tickets sold | | | |
| --- | --- | --- | --- |
| Citizens Bank Park Seating Sections | 25 - 149 tickets sold | 150 - 299 tickets sold | 300+ tickets sold |
| 108-111; 136-139; 101-107; 140-148; 201-205; 206-211; 241-245; 233-237; 301-305; 306-310; 312-328; 329-333; 412-428; 429-434; Rooftop Bleachers | $4 discount | $5 discount | $6 discount |
Group ticket discounts do not apply to select seating areas, such as: Field Level Sections 112-135, Premium seating areas, Suites and Hall of Fame Club Decks. For the following game dates, discounts/rebates will not apply: Friday, April 8; Friday, June 3; Saturday, June 4; Sunday, June 5; and all Saturday games from May 7 - August 6. There is a maximum of 50 tickets per customer and payment is due in full at the time of order for the following games: Friday, April 8; Friday, June 3; Saturday, June 4 and Sunday, June 5.
Group tickets are subject to dynamic pricing and discounts are subject to change. Tickets are subject to availability and some restrictions may apply. All sales are final. No returns, exchanges or refunds. See the Group Policies page for additional exclusions and information.