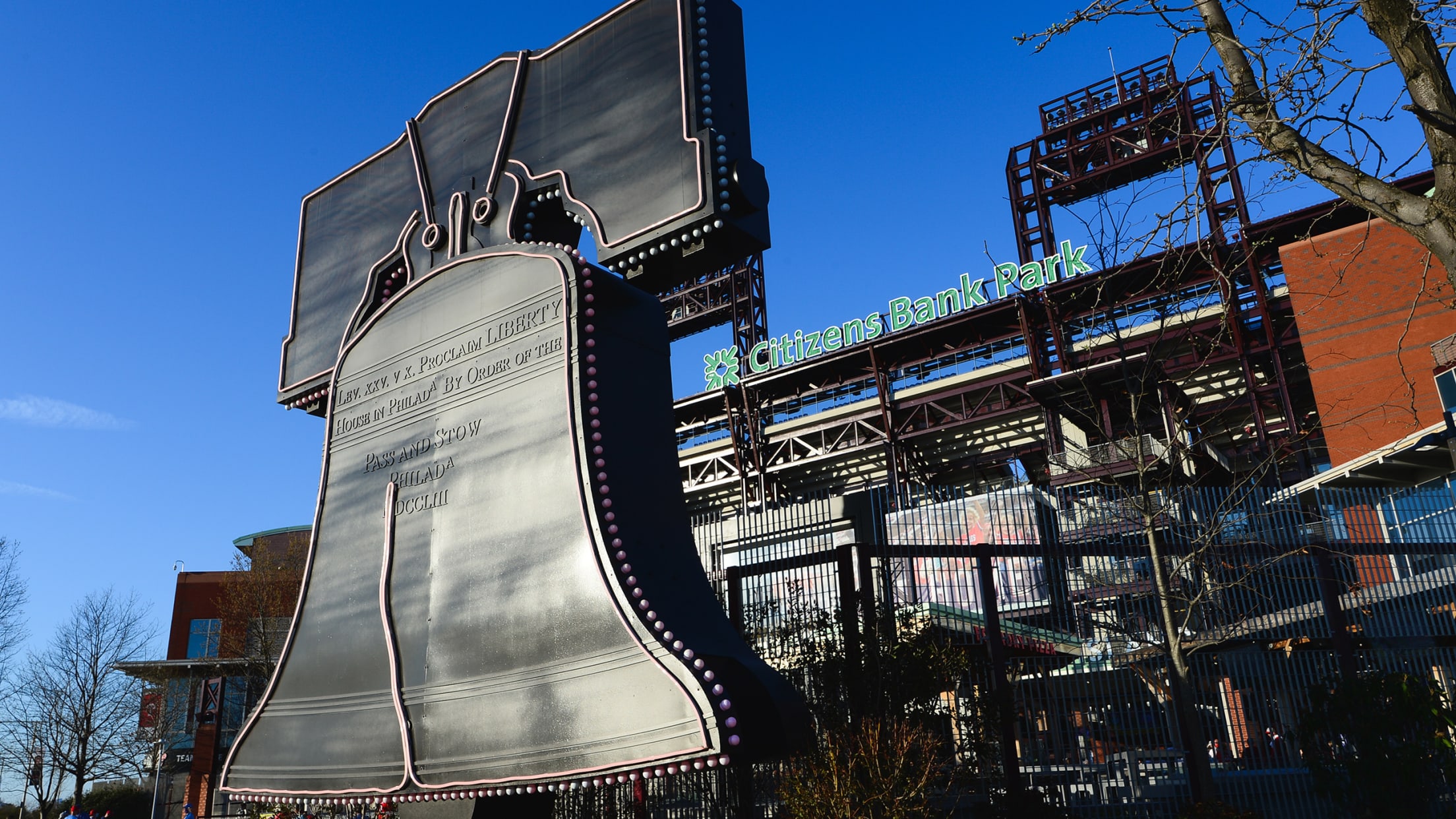 Tour guests will be treated to a brief audio/visual presentation of Citizens Bank Park, followed by an up-close look at the ballpark. Tour stops include the Phillies Dugout, the CP Rankin Club, the Hall of Fame Club, Broadcast Booth and Media Room.
Please note that tour stops are subject to change at any time without any advanced notice.
*Tour tickets must be purchased in advance. No tickets will be sold to guests who walk up the day of the tour.
Public Tours
Tickets for a tour of Citizens Bank Park may be purchased online or by calling the Phillies Ticket Office at 215-463-1000.
Citizens Bank Park tours are about 75 minutes long and operate rain or shine.
Pricing
| Attendee | Price |
| --- | --- |
| Adult | $20 |
| Child (14 & under) | $15 |
| Senior (55+) | $15 |
| Children (3 & under) | FREE |
The maximum number of tickets that can be purchased for a public tour is 12 tickets.
Tour tickets must be purchased in advance. Allow adequate time to purchase tickets as tours frequently sell out. No tickets will be sold to guests who walk up the day of the tour.
Tours will NOT be offered on major holidays. Tour dates and times may be unavailable due to events taking place at the ballpark. All tour tickets will be delivered via the MLB Ballpark app.
In Season (April - September)
Public tours are offered regularly on Monday through Friday dates.
Off Season (October - March)
Public tours are offered on select Tuesday and Thursday dates.
1:30 p.m. tours
Additional times may be added closer to tour dates
Group Tours (25+)
Group tours of Citizens Bank Park offer 25 or more guests their very own tour slot to experience the ballpark. Tours run about 75 minutes and include the same areas as the public tour. All group tours must be booked at least two weeks in advance.
Pricing
| Attendee | Price |
| --- | --- |
| Adult | $13 |
| Child (14 & under) | $8 |
| Student | $8 |
| Senior (55+) | $8 |
| Children (3 & under) | FREE |
Schedule
Group tours are offered on select Monday through Friday dates.
In 2023, group tours are offered at 10 a.m., 11:30 a.m. and 1 p.m.
To book a group tour or for more information, please email [email protected].
If you would like to schedule a tour for a marriage proposal, engagement photos, birthday, corporate events, etc., please contact the Phillies Special Events department at [email protected].
Accessibility Information
All Citizens Bank Park tours are accessible for all Guests.
If a group consist of any individuals with special needs (regardless of size), please call to discuss group tour options.
Citizens Bank Park provides complimentary wheelchairs for guests who may have difficulty walking on the tour. We request advance notice of 72 hours.
If you or anyone in your group requires assistance for a hearing impairment, please contact us one week prior to the tour date and time.
For any of the above requests or accommodations please contact the Phillies Tour Department at [email protected].
Additional Details
Parking is available in Lot P and is complimentary for tour guests for the duration of the tour.
We recommend guests arrive 15 minutes prior to the scheduled tour time to allow for bag checks and ticket scanning.
This is approximately a mile walking tour, both inside and outside, please dress accordingly.
All tours are wheelchair and stroller accessible. Wheelchairs are available by request.
Cameras are permitted.
All bags will be subject to search prior to the tour. In an effort to expedite entry, guests are prohibited from bringing bags, including backpacks and drawstring bags, to the ballpark. Only clutch purses (12" x 12" x 1"), fanny packs, medical bags, clear or solid tote bags and diaper bags will be permitted into Citizens Bank Park. Please view our Guest Code of Conduct with any questions.
Tour stops are subject to change at any time without any advanced notice.
Tour guests are welcome to shop in the New Era Phillies Team Store during their hours of operation. We encourage guests to visit the store at the conclusion of their tour so they do not need to carry purchased items with them while they are touring. Please note that the New Era Phillies Team Store is cashless, but for your convenience, there is a reverse ATM located in the store for fans to convert cash to a prepaid debit card that can be used anywhere that major credit/debit cards are accepted. For a full list of hours please visit phillies.com/newera
Terms and Conditions
These terms and conditions apply to all Citizens Bank Park Ballpark tours. In consideration for being permitted to take a tour, each individual tour participant agrees (on his or her own behalf and on behalf of any accompanying minors) to be legally bound by the following terms and conditions with regard to visiting Citizens Bank Park and participating in a Ballpark tour:
I will comply with all applicable requirements of law and the rules and regulations of The Phillies and Major League Baseball.
I assume all risk incident to participating in a Ballpark tour, whether occurring before, during or after the tour (including without limitation from thrown or batted balls, thrown bats or fragments thereof and other tour participants' conduct) and waive any and all claims arising out of the tour and release Major League Baseball, The Phillies, all Phillies employees, any opposing club and any Philadelphia Phillies or opposing club players from liability therefor, even if based on the negligence of any of the released parties.
I authorize The Phillies to capture and produce images and recordings of me in any media form, worldwide, in connection with participation in the Ballpark tour without compensation, for an unlimited duration and I release each such party from any and all liability in connection with it doing so.
No tour ticket may be resold (a) via the Internet or any other interactive media without the prior written consent of The Phillies or (b) to the extent prohibited by any applicable federal, state or local law or regulation. The maximum resale premium is the greater of 25% of the stated ticket price or $5, plus lawful taxes, although this maximum premium is not applicable to resales via the Internet or by a ticket broker duly licensed by the City of Philadelphia.
No tour ticket may be used for advertising, promotion (including contests and sweepstakes) or other trade or commercial purposes without the express written consent of The Phillies.
Any tour participant under the age of eighteen must obtain permission to take a tour from his/her parent or guardian and the parent or guardian agrees to these terms and conditions on behalf of themself and the minor tour participant. Additionally, the license granted by a tour ticket or other permission from The Phillies to take a Ballpark tour may be terminated in the sole discretion of The Phillies at any time. If such a license is terminated, The Phillies will tender the tour purchase price to the ticket holder or other tour participant.
THE LICENSE GRANTED BY THIS TICKET SHALL BE GOVERNED BY PENNSYLVANIA LAW (EXCEPT THAT THE FOLLOWING ARBITRATION CLAUSE SHALL BE GOVERNED BY THE FEDERAL ARBITRATION ACT) AND ANY DISPUTE, CLAIM OR CAUSE OF ACTION ARISING OUT OF OR IN ANY WAY RELATED TO THE EVENT SHALL BE SETTLED BY CONFIDENTIAL, MANDATORY, FINAL AND BINDING ARBITRATION HELD IN PHILADELPHIA AND ADMINISTERED BY THE AMERICAN ARBITRATION ASSOCIATION UNDER ITS COMMERCIAL ARBITRATION RULES (INCLUDING THE CONSUMER ARBITRATION RULES, IF APPLICABLE). ANY AND ALL CLAIMS SHALL BE ARBITRATED ON AN INDIVIDUAL BASIS ONLY AND SHALL NOT BE ARBITRATED AS A REPRESENTATIVE MEMBER OF A PUTATIVE CLASS OR IN A PRIVATE ATTORNEY GENERAL CAPACITY OR CONSOLIDATED OR JOINED WITH OR IN ANY ARBITRATION OR OTHER PROCEEDING INVOLVING A CLAIM OF ANY OTHER PARTY. THE LICENSEE AND THE PHILLIES WAIVE ANY AND ALL RIGHTS TO A JURY TRIAL.