Bryce collects first career 5-hit night to snap funk
Phils finish 1-for-16 with RISP, fall on walk-off blast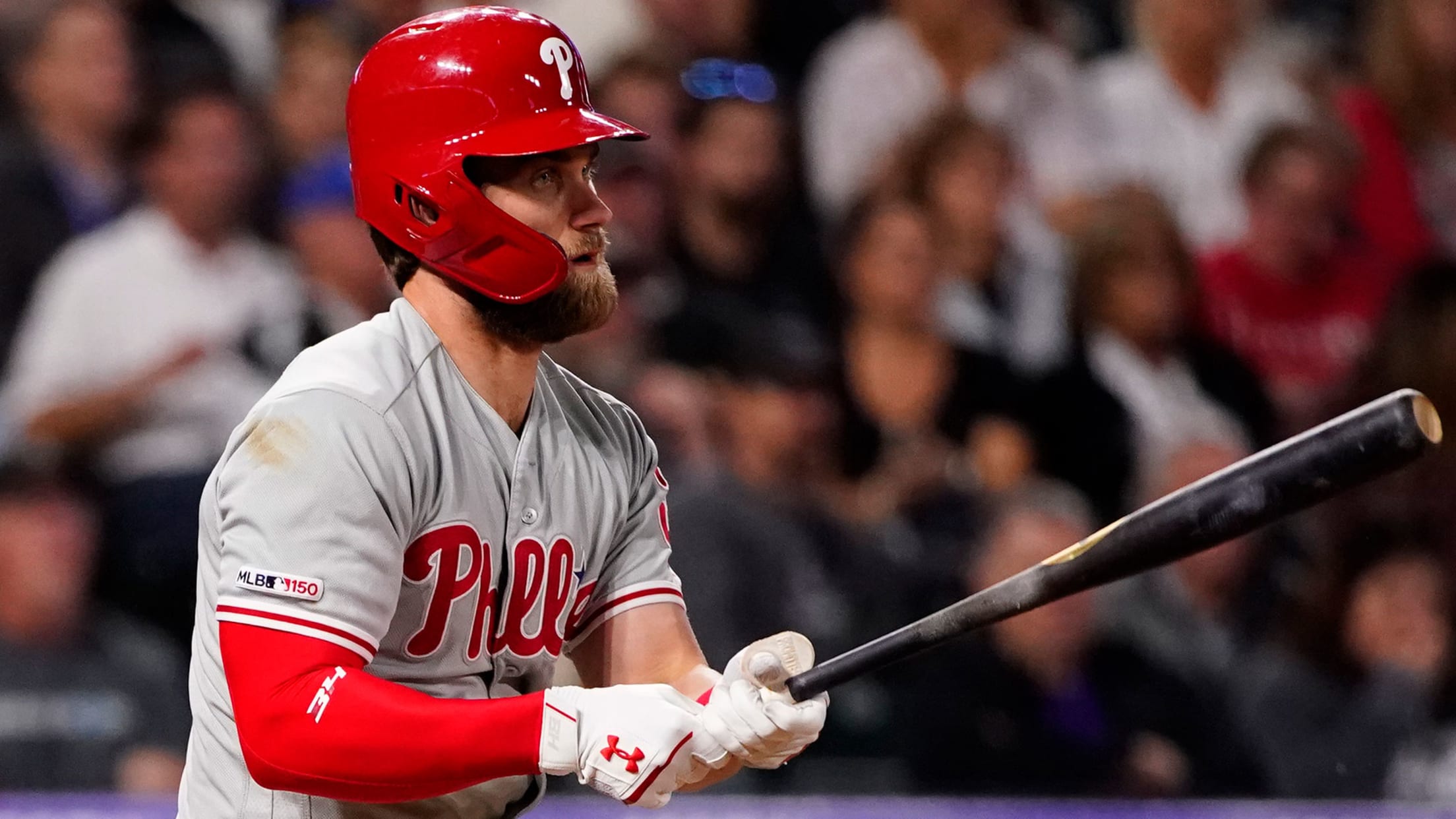 DENVER -- One look at the win expectancy chart for Friday night's Phillies-Rockies game at Coors Field, and you'd see something that might very well look like a chart depicting the emotional rollercoaster that the Phillies were on in a 4-3, 12-inning loss to Colorado. When Raimel Tapia flied out
Kingery, McCutchen exit early with injuries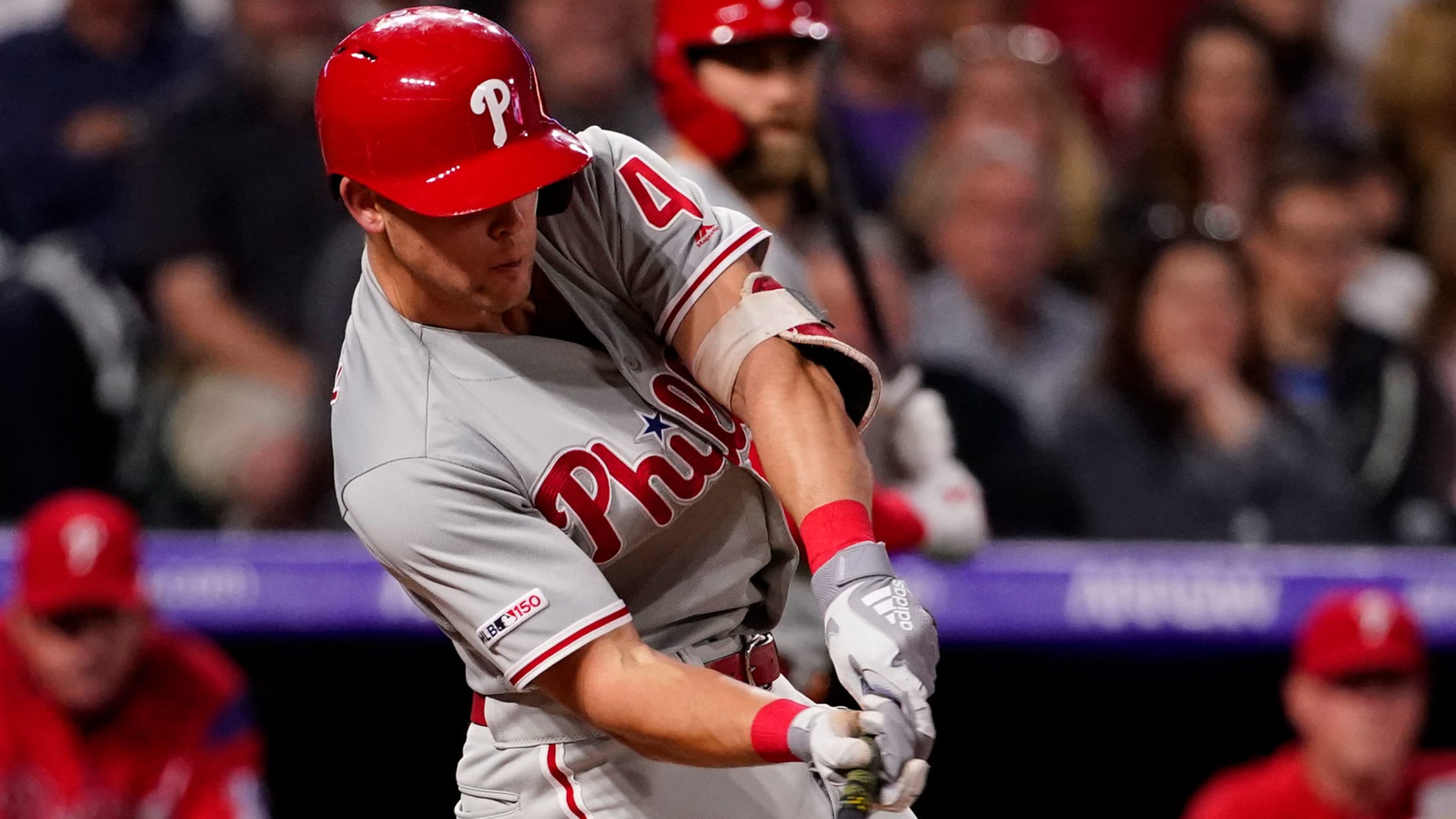 DENVER -- Already riddled with injuries, particularly pertaining to hamstrings, the Phillies watched two more key contributors exit a game early during Friday's 4-3, 12-inning loss to the Rockies. Shortstop Scott Kingery had to leave after grounding into a fielder's choice to end the top of the fourth inning. He
Kingery's defensive versatility key for Phillies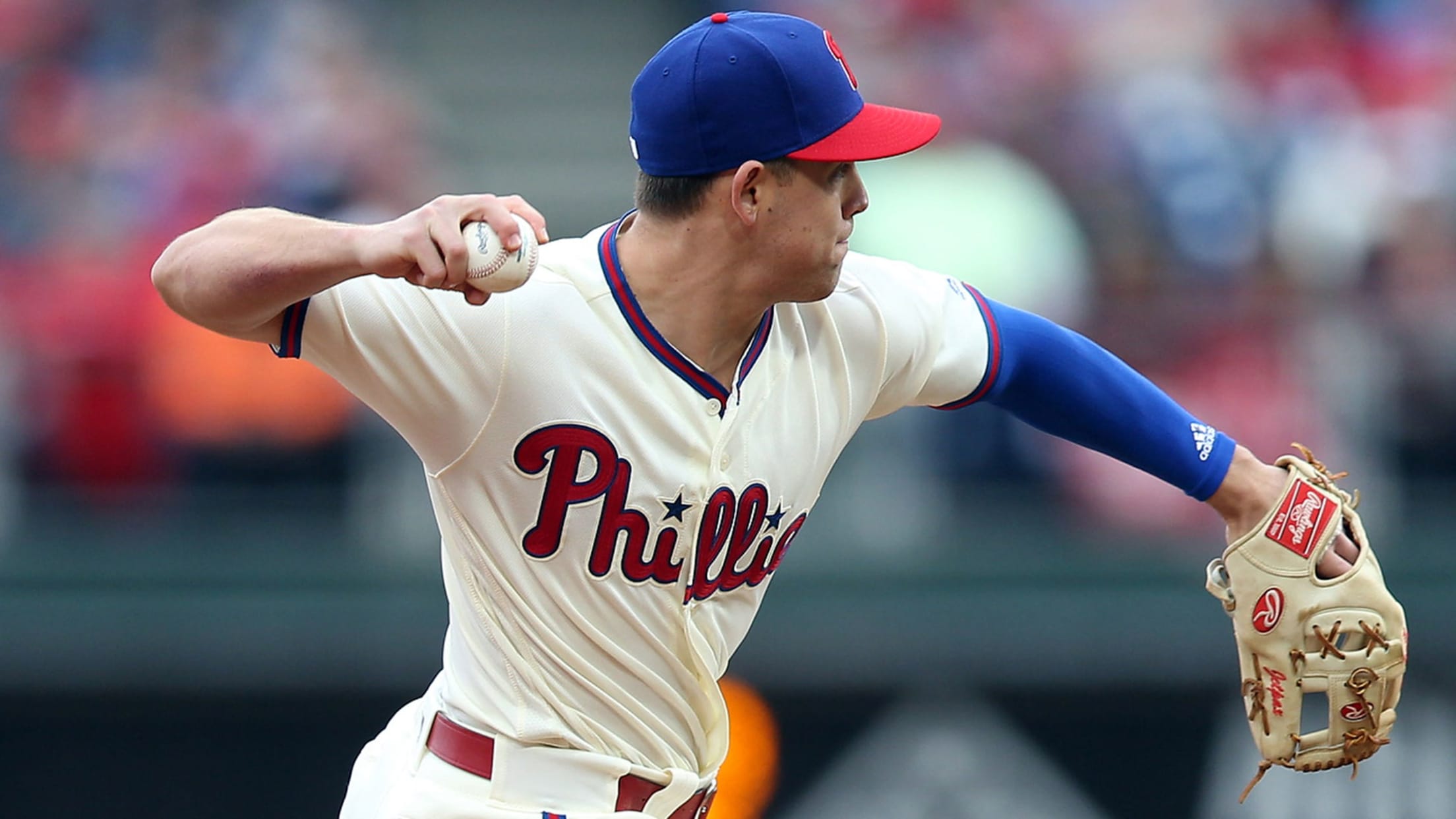 DENVER -- Scott Kingery made his first start of the season on April 8 against the Nationals, going 3-for-4 with three singles while playing second base in the Phillies' 4-3 victory at Citizens Bank Park. It was the start of a hot streak that he brought to Colorado on Thursday,
Friday's top prospect performers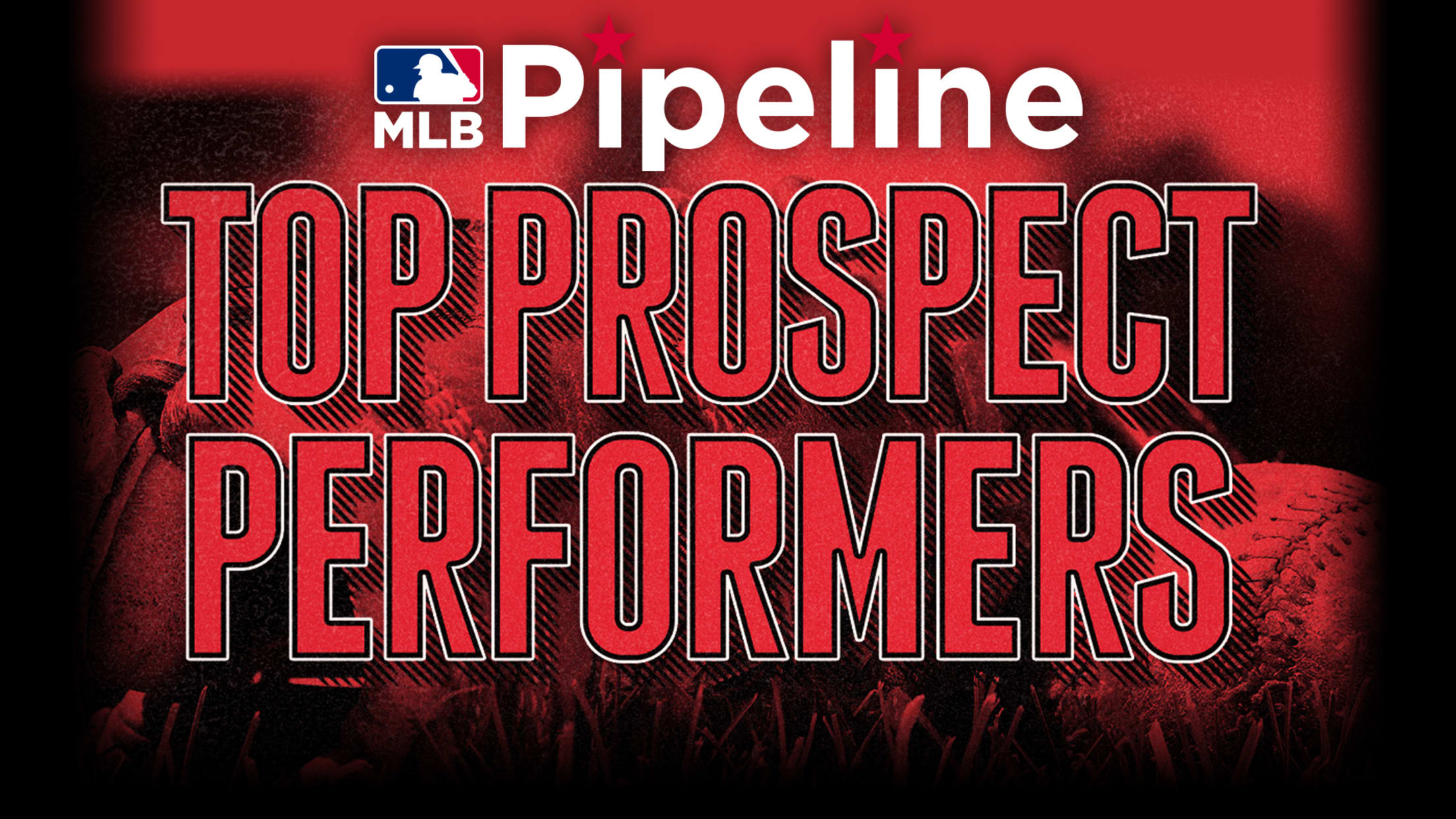 Here's a look at Friday's top Minor League performers from each team's Top 30 Prospects list: AMERICAN LEAGUE EAST Blue Jays: Jordan Groshans, SS/3B (No. 5) -- 1-for-4, 2B, BB, R, RBI (Class A Lansing) Groshans has been a force for the Lugnuts so far this season, and he added
Realmuto continues torrid stretch with homer
All-Star catcher throws out two basestealers in defeat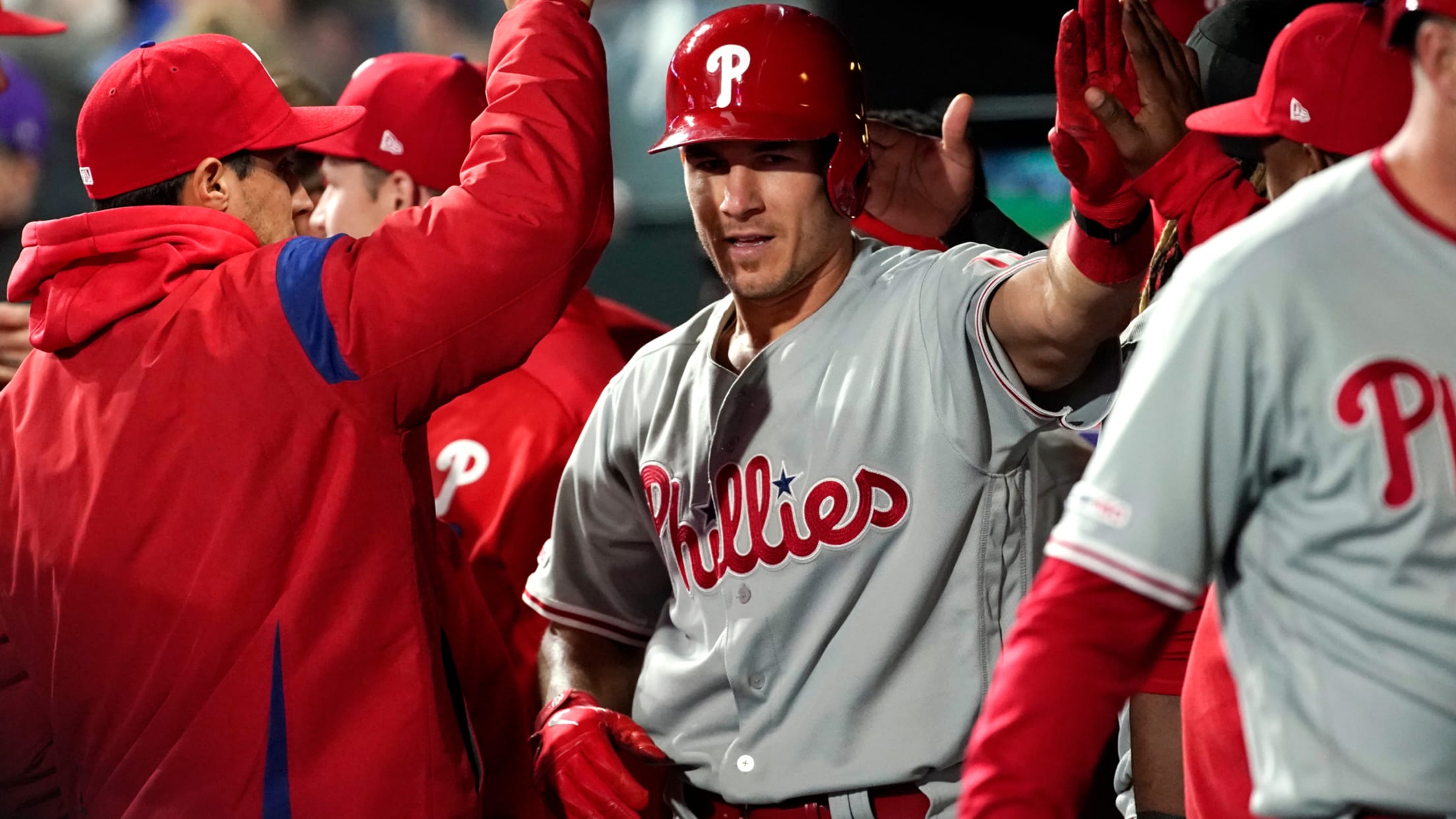 DENVER -- When the Phillies traded for All-Star catcher J.T. Realmuto last offseason, they acquired one of the hottest names on the market. While the acquisition was overshadowed by Philadelphia's blockbuster signing of Bryce Harper three weeks later, Realmuto represented a rarity in baseball: a catcher who is strong behind
Phils place Odubel on injured list, activate Quinn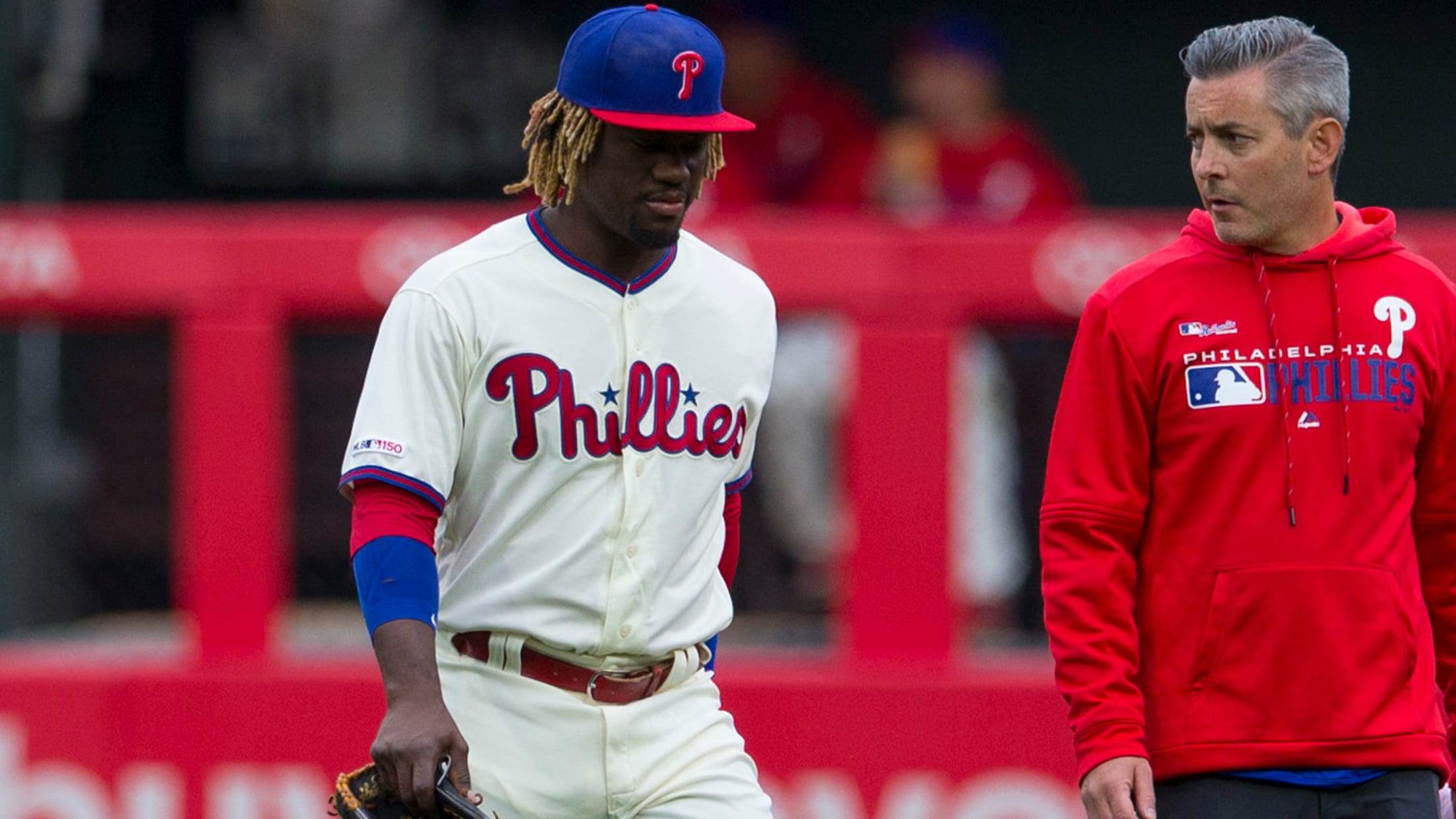 DENVER -- The Phillies placed outfielder Odúbel Herrera (right hamstring strain) on the 10-day injured list before Thursday's game at Coors Field and activated outfielder Roman Quinn from the injured list (oblique) to take Herrera's spot on the 25-man roster. Herrera had to leave Wednesday's 3-2 victory over the Mets
Each NL East team's secret weapon is ...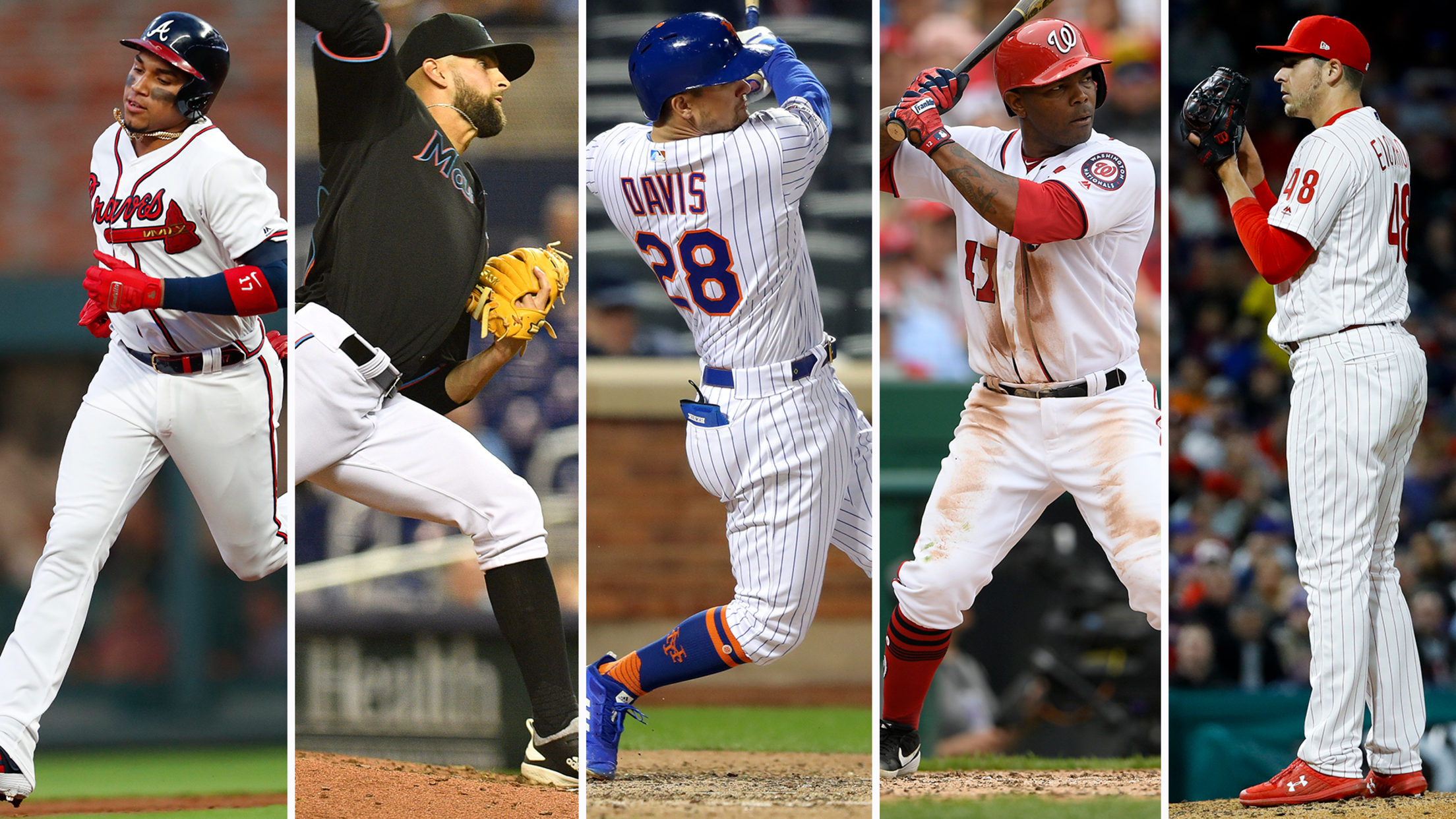 It will take more than sluggers, aces and closers to win the National League East this season. It will take role players and fifth starters and middle relievers, too. It might take somebody or something that nobody is expecting at all. We are talking about secret weapons, of course. It
Here's each team's closer of the future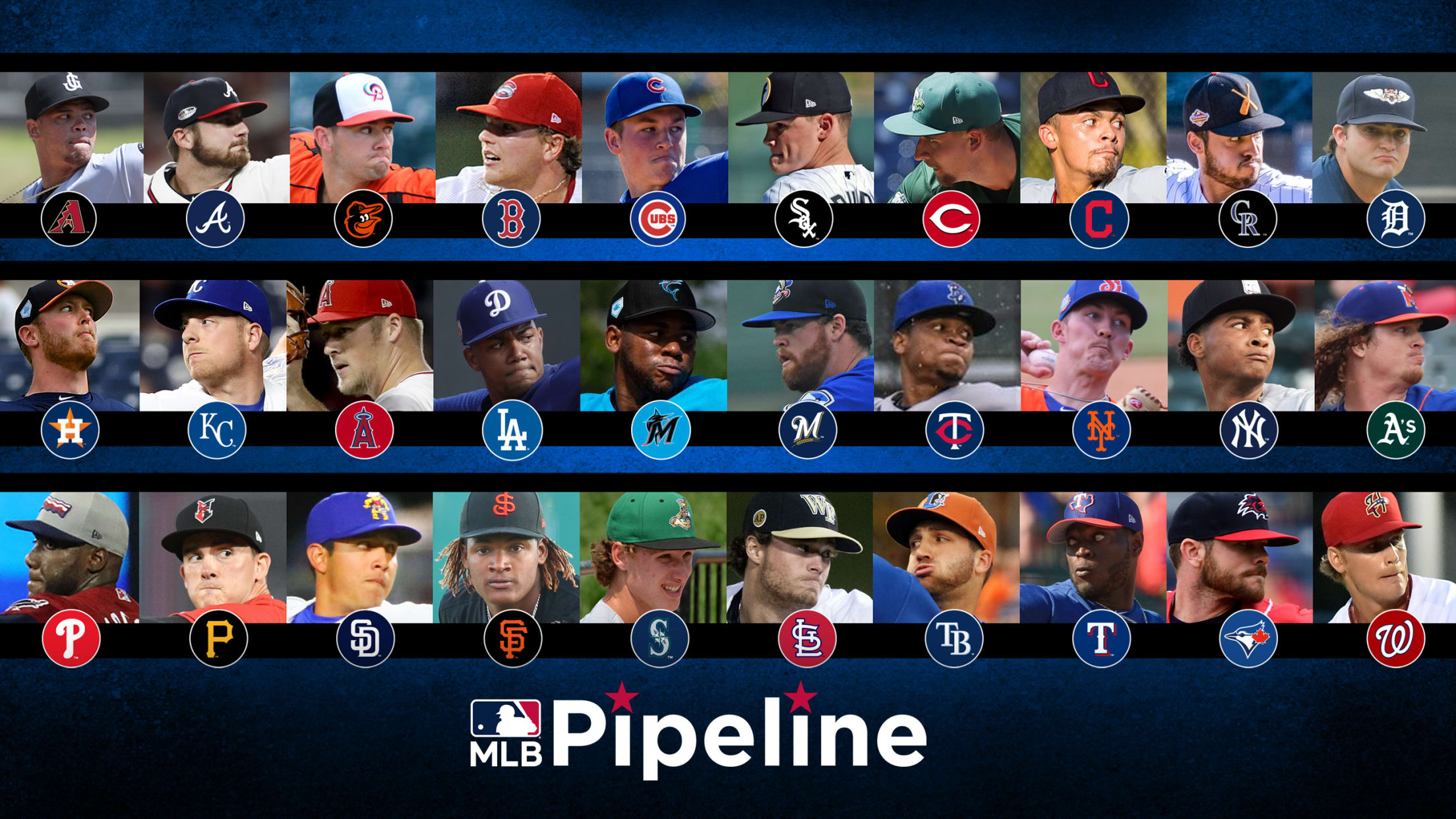 Identifying future closers isn't easy. Mariano Rivera, baseball's all-time saves leader and only unanimous Hall of Famer, began his pro career as a starter. So did Edwin Diaz and Wade Davis, the league leaders in saves a year ago, and many other pitchers who are nailing down the ninth inning
Arrieta flashes ace form in gem vs. rivals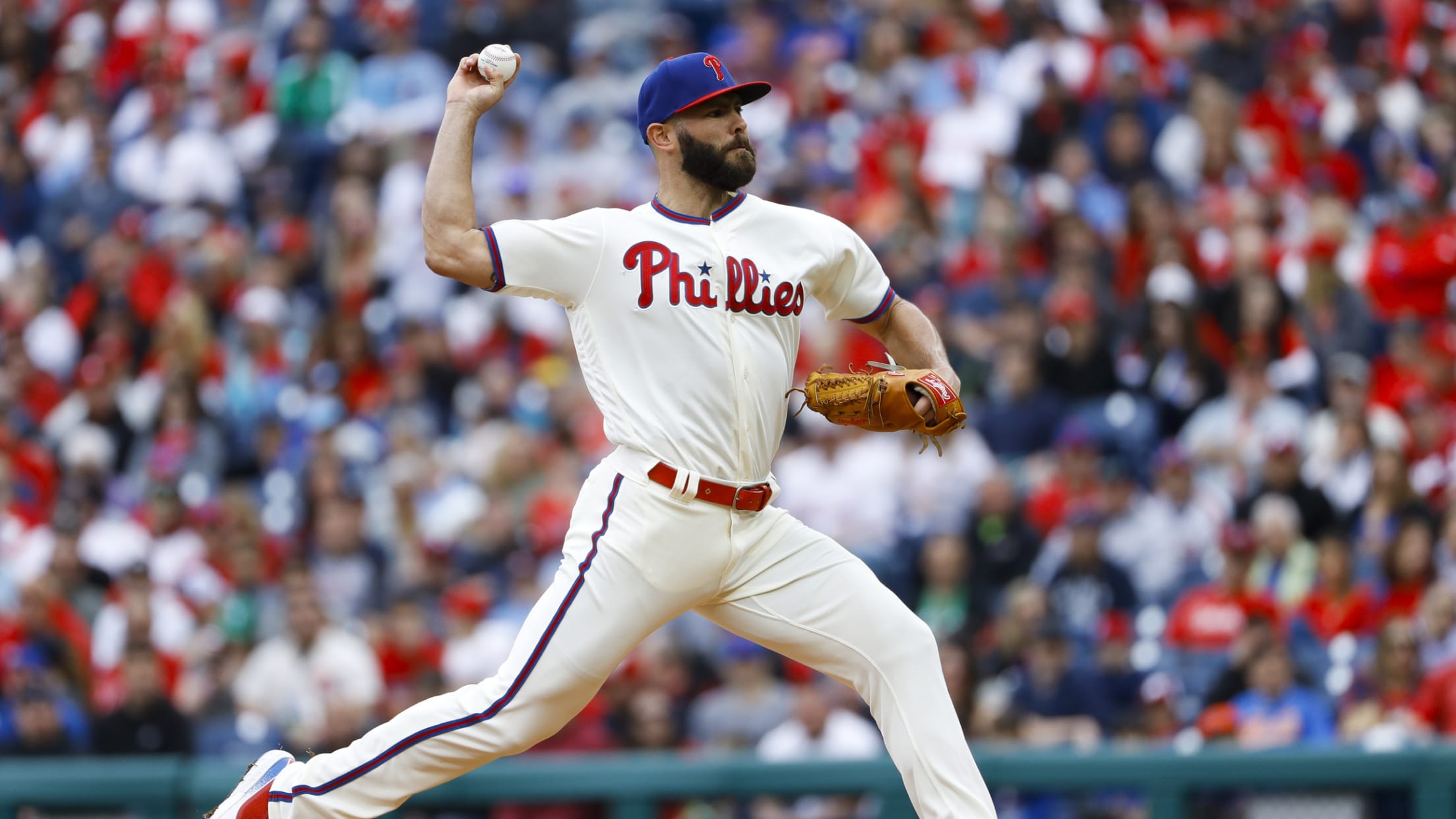 PHILADELPHIA -- Some Phillies fans might have missed a comment that Jake Arrieta made last Friday as he celebrated his 100th career win in Miami. "I know I can still be elite," he said. Arrieta put together another strong performance in Wednesday afternoon's 3-2 victory over the Mets at Citizens
Segura (tight hamstring) to rest for a few days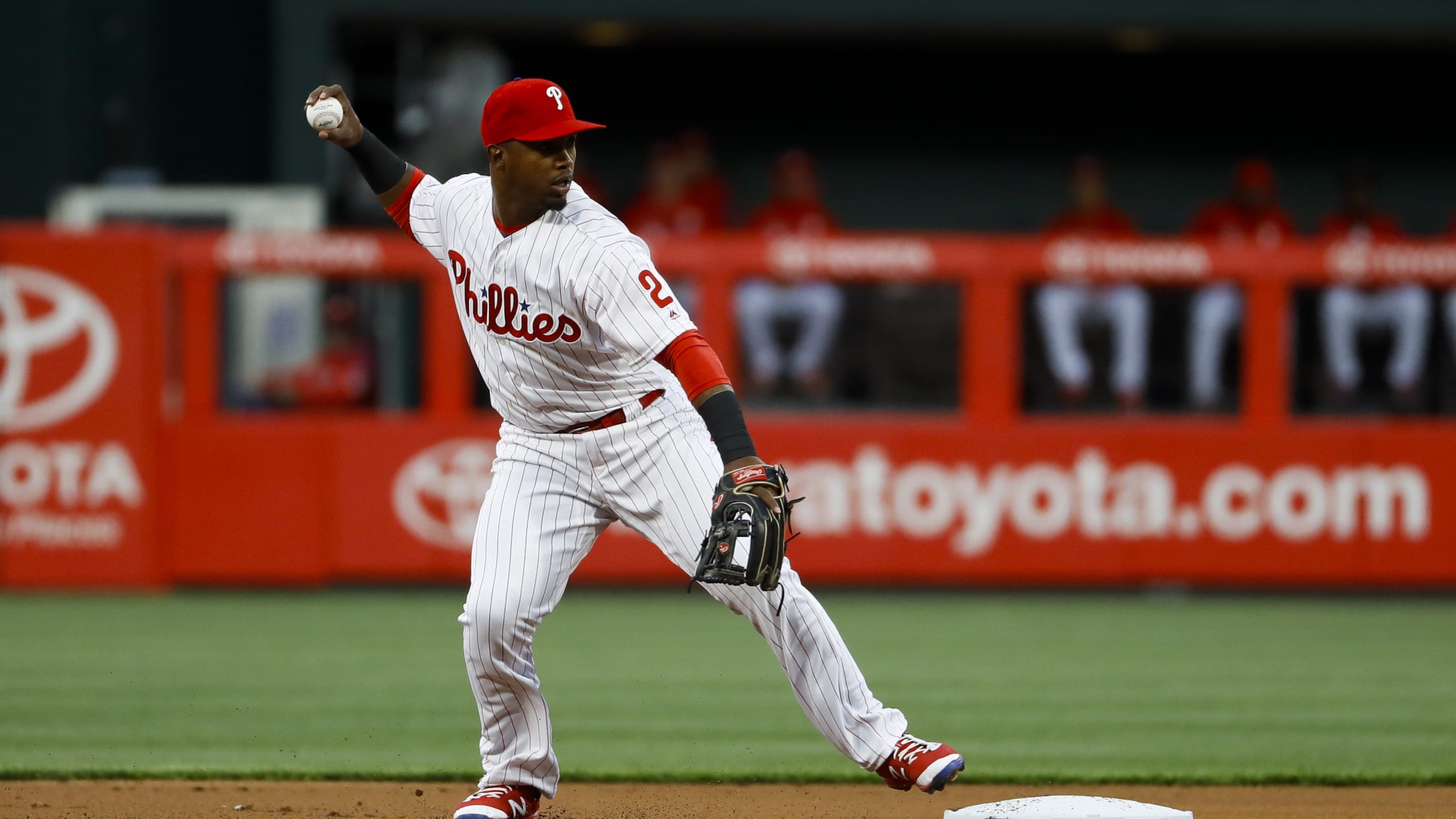 Phillies shortstop Jean Segura was out of Wednesday's starting lineup and is expected to miss at least a couple additional games after leaving Tuesday's 14-3 win over the Mets with left hamstring tightness. Segura, who doubled, scored and grounded out in a pair of first-inning at-bats on Tuesday, exited before
Phils option Pivetta, move Eickhoff to rotation
Klentak: 'Every game matters right now'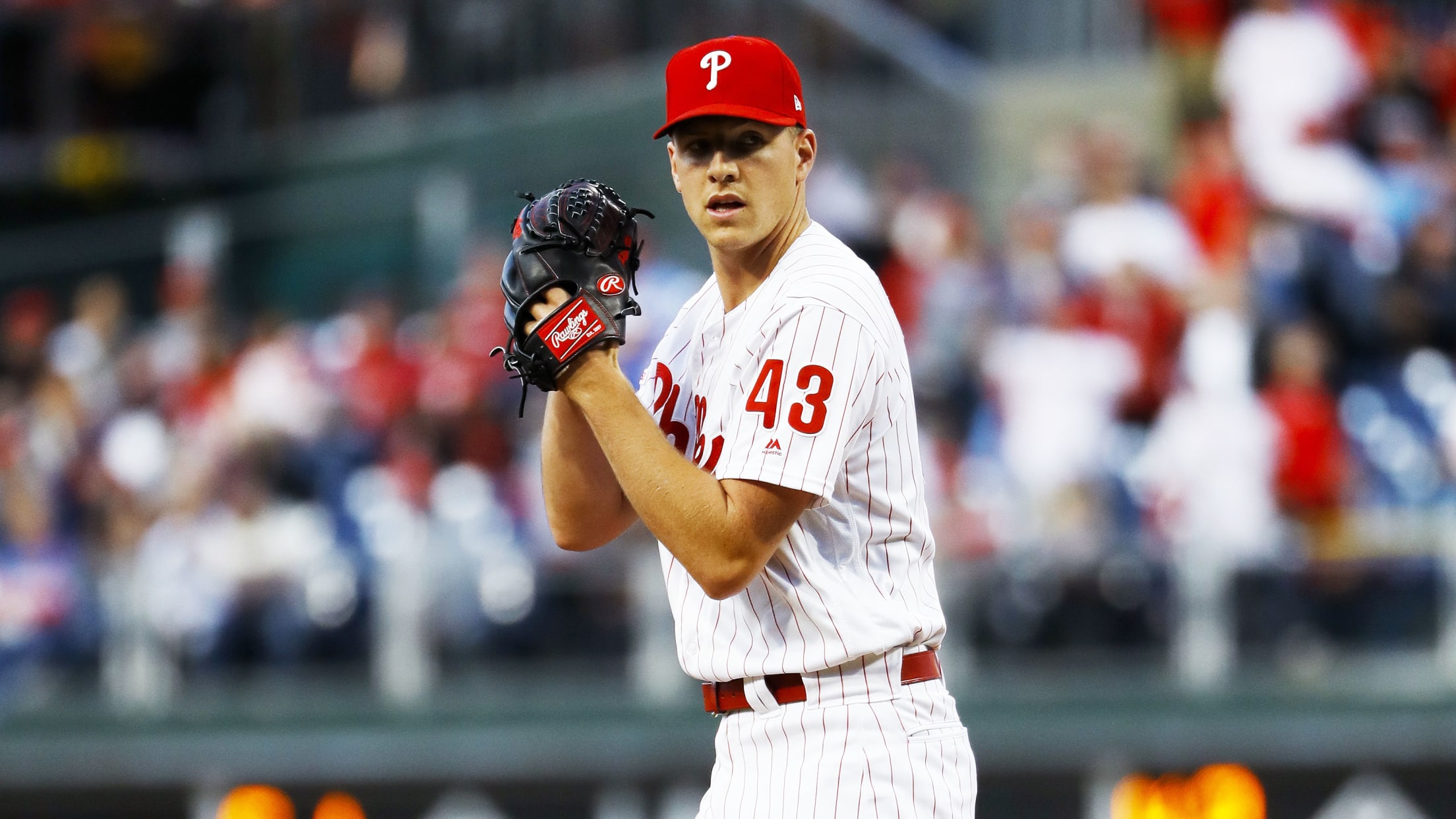 PHILADELPHIA -- Nick Pivetta slammed his belongings into a box and travel bag Wednesday morning at Citizens Bank Park. Phillies manager Gabe Kapler pulled up a seat next to him and chatted with him one final time. Then, Pivetta left. The Phillies have optioned Pivetta to Triple-A Lehigh Valley following
Your starting lineups for '26 All-Star Game ...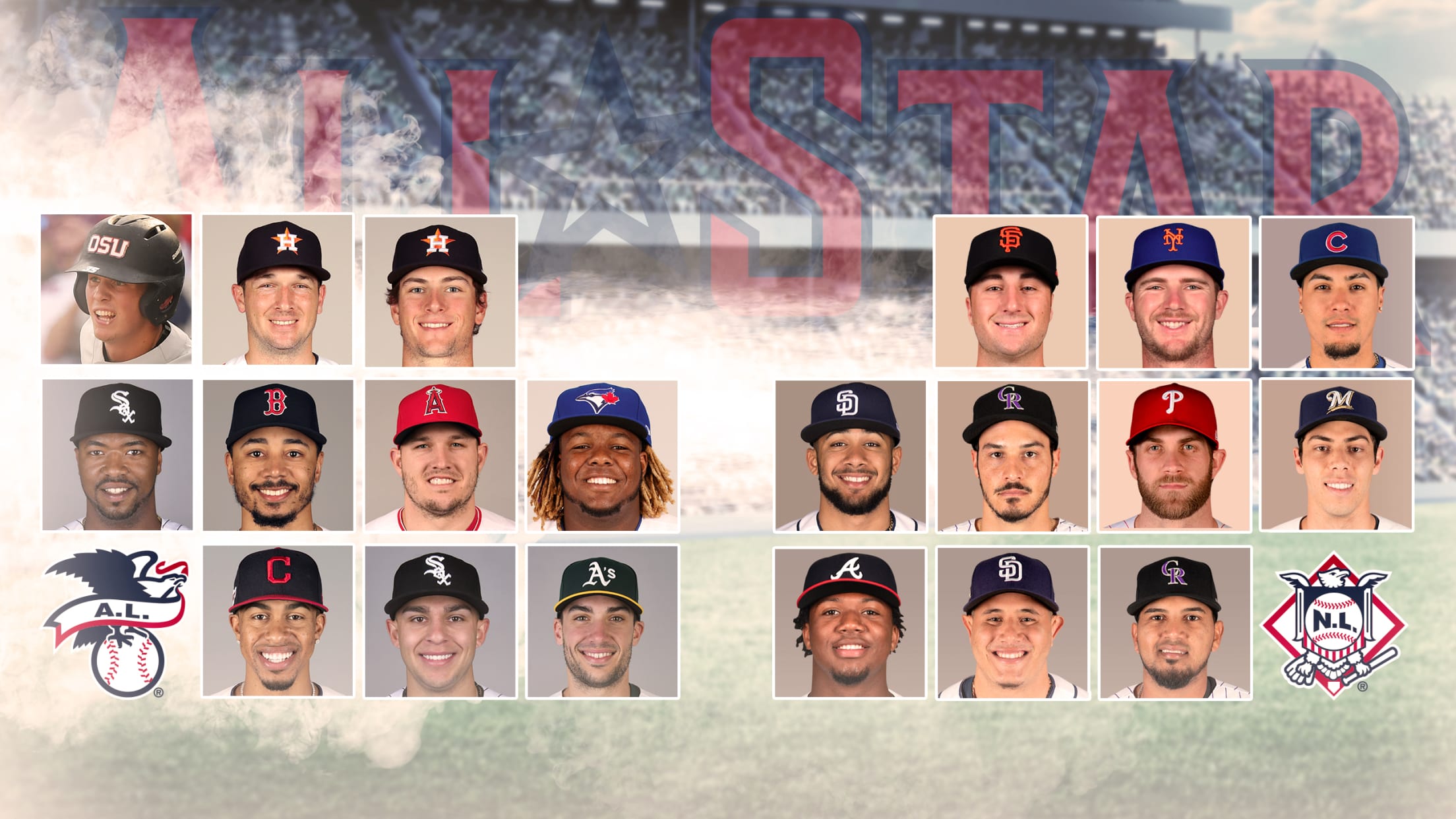 On Tuesday, Major League Baseball announced that the 2026 All-Star Game will be held at Citizens Bank Park in Philadelphia, 50 years after Veterans Stadium hosted the ASG for the United States' bicentennial. (2026 will be the U.S.'s sestercentennial, if you enjoy that sort of nomenclature.) MLB has not announced
Phils erupt for 10-run first in rout of Mets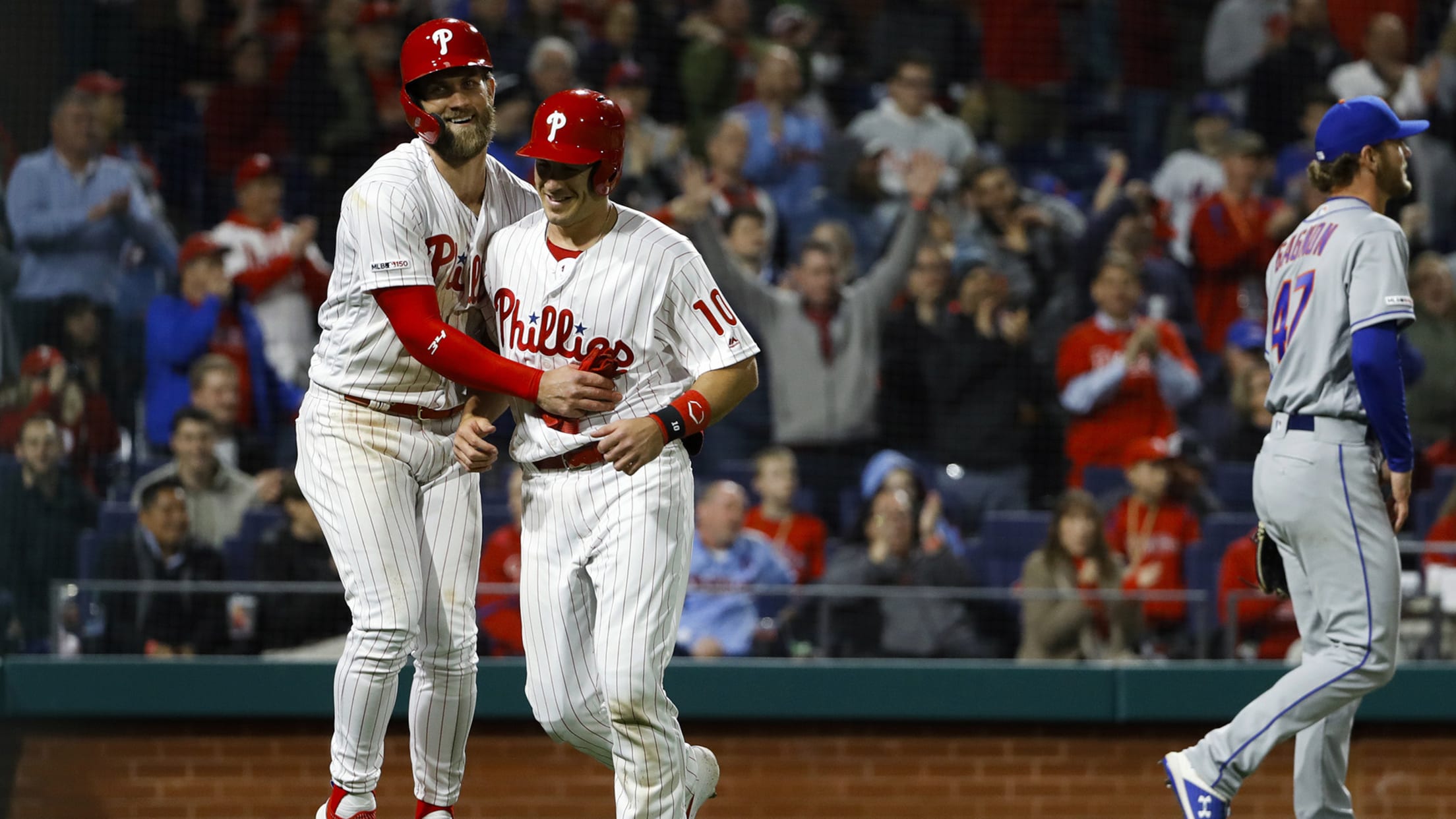 PHILADELPHIA -- Phillies fans showed their appreciation for the effort Tuesday night. They stood and cheered as Mets left-hander Steven Matz walked off the mound in the bottom of the first inning at Citizens Bank Park. Matz faced eight batters. He allowed eight runs. He retired nobody. It sparked a
All-Star Game headed to Philly in 2026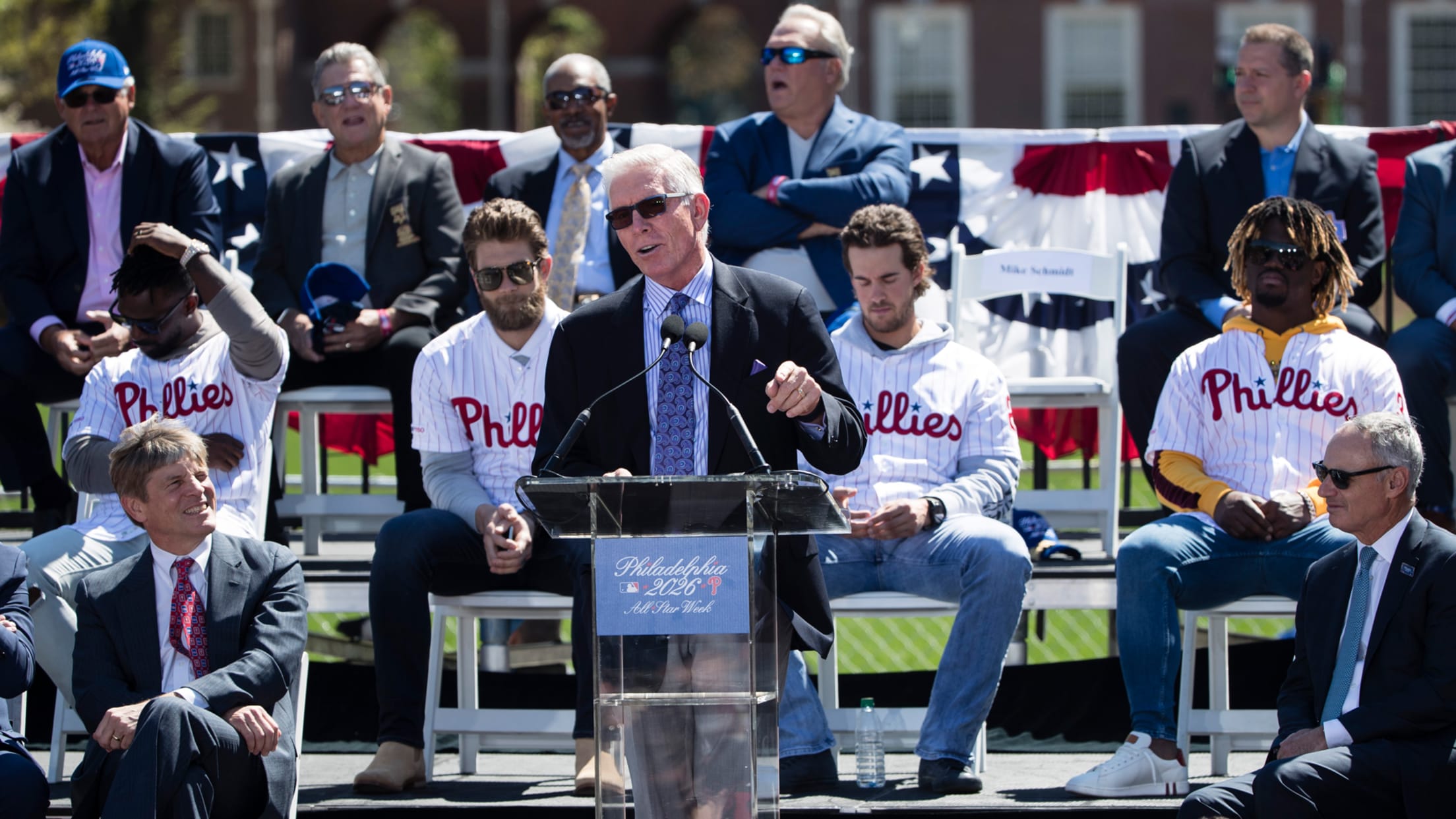 PHILADELPHIA -- Nobody other than Philadelphia could have hosted the 2026 All-Star Game. David Montgomery believed that a long time ago. He was right. Major League Baseball, the Phillies and the City of Philadelphia used Independence Hall as the backdrop to make the announcement on Tuesday afternoon that in seven
Kingery proving indispensable in Phils' lineup
Eickhoff also trying to force way into rotation picture with strong outing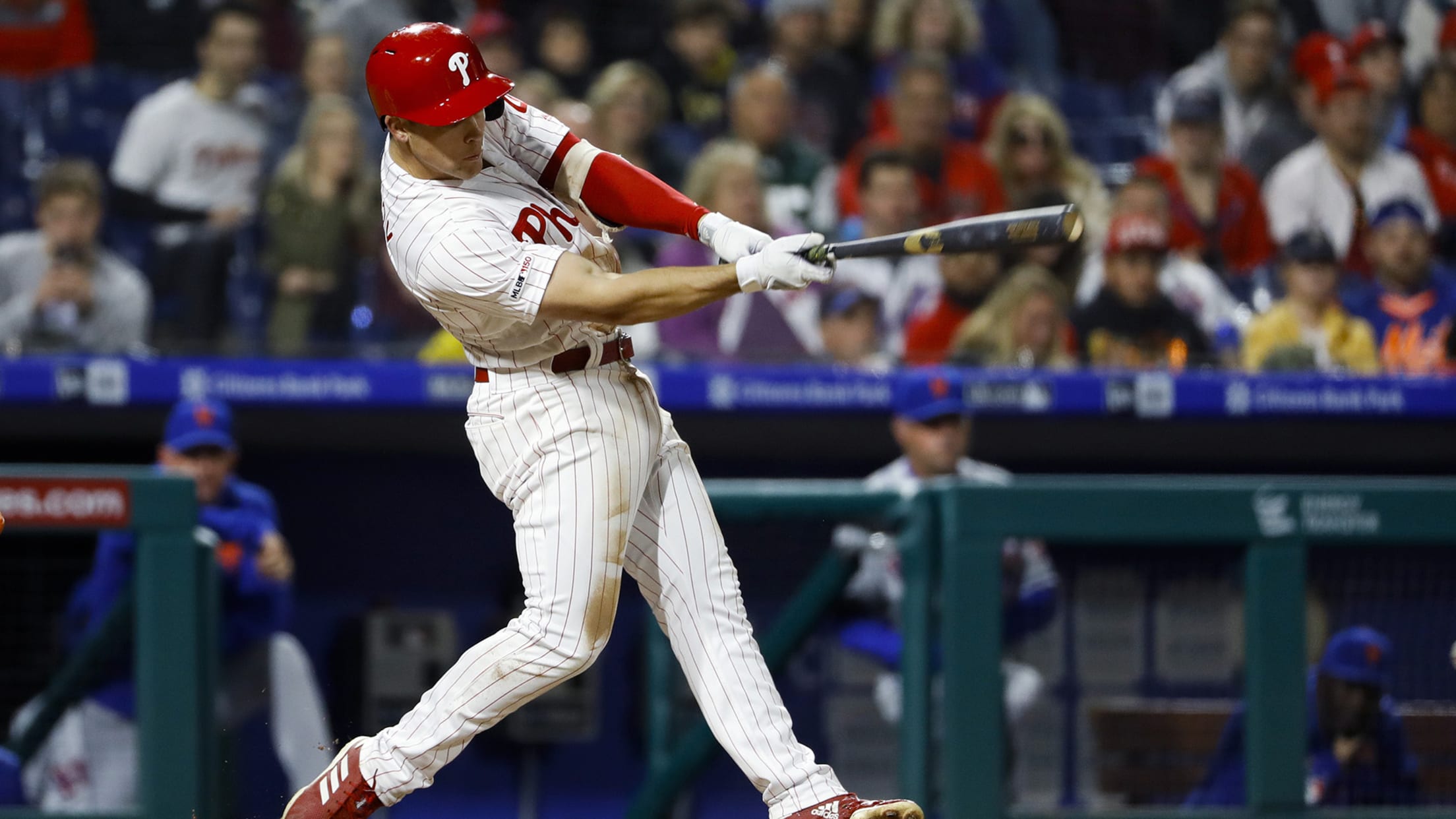 PHILADELPHIA -- Gabe Kapler got to see a couple things on Tuesday, other than the Phillies scoring 10 runs in the first inning of a 14-3 victory over the Mets at Citizens Bank Park. He got to see Scott Kingery and Jerad Eickhoff make strong cases for greater workloads. Kingery
History of All-Star Games in Philadelphia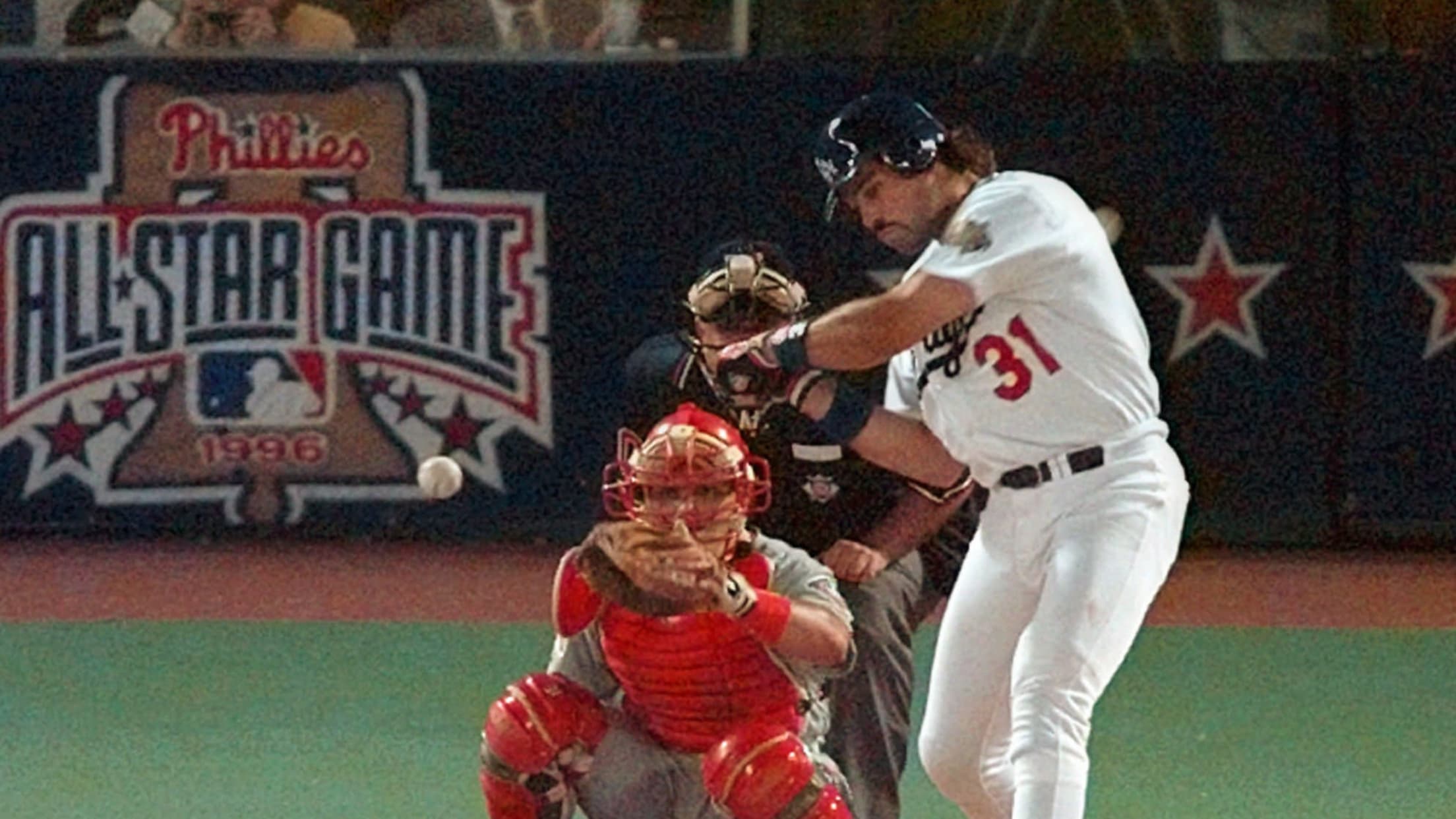 Philadelphia will be hosting the Major League Baseball All-Star Game in 2026 for the fifth time, and first since 1996. Of those five, four have been hosted by the Phillies, and one by the Philadelphia Athletics, in '43. The National League has won each of the three All-Star Games hosted
Phillies Minor League week in review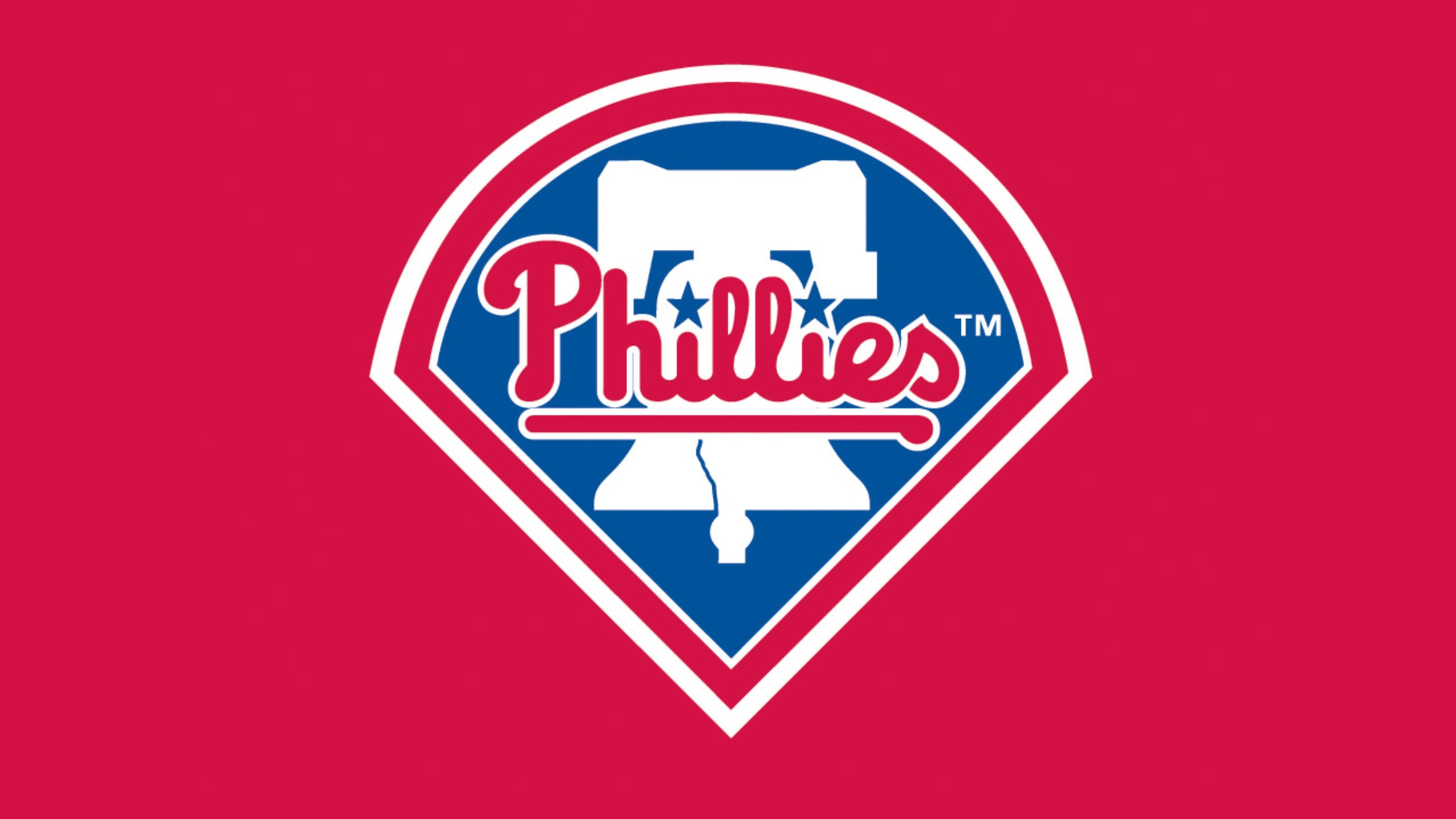 Players of the Week Player: OF Jan Hernandez, Lehigh Valley The 24-year-old Hernandez batted .324 (12-for-37) with three doubles, four home runs, 12 RBIs, three walks, nine runs and a 1.120 OPS in nine games. He had four multi-hit games and capped his week with a two-homer, five-RBI game on
Nola can't climb out of rut vs. rival Mets
Ace righty fans six in four frames, but ERA balloons to 7.45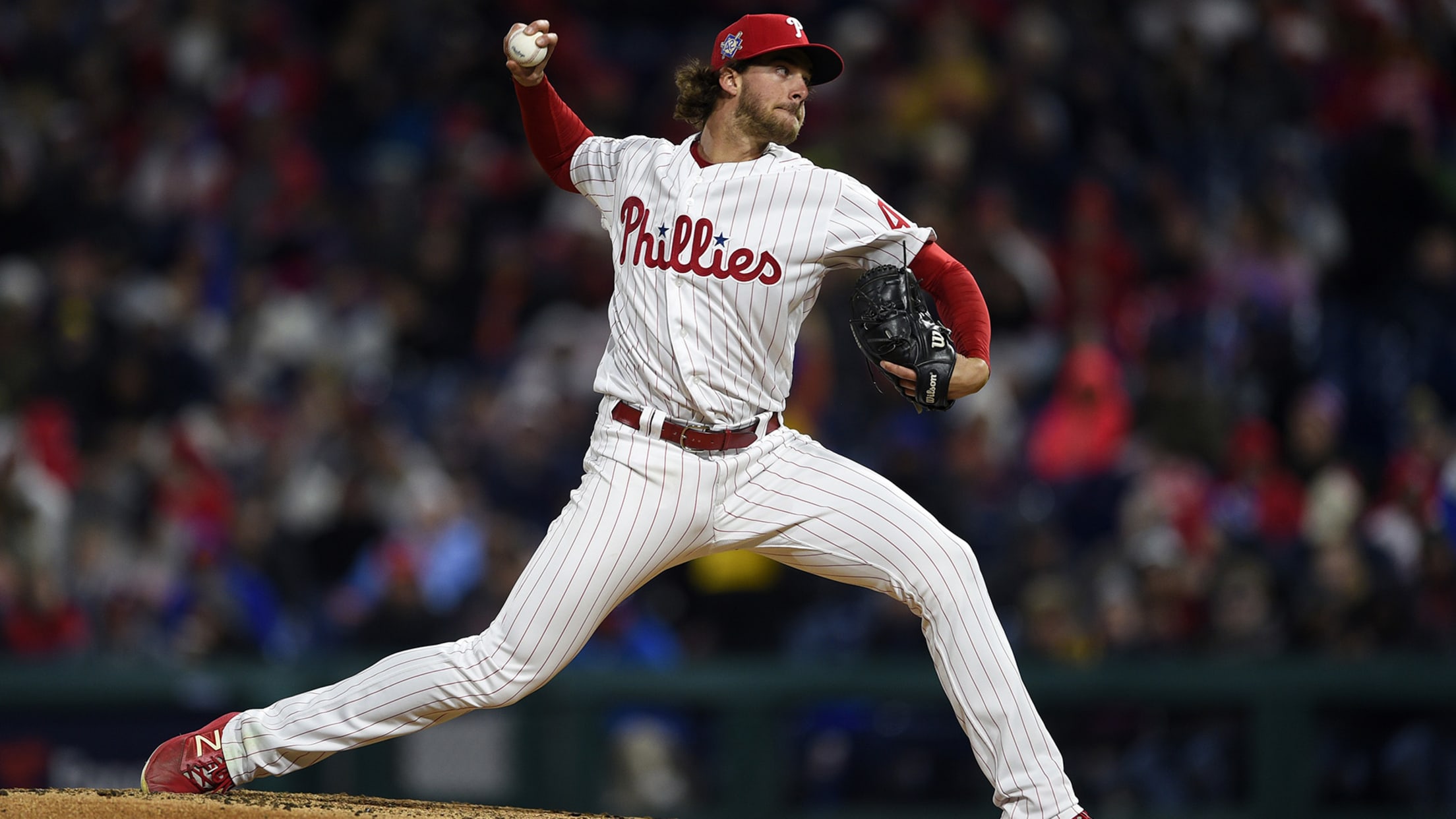 PHILADELPHIA -- Nobody seems worried, but nobody has any answers, either. The baffling beginning to Aaron Nola's season continued Monday night in a 7-6 loss to the Mets in 11 innings at Citizens Bank Park. He allowed five runs on seven hits and three walks in four innings. Nola has
Hoskins sits with ankle sprain, should be OK
Slugger expects to be back in lineup Wednesday; Eickhoff recalled, Anderson optioned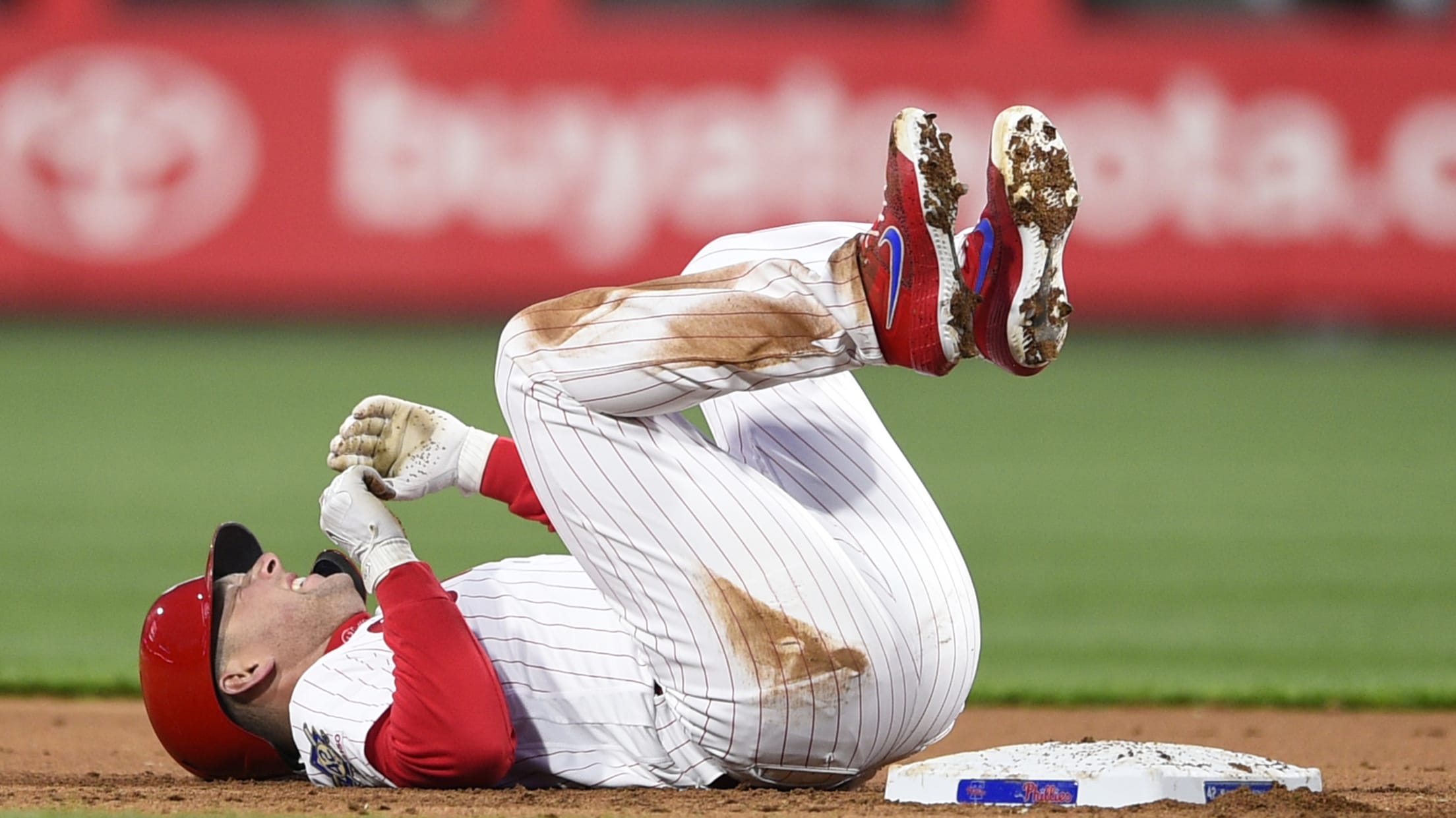 PHILADELPHIA -- The Big Fella should be OK. Phillies first baseman Rhys Hoskins suffered a sprained left ankle when he tried stealing second base in Monday night's loss to the Mets at Citizens Bank Park. X-rays afterward were negative, but Hoskins had his ankle wrapped Tuesday and was not in
Robertson hits injured list with sore elbow
Phils call up Anderson, who makes fast impact with 3-pitch inning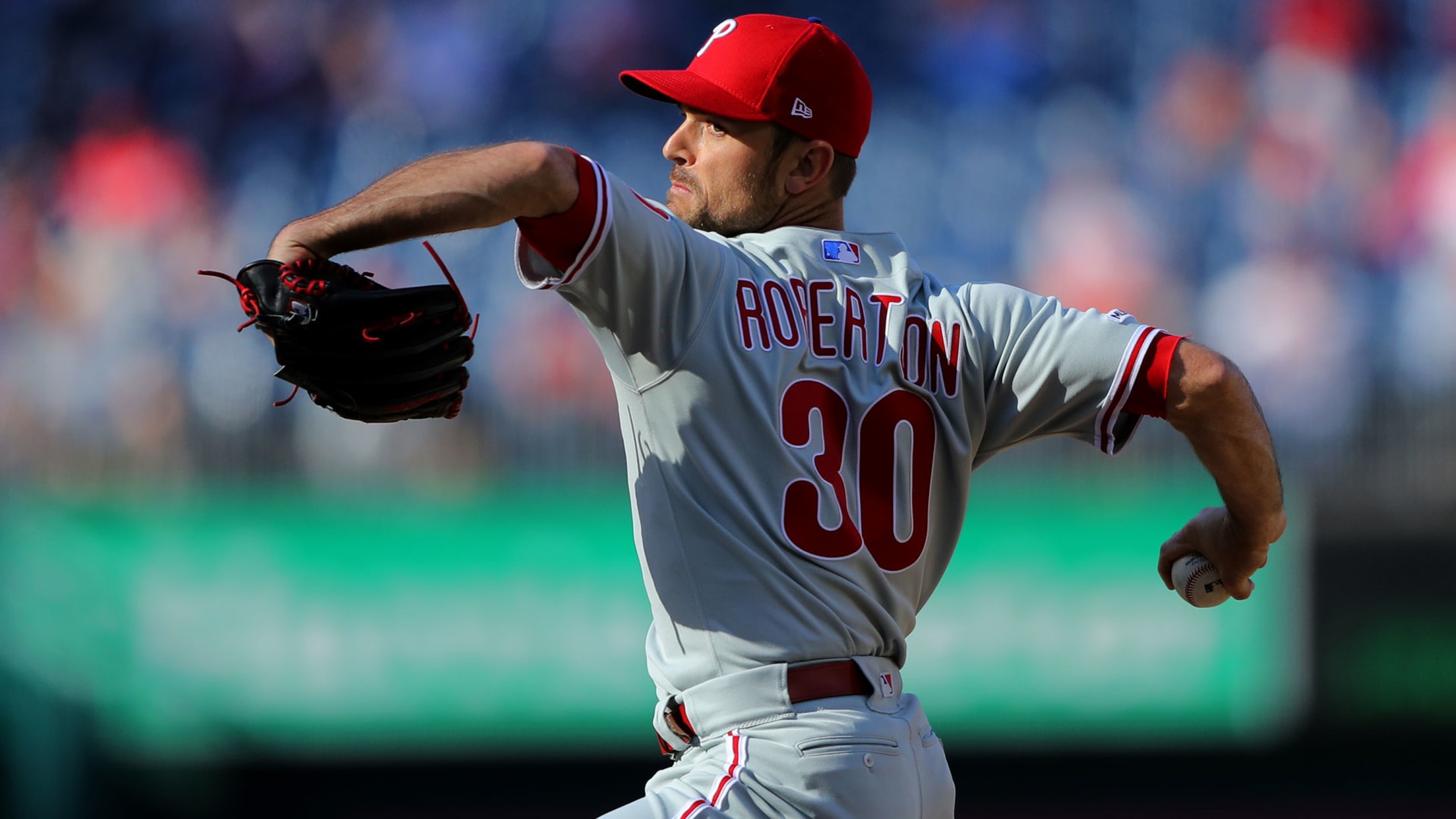 PHILADELPHIA -- David Robertson said Monday afternoon that the pain in his right arm is too much to continue to pitch. The Phillies placed Robertson on the 10-day injured list with "soreness" in his right elbow. They recalled right-hander Drew Anderson from Triple-A Lehigh Valley to take his place in
Jamie Foxx: Jackie leaves legacy of courage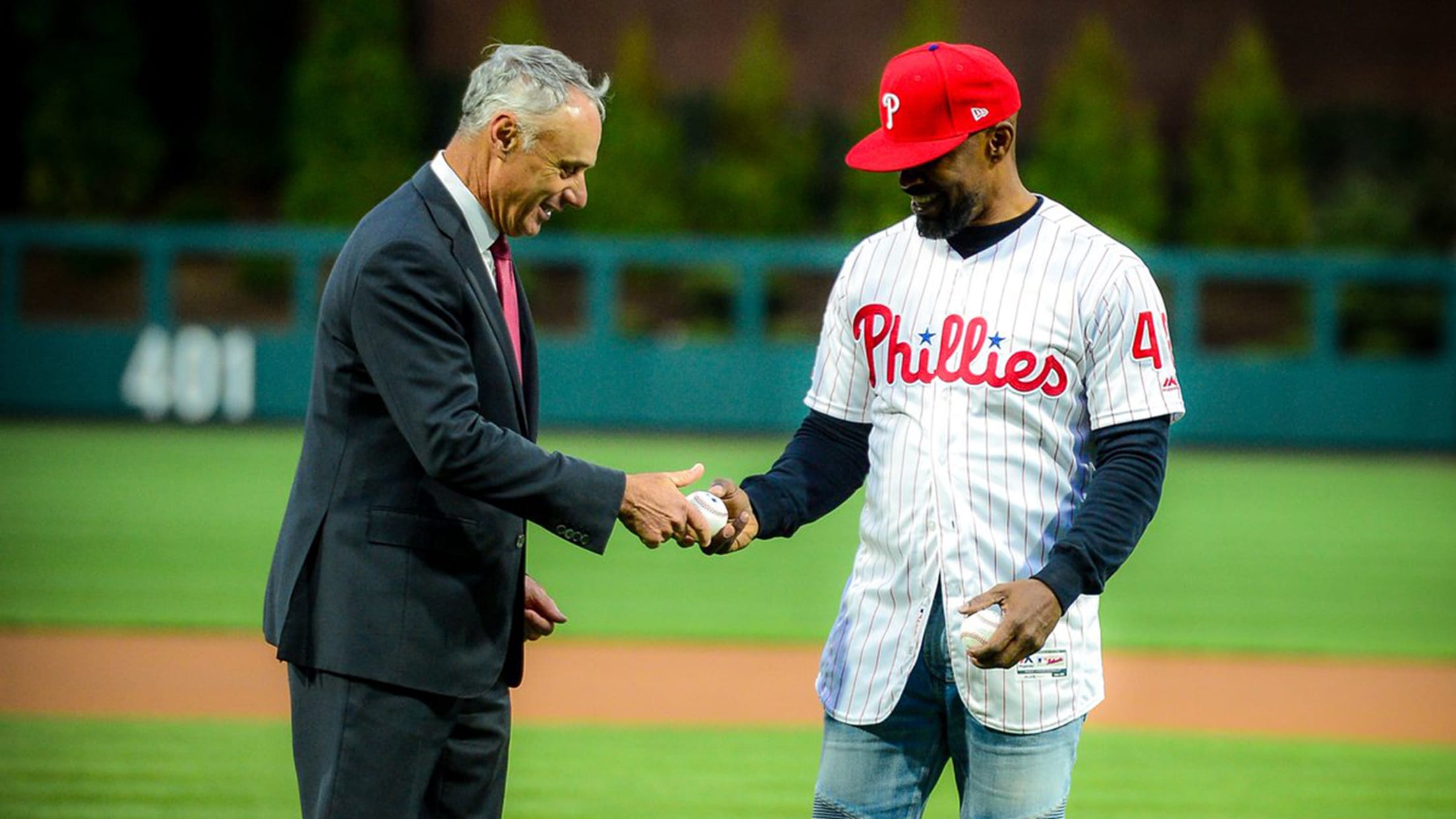 PHILADELPHIA -- The red pinstriped jersey and red Phillies cap suited Jamie Foxx on Monday night at Citizens Bank Park. Foxx is a baseball fan and he grew up playing the game. He knows the history, too. The Oscar and Grammy winner participated in a Jackie Robinson documentary a few