Harper addition creates logjam in outfield
Five outfielders competing for time alongside Bryce and McCutchen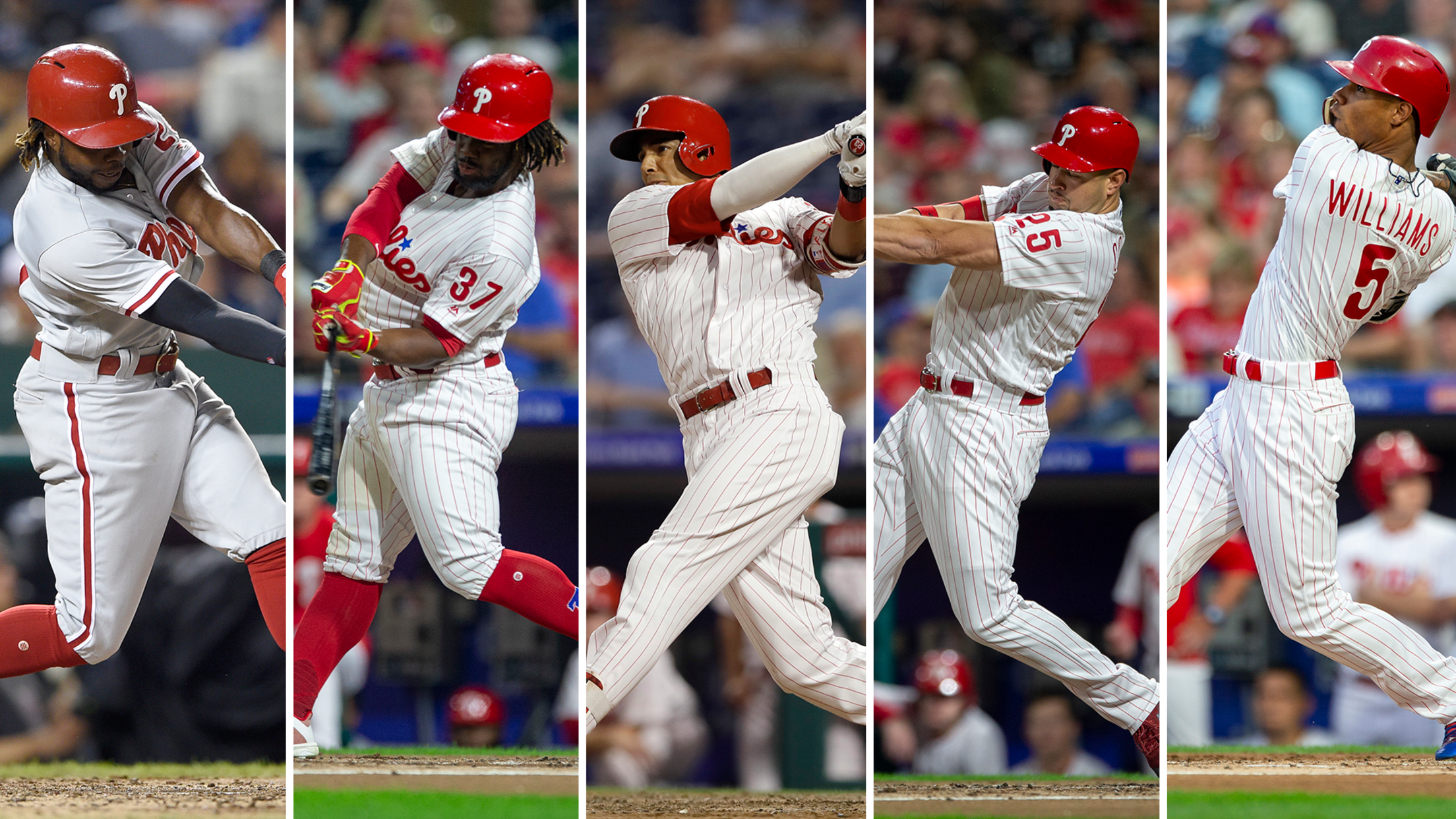 CLEARWATER, Fla. -- Bryce Harper became the Phillies' seventh, albeit No. 1, outfielder last week. His arrival created an excitement not felt in Philadelphia since Cliff Lee re-signed with the Phillies in December 2010, forming one of the greatest rotations in baseball history alongside Roy Halladay, Cole Hamels and Roy
CLEARWATER, Fla. -- Bryce Harper became the Phillies' seventh, albeit No. 1, outfielder last week.
His arrival created an excitement not felt in Philadelphia since Cliff Lee re-signed with the Phillies in December 2010, forming one of the greatest rotations in baseball history alongside Roy Halladay, Cole Hamels and Roy Oswalt. But Harper's arrival also created a logjam in the outfield with just three weeks remaining before Opening Day.
Harper and Andrew McCutchen are expected to receive the bulk of playing time in right field and left field, respectively. It leaves Odúbel Herrera, Nick Williams, Roman Quinn, Aaron Altherr and Dylan Cozens competing for the third, fourth and fifth jobs in the outfield, with the bulk of their playing time coming in center field.
Scott Kingery could see some time in center field, too. He started there in Thursday's 6-0 loss to the Yankees at Spectrum Field.
The Phillies said they are not concerned about the numbers crunch. They believe it will play itself out.
"Assuming everybody was healthy, the expectation would be that Quinn and Altherr and Nick Williams would start on our roster, but that may not be possible given the current construction and the addition of Harper," Phillies manager Gabe Kapler said. "It's kind of a wait-and-see thing at this point."
The Phillies could try to trade one of their outfielders, but there are no indications they are actively shopping anybody. Now if a solid offer presented itself, they could jump at it. But the Phillies also might try to maintain their depth and make the difficult decision later, perhaps when they have a clearer idea of what deficiencies they have.
"I see third base and center field as two areas on the field where we're looking for somebody to stand out, somebody to emerge as the clear option," Kapler said.
Here is a look at the considerations regarding the Phillies' five outfielders on the 40-man roster not named Harper or McCutchen:
Herrera
Herrera has a Grade 1 strain in his left hamstring. He has been out the past few days with the flu, but he is expected to rejoin the team Friday when he will be evaluated. Kapler sounded optimistic that Herrera will be ready by Opening Day.
Herrera is in the third year of a five-year, $30.5 million contract extension, which obviously comes into play here.
Quinn
Quinn has a mild strain in his right oblique. Kapler said Quinn is ahead of where they thought he would be, but there is no timetable for when he might appear in a Grapefruit League game. Asked if Quinn could be ready by Opening Day, Kapler said, "We'll wait and see on that one."
If Quinn opens the season on the injured list, it temporarily solves the Phillies' problem. But at some point they will have to make a decision because Quinn is out of options.
Williams
Some believe Williams is the odd man out because, unlike Herrera, Quinn and Altherr, he profiles as a corner outfielder. One source said over the winter that Williams was the most likely outfielder to be traded if the Phillies acquired Harper.
But Williams has options remaining. The Phillies know that Williams would not be happy to be optioned, but if push came to shove, they could consider it.
Altherr
Altherr had such a good 2017 season, but his '18 performance put him in a tough spot. That said, Altherr's potential and ability to play brilliant defense at all three outfield spots brings him value. Another factor here is that Altherr, like Quinn, is out of options.
Cozens
Cozens is expected to start the season in Triple-A Lehigh Valley, where he can play every day. But he started in center field Wednesday against the Blue Jays in Dunedin. After going 0-for-3 with one strikeout Thursday in a 3-1 victory over the Tigers in Lakeland, Cozens is hitting .350 with a 1.208 OPS.