Off to see the Wizard, Tucker meets hero
Hall of Famer Smith connects with Pirates' rookie shortstop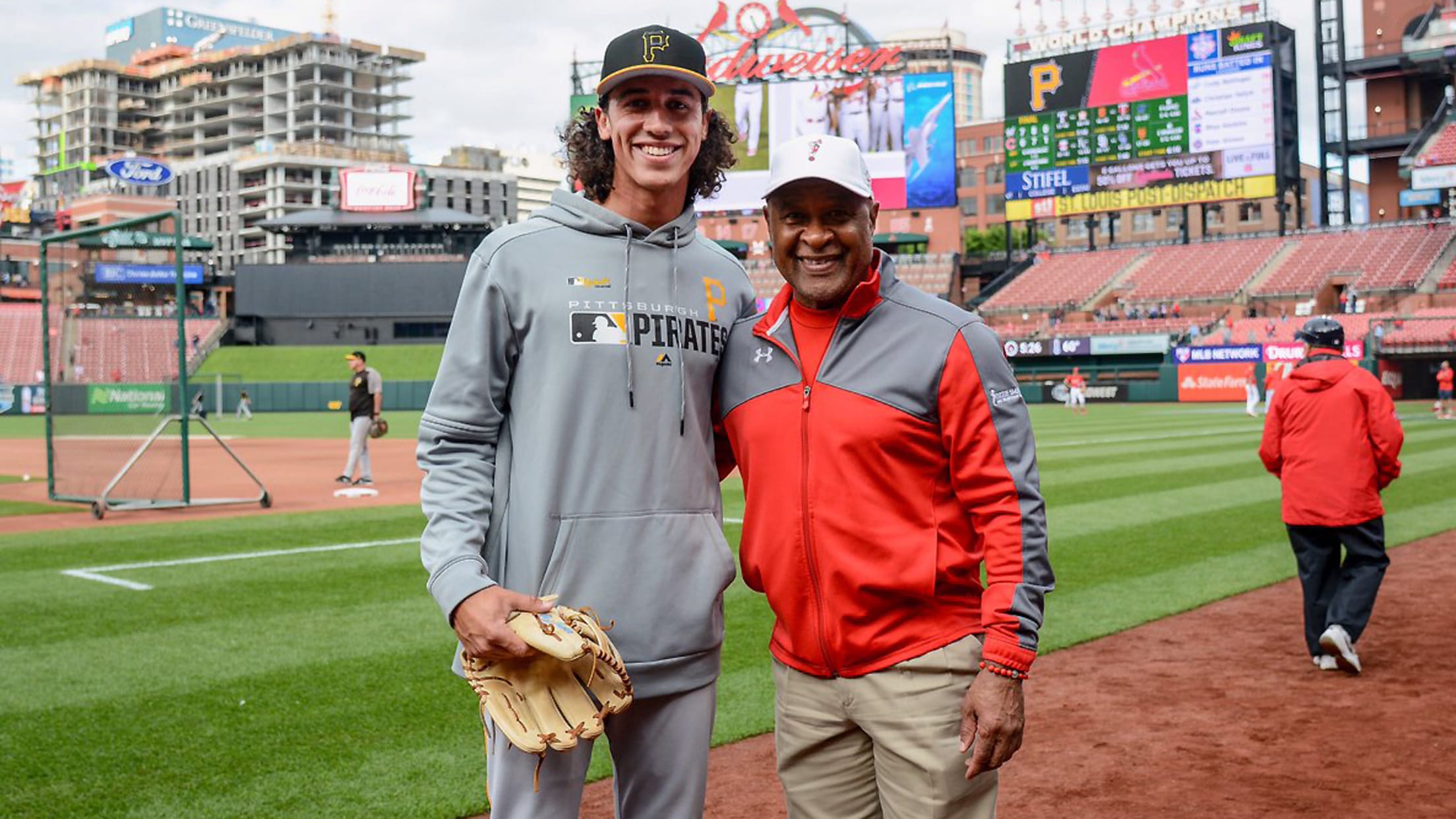 ST. LOUIS -- Cole Tucker was born only 107 days before Ozzie Smith played his final game for the Cardinals, but he grew up admiring the Hall of Fame shortstop. Tucker's father, Jackie, was a big fan of Smith, told his son plenty of stories about Smith's incredible career and
ST. LOUIS -- Cole Tucker was born only 107 days before Ozzie Smith played his final game for the Cardinals, but he grew up admiring the Hall of Fame shortstop. Tucker's father, Jackie, was a big fan of Smith, told his son plenty of stories about Smith's incredible career and still owns a glove signed by "The Wizard of Oz."
So, imagine the 22-year-old Tucker's response when Smith asked to meet with the Pirates' rookie shortstop on Friday afternoon at Busch Stadium. While chatting during batting practice with Pirates special assistant David Eckstein, Smith called Tucker over to speak in front of St. Louis' dugout.
"He was like, 'Hey, I've heard a ton of good things about the way you play the game,'" Tucker said, smiling. "For him to know that I exist on earth was unfathomable. That was really, really, really cool."
Top ten coolest moments of my entire life. Thank you @STLWizard! One of my heroes. https://t.co/L8wOWsJsL6

— Cole Tucker (@cotuck) May 11, 2019
Tucker told Smith he's always been a fan and, by his own recollection, "said thank you a lot." You rarely see someone break into a full sprint during pregame warmups, but Tucker was so excited to meet the legendary Hall of Famer that he figured he could have done one of Smith's signature backflips as he dashed across the field.
"I did a project on Ozzie Smith in like fifth grade. I idolized him," Tucker said. "I'd say my Mount Rushmore of shortstops would be him, [Derek] Jeter, [Omar] Vizquel and [Troy] Tulowitzki. To meet him in person -- and for him to want to meet me -- is pretty special."
Learning on the fly
Hours after meeting Smith, Tucker showed why the Pirates believe in him as their starting shortstop. The rookie made a pair of defensive mistakes in the fourth inning, letting a throw from Melky Cabrera skip by him then booting a routine grounder up the middle, but he did not let those errors affect him.
Tucker started the Pirates' game-winning rally in the seventh inning with a single off of lefty Andrew Miller, then he made a critical play in the eighth. Kolten Wong hit a grounder up the middle off Kyle Crick, creating a play similar to the one Tucker muffed earlier, but Tucker smoothly turned the inning-ending, 6-3 double play.
"The game's always trying to tell you something," Tucker said. "The first play, I kind of tried to go get the game instead of letting it come to me. I was trying to get the ball before it hit second base, just because it was close. The next one, I took a step back and gathered and made a good throw to first. Especially at a pivotal point like that in the game, if I don't make the play, it's a different outcome."
Tucker entered Saturday's game hitting just .193 with a .532 OPS, but he takes pride in playing dependable -- and occasionally flashy -- defense. When asked about Tucker's glovework, manager Clint Hurdle noted that the Pirates' entire infield defense has stabilized lately after a shaky start.
"He has an infield awareness. He wants the ball. If he doesn't make a play, he wants the next ball to make a play," Hurdle said. "He has confidence in his own skill set. He's managed his at-bats as well as he can right now. He's doing the best he can with what he's got, with where he's at. I'm pleased with the way he's gone about his work, his preparation, the way he's handling the challenges that he's getting daily as well. He's probably settled the infield as well."
Around the horn
• After moving out of the bullpen to start against the Rangers at PNC Park, left-hander Steven Brault and right-hander Nick Kingham will remain in the rotation for at least one more start. Brault is scheduled to start Sunday's series finale against the Cardinals, and Kingham will pitch Monday's series opener against the D-backs at Chase Field.
• The Pirates have not announced their rotation past Monday, in part because it depends on when they will bring back right-hander Chris Archer. After throwing a simulated game on Thursday, Archer declared himself ready to rejoin Pittsburgh's rotation.
Archer could start Wednesday's series finale in Phoenix on regular rest, which would allow the Bucs to push back Trevor Williams a day -- to start in his hometown of San Diego, no less -- after he threw 103 pitches in their 2-1 win on Friday night.
• Tucker got the day off on Saturday, so Kevin Newman was in the lineup as the starting shortstop for just the second time since his three-error game at Wrigley Field on April 8. Newman, who entered Saturday with 10 hits in 24 at-bats this season, was on the injured list due to a finger laceration from April 11 until May 4.