BUCAROOS KIDS CLUB
Presented by Chick-fil-A® Pittsburgh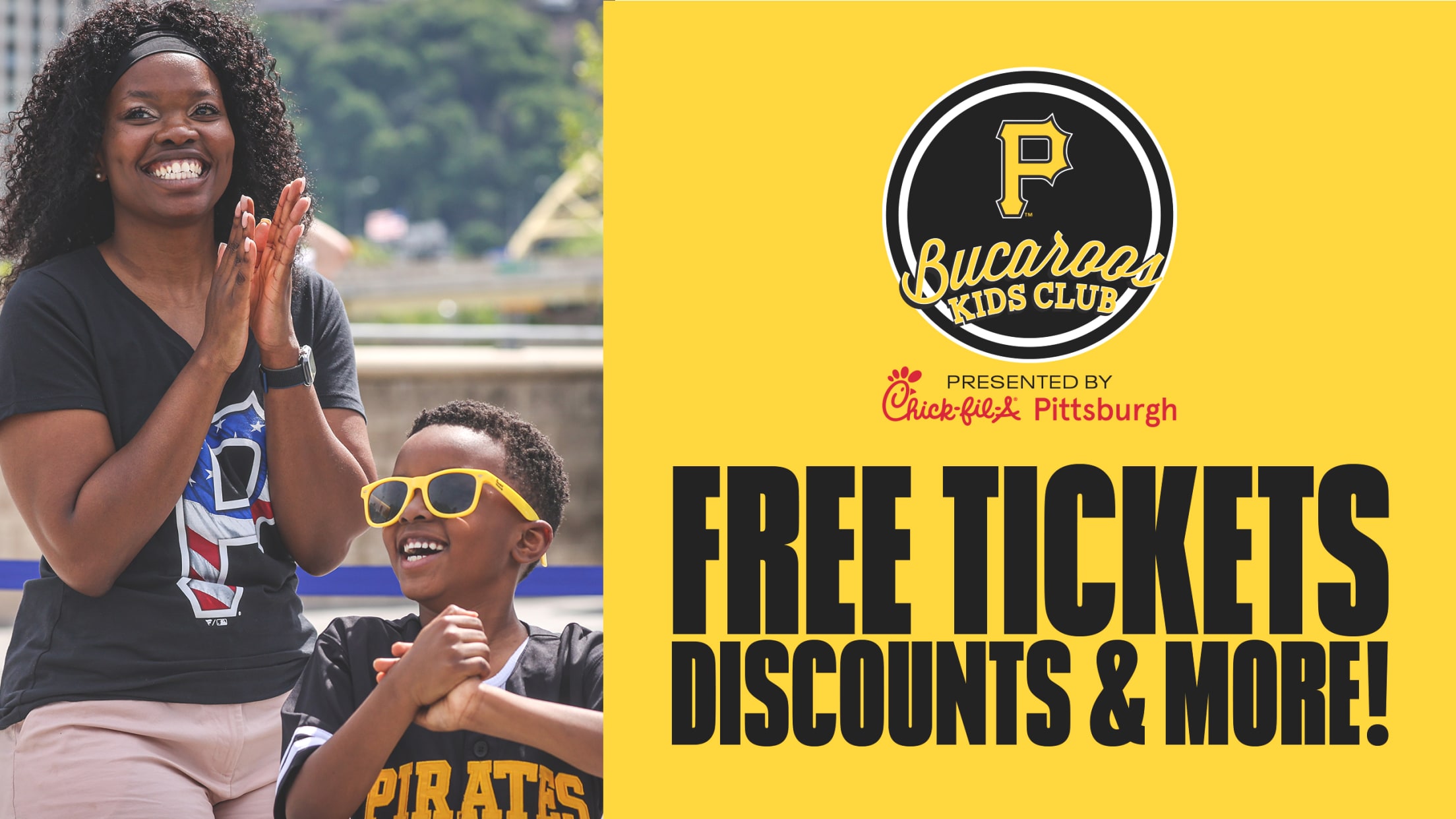 The 2022 Bucaroos Kids Club, presented by Chick-fil-A, is exclusively for Pirates fans 14 & younger! The Club offers member-only benefits all season long!
MEMBERSHIP OPTIONS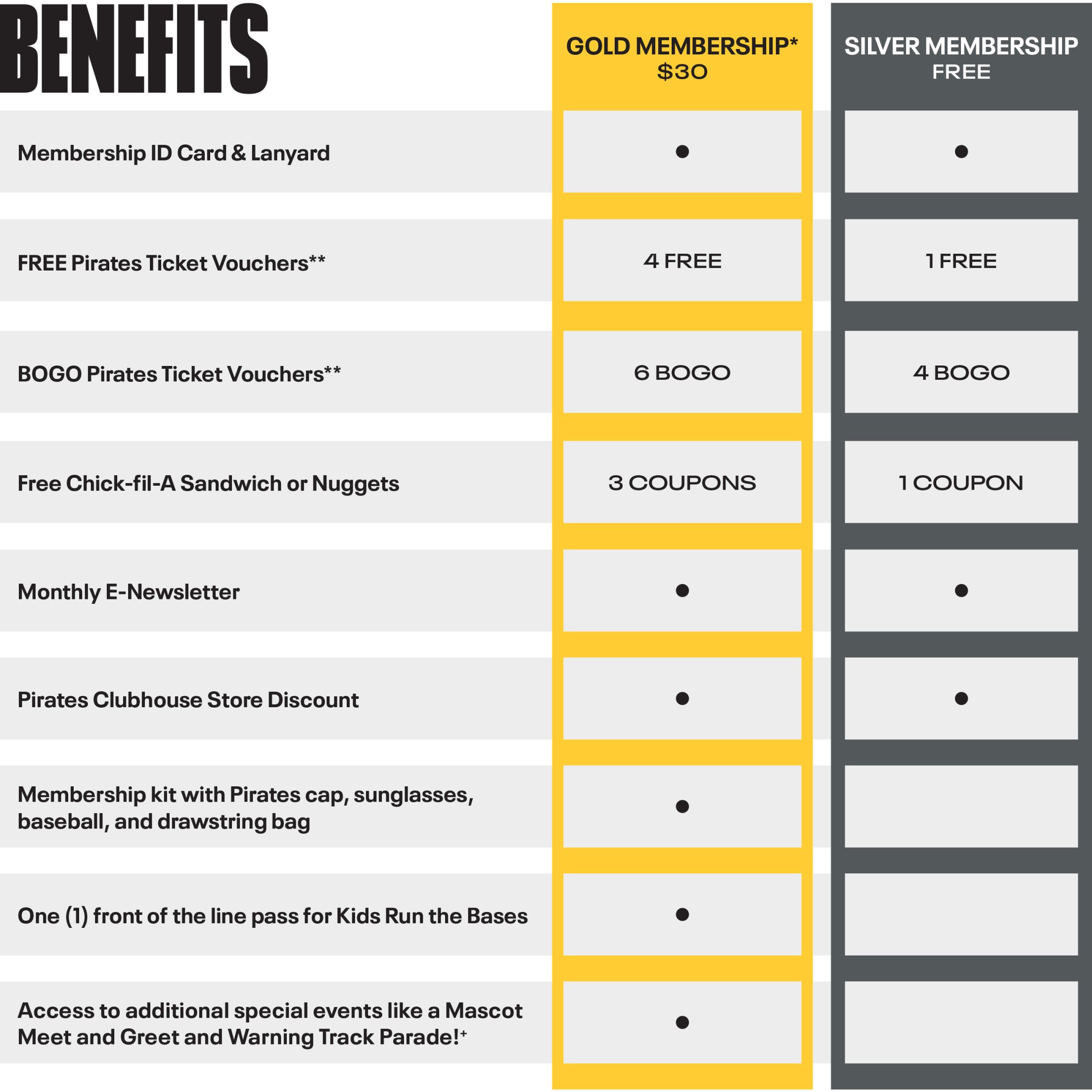 All Gold & Silver Members who chose the pick-up option, can pick up their benefits inside of PNC Park during Pirates home games!
All Gold Members & Silver Members who chose the $8 shipping option, will receive their membership benefits within 1-2 weeks from the purchase date.
*Pirates Season Ticket Holders and Pirates PNC Bank Check Card holders save $5 on Gold memberships - pay $25.
**Valid for Sunday – Friday Pirates games; Excludes Interleague play & Opening Day; redemption is online only.
MEMBERSHIP KIT (GOLD MEMBERS ONLY)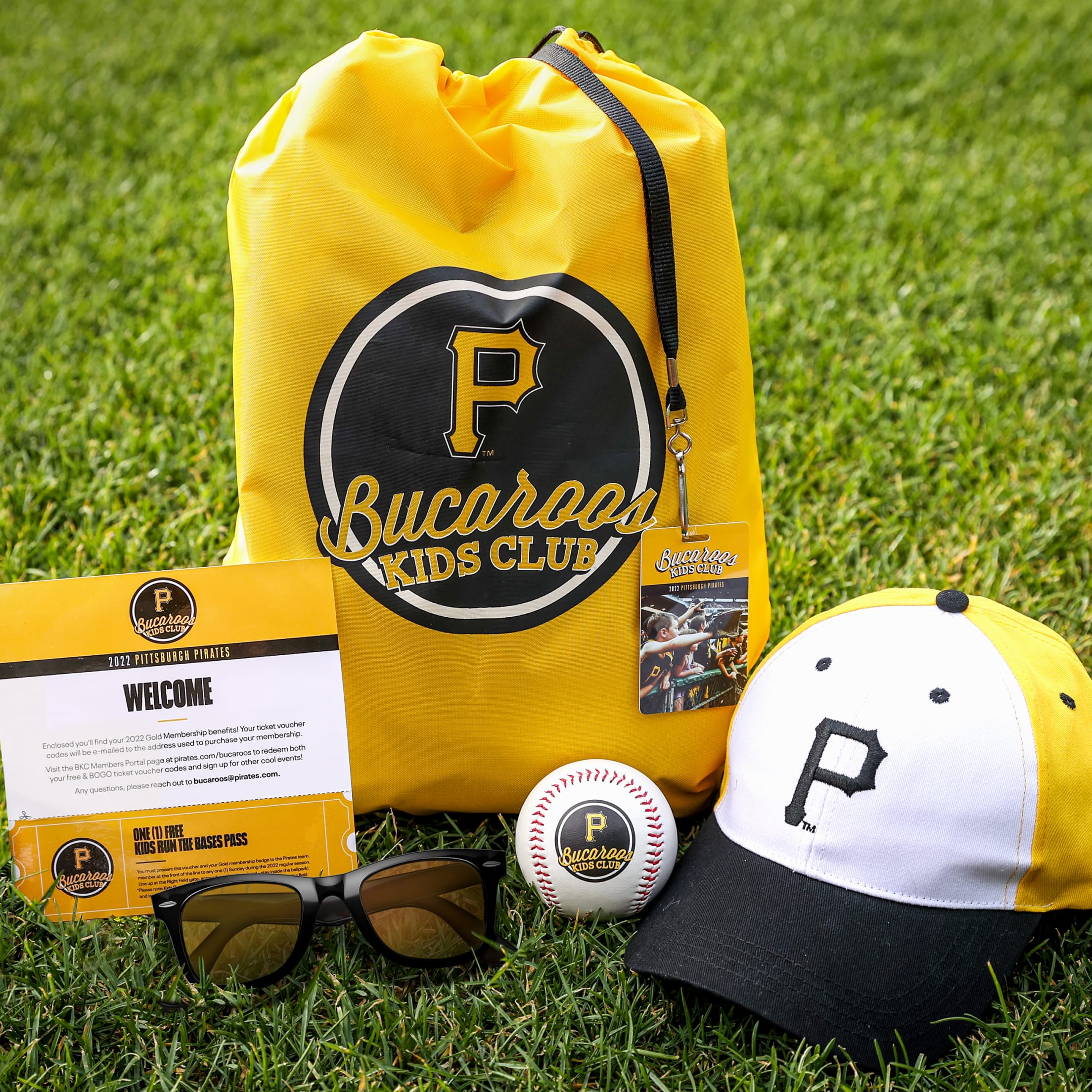 Bucaroos Kids Club Membership Kit Includes:
Pirates cap
Sunglasses
Pirates baseball
Membership ID Badge
Chick-fil-A Coupons
Pirates drawstring bag
ALREADY A BKC MEMBER?
Use the portal to activate memberships, redeem tickets and more.
FAQ
Your Membership benefits will arrive in two parts.
Ticket Vouchers: Free and BOGO ticket vouchers will be emailed to the address used to purchase the Membership within one week from purchase date.
Membership Benefits: Gold and Silver Members can have them mailed to the address provided (if the delivery option was selected when purchased) or pick them up at the Kids Club booth at PNC Park on the Riverwalk during a 2022 game. *Please note if you select mailing, you will receive your membership benefits within 1-2 weeks from the purchase date.
You can use your Bucaroos Kids Club ticket vouchers to attend any 2022 Sunday through Friday home game, excluding Interleague Play and Opening Day. Vouchers are valid for Outfield Box, Right Field Reserved and Grandstand seats.
Yes, you can redeem more than one free and BOGO ticket voucher code in the same transaction. For your free vouchers, you'll need to enter each code individually.
Yes, additional tickets may be purchased at the regular adult-price. Tickets and games are subject to availability and the offer is subject to change at any time. No refunds or exchanges; cannot be combined with any other discount, promotion or offer.
Activating your membership ensures that we have your correct contact information to keep you updated on special club news. You will not be able to redeem your tickets until you have activated your membership.
To activate your membership click "Already a Member" At the top of the page. Fill out the information requested and submit the form.
Ticket redemption will take place exclusively online only via the Bucaroos Kids Club Members Portal page. Click the 'Members Portal' button at the top of the page for access.
Once inside the portal, follow the directions to redeem your Free & BOGO tickets using the special BOGO link on the portal page and free ticket voucher codes located in the email you should have received within one week of purchasing.
Yes, you can choose your seats when redeeming both the FREE and BOGO tickets by selecting SEAT MAP.
Unfortunately, we cannot replace lost or stolen items (such as lanyards, hats, etc).
If you accidentally deleted your email with your ticket voucher codes, please reach out to [email protected] with your name and the email address used to purchase the memberships.