Chris Archer undergoes surgery
The Pittsburgh Pirates today announced that right-handed pitcher Chris Archer underwent surgery to relieve symptoms of neurogenic thoracic outlet syndrome (TOS) on Tuesday, June 2. The procedure was performed by Dr. Robert Thompson at Washington University in St. Louis. After consulting with several leading vascular and orthopedic surgeons in recent
Pirates join Pittsburgh Bureau of Police and Eat'n Park to volunteer for the Pittsburgh Citipark's Grab-and-Go lunch distribution event
Pirates Bench Coach Don Kelly and Pittsburgh Bureau of Police Chief Scott Schubert Join in Volunteer Effort
Today, Pirates Charities joined with the Pittsburgh Bureau of Police, Pittsburgh's Citiparks, local partner Eat'n Park and others at the Paulsen Recreation Center to distribute boxed lunches, provided by Eat'n Park in partnership with the United Way of Southwestern Pennsylvania, to Pittsburgh city school children. The event is part of
Pirates Charities partners with Topps and Pittsburgh Bureau of Police Officers on youth baseball card program
Pittsburgh Bureau of Police Officers Featured with Pirates Players on Cards for Local Youth
Pirates Charities, in partnership with the Topps Company, and the Pittsburgh Bureau of Police Officers, today announced the launch of the 2020 Pirates Charities Pittsburgh Police Baseball Card Program. The unique program features Pirates players and City of Pittsburgh Police officers on trading cards used to encourage positive youth behavior.
Pirates modify Jolly Roger logo to promote healthy practices and raise money for local COVID-19 relief efforts
T-shirts sold to benefit those impacted by the COVID-19 pandemic
Several weeks ago, in response to the COVID-19 pandemic, the Pirates debuted a new version of the famous Jolly Roger logo. In this modified logo, his patented red bandana is worn over his face as a mask to promote safe social health practices. In response to fans asking if the
Pirates and Dunkin' team up to deliver breakfast to local hospitals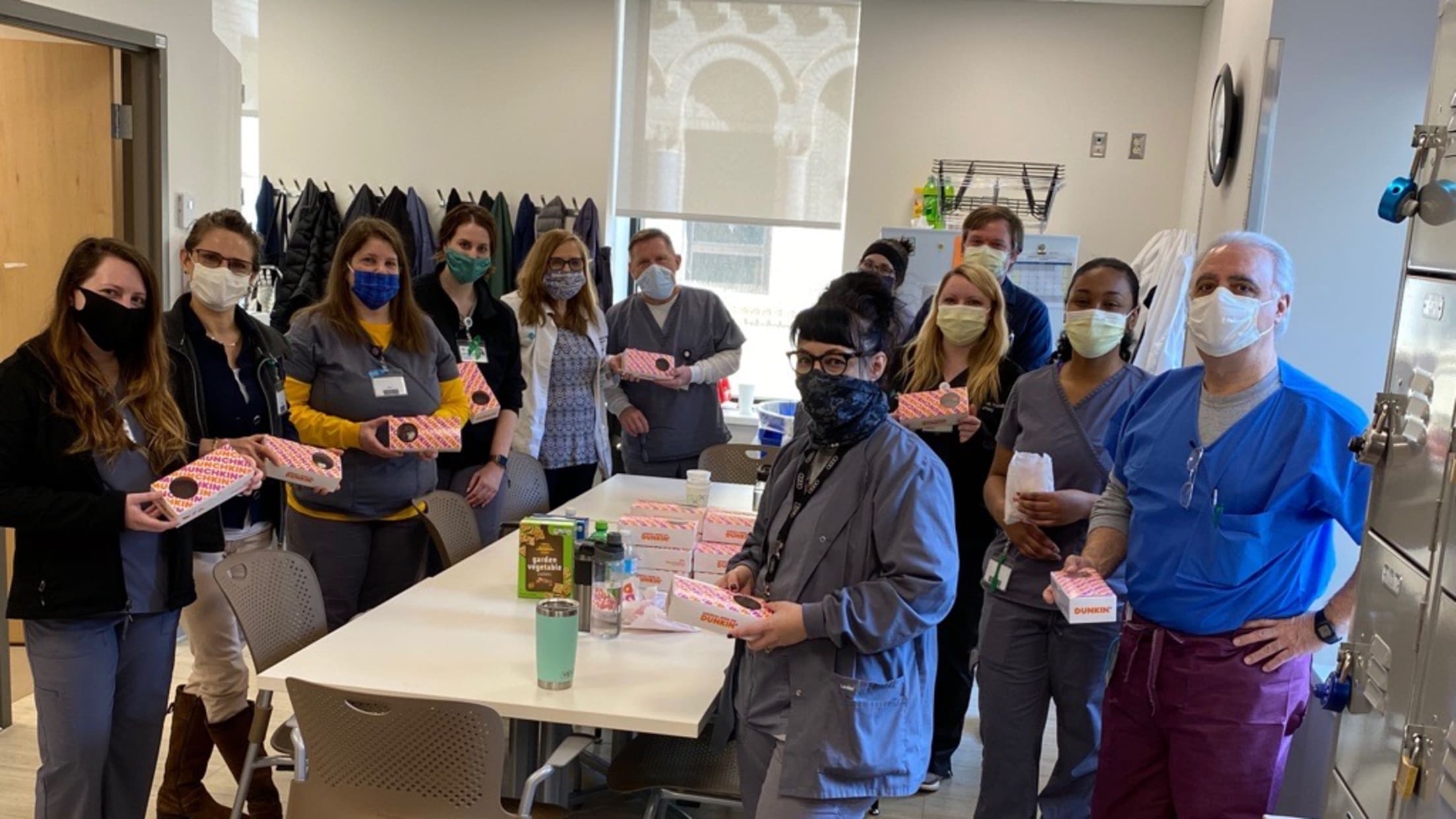 This week, the Pittsburgh Pirates teamed up with Dunkin' to provide breakfast to workers at seven area Allegheny Health Network hospitals as part of an initiative to celebrate local healthcare workers during National Hospital Week. The Pirates and Dunkin' will provide 25 dozen donuts each to hospitals throughout the greater
The Pittsburgh Pirates, Pirates Charities, Chevron and The Grable Foundation recognize 'All Star' teachers in virtual celebrations
In conjunction with Teacher Appreciation Week, the Pittsburgh Pirates, Pirates Charities, Chevron and The Grable Foundation are teaming up this week with the Allegheny Intermediate Unit and Intermediate Unit One, to recognize 18 outstanding teachers from southwestern Pennsylvania and northern West Virginia. Throughout the week representatives from the partnering organizations,
Home Plate Project to fund Pittsburgh food distribution event
Pirates Charities and Pirates Pitcher Trevor Williams Partner with Others to Help Greater Pittsburgh Community Food Bank Distribute Food to Families in Need
Pirates Charities and Pirates pitcher Trevor Williams today announced they have teamed-up to support the Greater Pittsburgh Community Food Bank through the "Home Plate Project," a Major League Baseball-wide initiative in partnership with Garth Brooks' "Teammates for Kids Foundation" and Adam Wainwright and Kyle Gibson's "Big League Impact." Together, they
Pirates Charities announce charitable initiatives to celebrate Jackie Robinson Day
Community efforts planned to celebrate the anniversary of Robinson breaking baseball's color barrier
Pirates Charities today announced several charitable initiatives planned throughout the Pittsburgh community to honor the life and legacy of Jackie Robinson. On Wednesday, April 15, Jackie Robinson Day is celebrated throughout Major League Baseball as it will mark the 73rd anniversary of the Dodgers' infielder breaking baseball's color barrier. Although
Pirates partner AT&T SportsNet to air Pirates specific content during delay to baseball season
Pirates broadcast partner AT&T SportsNet announced today the network will replay Pirates games and other Pirates specific programming during the delay to the 2020 baseball season. This special programming will include memorable features and games, starting tomorrow, Tuesday, March 24. The Pirates Playback games begin with the 2013 Pirates NL
Pirates team with Greater Pittsburgh Community Food Bank to distribute food to families
Drive-Up Distribution Event on North Shore Helps Local Families
The Pittsburgh Pirates and Greater Pittsburgh Community Food Bank teamed-up today to help local families by hosting a drive-up food distribution event this morning in the parking lots on the North Shore. The event, as well as similar future events, was funded in part by the Pirates $50,000 donation to
Pirates and Pirates Charities partner with Greater Pittsburgh Community Food Bank to help feed Pittsburgh families
Team Donates $50,000 to Support Multiple Food Distribution Events
The Pittsburgh Pirates and Pirates Charities today announced a $50,000 donation to the Greater Pittsburgh Community Food Bank to support multiple food distribution events to help ensure the needs of local families are met during the current Coronavirus crisis. The mission of the Greater Pittsburgh Community Food Bank is to
Pittsburgh Pirates announce ticketing update
In the wake of yesterday's decision by Major League Baseball to suspend all Spring Training games and delay the start of the 2020 regular season due to safety concerns around the Coronavirus, the Pittsburgh Pirates continue to work to minimize the impact on ticket holders. Club officials remain in active
Statement from Pittsburgh Pirates chairman, Bob Nutting
The Pirates are in full agreement with and supportive of the Commissioner's decision. As this situation evolves, so too will our response. What will not change, however, is how much we care about our fans, players, employees and the wellbeing of our community. Our front office team will continue to
Pittsburgh Pirates announce kids now free in April and May
Kid's concession value offerings also expanded at PNC Park
The Pittsburgh Pirates unveiled today a new Kids Free ticket program that now allows parents to bring fans ages 14 and under to any game at PNC Park in April and May for free with the purchase of a $20 adult ticket. The new Kids Free ticket program is the
Pirates Charities announce return of Fields for Kids program
Matching grants up to $25,000 available to area youth baseball/softball organizations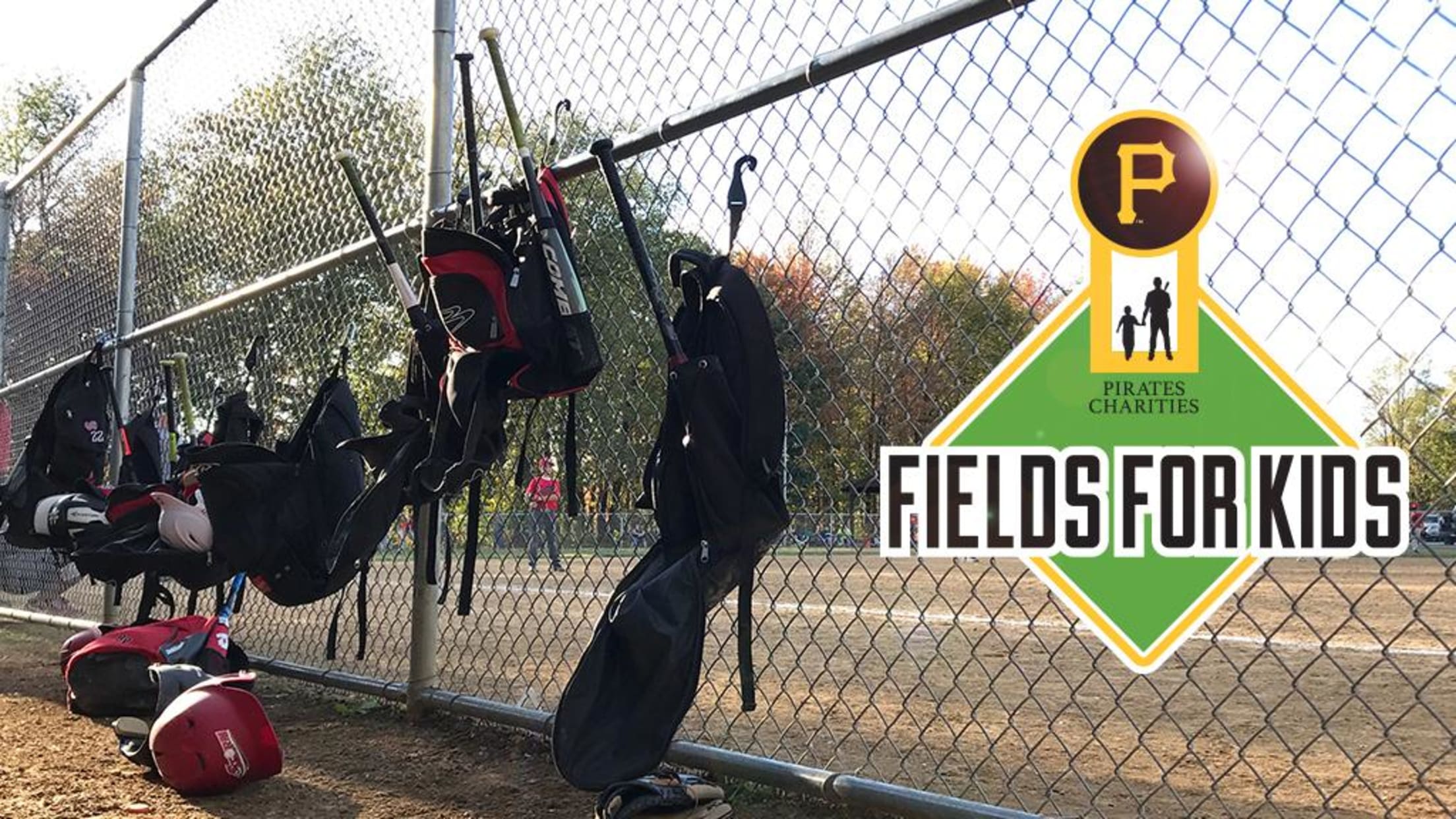 Pirates Charities today announced the "Fields for Kids" program is back for the 2020 season and applications are now being accepted at Pirates.com/PiratesCharities. The program provides matching grants of up to $25,000 to area youth organizations to improve youth baseball and/or softball facilities in the region. Interested organizations in Pennsylvania,
Pirates to extend netting at PNC Park and Lecom Park 
Protective Netting extensions to improve fan safety and experience
The Pittsburgh Pirates today announced the team will extend the protective netting at PNC Park, as well as at the team's Spring Training home, LECOM Park, in Bradenton, Fla. The new netting systems will now stretch nearly the length of the first and third base foul lines at both ballparks
Pirates sign free agent outfielder Jarrod Dyson
The Pittsburgh Pirates today signed outfielder Jarrod Dyson (pronounced jah-ROD) to a one-year contract for the 2020 season. The announcement was made by General Manager, Ben Cherington. Dyson spent the entire 2019 season with Arizona, where he recorded at least 30 stolen bases for the fifth time in his career
Pirates to present Pittsburgh Negro League Baseball centennial commemoration event at Heinz History Center
Pirates to celebrate Black History Month with special event and traveling educational program
Tomorrow, Thursday, February 13, the Pittsburgh Pirates proudly present the "Pittsburgh Negro League Baseball Centennial Commemoration" event, a special night at the Senator John Heinz History Center. The Pirates and partners such as the Josh Gibson Foundation, the Carnegie Museum of Art's Teenie Harris Archives and the Senator John Heinz
Minor League staff assignments
Listed below are the staff assignments for the nine minor league affiliates in the Pittsburgh Pirates organization for the 2020 season, along with the Player Development Staff. INDIANAPOLIS (AAA) Manager: Brian Esposito Hitting Coach: Jon Nunnally Pitching Coach: Joel Hanrahan Coach: Argenis Diaz Athletic Trainer: Justin Ahrens Strength & Conditioning:
Pirates sign outfielder Solomon Maguire as non-drafted free agent
The Pittsburgh Pirates today signed outfielder Solomon Maguire as a non-drafted free agent. The 16-year-old Maguire, who is from Kellyville, Australia, is currently a senior at Castle Hill High School in Sydney, Australia. The Pirates have now signed 43 players during the 2019-20 international signing period.
Pirates sign free agent infielder JT Riddle
The Pittsburgh Pirates today announced they have signed free agent infielder JT Riddle. The announcement was made by General Manager Ben Cherington. The 28-year-old Riddle has spent his entire professional career in the Miami organization after being selected by the Marlins in the 13th round of the 2013 First-Year Player
Pirates Announce Four Non-roster Invitees to Spring Training
The Pittsburgh Pirates today announced the following players will attend big league camp as non-roster invitees. Robbie Erlin (LHP) – Has gone 13-20 with a 4.57 ERA (313.0ip/159er) and 249 strikeouts in 106 games (38 starts) while spending his entire big league career with the San Diego Padres (2013-19)…Went 0-1
Pirates announce 2020 Theme Ticket games
Popular University Night among events scheduled for upcoming season
Christmas in July and '90s Night join the exciting lineup of Theme Ticket games taking place throughout the 2020 season at PNC Park. The schedule includes the return of University Nights, Youth Baseball and Softball Days and more as fans will have the chance to take part in the unique
Pirates and Diamondbacks make three-player trade
The Pittsburgh Pirates today acquired infielder Liover Peguero and right-handed pitcher Brennan Malone from the Arizona Diamondbacks in exchange for outfielder Starling Marte and cash considerations. The Pirates will also receive an additional capacity in its 2019-2020 International Signing Bonus Pool, allowing them to spend an additional $250,000 in this
Pirates unveil road jerseys for 2020
The Pittsburgh Pirates today unveiled the team's new road uniforms for the 2020 season: a road gray and alternate black jersey that will include a return to the Pittsburgh script lettering across the chest. The beloved Pittsburgh script lettering is reminiscent of the early 1990s Pirates road gray uniforms worn