Newman out for season (knee contusion)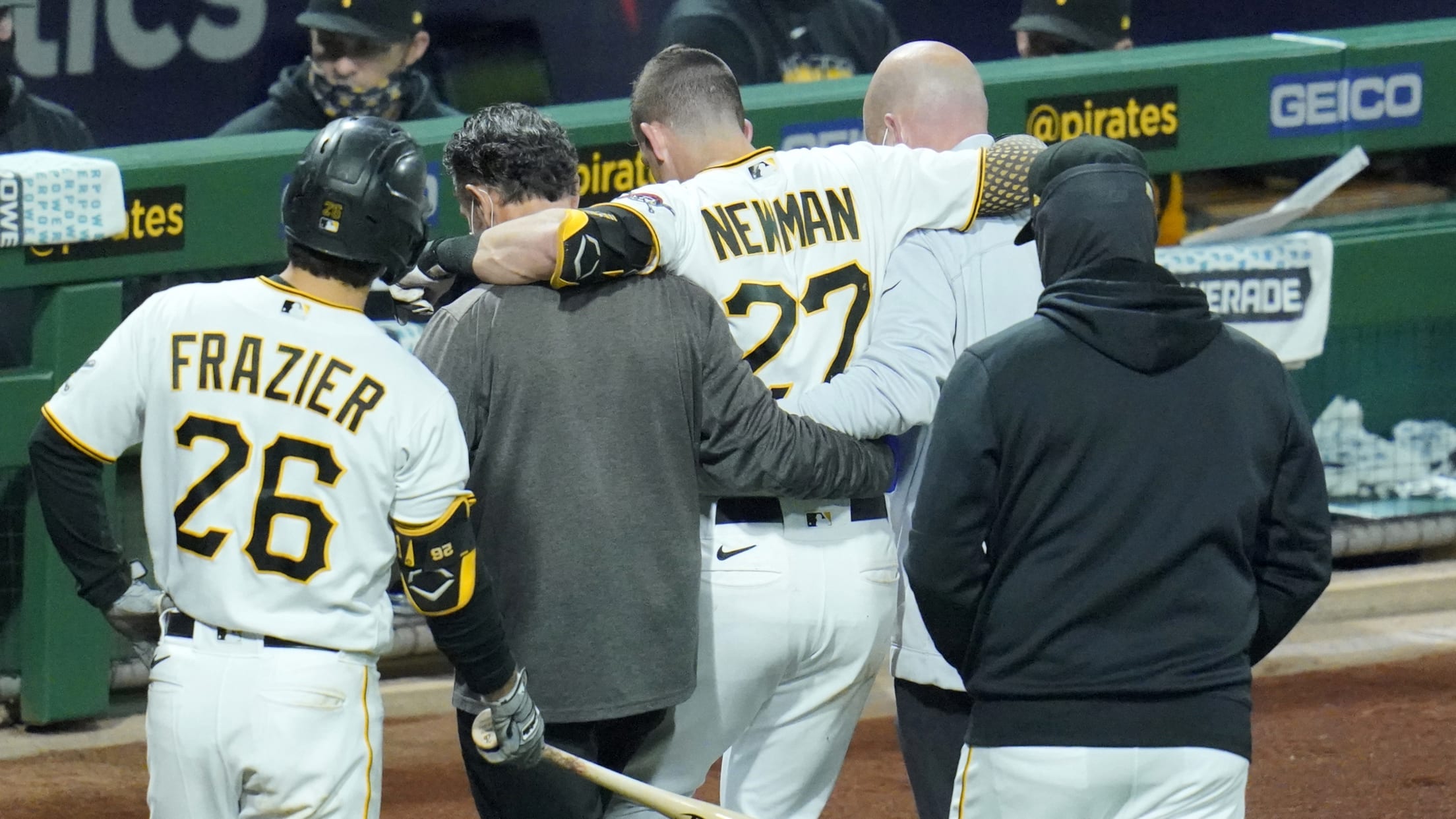 PITTSBURGH -- After being hit on the left knee by a 97-mph fastball on Saturday night, Pirates infielder Kevin Newman's season is over. The Pirates placed Newman on the 10-day injured list before Sunday's series finale against the Cardinals at PNC Park. The club announced that Newman sustained a contusion
Pending FA Kela (forearm) likely done for '20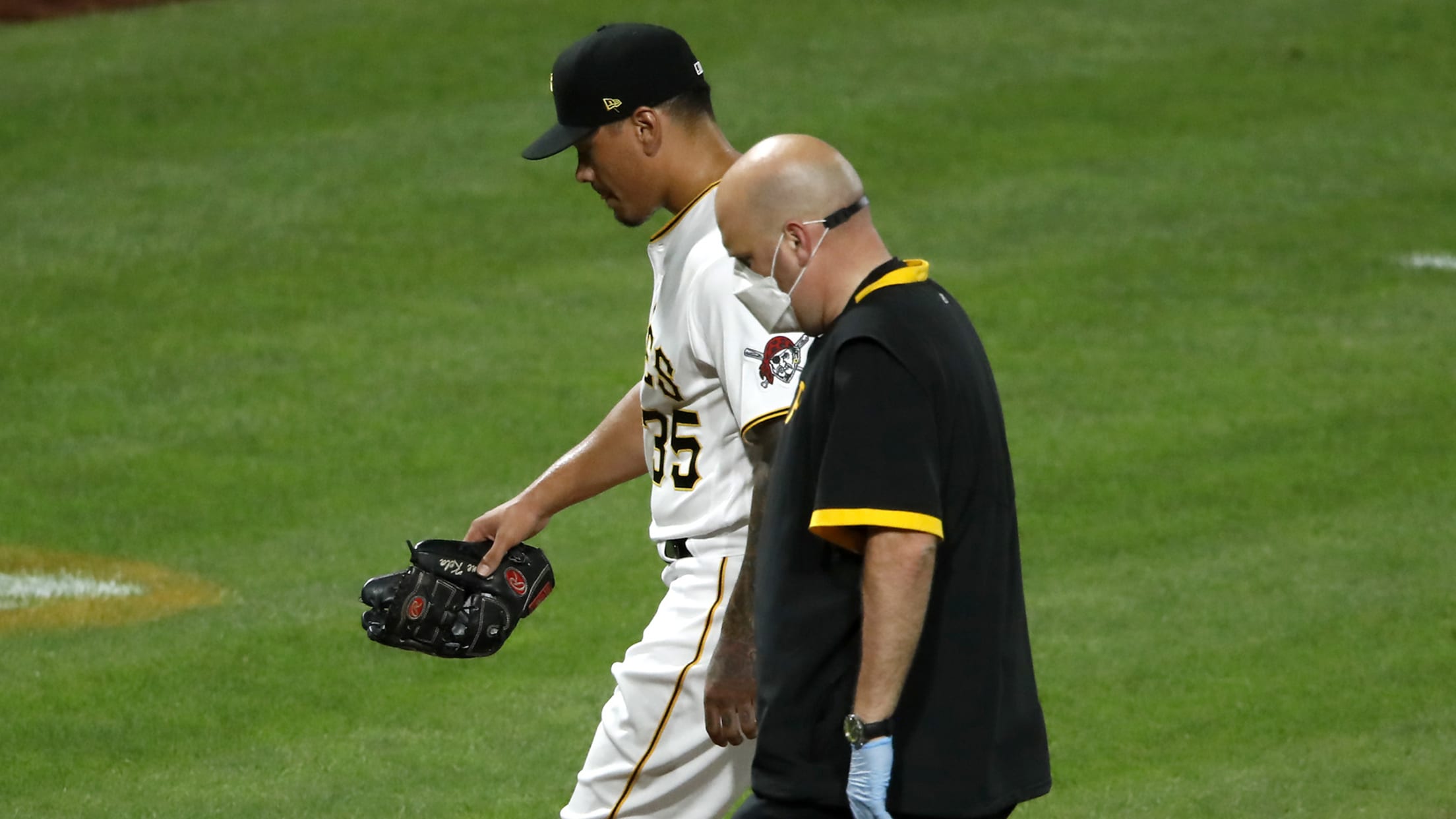 With only a week and a half remaining on the schedule, closer Keone Kela likely won't return to pitch for the Pirates this season. Kela, who has been sidelined by right forearm inflammation since Aug. 21, is working his way back from the injury. The Pirates haven't ruled him out
Pirates place Alford on IL (fractured elbow)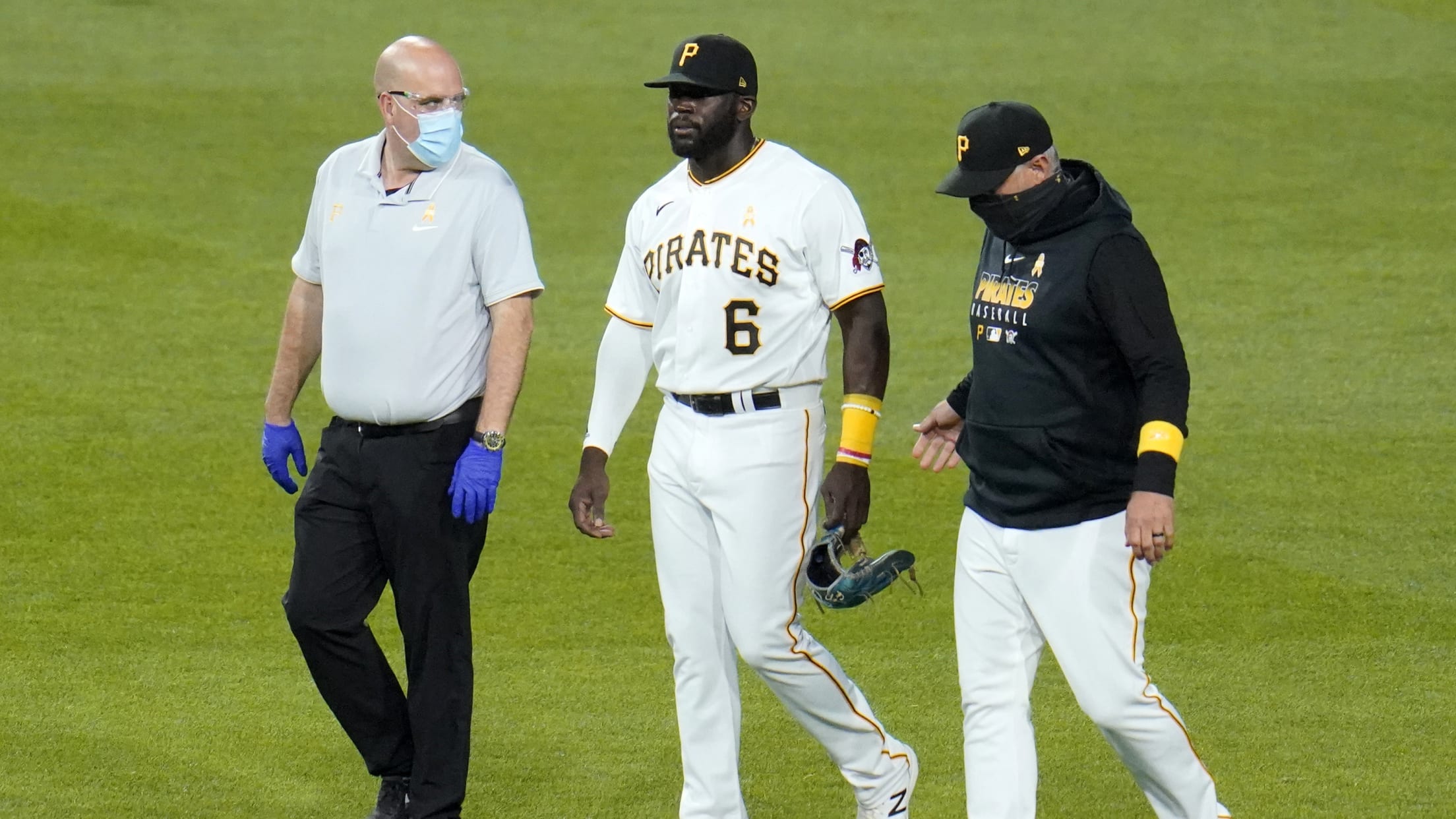 PITTSBURGH -- Pirates center fielder Anthony Alford fractured his right elbow crashing into the outfield wall while trying to chase down a home run hit by Tucker Barnhart in the third inning of Pittsburgh's 6-2 loss to the Reds on Saturday night at PNC Park. Barnhart led off the third
Pirates put Kela, Moran on IL, claim Alford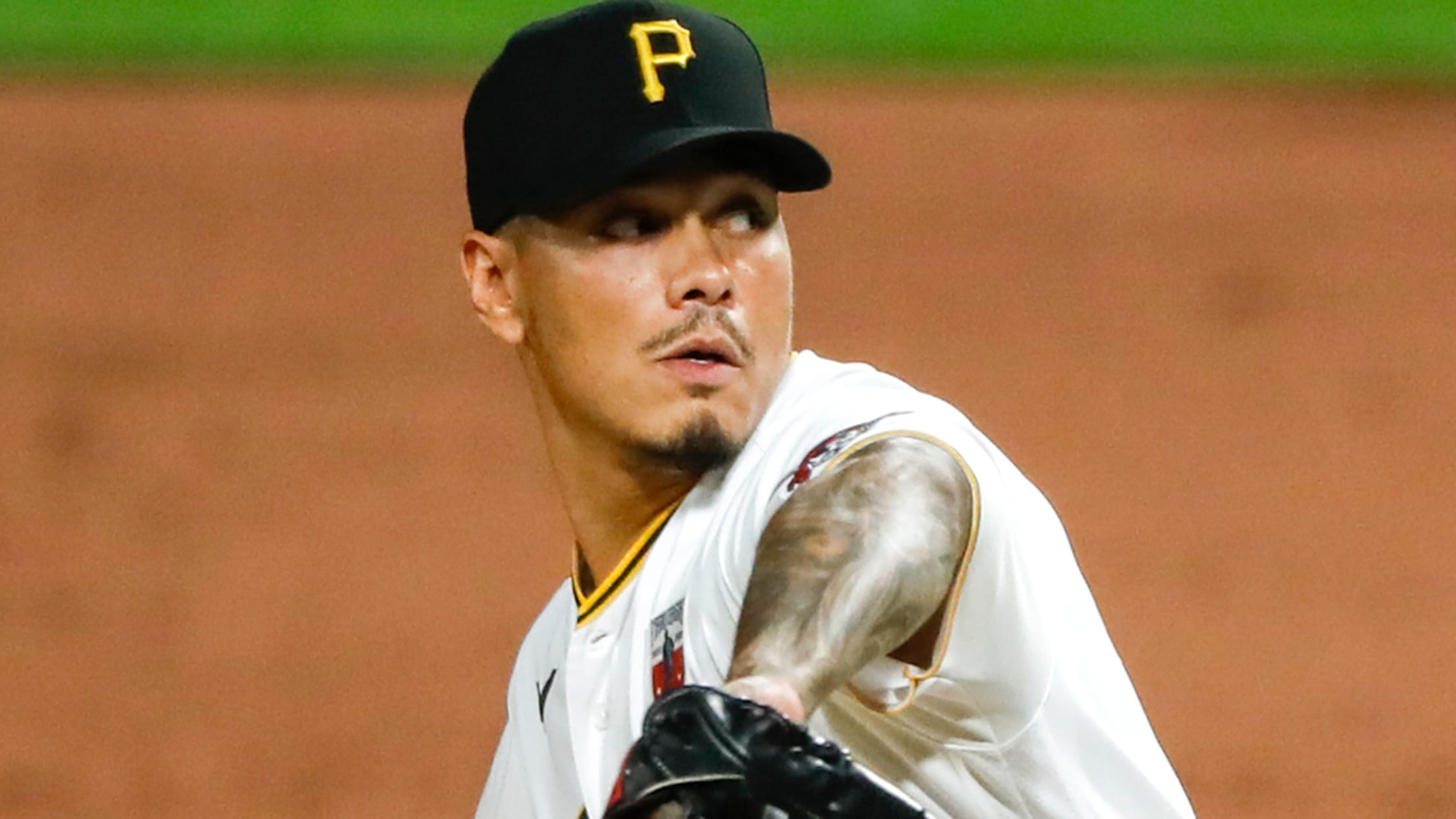 The Pirates placed infielder Colin Moran and closer Keone Kela on the injured list before Thursday's doubleheader against the Cardinals at Busch Stadium, putting their most productive hitter and their top trade chip on the shelf only four days before Monday's Trade Deadline. Moran is on the seven-day concussion injured
Bucs injury updates: Kela, Moran, Newman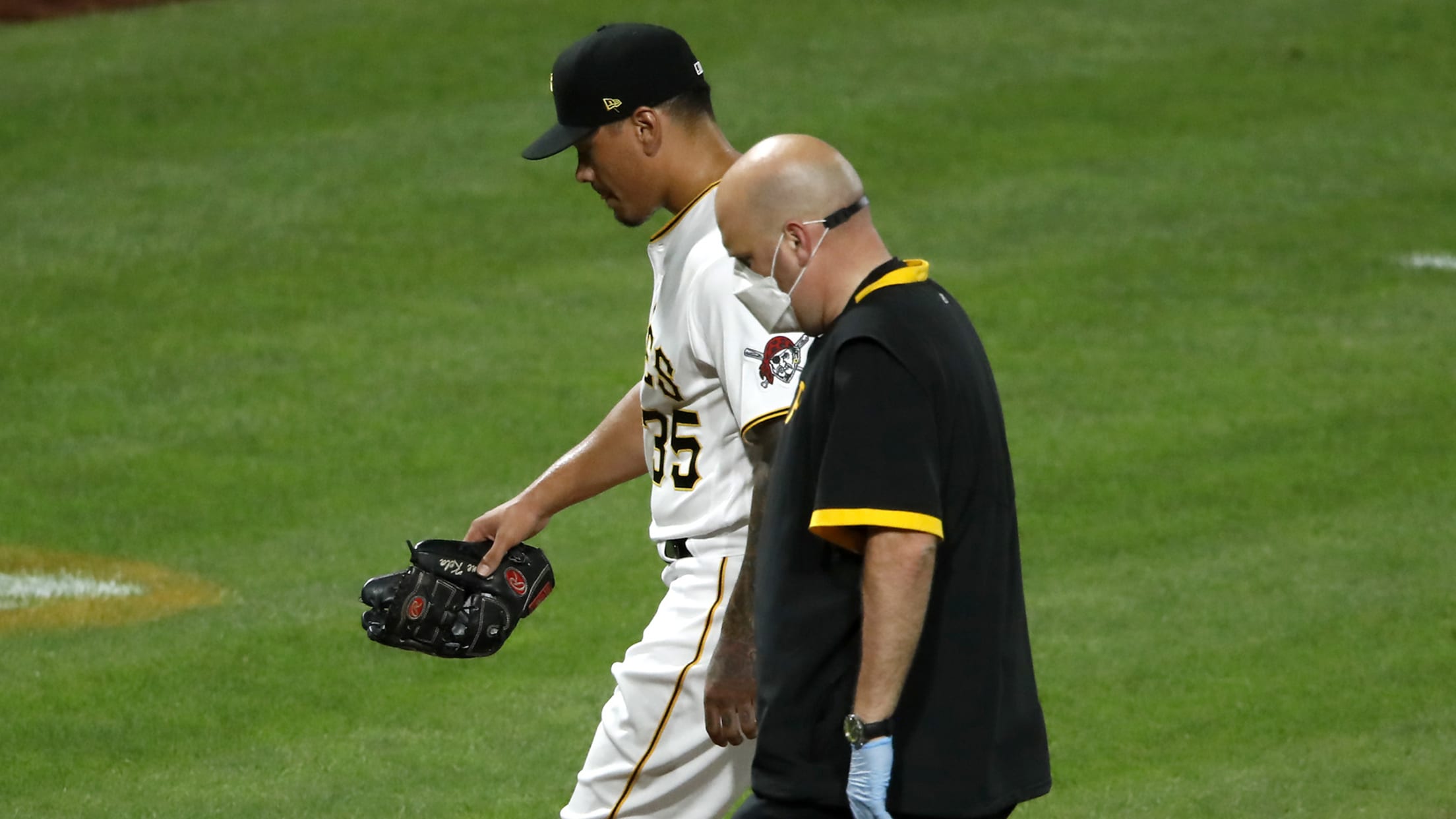 A day after manager Derek Shelton said that closer Keone Kela, infielder Colin Moran and shortstop Kevin Newman are "active" and "available," director of sports medicine Todd Tomczyk clarified each player's status. Tomczyk confirmed on Wednesday that Kela has yet to pick up a baseball since exiting Friday's game with
Trio of injured Pirates 'available' for Shelton
Injury updates to Keone Kela, Colin Moran and Kevin Newman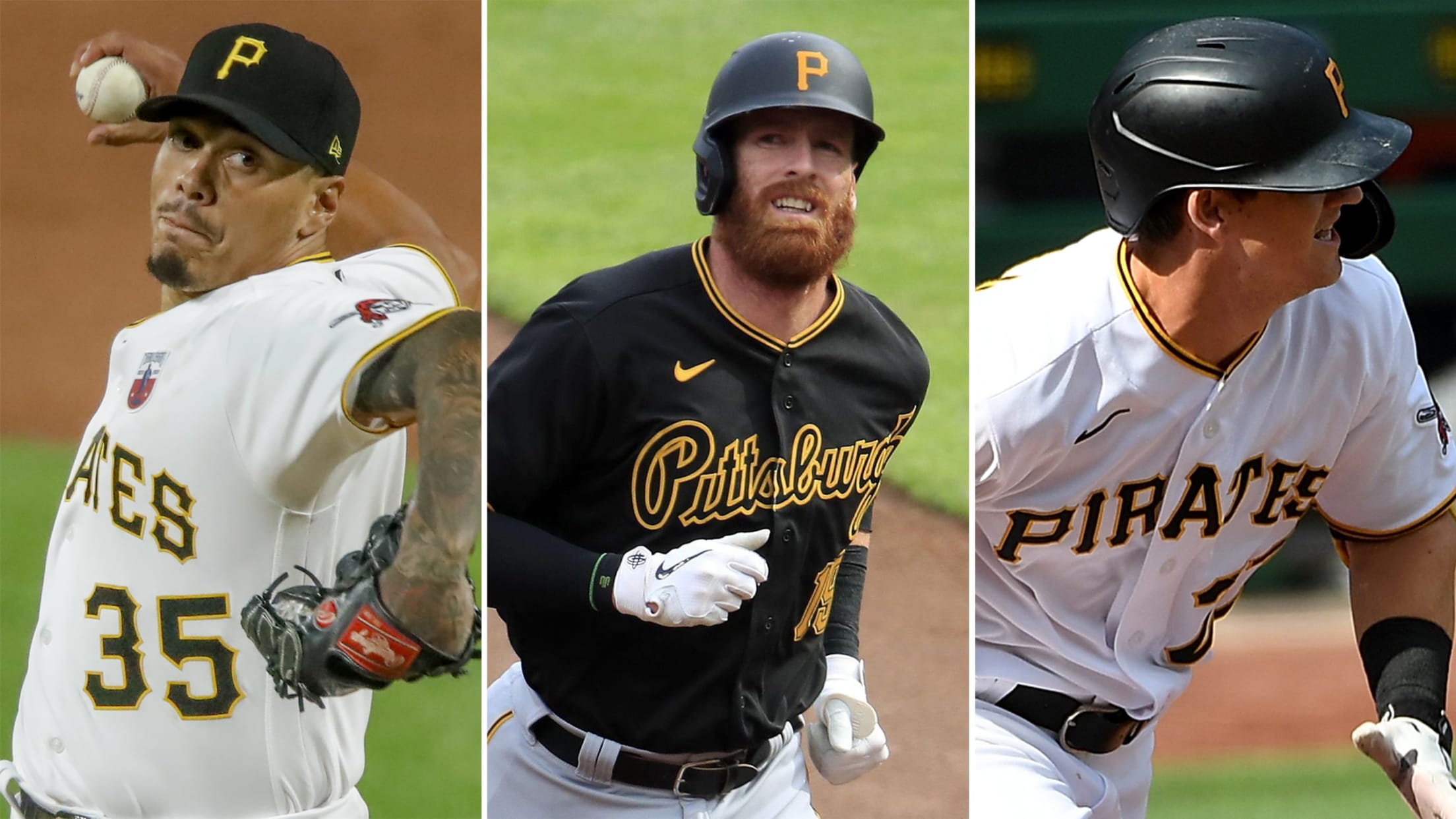 The Pirates apparently avoided the worst-case scenario with a trio of recent injuries, as manager Derek Shelton declared before Tuesday's series opener against the White Sox at Guaranteed Rate Field that shortstop Kevin Newman, infielder Colin Moran and closer Keone Kela were active and available. Moran exited Pittsburgh's 5-4 win
Moran, Newman exit with injuries vs. Brewers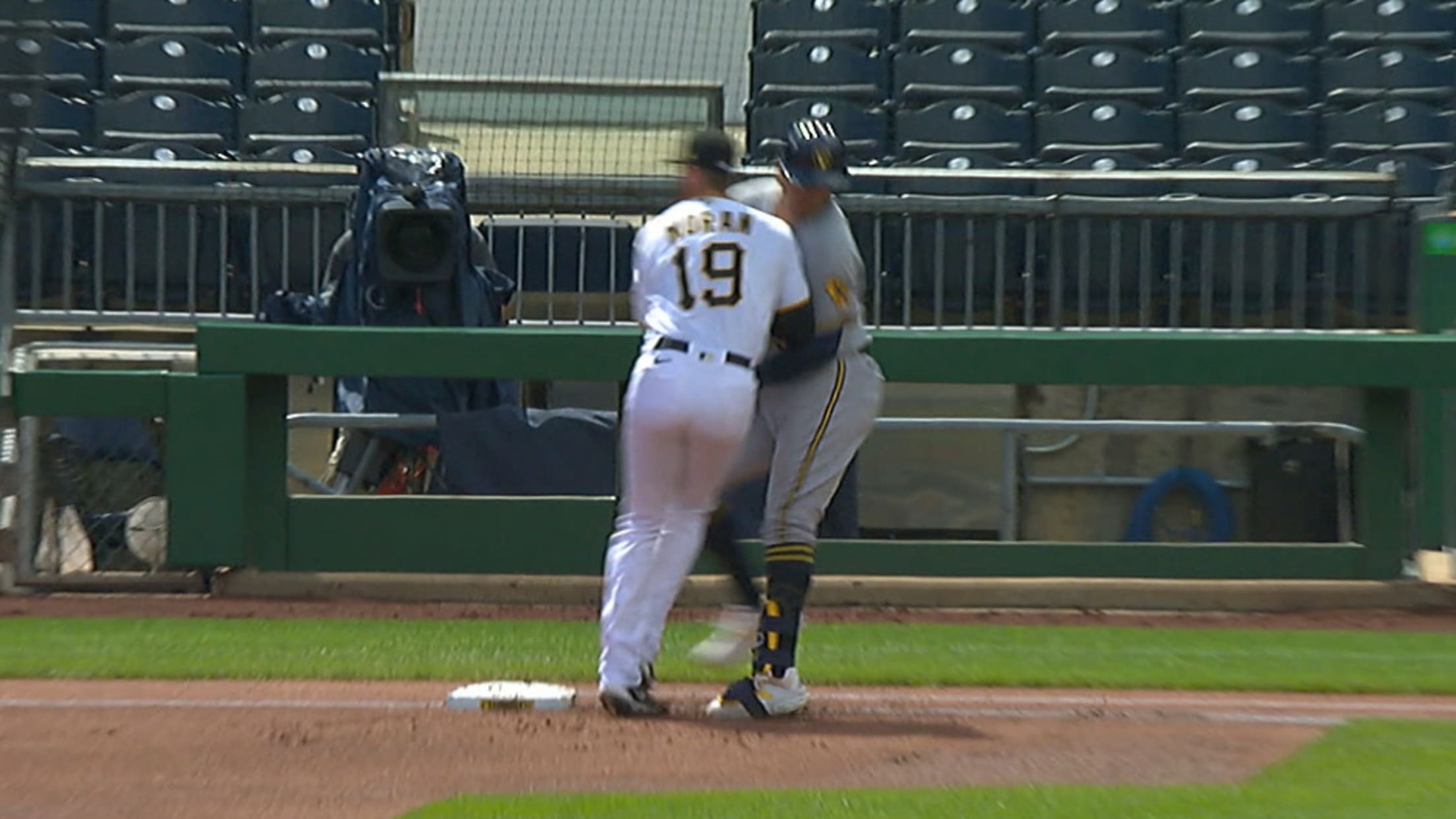 PITTSBURGH -- The Pirates extended their first winning streak of the season to three games by beating the Brewers, 5-4, on Sunday afternoon at PNC Park. But they may have lost two everyday position players in the process, as Colin Moran and Kevin Newman exited the series finale due to
Kela (forearm) day to day after early exit
Pirates' top trade chip threw five pitches before departing vs. Brewers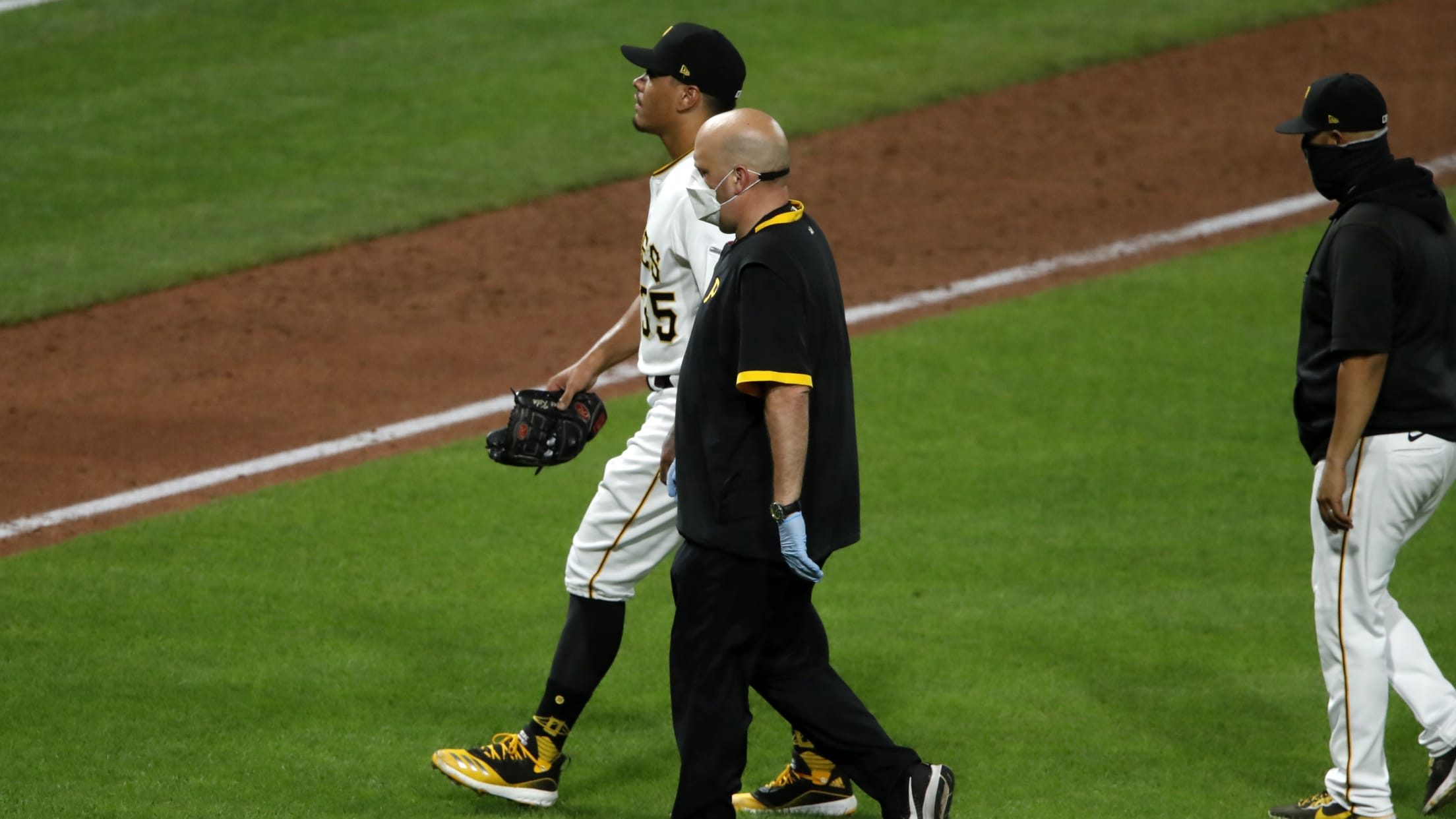 PITTSBURGH -- After exiting the Pirates' 7-2 win over the Brewers on Friday night, Pirates closer Keone Kela is considered day to day due to right forearm tightness. Kela reported tightness in his right forearm, Pittsburgh manager Derek Shelton said, and he was removed as a precaution after throwing five
Updates on Evans, Crick, Musgrove, more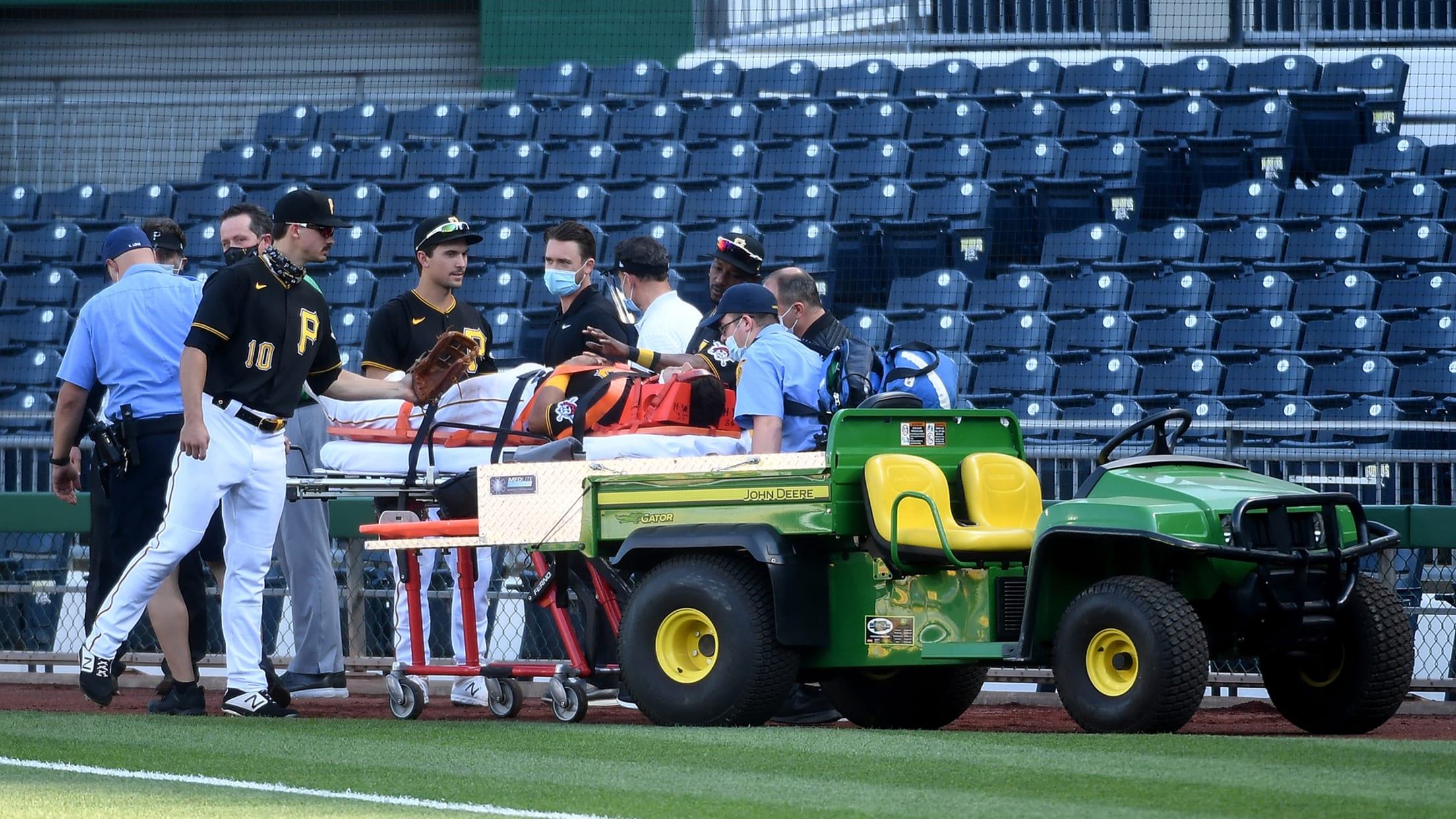 PITTSBURGH -- When Phillip Evans was ruled out for the season following a collision with right fielder Gregory Polanco, the Pirates were initially optimistic that he would be able to avoid surgery. But Evans will need surgery to repair his broken jaw, Pirates director of sports medicine Todd Tomczyk revealed
Pirates, RHP Gustave agree to deal (source)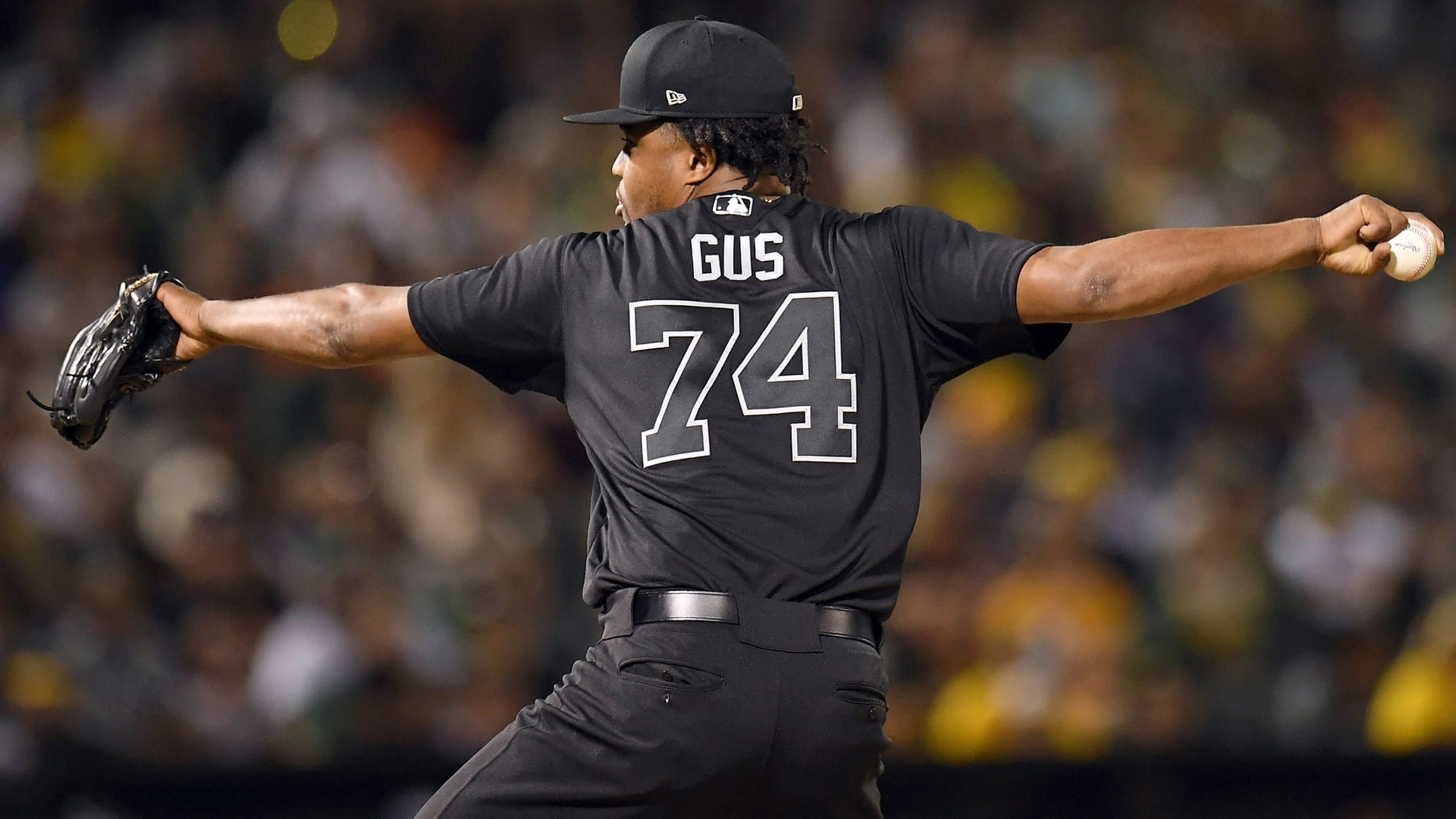 PITTSBURGH -- The Pirates will not be signing former All-Star Henderson Alvarez, as previously reported, but they are on the verge of signing another right-hander with Major League experience. Pittsburgh has agreed to a Minor League deal with reliever Jandel Gustave. Once a top 30 prospect in the Astros' system,
Pirates closer Kela cleared to return
PITTSBURGH -- Three weeks into the season, the Pirates are getting their closer back. Manager Derek Shelton said Wednesday that right-hander Keone Kela will be active for the Pirates' series against the Reds, which begins Thursday at Great American Ball Park. Kela has been on the COVID-19 injured list after
Musgrove (triceps) goes on injured list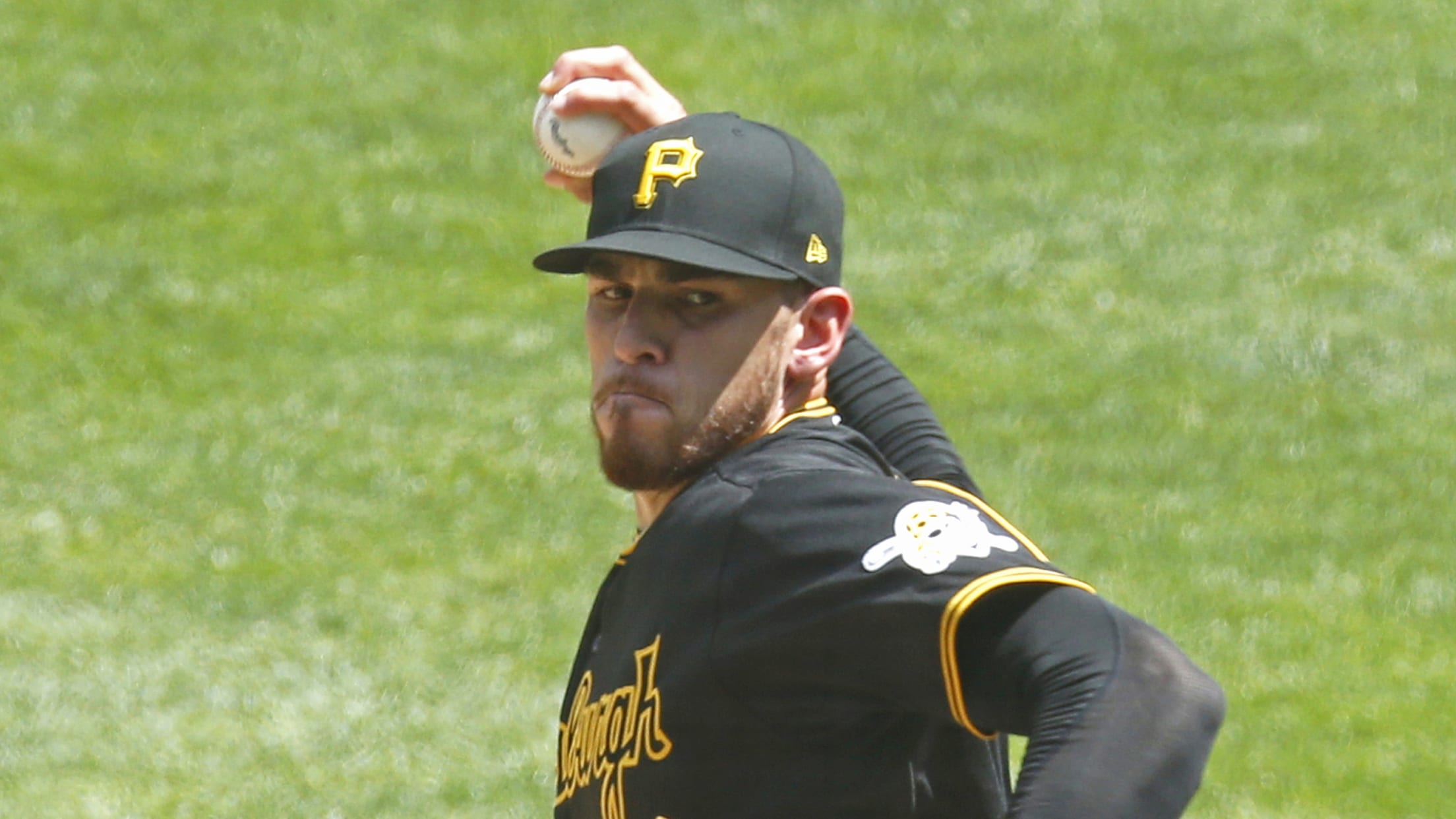 PITTSBURGH -- Even with their season paused due to their postponed series against the Cardinals, the Pirates have been bitten by the injury bug. The Pirates placed starter Joe Musgrove on the 10-day injured list on Tuesday. Musgrove was scratched from his scheduled start Sunday at PNC Park due to
Evans (concussion, fractured jaw) out for '20
Pirates recall Osuna, option Mears, add Waddell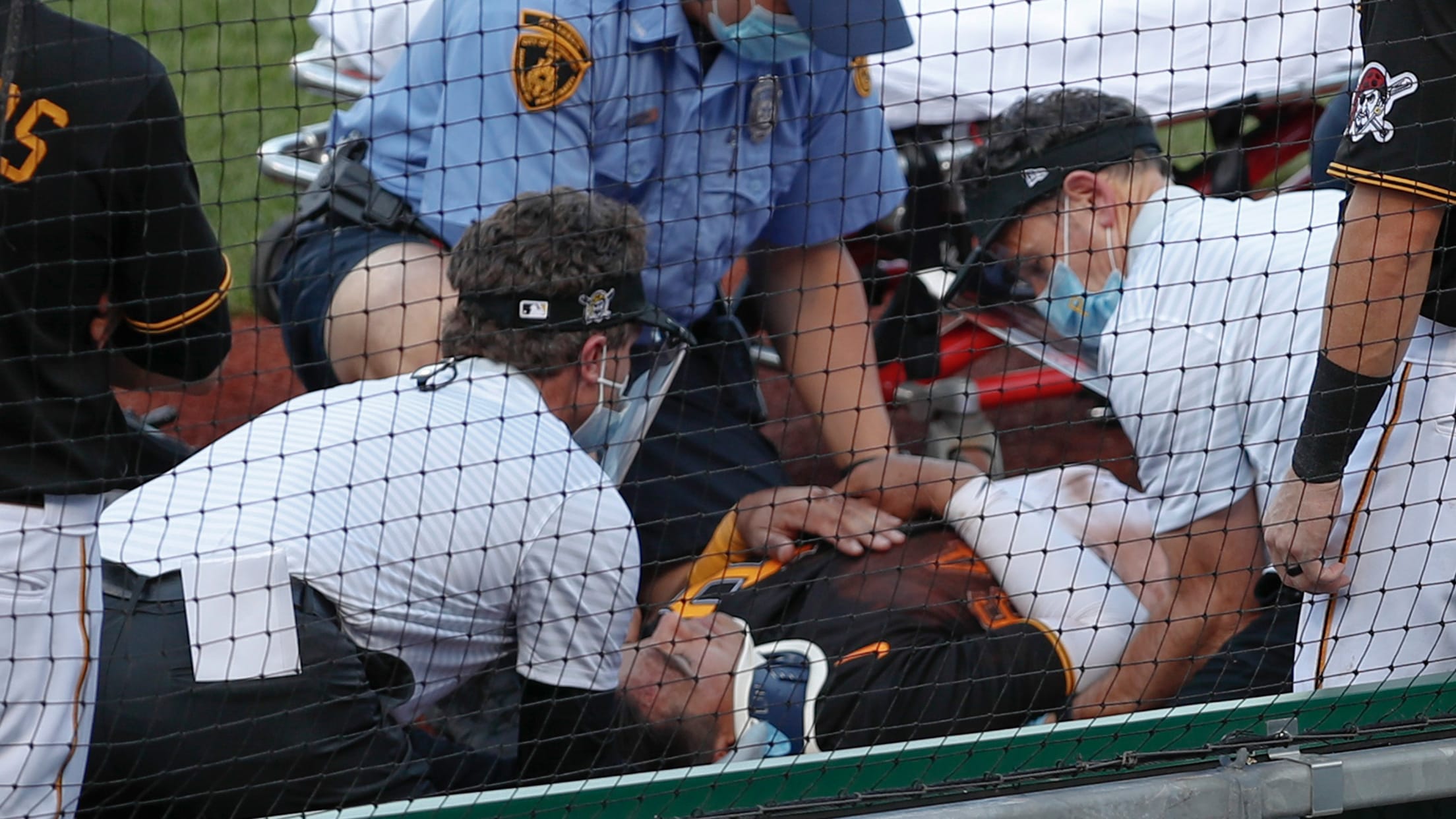 PITTSBURGH -- The morning after Phillip Evans left Saturday's game on a stretcher following a collision with right fielder Gregory Polanco, the Pirates revealed that Evans sustained a concussion, a fractured jaw and "injuries to the face and mouth." The Pirates placed Evans on the 45-day injured list, effectively ending
Burdi (right elbow injury) out for season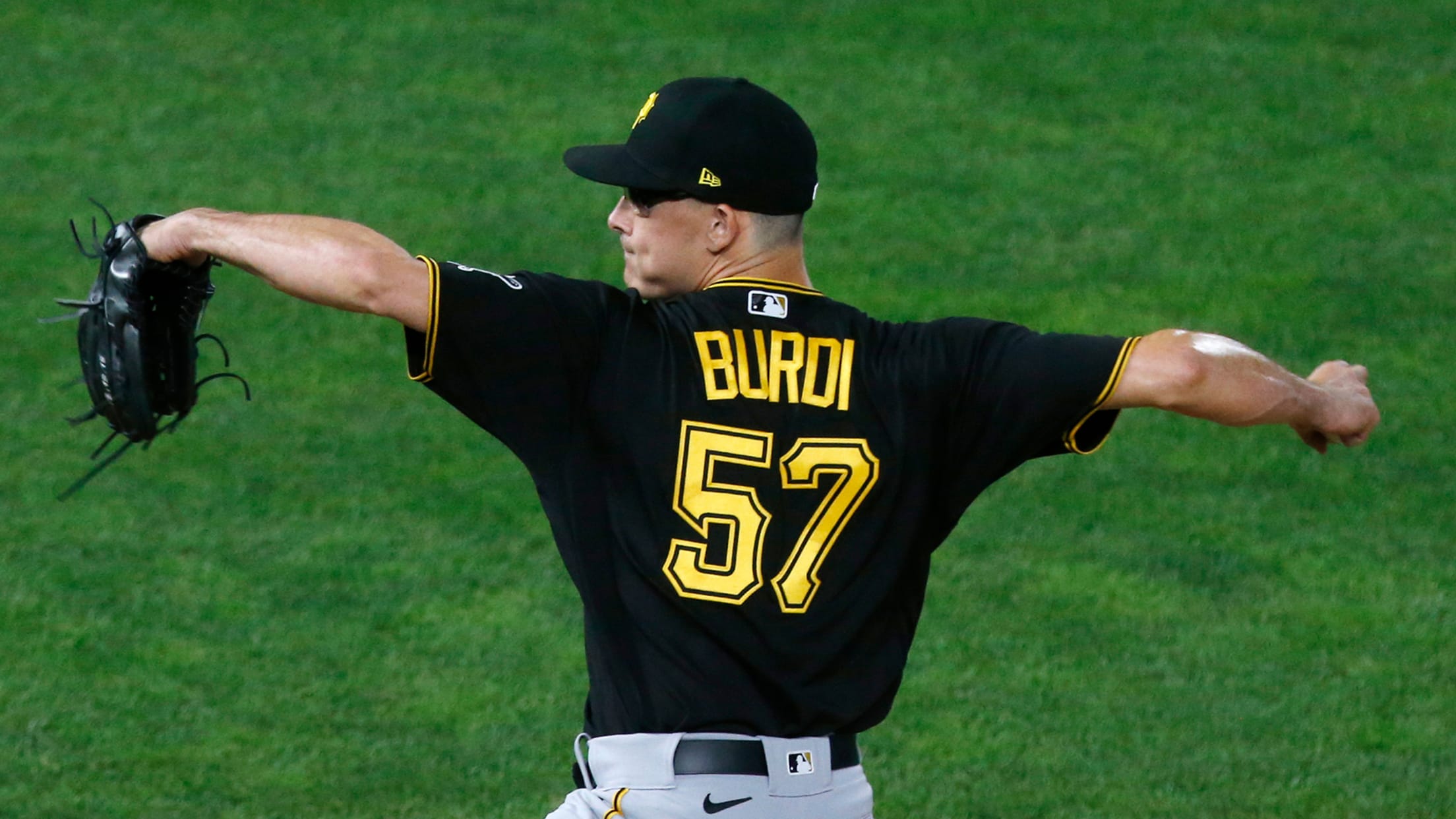 PITTSBURGH -- The Pirates placed right-hander Nick Burdi on the 45-day injured list on Wednesday afternoon due to a right elbow injury, ending the promising young reliever's season and adding to their list of unavailable arms. Burdi, who was serving as the Pirates' unofficial closer while the team awaits the
Keller, Feliz on IL; Kela resumes workouts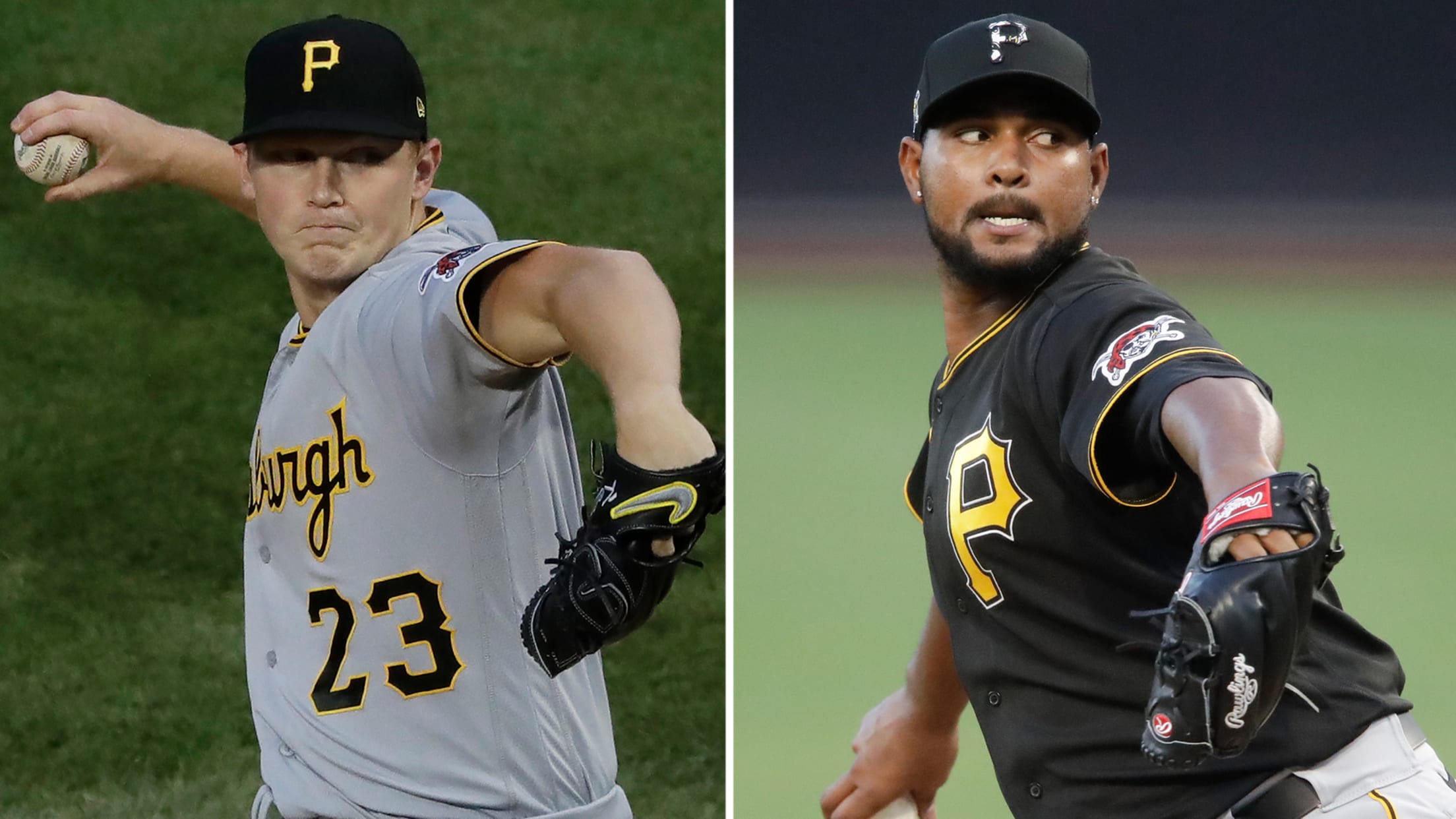 The Pirates lost one of their starters and a top bullpen arm to injuries on Sunday morning, placing right-handers Mitch Keller and reliever Michael Feliz on the 10-day injured list after they exited Saturday night's loss to the Cubs. But they may be getting their closer back before too long.
Injuries piling up, but so are Moran's HRs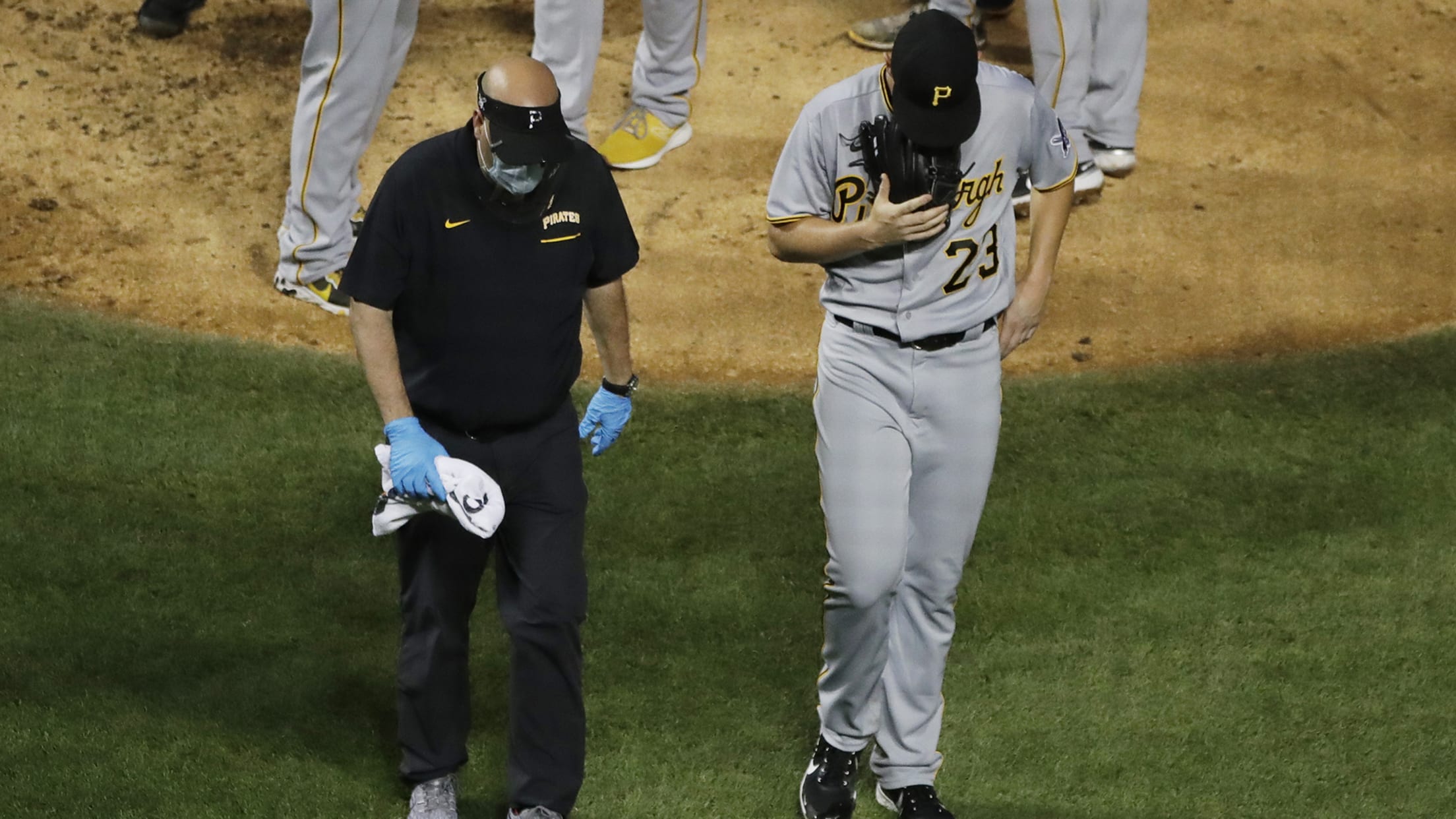 The Pirates lost for the sixth time in eight games on Saturday night, 4-3, at Wrigley Field. They had no answer for Cubs starter Tyler Chatwood, who struck out 11 over 6 2/3 innings, and their ninth-inning rally came up short for the second straight night. Another tough game at
Bucs 'pen loses impact pair in Crick, Holmes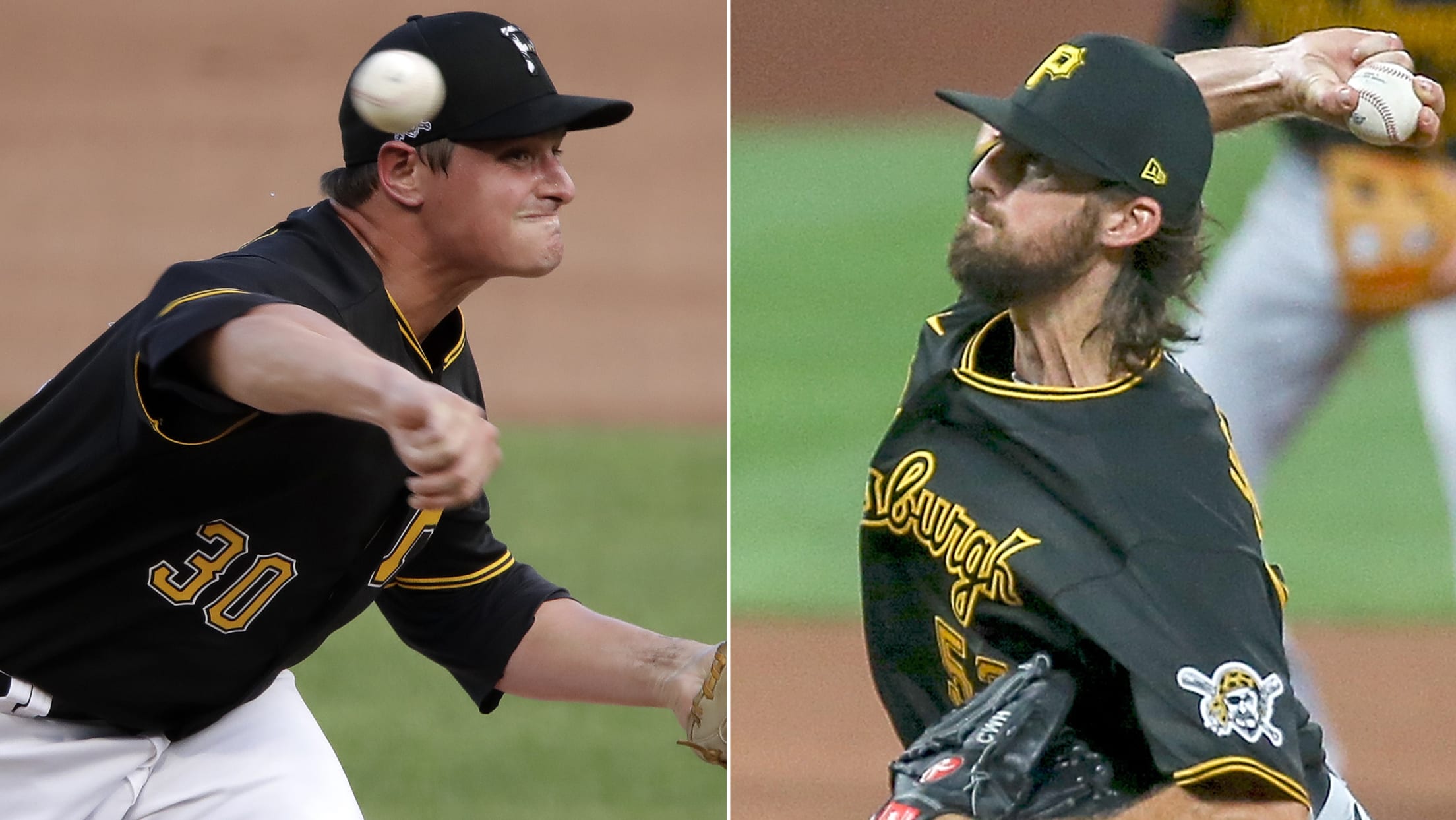 PITTSBURGH -- The Pirates' already-thin bullpen took two more hits on Tuesday, as the club placed right-handers Kyle Crick and Clay Holmes on the 10-day injured list. The club announced that Crick, who has pitched with diminished velocity dating back to Summer Camp, is sidelined with a right shoulder/lat muscle
Bucs closer to setting Opening Day roster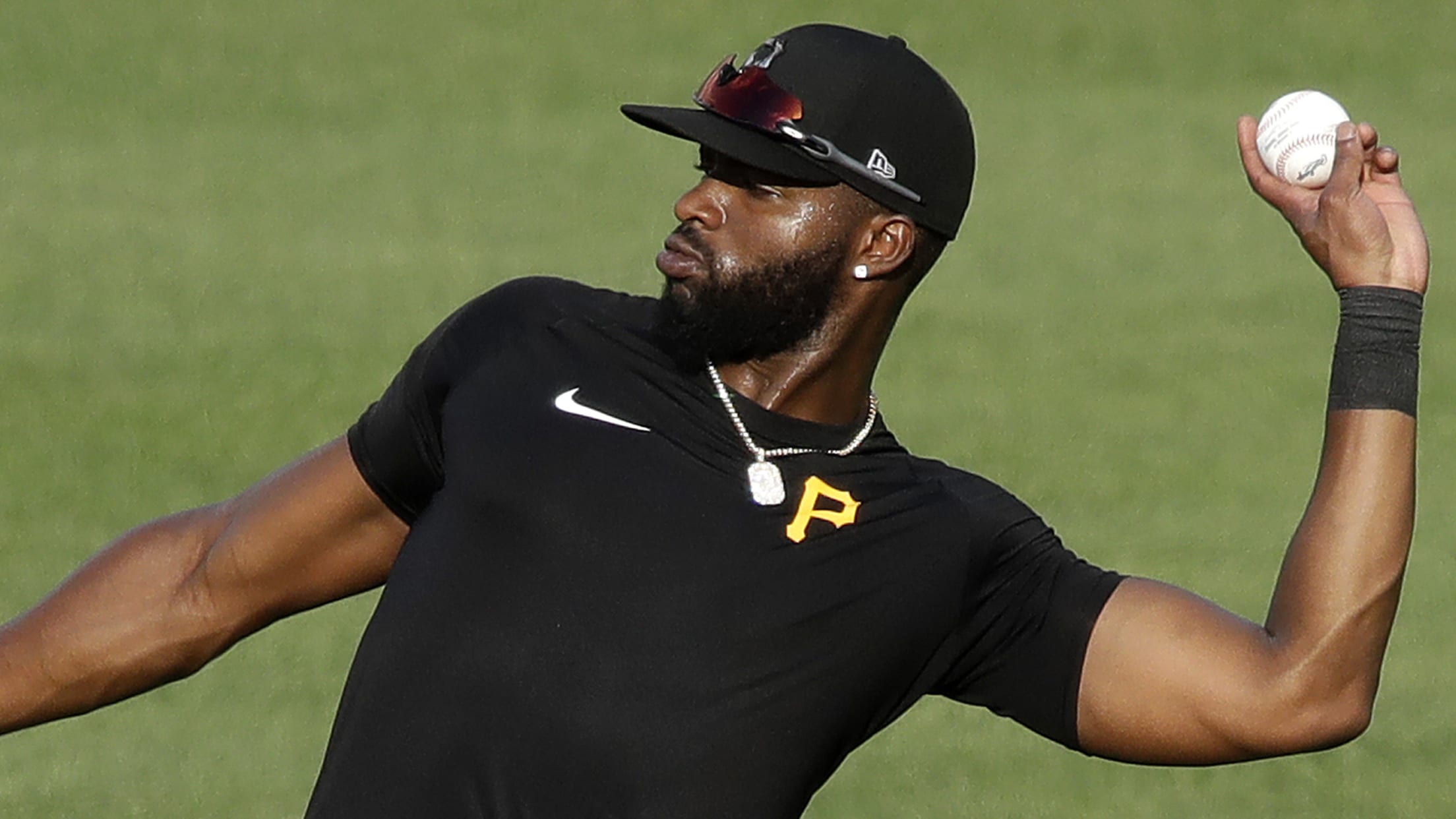 PITTSBURGH -- Over the past two days, the Pirates have made steps toward finalizing their Opening Day roster. On Sunday, the Pirates added catcher John Ryan Murphy to their 40-man roster. They also selected the contract of left-hander Robbie Erlin on Monday. Additionally, they placed right fielder Gregory Polanco on
Bucs backup C Maile (finger) out for season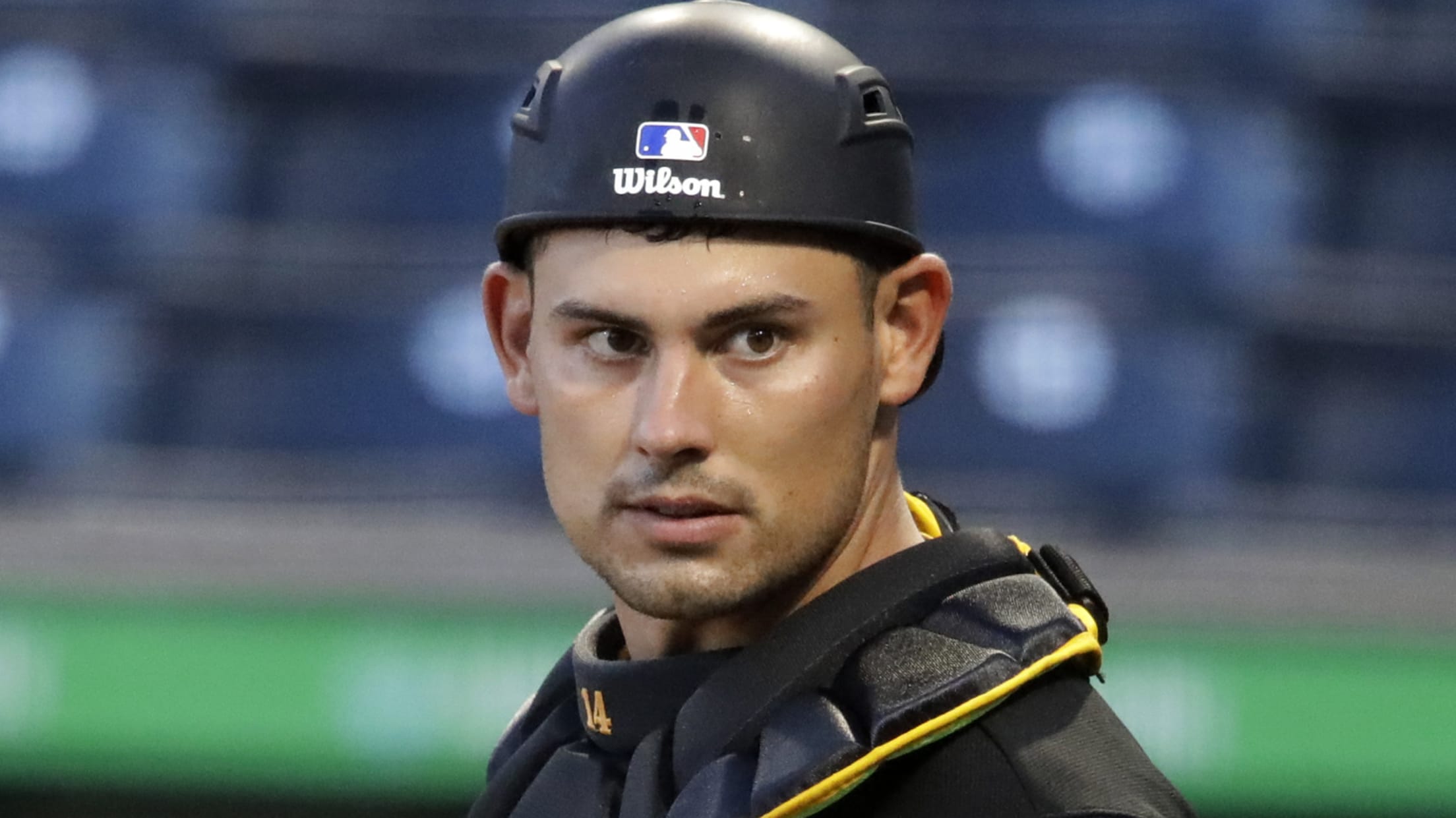 PITTSBURGH -- Less than a week before Opening Day, the Pirates lost catcher Luke Maile for the entire season. Maile, who was expected to break camp as Jacob Stallings' backup behind the plate, underwent surgery on Friday to repair a fractured right index finger. He sustained the fracture after being
Source: Pirates place closer Kela on IL
High-leverage work expected for Crick, Rodríguez and Feliz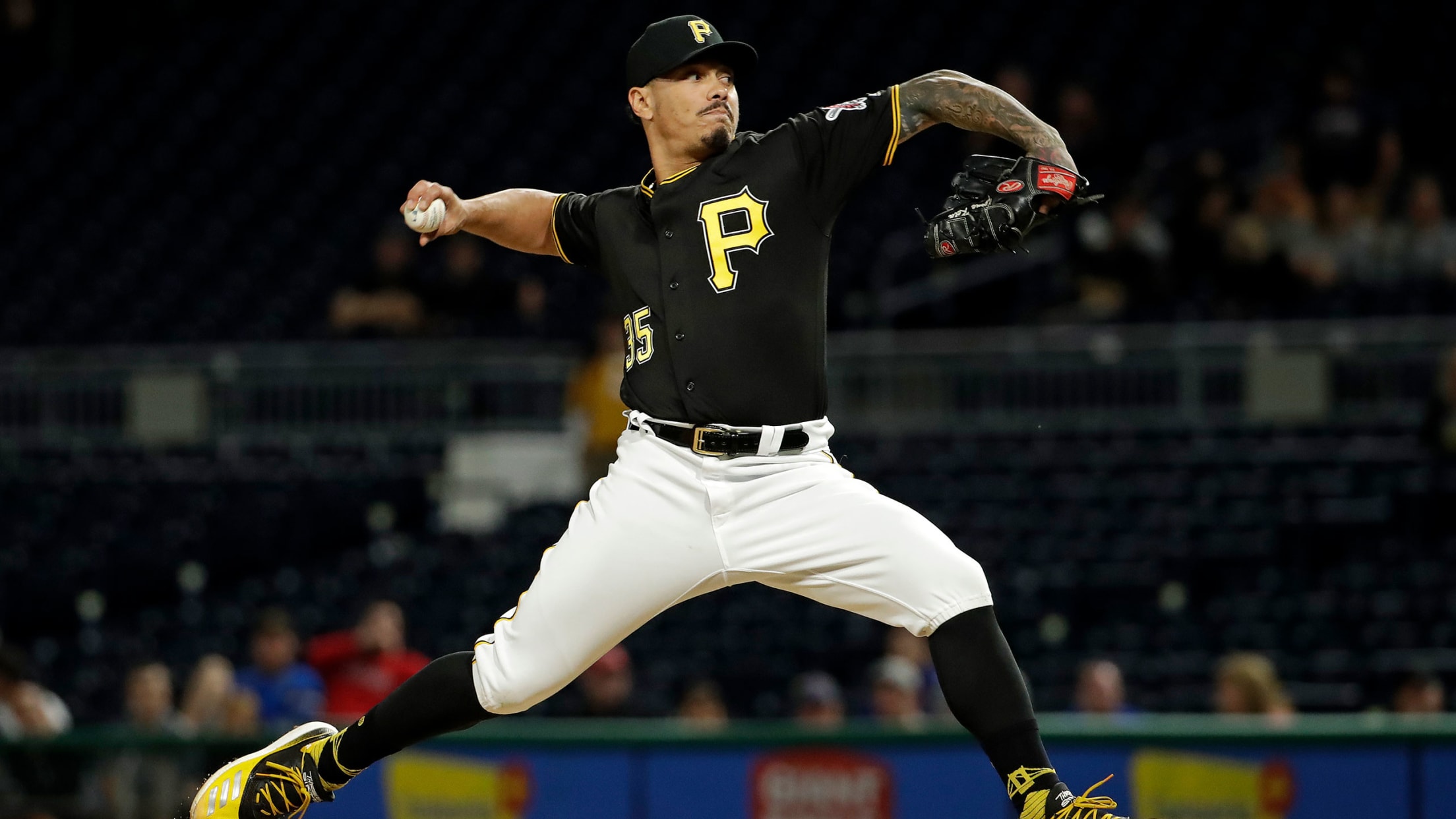 PITTSBURGH -- The Pirates placed closer Keone Kela on the injured list on Thursday, a source confirmed to MLB.com on Friday, making it likely that Pittsburgh's top reliever will not be available for the start of the season. Kela has not been able to participate in any of the Pirates'
Holmes to miss 4-6 weeks with fractured foot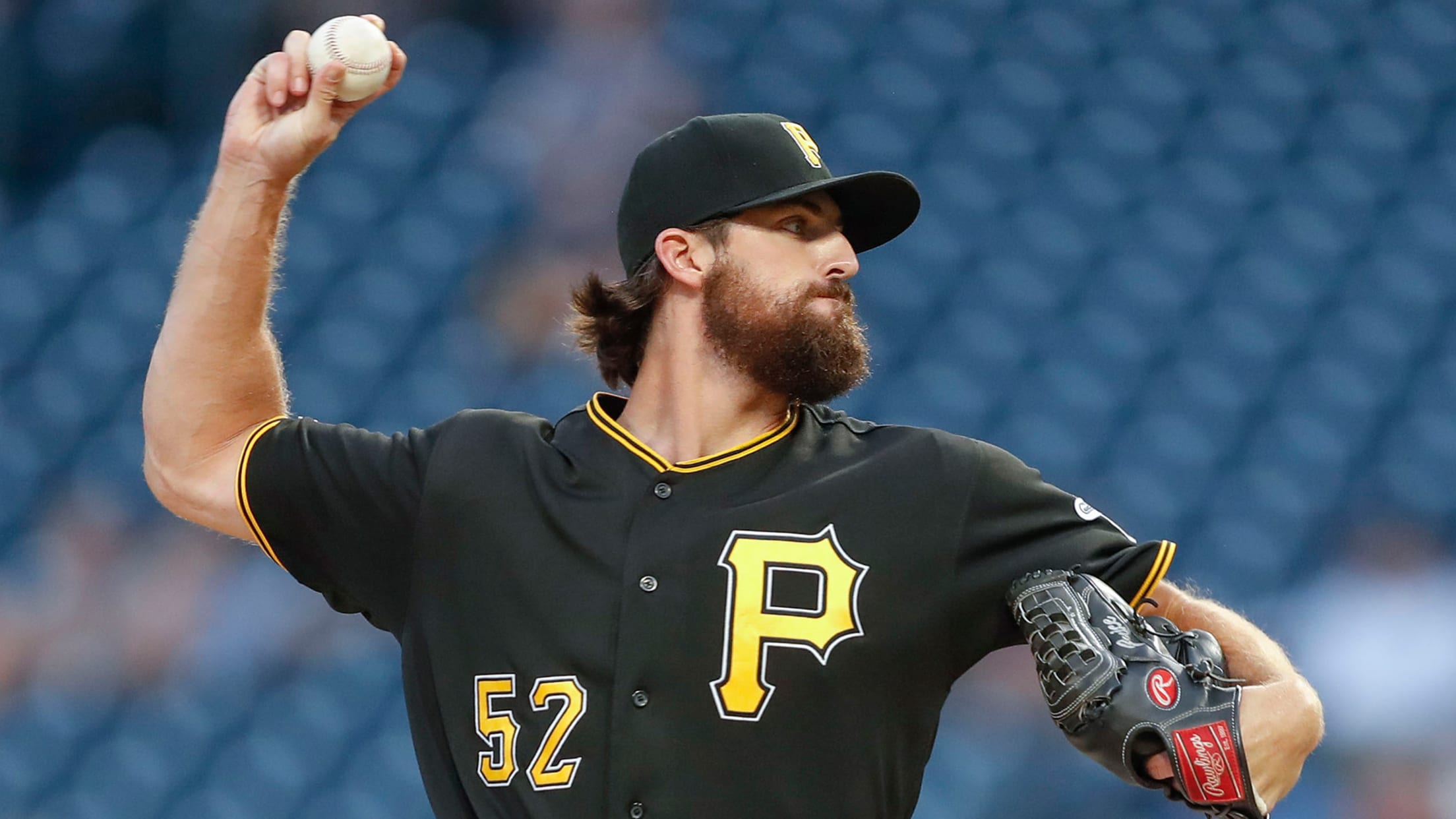 BRADENTON, Fla. -- Clay Holmes will be in a walking boot for the next four to six weeks after a Nelson Cruz grounder caromed off the right-hander's right foot on Saturday night against the Twins. Pirates manager Derek Shelton confirmed Sunday following the Pirates' 13-9 win against the Blue Jays
Notes: Archer (neck) scratched; Bucs face Cole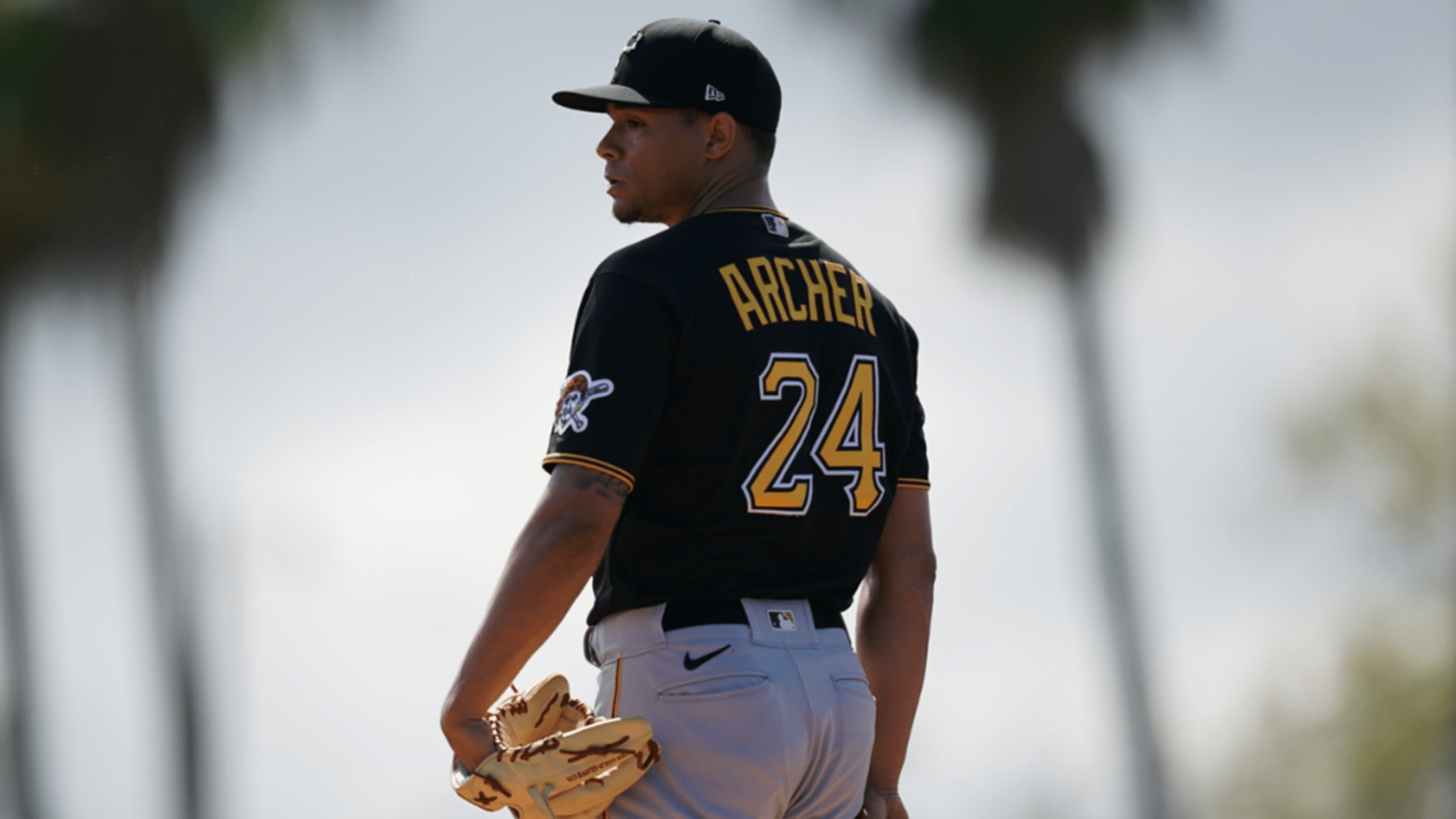 TAMPA, Fla. – The Pirates scratched starter Chris Archer from his scheduled Spring Training debut on Monday due to neck tightness. He is day to day.
Martin, Polanco will miss rest of season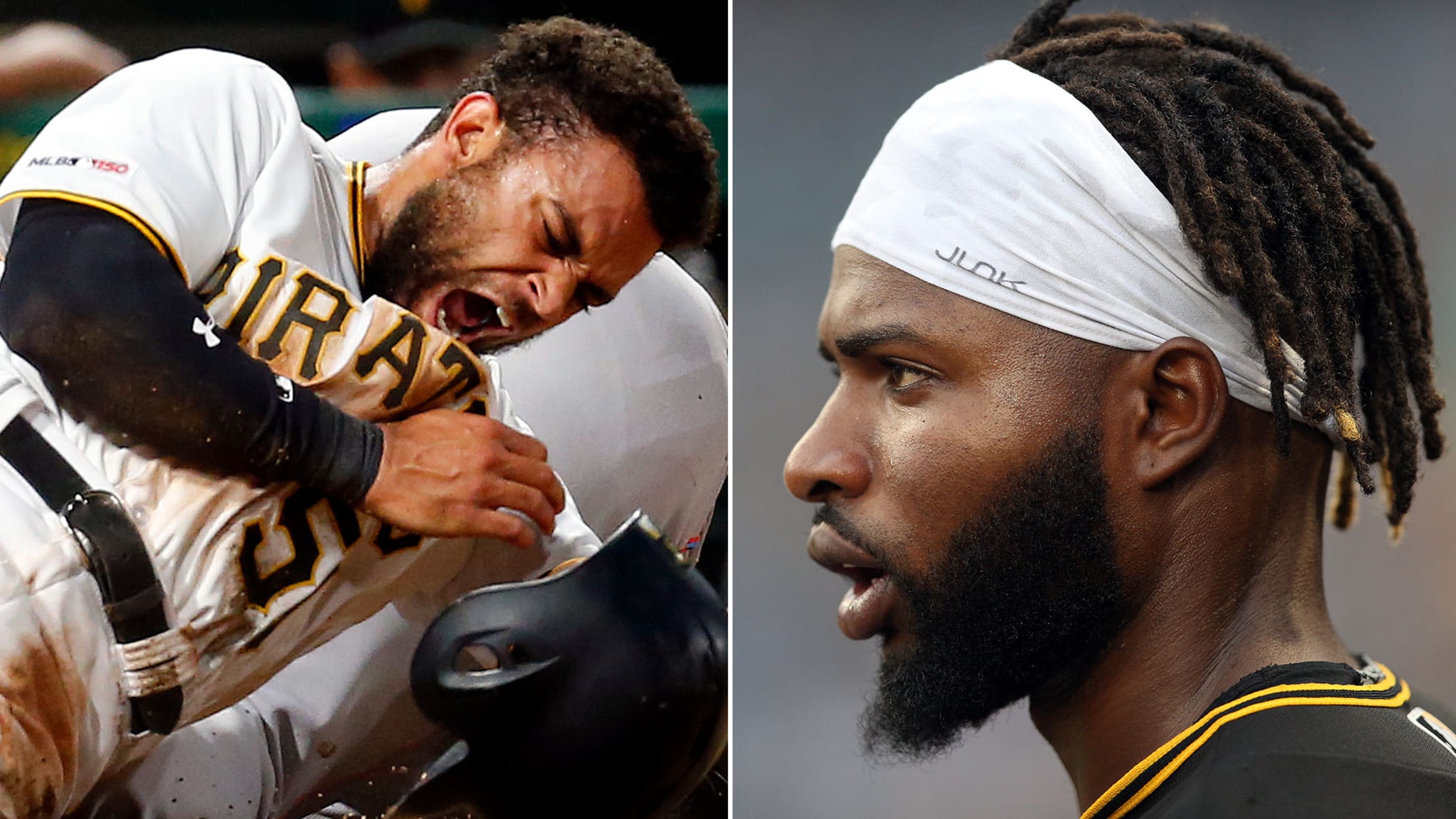 PITTSBURGH -- Rookie outfielder Jason Martin will miss the rest of the season after having his left shoulder dislocated following a slide home Tuesday night. The Pirates won't see right fielder Gregory Polanco on the field again this year either, due to his lingering left shoulder injury. The news could
Keller, Martin exit early in loss to Marlins
Pair of Pirates' Top 30 prospects each suffer an alarming arm injury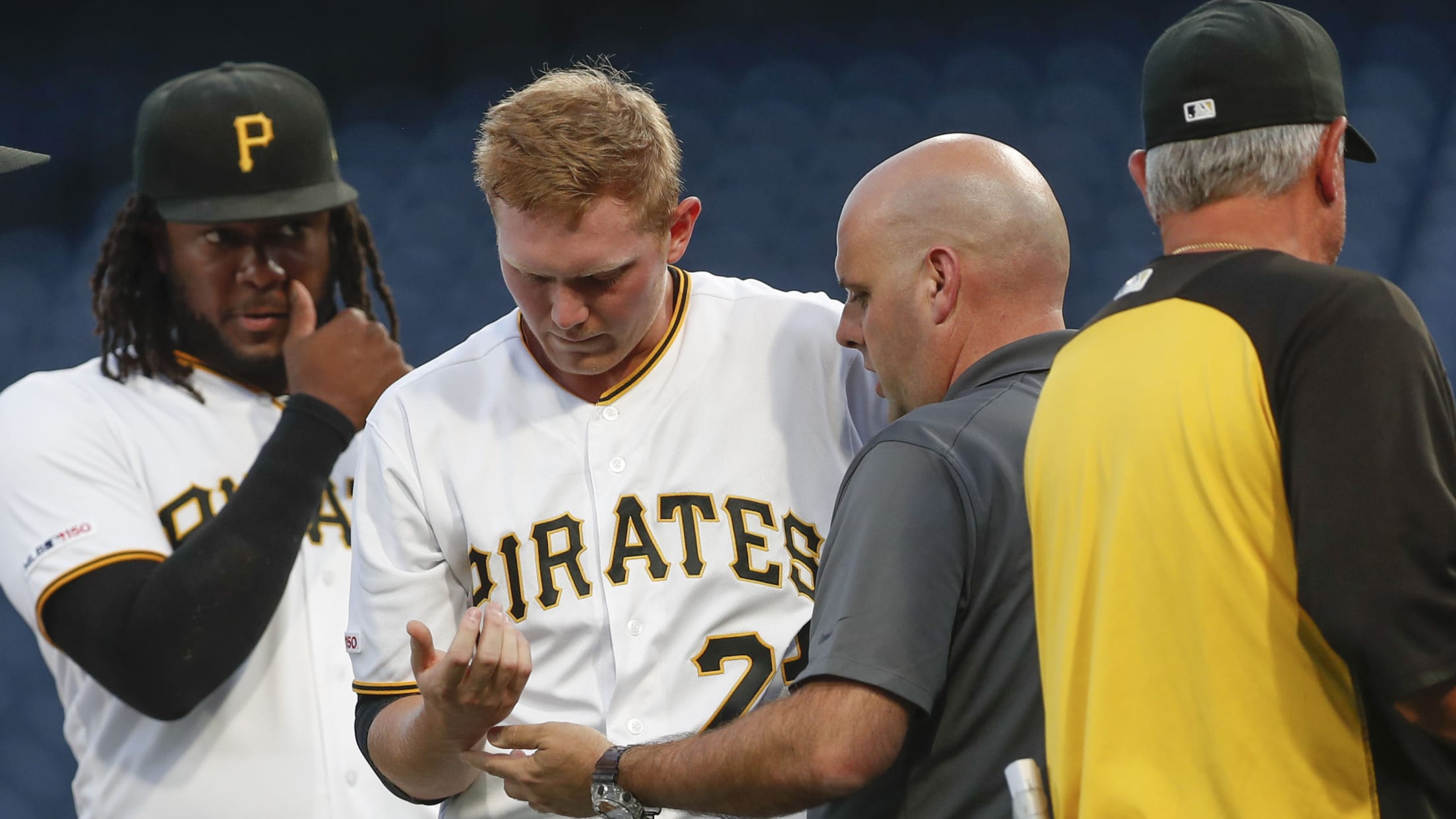 PITTSBURGH -- Miguel Rojas homered off closer Felipe Vázquez in the ninth inning and Garrett Cooper took Parker Markel deep to left-center in the 10th, as the Marlins dealt the Pirates a 5-4 loss on Tuesday night at PNC Park that snapped the Bucs' four-game winning streak. Pittsburgh's more pressing
With season a wash, Polanco readies for 2020
Pirates pick up lefty reliever Wang as a waiver claim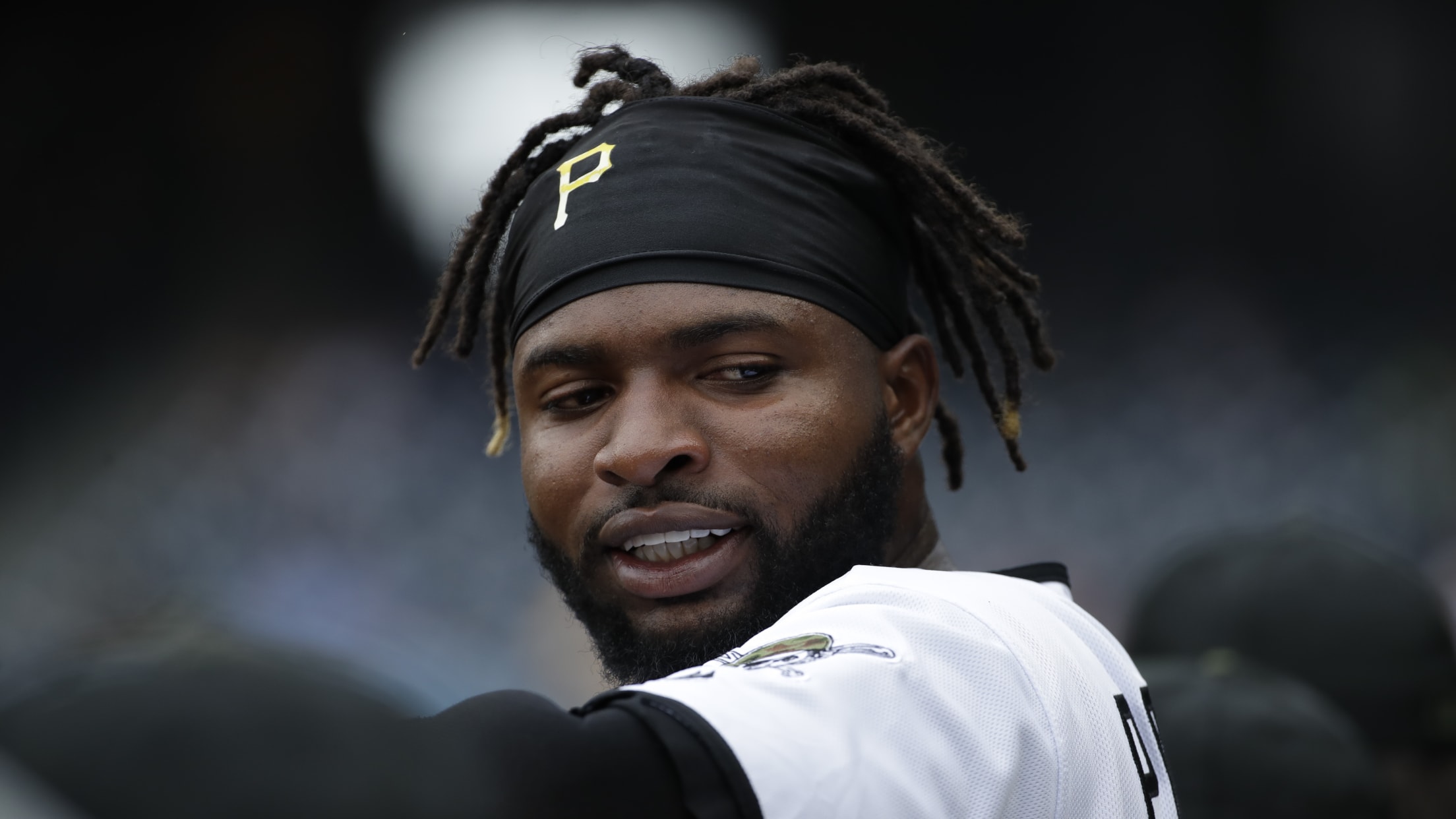 DENVER -- It appears injured Pirates right fielder Gregory Polanco will not return to the lineup this season. He was transferred from the 10-day injured list to the 60-day IL on Saturday to make room on the 40-man roster after Pittsburgh claimed left-hander Wei-Chung Wang off waivers from the A's.