Pirates blanked on difficult day all around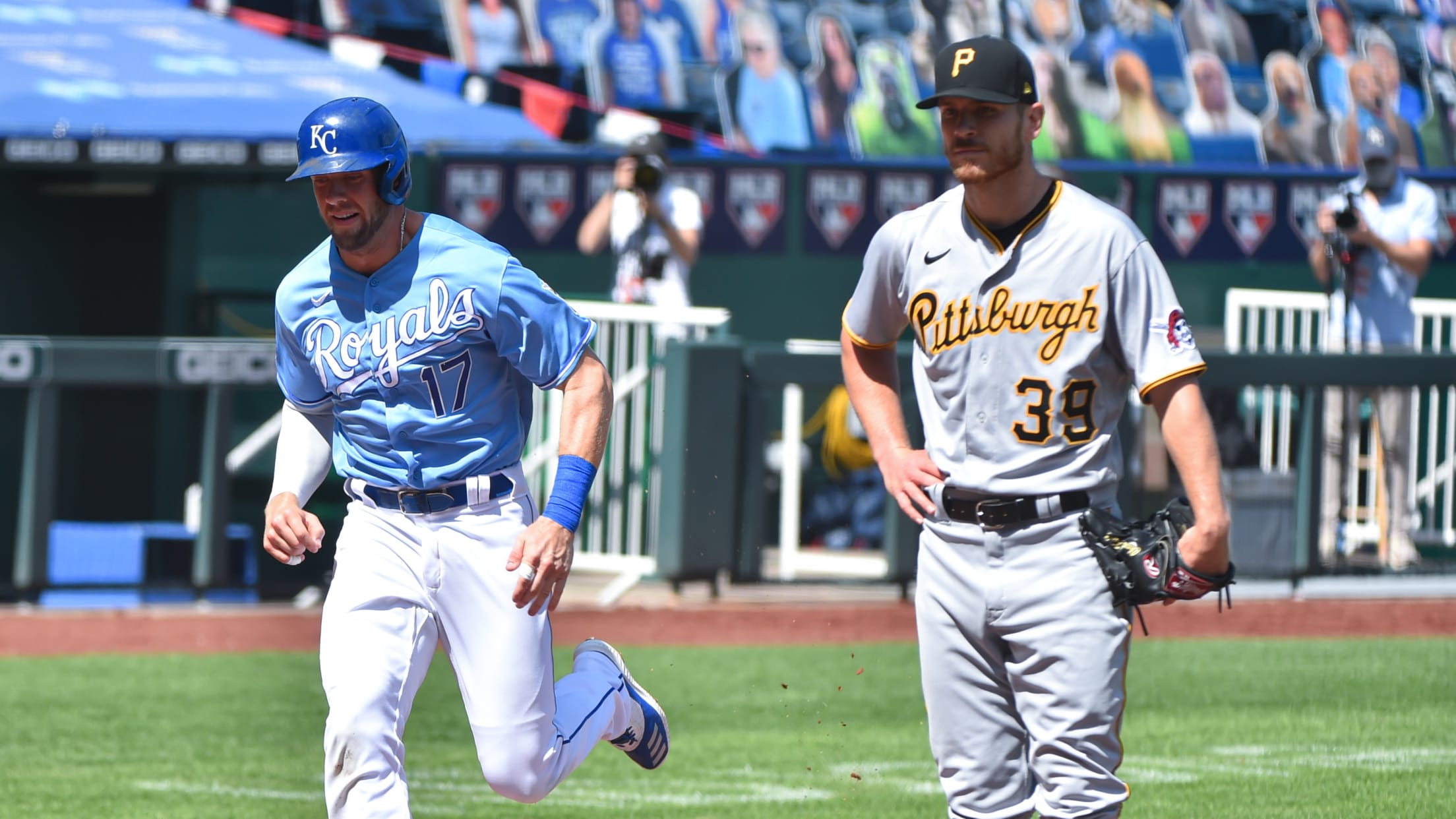 For all the trouble the Pirates have had beating teams in the American League Central, their 11-0 loss to the Royals on Sunday afternoon at Kauffman Stadium was perhaps the clearest illustration yet of how they have too often beaten themselves this season. After being swept by the Royals, the
For all the trouble the Pirates have had beating teams in the American League Central, their 11-0 loss to the Royals on Sunday afternoon at Kauffman Stadium was perhaps the clearest illustration yet of how they have too often beaten themselves this season.
After being swept by the Royals, the Bucs fell to 14-30 on the year and 2-15 against the AL Central with their most lopsided defeat of the year.
"We haven't really had many games like this," catcher John Ryan Murphy said. "We haven't had blowout games. And the games [in which] we did get behind early, we've been able to [score] some runs late."
That didn't happen in Sunday's series finale, as the Pirates -- who own the Majors' lowest on-base percentage (.284) and slugging percentage (.349) -- managed only five hits and a walk. Right-hander Brad Keller cruised to his first career shutout on 111 pitches, four more than Pirates pitchers threw across the first four innings.
"I felt we used their aggressiveness to our advantage. It seems like they were swinging on the first two pitches every time," Keller said. "Especially when we get up by 10, you just throw strikes."
Starter Chad Kuhl's wildness, combined with the Pirates' poor defense, made for a long first inning. The Royals had runners on first and second with one out when Maikel Franco hit a hard grounder toward third baseman JT Riddle. The ball bounced off Riddle's glove, allowing Whit Merrifield to score from second and the inning to continue.
"As inconsistent as Chad was, he should have been out of the first," Pirates manager Derek Shelton said. "The ruling on the ball hit to Riddle is atrocious. That's an error. That's an error all day long. ... I guarantee if you ask JT Riddle, he's going to tell you he should have made that play."
Kuhl then walked Hunter Dozier to load the bases. Alex Gordon hit a soft ground ball to Josh Bell, but the first baseman knocked the ball away when he tried to scoop it up, recording only one out on the play as Salvador Perez scored from third.
"Again, we could have been out of that inning, and we have to make plays. We didn't make them," Shelton said. "We've seen [Kuhl] good. We've seen him struggle at times. But then we've seen him bounce back and be able to execute. We didn't give ourselves a chance today."
With Kelvin Gutierrez at the plate, Kuhl fired a high fastball when Murphy was expecting a breaking ball. The cross-up led to two runs, as Kuhl's pitch bounced off umpire Jeremie Rehak's mask and away from Murphy. Kuhl walked Gutierrez before striking out Nick Heath to finally end the inning.
By the time it was over, the Royals had scored four runs while hitting exactly one ball out of the infield.
Although the Pirates were somehow not charged with any errors in that inning, their defense clearly played a part. The Bucs entered the day with 40 errors, the most in the Majors, while having permitted 24 unearned runs on the year.
Kuhl bounced back in the second inning, only to have the third spiral out of control due, in part, to his own loss of control. Perez crushed a 440-foot leadoff homer, and the next three Royals reached safely. After striking out Gutierrez, Kuhl walked Heath to make it a 6-0 game.
Kuhl has pitched well in his return from Tommy John surgery this season, but he admitted he had "no fastball command" on Sunday. He's been dealing with a cuticle abrasion on his right index finger, which forced an early exit in his Aug. 2 start, and that issue specifically affects his ability to locate his fastball.
Kuhl's lack of confidence in his fastball was reflected in his pitch usage. Despite being behind in the count as often as he was, only half his pitches were heaters.
"As soon as we kind of figured out that I really couldn't throw a fastball, we just kind of showed it just for hoping it would end up in a good location," Kuhl said. "We went to all breaking ball stuff just to try to get some quick outs, but I just didn't have it today."
Reliever Nick Tropeano immediately walked in another run before giving up a two-run single to Merrifield and an RBI single to Perez. The Pirates have issued 10 run-scoring walks this season, most in the Majors, and their pitching staff entered the day with an 11.2 percent walk rate, which was tied for the highest mark in MLB.
Overall, Kuhl was charged with nine runs while giving up four hits and six walks in 2 1/3 innings. Of his 70 pitches, only 31 were strikes. It was the Pirates' first six-walk start of less than three innings since Tyler Glasnow exactly three years ago, and just their third such start since Steve Blass recorded two in 1973.
"Chad was a little scattered today. When a guy is like that, you've got to find what's working on that day," Murphy said. "Some days it might be the slider; some days, might be the curveball. Whatever it is, it's definitely my job to figure out a way to get him back in the zone. Today, we had a difficult time."