Kiner-Falefa's mom taught him to be fearless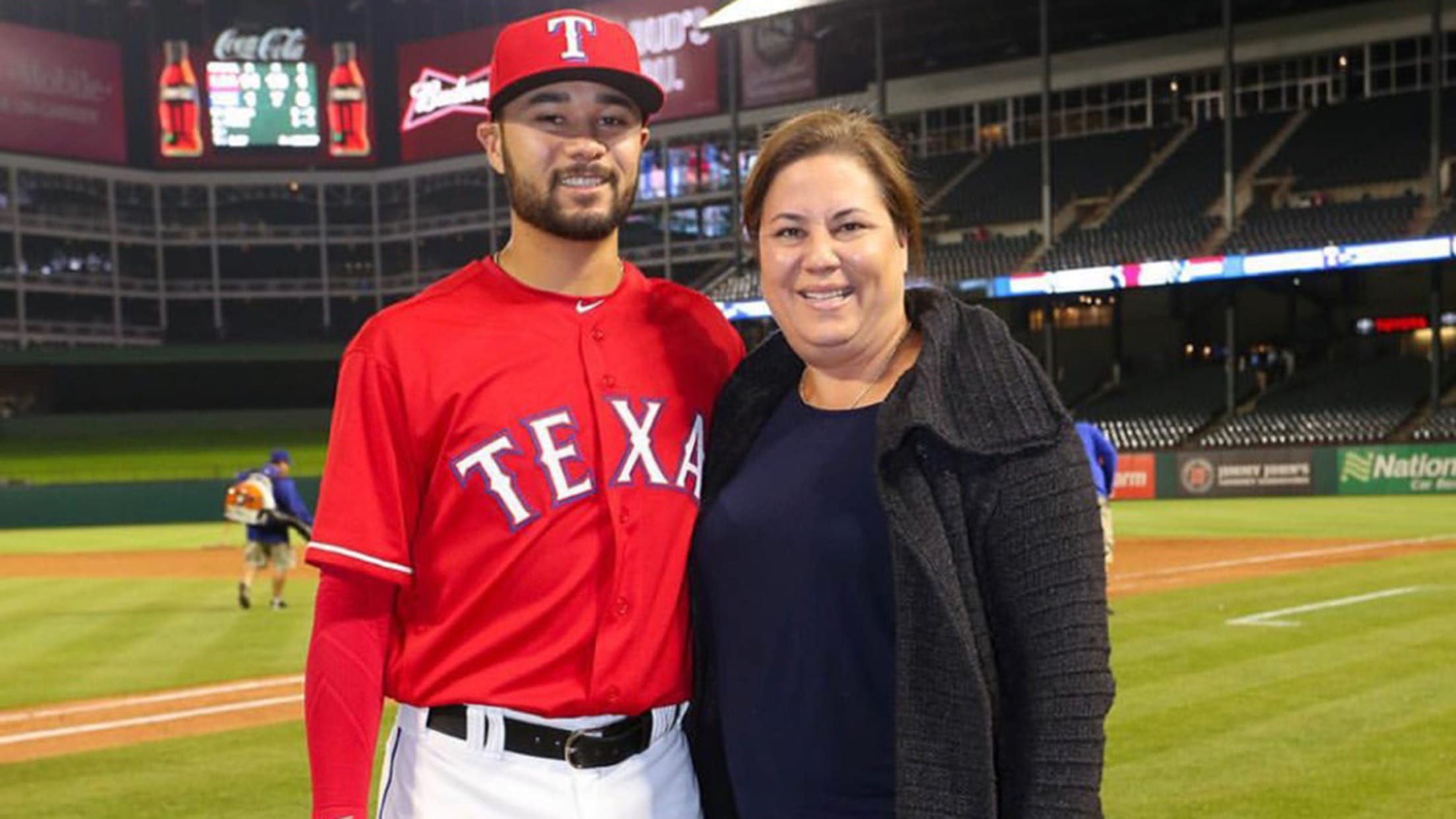 HOUSTON -- Rangers catcher Isiah Kiner-Falefa grew up in Honolulu and his mother Kimberly once gave him a lesson at Wakiki Beach about facing his fears. He was a sophomore in high school at the time and Kiner-Falefa told the story for Mother's Day. "My parents taught me a lot
HOUSTON -- Rangers catcher Isiah Kiner-Falefa grew up in Honolulu and his mother Kimberly once gave him a lesson at Wakiki Beach about facing his fears. He was a sophomore in high school at the time and Kiner-Falefa told the story for Mother's Day.
"My parents taught me a lot growing up, especially being from Hawaii," Kiner-Falefa said. "My mom was a big influence on me. It's not easy to come over to the States and live on your own, but she was always there for me and helped me grow up and taught me the basics of life of respect, discipline and the way to go about my business.
"There was one day after school we went to the beach and I was always kind of scared to go deep and she taught me to face my fears," Kiner-Falefa said. "We went swimming about 100 yards out and the water was about 15-20 feet deep. I was kind of scared and I saw a huge turtle. When you see turtles, you know there are sharks around, especially that deep. I started getting scared and when I saw her going and going and going, it showed a lot about her and where we come from and what we wanted to be like.
"It was cool, when we swam back in, I think later that night I was hanging out with one of my friends and he said, 'Did you hear about that tiger shark sighting?' I guess there was a tiger shark out there but the way she attacked and the way she went after it, was what she preached my whole life: face your fears and be disciplined and be respectful and be who you are. From that moment on, I faced my fears, especially when I came to the States. I kept at it. I'm here now today because of what she did."
Odor lets it out
Rangers second baseman Rougned Odor took a .137 batting average into Sunday's game but manager Chris Woodward saw one good sign on Saturday night. Odor vented his emotions after his second-inning strikeout against Astros starter Gerrit Cole.
"Yesterday I was happy because he came in after his first strikeout and kind of lost his mind a little bit," Woodward said Sunday morning. "After that he came back in and was fine."
Woodward liked that Odor showed his emotions.
"I told him, you need to do that once in a while," Woodward said. "I'm not advocating just go and beat up something but I explained to him that internally if you try to hold it in and be tough about it, you'll kill yourself from the inside out.
"He wants to help this team. That's the biggest thing. He feels terrible every time he fails because he wants to win, he wants to help this team. He wants to be successful so it eats him from the inside out. I told him it's healthy to let your emotions go at times and reset and come back, and he did."
Academy hosts Pitch, Hit and Run
A total of 35 children competed in the sectional level of the Scotts Major League Baseball Pitch, Hit and Run competition on Saturday at the Texas Rangers MLB Youth Academy in West Dallas.
The winners at the Mercy Street Sports Complex in the softball division were Aaliyah Ramirez (ages 7-8), Thalia Alvarado (9-10), Rihanna Ramirez (11-12) and Danielle Jones (13-14). The winners in the baseball division were Brayden Shipman (7-8), Enrique Ojeda (9-10), Andrew Paredez (11-12) and Ernesto Verdin (13-14).
Verdin and the Ramirez sisters are both members of the Academy and play in the Rangers RBI programs. The winners advance to the team championships, which will be held in June at all 30 MLB ballparks. Finalists from that round earn a trip to MLB All-Star Week.
Rangers beat
• Elvis Andrus played in his 1,512nd game on Saturday night, tying him with Jim Sundberg for the third most in Rangers history. Michael Young (1,823) and Rafael Palmeiro (1,573) are 1-2.
• The Rangers struck out 18 times on Saturday night. That's the 13th time they have struck out 18 or more times in one game in club history. Three of those have come against the Astros in the last three seasons.
• Rangers relievers allowed five inherited runners to score on Saturday night, their most in one game this season.