Inbox: Which FA starter could the Rangers land?
Beat reporter T.R. Sullivan answers fans' questions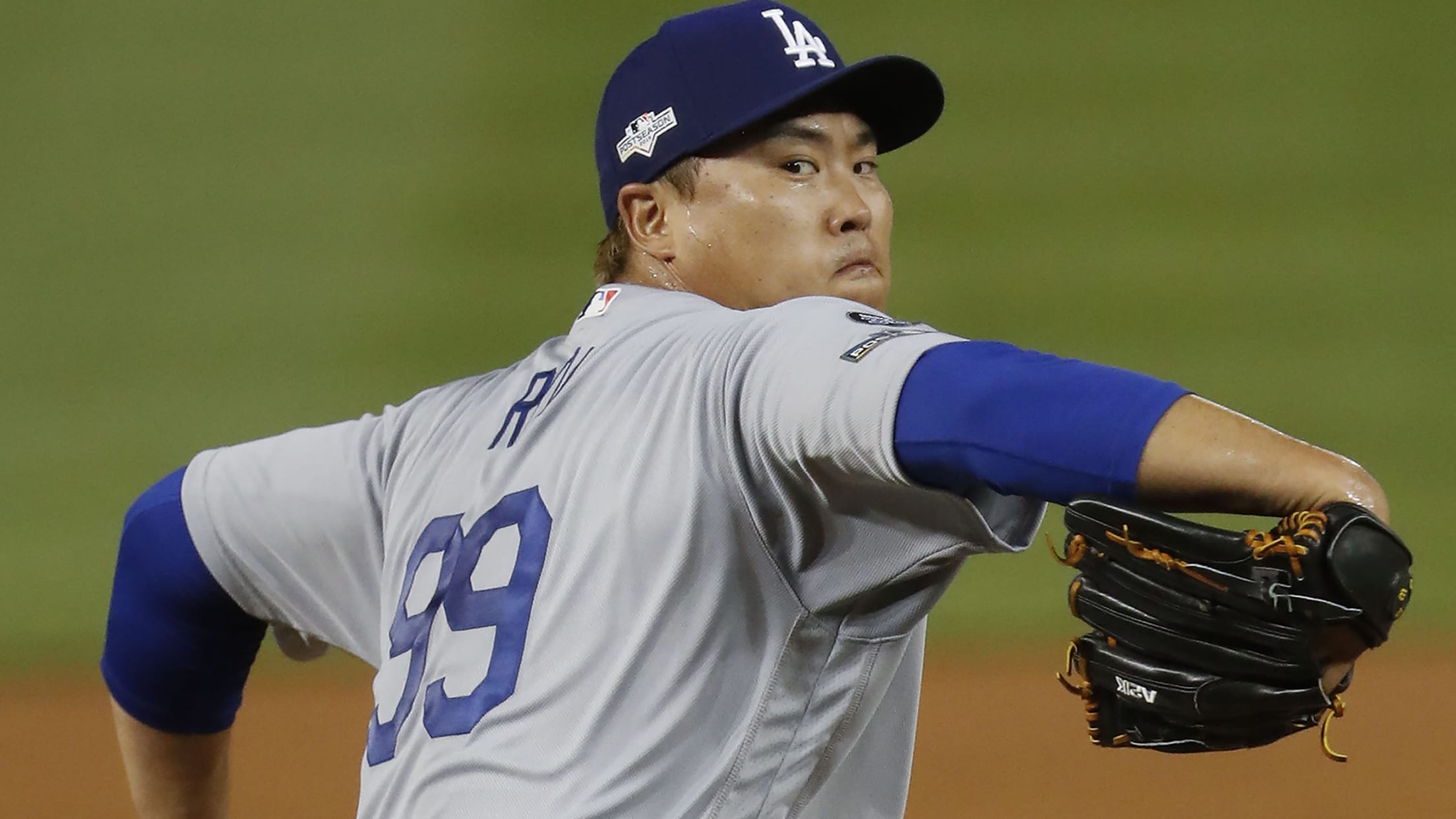 It doesn't seem the Rangers will be at the top of Gerrit Cole's list this offseason. What big-name pitcher do you think the Rangers have a chance to pursue this winter. Do you think Hyun-Jin Ryu is a possibility? -- Brian O., Tulsa, Okla. MLB.com ranked left-hander Ryu as the
It doesn't seem the Rangers will be at the top of Gerrit Cole's list this offseason. What big-name pitcher do you think the Rangers have a chance to pursue this winter. Do you think Hyun-Jin Ryu is a possibility?
-- Brian O., Tulsa, Okla.
MLB.com ranked left-hander Ryu as the No. 8 free agent this winter and fifth among starting pitchers. He will be 33 on Opening Day next season and is not overpowering. He relies on a four-pitch mix and his 1.2 walks per nine innings were the lowest in the National League. His 1.01 WHIP was the third lowest. However, red flags include that he has been in the injured list at least once each year for the past six seasons and his numbers are considerably better at pitcher-friendly Dodger Stadium than on the road. But he is unlikely to command the knee-buckling offers possibly awaiting Cole, Madison Bumgarner and others and could be a good No. 3 behind Lance Lynn and Mike Minor if he holds up. The Rangers have talent evaluators who are high on him.
Why did the Rangers not pick up Welington Castillo's option? I understand the Rangers wanted the international signing bonus money -- which is why they made the trade -- but Castillo has been a good catcher at the Major League level for several years, has he not?
-- Ralph M., Fort Worth, Texas
Yes. From 2015-17, Castillo was a front-line catcher who could help any team, a guy with offensive power and a decent defensive reputation. The past two years have not been as good and it's clear the Rangers don't see him as being worth $8 million (his team option for 2020). They may be interested at a lesser salary. Somebody will show interest in Castillo, as he does have value.
What are the chances that the Rangers pick up Anthony Rendon? If not, what will their moves be to improve their bats?
-- John Paul M., Arlington, Texas
The Rangers aren't interested in giving out a contract longer than five years in length and Rendon could command seven years or more. That's why Josh Donaldson seems more attractive, not only to Texas but other teams as well. It will be interesting to see if the Rangers show interest in Edwin Encarnación, a right-handed bat who could help out at first base or designated hitter. He might be a better fit than someone like Hunter Pence, who doesn't play first base and adds to a crowded outfield.
Would you trade Mike Minor, Joey Gallo, Nomar Mazara and Josh Jung to the Red Sox for outfielder Mookie Betts and pitcher Eduardo Rodriguez?
-- Lance L., Arlington
No. Minor is a free agent after the season, but you only get two years from Rodriguez before he is free-agent eligible. Betts is a free agent after this season. This is a deal the Rangers consider if they are ready to win this coming season and willing to go all-out. They aren't. Too much young talent would go to Boston in this deal for a short-term reward. Also, Texas has a better-than-average chance of keeping Minor beyond this coming season.
The Rangers haven't developed a front-line starter ever. Your answer about comparing them to other organizations is disingenuous. You know it, too.
I can't even remember, from all the pitchers they have drafted in their history, one having become more than a third starter. Is Bobby Witt the best starter they have ever developed?
-- Steve H., Seattle
How do you define a front-line starter? Greg Maddux, Tom Glavine and John Smoltz? Yep, the Rangers have failed to match the Braves. The best starters to come out of their system? Kevin Brown, Kenny Rogers, Rick Helling? C.J. Wilson, Alexi Ogando and Matt Harrison were All-Stars in 2011 and '12. Colby Lewis and Derek Holland pitched in a World Series. Do they count? Who knows?
Nobody is kidding anybody. The Rangers' recent track record for developing starting pitching has been lacking. No question. No argument. But look, the biggest mystery/disappointment/setback involving Texas over the past 10 years was how fast the 2011 rotation fell apart so quickly. That was an unforeseen crushing blow to an organization clearly setting up for sustainable long-term success.
The Texas Rangers are my team, but I have noticed a lack of "commitment to winning" since the end of the 2011 season. There are no consequences for sub-standard performance -- i.e. Rougned Odor, Nomar Mazara, Joey Gallo, Delino DeShields. They are using the Major Leagues as a "development tour" when that was the original purpose to the farm system. Is this really the Majors?
-- Robert P., Dallas
The Rangers were committed when they won division titles in 2015 and '16 and are now facing the same tough choices other clubs often face. How much patience are you willing to show if those players don't provide immediate results, or don't turn out as good as expected? Not just the four guys you mentioned but others as well. Sometimes patience pays off, sometimes it doesn't.
Texas has had to make those decisions in the past with Hank Blalock, Kevin Mench, Laynce Nix, Gerald Laird, Jarrod Saltalamacchia, Jurickson Profar, Leonys Martin, Drew Robinson, Ryan Rua and others. You can go all the way back to Pete Incaviglia, Jeff Kunkel and Oddibe McDowell if you want. That's part of rebuilding, coming face to face with the possibility that some of your young players aren't what you expected.