Globe Life Park set for final season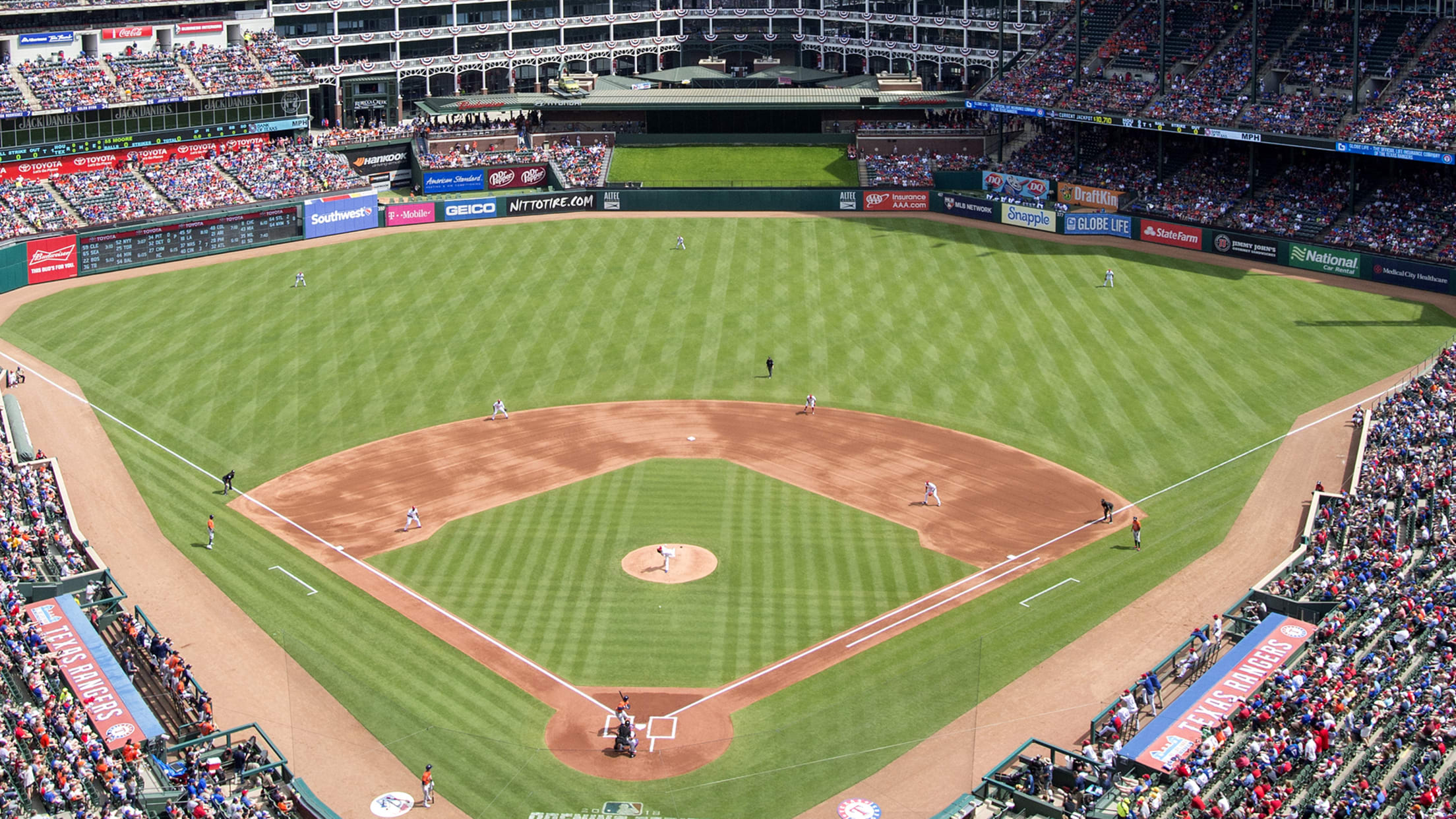 ARLINGTON -- Colby Lewis was not expected to make the Rangers out of Spring Training in 2002. But as Opening Day approached and the possibility grew stronger, one thought seemed to overwhelm the rookie right-handed pitcher. He was about ready to pitch in a beloved baseball citadel known then as
ARLINGTON -- Colby Lewis was not expected to make the Rangers out of Spring Training in 2002. But as Opening Day approached and the possibility grew stronger, one thought seemed to overwhelm the rookie right-handed pitcher.
He was about ready to pitch in a beloved baseball citadel known then as the Ballpark in Arlington.
"I remember looking at this beautiful brick stadium and saying, 'I might be able to pitch there ... how cool is that?'" Lewis said. "My wife Jenny said of all the ballparks she has been to, the Ballpark in Arlington is the one she loves the most."
Just about every Rangers fan fell in love with the Ballpark in Arlington from the moment it rose out of the Texas prairie with classic 810-foot arched facades of brick and Texas Sunset Red granite, white-steeled grill that surrounds the upper deck and sea of dark green interiors.
The ballpark opened on April 11, 1994, to the unforgettable rendition of "The Star-Spangled Banner" performed by world-class pianist Van Cliburn and the Fort Worth Symphony Orchestra, and it immediately changed the national image of a franchise that had suffered through 22 years of a renovated Minor League facility.
Now known as Globe Life Park, the home of Rangers nation is ready for its farewell tour. The Rangers open on Thursday against the Cubs, and thus begins the 26th and final season for a ballpark that created so many rich memories from an All-Star Game to two World Series, seven division titles and four American League Most Valuable Player Award winners, Adrian Beltre's 3,000th hit, Sammy Sosa's 600th home run and a guy named Pudge Rodriguez who became one of the greatest catchers ever.
Let others travel the world to see the Hagia Sophia and Taj Mahal, Versailles and Parthenon, Alhambra and Golden Gate Bridge. Globe Life Park was all a true Rangers fan ever needed, and it continues to glow like a jewel in the night over a quarter-century later.
A year from now, the Rangers will pack up and move across the street to Globe Life Field, a $1.1 billion state-of-the-art facility that will include a retractable roof and an artificial playing surface. There will be many other amenities impossible to imagine back in 1994 as Globe Life Field takes the franchise into another stratosphere.
But that doesn't make it any easier to walk away from a ballpark that was the home for so many great teams, memorable victories and thrilling moments. No Rangers fan will ever forget the night reliever Neftali Feliz froze Yankees third baseman Alex Rodriguez with a curveball and Eric Nadel broadcast the words heard 'round the Lone Star State.
"The Rangers are going to the World Series."
It was a magical moment in a magical ballpark, and a statue of Feliz and catcher Bengie Molina in embrace stands on the plaza in front of Texas Live!
"It is a special place for me," infielder Michael Young said. "I don't know how I am going to feel when they move into the other place. I'll be excited, but this ballpark has so many special memories. The cool thing was being there when we were trying to build something fun and see that ballpark fill up and go bananas when we were really good, making some serious October noise."
The ballpark will still be resplendent on Opening Day from the Home Run Porch in right field to Greene's Hill in center, the multiple dining and entertainment options throughout the concourses, statues and plaques of great men and the graceful office complex beyond all. Public address announcer Chuck Morgan will welcome all like an old friend.
There are other teams that would desperately beg to take it, if such an engineering feat was possible. Oakland and Tampa Bay are at the top of the list, and a few others, too, if they were completely honest about it. Globe Life stood the test of time to the end.
It just could not beat the heat. That was the bane of its existence and the one fault it could never overcome. The technology was cost-prohibitive in 1994 and owners George Bush and Tom Schieffer -- both steeped in the history and traditions of the game -- were committed to open air, natural grass and a palace that would celebrate baseball in a truly Texan manner.
In that regard, they hit a grand slam and Globe Life Park will forever be a testament to Schieffer's grand vision.
Now? It's simply time for the Rangers to put a roof over their heads.
"It is still a really good stadium, especially if they do something new with it every year," shortstop Elvis Andrus said. "It is one of the most comfortable ones to play in for sure. I'm going to miss it, but at the same time I'm going to be pumped up to go into the new one."
The Rangers hope to send the park out in style, beginning with a sellout crowd on Thursday and Gov. Greg Abbott throwing out the ceremonial first pitch to former Arlington mayor Richard Greene. Beltre will have his No. 29 uniform retired before the June 8 game against the Athletics, and Paul McCartney will host a concert on June 14.
There will be 10 bobblehead giveaways to mark special historical moments, a three-game series against the Yankees to close out the park and a concert by Billy Joel on Oct. 12 to bring it to an end. Unless of course, if the Rangers are still in the postseason at that time.
"We'll figure it out," general manager Jon Daniels said.
Let the final memorable season begin.