Notes: Opening Day lineup, injury updates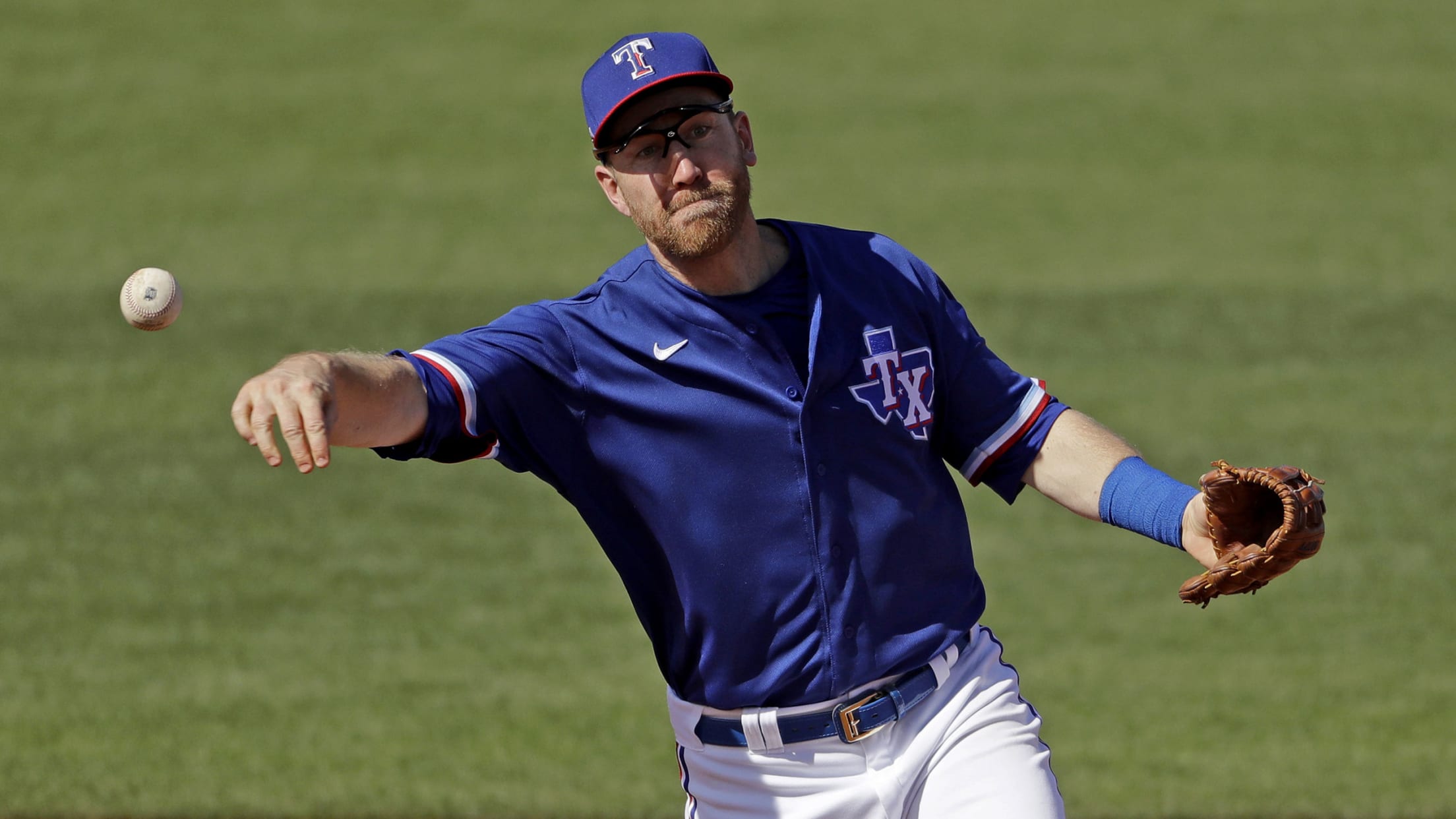 ARLINGTON -- The Rangers unveiled their probable Opening Day lineup on Tuesday night when they faced the Rockies in an exhibition game. Todd Frazier got the start at first base and Isiah Kiner-Falefa started at third. The Rangers will make a decision later on the week whether to keep Ronald
ARLINGTON -- The Rangers unveiled their probable Opening Day lineup on Tuesday night when they faced the Rockies in an exhibition game.
Todd Frazier got the start at first base and Isiah Kiner-Falefa started at third. The Rangers will make a decision later on the week whether to keep Ronald Guzmán or Greg Bird on the active roster as a backup first baseman.
"Frazier, at the beginning of the year, will probably get the bulk of the playing time there," manager Chris Woodward said of first base.
Kiner-Falefa earned the spot at third by hitting .295 (13-for-44) with two home runs in the Summer Camp. That was after hitting .378 (14-for-37) with four home runs in 15 Cactus League games during Spring Training.
"If I didn't feel so good about Kiner, obviously Frazier would be playing third and we would be mixing guys around," Woodward said. "I want to give Kiner the opportunity and moving Frazier over to first, I wanted to get his bat in the lineup as well. Both those guys should be in there."
Frazier has played 97 games at first base during his career, although just 14 in the past five years, including 10 starts. He has no issues about playing there this season.
"I welcome it with open arms," Frazier said. "It's something that I am comfortable with. Switching corners. Whatever helps the team. I know Isiah has had a heck of a Spring Training and Summer Camp.
"Kiner reminds me of myself first coming up. He's a guy who you got to put out there. We have to put him at third and I've got to jump to first, so be it. It's exciting. I'm happy for him, and it just makes our team that much better."
Welcome to Cage Cam. pic.twitter.com/hfprO1Q1Fv

— Texas Rangers (@Rangers) July 21, 2020
Woodward also had Shin-Soo Choo playing left field on Tuesday night with Nick Solak at designated hitter. Woodward wanted to make sure Choo is comfortable in left. Willie Calhoun is sidelined with a strained right hip flexor and there is a possibility he may need to be used at designated hitter when he does return to the lineup.
"I want to make sure Choo is comfortable," Woodward said. "He is comfortable in both corners of the outfield, but I want to get Choo some reps out there."
Martin begins comeback
Left-hander Brett Martin threw a bullpen session on Monday for the first time since being cleared to work out. Martin missed most of Summer Camp after testing positive for COVID-19 and will start the season on the injured list.
He said the first bullpen session went well. Martin was able to throw while he was in quarantine, but he said it was on flat ground and into some old tires.
"It was tough," Martin said. "If I didn't do that, it would have taken me a lot longer to get back. After the bullpen I threw yesterday and playing catch today, my arm feels great. It's just a matter of sharpening all my pitches. Get back on the mound, throw to some hitters and get some adrenaline going.
"I am hoping it's not going to take too long. I don't want to rush back. I want to make sure I feel comfortable."
Rangers beat
• Left-hander Joely Rodríguez threw his third bullpen session on Tuesday. He is expected to begin the season on the injured list with a strained lat muscle.
• Right-hander Rafael Montero, who has an issue with his right forearm, is further behind than Rodriguez, and the Rangers aren't sure when he'll be ready to join the bullpen.
• Woodward had Joey Gallo and Rougned Odor, a pair of left-handed hitters, hitting back to back rather than having Frazier, a right-handed hitter, in between them.
"I'm not really worried about it, to be honest with you," Woodward said. "If you look at the left-right, left-right, it could make sense. But Rougie hits lefties. Joey hits lefties. I know they could be susceptible to a really nasty lefty, but both guys have no fear of lefties. I don't really care if they bring in the lefty with Joey and Rougie back to back."
Up next:
Right-hander Jordan Lyles pitches against the Rockies in an exhibition game at 7:05 p.m. CT on Wednesday at Globe Life Field. Lyles, who pitched for the Rockies from 2014-17, is coming off his best outing of both Spring Training and Summer Camp. He pitched in an intrasquad game on Friday and allowed two runs on three hits over six innings. He walked four and struck out six. The matchup will be available on MLB.TV and Gameday Audio.