Early look at potential Rays' Opening Day roster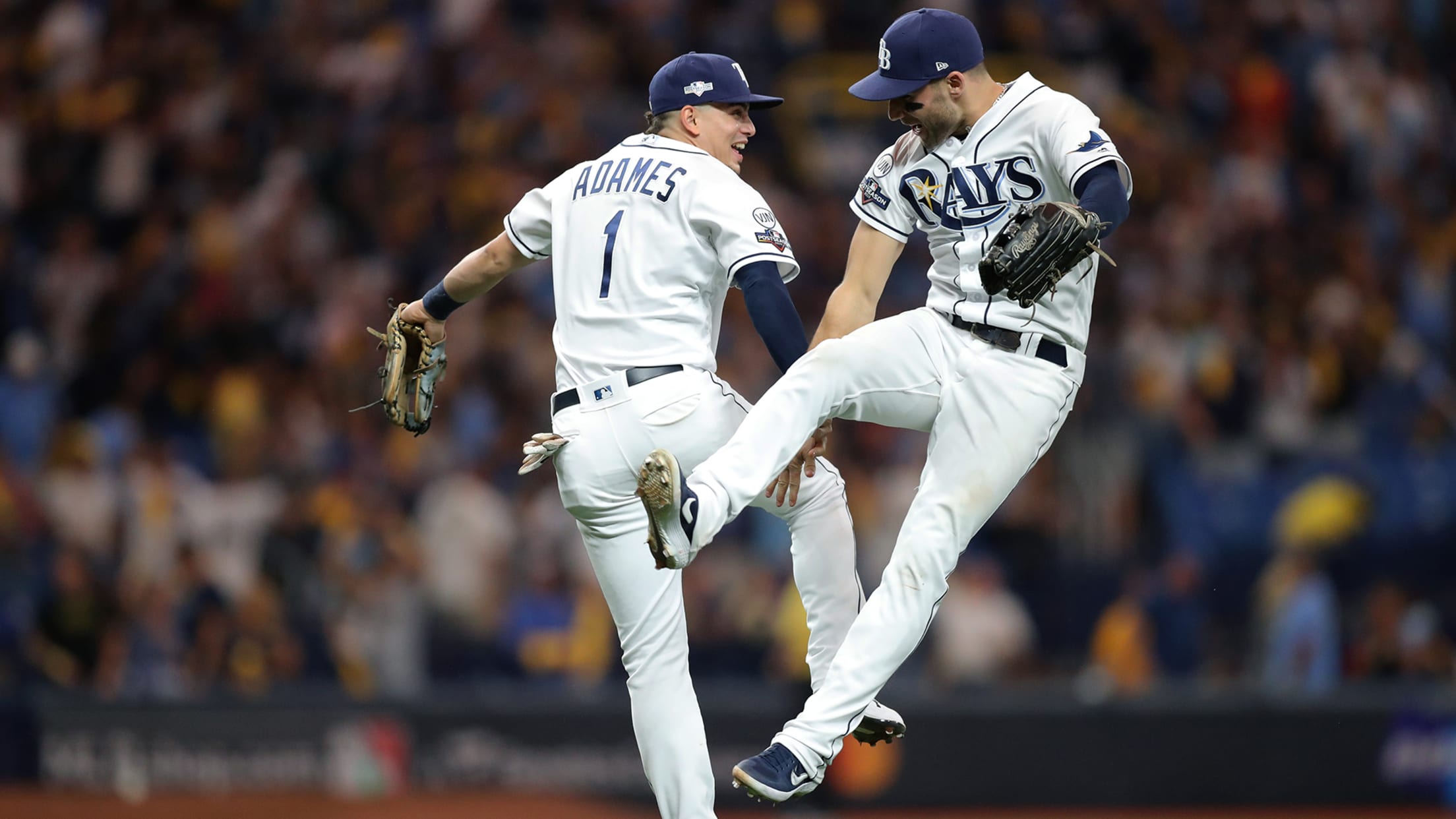 ST. PETERSBURG -- After winning 96 games and making the postseason for the first time since 2013, the Rays will be aggressive with the moves they make during the offseason. There are going to be a lot of interesting decisions over the winter, but the goal is for Tampa Bay's
ST. PETERSBURG -- After winning 96 games and making the postseason for the first time since 2013, the Rays will be aggressive with the moves they make during the offseason.
There are going to be a lot of interesting decisions over the winter, but the goal is for Tampa Bay's young core to continue to grow, and the hope is that the postseason experience can carry the club even deeper into October.
A lot can change before Spring Training, but let's try to predict what a Rays roster could look like on Opening Day. Due to a rule change, teams will now carry 26 players on the roster, which opens up a couple of possibilities for Tampa Bay.
Catcher
Locks: None
Possibilities: Mike Zunino, Michael Perez, acquisition
The Rays are entering the offseason with a lot of uncertainty at catcher. They're losing Travis d'Arnaud to free agency, and they have to make a decision on Zunino, who disappointed at the plate in 2019. Once they determine the market for d'Arnaud and decide on a course of action with Zunino, they'll look into the free-agent market to try to improve at the position. Right now, we'll say Tampa Bay will open the season with Zunino and Perez, but the chances of that changing are high.
First base
Locks: Ji-Man Choi
Possibilities: Nate Lowe, Jesús Aguilar
What a difference a year makes. Just last season, there were questions about Choi and his ability to play first base. But after a solid 2019 season, Choi will likely be the Opening Day first baseman for the Rays. After Choi, there are some questions. Whether Yandy Díaz will play most of his games at third base will make an impact on the rest of the roster moves. Aguilar could get non-tendered and Nate Lowe could start off in Triple-A Durham in order to get consistent at-bats. Right now, Choi is the only lock for the Opening Day roster.
Second base
Locks: Brandon Lowe, Joey Wendle
Possibilities: Daniel Robertson, Mike Brosseau
After dealing with injuries, the Rays will rely on Brandon Lowe and Wendle at second base next season. Lowe will look to improve on a solid rookie season, while Wendle will seek to stay healthy after multiple stints on the injured list in 2019.
Robertson and Brosseau also have a chance to make the roster because of their ability to play multiple positions.
Shortstop
Locks: Willy Adames
Possibilities: None
Adames will look to build on a strong postseason performance, and the Rays will give him every opportunity to do so. Adames played 152 games at shortstop during the regular season, and we can expect more of the same in 2020.
Third base
Locks: Yandy Díaz
Possibilities: Matt Duffy, acquisition
This is a spot where the Rays could choose to add a big bat to the middle of their lineup. Díaz had a breakout season in 2019, hitting a career-high 14 home runs, but he also battled multiple injuries throughout the year. Duffy is a likely candidate to get non-tendered, which would open up a spot in the infield. Wendle and Robertson could also play third if Tampa Bay decides to add a bat at another position.
Outfield
Locks: Tommy Pham, Kevin Kiermaier, Austin Meadows, Guillermo Heredia
Possibilities: Acquisition
Pham, Kiermaier and Meadows will get a lot of starts in the outfield, but the Rays are going to need to replace Avisaíl García's production. Heredia will serve as a solid fourth or fifth option, but Tampa Bay will be in the market for a right-handed-hitting outfielder.
Starting pitchers
Locks: Blake Snell, Tyler Glasnow, Charlie Morton, Ryan Yarbrough, Yonny Chirinos
Possibilities: Brendan McKay, Trevor Richards, Jalen Beeks, Anthony Banda, José De León, acquisition
Starting pitching is probably the deepest position on the roster entering the 2020 season. Morton, Snell, Glasnow, Chirinos and Yarbrough will enter Spring Training as the five favorites in the rotation, but the Rays could opt to go with a six-man rotation early in the season. If that's the case, they could stay in-house and start McKay or Richards, or they could dive into the free-agent market and look to sign a veteran starting pitcher. Either way, Tampa Bay heads into the winter with strong pitching depth.
Relievers
Locks: Emilio Pagán, Nick Anderson, Diego Castillo, José Alvarado, Oliver Drake, Colin Poche, Chaz Roe
Possibilities: Pete Fairbanks, Andrew Kittredge, acquisition
Pagán, Anderson, Castillo and Poche will be key pieces of the bullpen next season, and the Rays are hoping to get a bounce-back season from Alvarado. They aren't losing anyone from a bullpen that was one of the best in the American League last season, but they could benefit from adding a veteran reliever.
Juan Toribio covers the Rays for MLB.com. Follow him on Twitter @juanctoribio.