Projecting Rays' 2020 Opening Day roster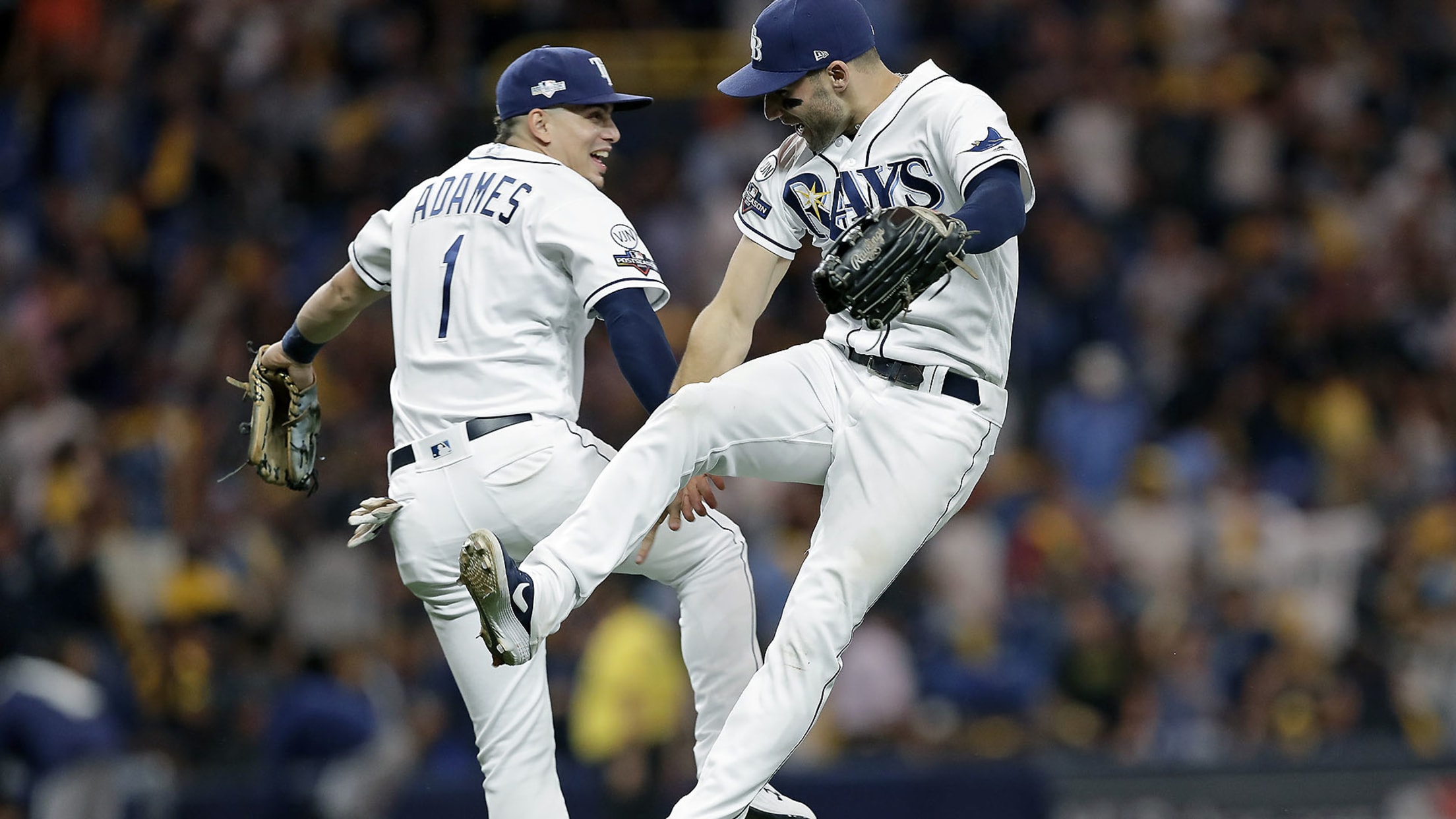 PORT CHARLOTTE, Fla. -- If everyone stays healthy over the next six weeks, the Rays shouldn't have many roster decisions to make heading into Opening Day against the Pirates. For the most part, the Rays made enough moves during the offseason that should give everyone a pretty good understanding of
PORT CHARLOTTE, Fla. -- If everyone stays healthy over the next six weeks, the Rays shouldn't have many roster decisions to make heading into Opening Day against the Pirates.
For the most part, the Rays made enough moves during the offseason that should give everyone a pretty good understanding of where the roster stands. However, the versatility of some of the players on the 40-man roster, and the addition of the 26th man, will require the Rays to make some interesting decisions at the end of the active roster.
With the first full-squad workout set for Tuesday, let's take a look at a very early prediction of what the Rays' roster could look like on March 26.
• Forecasting all 30 teams: Lineups, rotations, closers
Catchers (2): Mike Zunino, Michael Perez
After a disappointing 2019 season, Mike Zunino will get an opportunity to return to form and have a better showing at the plate in his second season with Tampa Bay. The Rays are betting on Zunino to have a better offensive showing now that he's more familiar with the entire pitching staff. As far as his backup goes, the Rays will have to make a decision, but Michael Perez gets the early nod in this prediction. Perez was the Opening Day backup catcher in 2019, but dealt with an oblique injury and then lost his job once the Rays acquired Travis d'Arnaud. He'll get every opportunity to solidify himself as the second catcher on the roster, but non-roster invitees Kevan Smith and Chris Herrmann will be right behind him.
First base (2): Ji-Man Choi, José Martínez
No surprises here. Ji-Man Choi enters camp as the projected first baseman after hitting a career-high 19 home runs in 2019. José Martínez will mostly handle designated hitter duties, but he has been working out at first base during early workouts and is expected to get the occasional start at first. Nate Lowe and Brian O'Grady will likely start the season in Triple-A Durham, but should provide the Rays with quality depth.
Second base (2): Brandon Lowe, Joey Wendle
If healthy, Brandon Lowe should get most of the starts at second base this season. The All-Star hit 17 home runs in 2019 despite playing in just 82 games. Joey Wendle will likely be his primary backup, though Wendle will also get playing time at third base and shortstop. Daniel Robertson could also be an option here depending on how the rest of the infield and bullpen decisions unfold.
Shortstop (1): Willy Adames
Willy Adames will look to build on a strong postseason performance, and the Rays will give him every opportunity to do so. Adames played 152 games at shortstop during the regular season last year. We should expect more of the same in 2020.
Third base (2): Yandy Díaz, Yoshitomo Tsutsugo
Yandy Díaz had a breakout season in 2019, hitting a career-high 14 home runs. He's expected to get the bulk of the playing time, especially against left-handed pitching. Yoshitomo Tsutsugo will get plenty of looks at third base during the spring, but he will also play left field, which was his primary position in Japan, and could also be used as the team's designated hitter. Tsutsugo's defense at third will be one of the things to watch over the next six weeks.
Outfield (4): Kevin Kiermaier, Austin Meadows, Hunter Renfroe, Manuel Margot
The outfield group will have a different look in 2020. Hunter Renfroe will get most of his starts in left field, replacing Tommy Pham. With Avisaíl García now with the Brewers, Austin Meadows is expected to get more playing time in right field. Kevin Kiermaier will continue to be the team's primary center fielder, but Manuel Margot could get more playing time against left-handed pitching. Randy Arozarena, who was acquired from the Cardinals during the offseason, has a chance to make the roster with a strong spring, but could benefit from playing on a regular basis in Triple-A Durham.
Starting pitching (5): Blake Snell, Tyler Glasnow, Charlie Morton, Yonny Chirinos, Ryan Yarbrough
The Rays haven't committed to a more traditional five-man rotation, but they certainly have the pieces to do so. Blake Snell, Yonny Chirinos and Tyler Glasnow are healthy heading into the 2020 season, while Ryan Yarbrough and Charlie Morton will look to build on strong campaigns. Tampa Bay also has a lot of depth with Brendan McKay, Trevor Richards, Anthony Banda and Jalen Beeks also serving as options.
Relief pitching (8): Nick Anderson, Diego Castillo, Colin Poche, Oliver Drake, José Alvarado, Chaz Roe, Peter Fairbanks, Andrew Kittredge
Of the group, Nick Anderson, Diego Castillo, Colin Poche, Oliver Drake, José Alvarado and Chaz Roe seem to be locks to make the Opening Day roster, leaving a competition for the last two spots. Last season, Peter Fairbanks established himself as an option in September, posting a 4.76 ERA and two saves in 12 appearances. Andrew Kittredge made 37 appearances with the Rays last season and can provide some length out of the bullpen, if needed.
Juan Toribio covers the Rays for MLB.com. Follow him on Twitter @juanctoribio.