Offseason checklist: Rays' needs and moves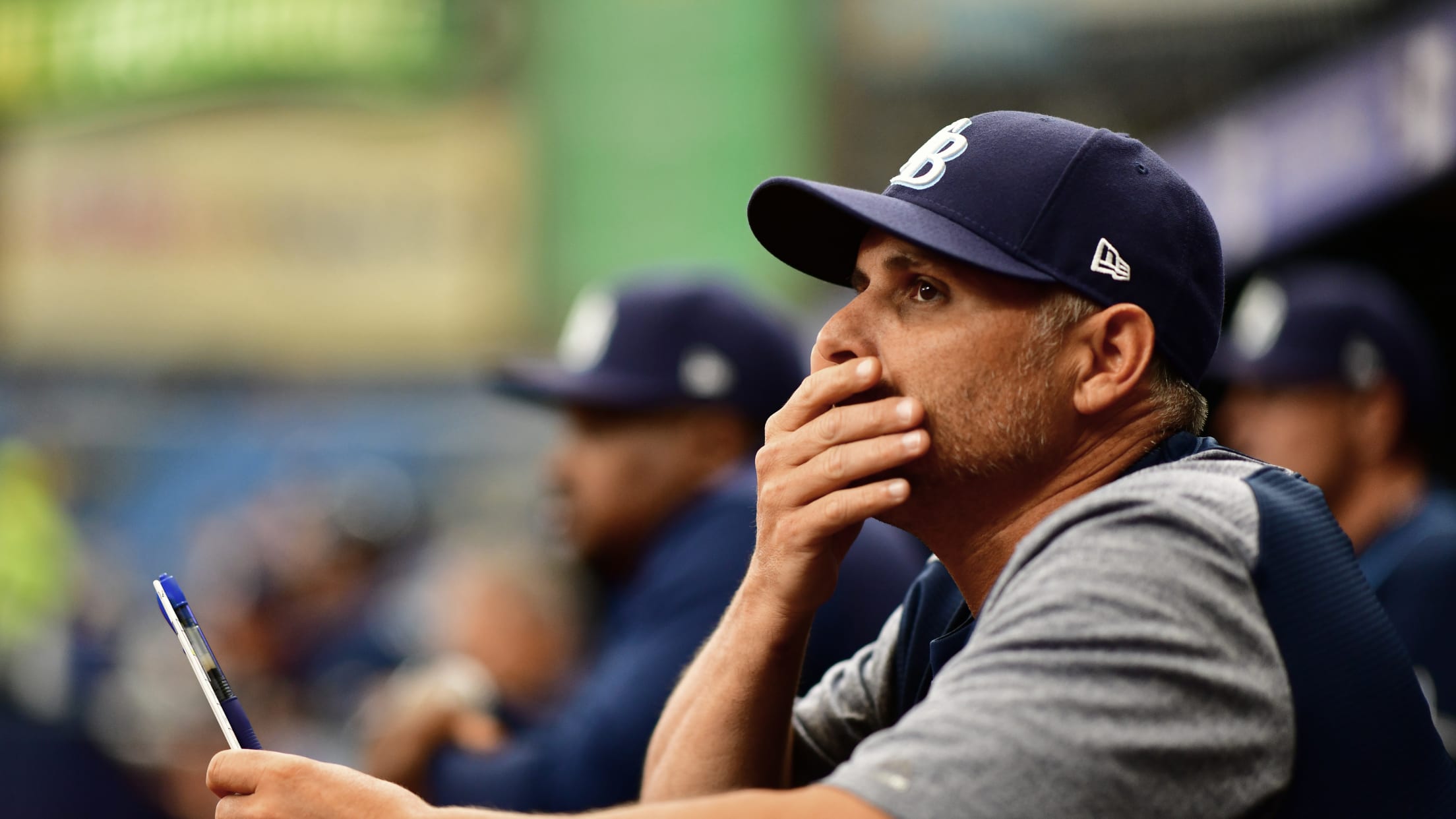 ST. PETERSBURG -- The Rays had an impressive run in 2019, winning 96 games and making the postseason for the first time since '13. But now that the club has experienced some October success, it will look to be aggressive as it looks to win at least 90 games for
ST. PETERSBURG -- The Rays had an impressive run in 2019, winning 96 games and making the postseason for the first time since '13. But now that the club has experienced some October success, it will look to be aggressive as it looks to win at least 90 games for the third consecutive season.
So what exactly are the Rays' biggest needs entering the offseason, and what moves have they made to address them? MLB.com is keeping track here. As the offseason continues, be sure to check back for updates.
BIGGEST NEEDS
Catcher
The Rays lost Travis d'Arnaud, who signed a free-agent contract with the Braves, to free agency, but they came to terms on a one-year deal with Mike Zunino for $4.5 million. The deal includes a 2021 club option worth another $4.5 million, with the potential to grow to $5.25 million with incentives. The Rays could still be in the market for another backstop, though. Michael Perez, who has some Major League experience, could also fill in as a backup catcher for the Rays.
Right-handed bat
With Avisaíl García headed to the Brewers, the Rays will look to find a right-handed hitting option to help replace some of García's production. With Tampa Bay's roster flexibility, the right-handed hitting help doesn't necessarily need to come from an outfielder. A third baseman could also help.
Bullpen
If they don't add anyone, the Rays will enter the 2020 season with one of the best bullpens in the American League, and the unit could receive a boost if José Alvarado bounces back from a disappointing '19 season. However, Tampa Bay will be in the market for a veteran reliever and that would help take some of the pressure off Emilio Pagán, Nick Anderson and Diego Castillo.
MOVES MADE
Dec. 16: Rays sign Japanese slugger Yoshitomo Tsutsugo to two-year deal
The Rays made a splash by signing the 28-year old Tsutsugo to a two-year, $12 million deal. Tsutsugo adds another left-handed bat to Tampa Bay's lineup and projects to spend most of his time as the team's designated hitter, though he could also play left field and third base.
Dec. 6: Rays-Padres complete five-player deal
In a surprise move, the Rays traded Tommy Pham and prospect Jake Cronenworth to the Padres in exchange for Hunter Renfroe, prospect Xavier Edwards and a player to be named later. Renfroe, who hit a career-high 33 home runs in '19, is projected to be the team's starting left fielder, while Edwards is now considered the No. 6 prospect in the loaded Rays organization, according to MLB Pipeline.
Dec. 2: Guillermo Heredia non-tendered by Rays
As the Rays continued to clear room on the 40-man roster in order to make other moves over the winter, they decided to non-tender Heredia, who was a big clubhouse presence last season.
Nov. 27: Rays acquire 1B/OF Brian O'Grady, designated Jesús Aguilar for assignment
Looking to add depth, the Rays acquired O'Grady from the Reds in exchange for a player to be named later and cash considerations. O'Grady hit two home runs in 28 games with the Reds last season, but most of his production came at Triple-A, where O'Grady hit a career-high 28 home runs.
In order to make room for O'Grady on the 40-man roster, the Rays designated Aguilar for assignment.
Nov. 25: Rays ink Mike Zunino to new deal
With the catcher market starting to take shape, the Rays decided to work on a new deal with catcher Mike Zunino that will keep him in Tampa Bay through the 2020 season.
After a disappointing season at the plate in 2019, Zunino became a possible candidate to be non-tendered before the Dec. 2 deadline, but instead the Rays showed confidence in the veteran catcher, and they finalized a one-year deal for $4.5 million.
Nov. 20: Matt Duffy designated for assignment, Rays trade José De León to Reds
The Rays needed to clear room on the 40-man roster in order to protect five prospects from the Rule 5 Draft. So Tampa Bay designated Duffy for assignment and traded De León to the Reds for a player to be named later and cash considerations.
Oct. 31: Hoby Milner outrighted
This was another move to clear room on the 40-man roster. Milner, however, elected to become a Minor League free agent. The Rays will show interest in the left-hander, but Milner will have some options after a strong season in Triple-A, where he posted a 3.06 ERA.
Oct. 30: Johnny Davis outrighted to Triple-A Durham
Looking to create room on the 40-man roster, the Rays decided to outright the speedy Davis to Durham. Davis' role is strictly as a baserunner and it's likely he doesn't see time at the big league level until September, but it'll be tougher to find a roster spot as the rosters no longer expand to 40. Regardless, keeping Davis in the system is a good thing for Tampa Bay.
Juan Toribio covers the Rays for MLB.com. Follow him on Twitter @juanctoribio.