Rays could lose key trio in free agency
García, d'Arnaud, Sogard set to hit open market after strong seasons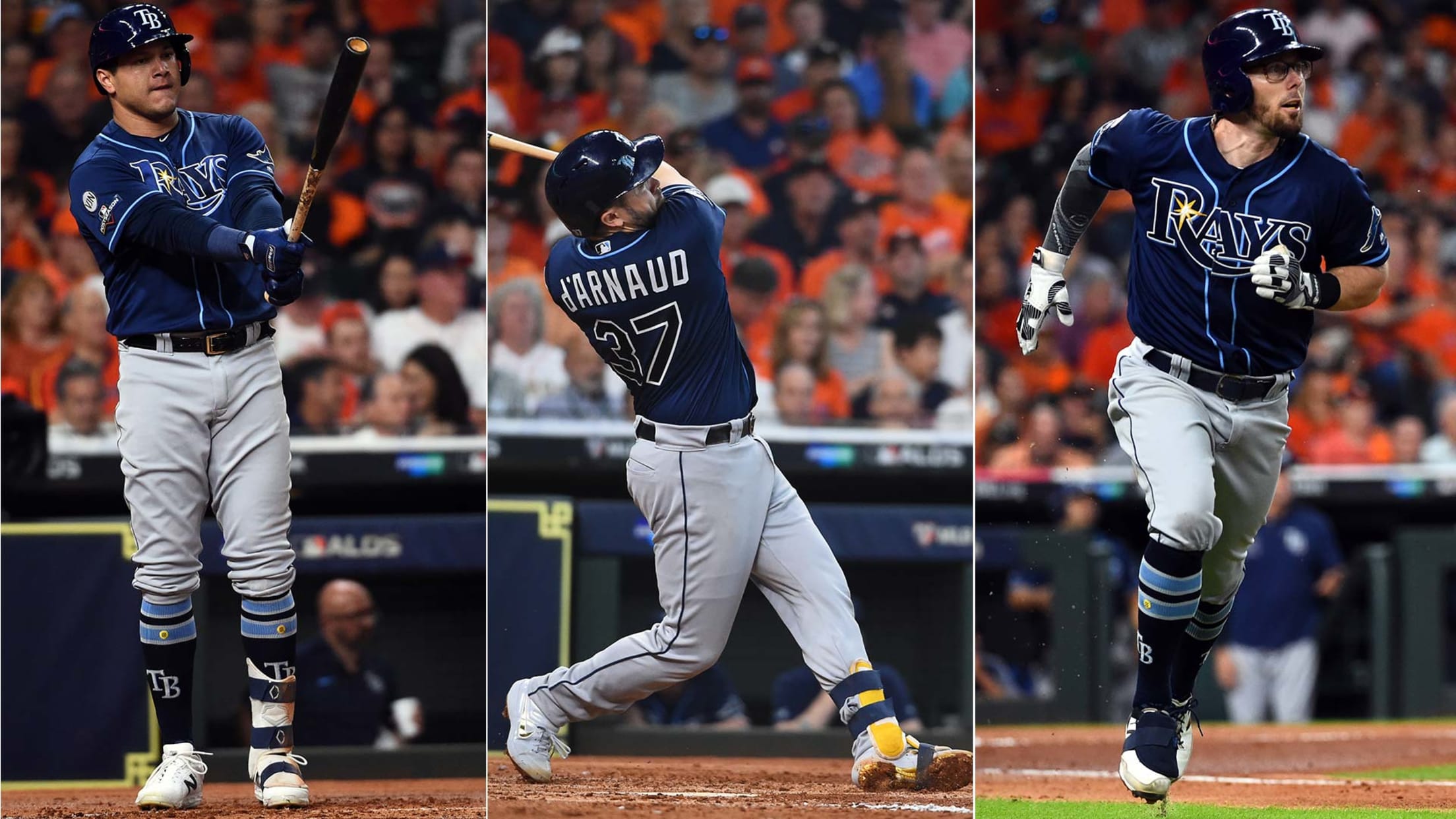 HOUSTON -- While Tampa Bay raved about the group camaraderie it had throughout the 2019 season, it's inevitable that there will be some changes to its roster when Spring Training opens in mid-February. After years of retooling their roster, the Rays finally have a core group of players that they're
HOUSTON -- While Tampa Bay raved about the group camaraderie it had throughout the 2019 season, it's inevitable that there will be some changes to its roster when Spring Training opens in mid-February.
After years of retooling their roster, the Rays finally have a core group of players that they're going to build around for the next couple of seasons. Players like Blake Snell, Willy Adames, Tyler Glasnow, Brandon Lowe and Austin Meadows will be around for the foreseeable future, but there are others the club will have to make a call on over the offseason.
Avisaíl García, Travis d'Arnaud and Eric Sogard are the three players on the roster who will test free agency. García played a key role in the Rays' success this season, hitting a career-high 20 home runs in 2019. The outfielder also was a well-liked veteran presence inside Tampa Bay's clubhouse.
Due to a successful campaign, García will certainly draw more attention in the market. He was non-tendered by the White Sox after battling a knee injury in 2018. Because of the shaky season, the one-time All-Star saw limited interest in the free-agent market before landing a one-year, $3.5 million deal with the Rays in January.
If García signs elsewhere, the Rays will have to look for a corner outfielder in the offseason, preferably one who hits right-handed. Meadows, Tommy Pham, Kevin Kiermaier and Guillermo Heredia are all under team control next season, but Tampa Bay will need to fill the fifth outfield spot from outside the organization.
As for d'Arnaud, it'd be hard to imagine where the Rays would've been without his contributions at the plate. After Mike Zunino and Michael Perez went down with injuries, Tampa Bay went searching for a catcher and acquired d'Arnaud from Los Angeles on May 10 for cash considerations.
d'Arnaud revived his career, hitting 16 home runs with the Rays, including countless clutch hits down the stretch. d'Arnaud will surely get some looks in the offseason, which makes it unlikely -- though not impossible -- that the 30-year-old catcher returns.
"Everybody makes fun of each other and just laughs it off," d'Arnaud said. "You're here every day and it can get repetitive, but these guys keep it loose and they welcomed me with open arms since I got here. Everybody wants to win here. The culture here is amazing and it's been fun."
If d'Arnaud signs with another club, the Rays could choose to enter next season with Zunino and Perez. Zunino struggled at the plate all season, but he still owns value because of his defense. Perez was scheduled to be the backup catcher this season, but he lost his spot once Tampa Bay acquired d'Arnaud.
The decisions at the catcher position will be one of the things to watch throughout the offseason.
Then there's Sogard, who was one of the Rays' key acquisitions before the Trade Deadline. Sogard, 33, will likely play on another team next season as they have a plethora of infield options, including Lowe, Joey Wendle, Michael Brosseau, Matt Duffy and Daniel Robertson.
Tampa Bay also has infield prospects Jake Cronenworth and No. 1 prospect Wander Franco, who could make an appearance at some point in 2020.
An upgrade at one of the infield spots could be something the Rays search for in 2020. They certainly have plenty of pieces in their farm system, and they'll run into an interesting 40-man roster decision as they look to protect prospects from the Rule 5 Draft in December.
It's going to be an interesting offseason for the Rays, and it likely won't include them re-signing their three free agents. But their contributions will be tough to replace.
"It's just a special group," Sogard said. "These guys fight for each other and I think this postseason experience is going to be huge for them in the long run, and I'm truly grateful to be a part of it."
Juan Toribio covers the Rays for MLB.com. Follow him on Twitter @juanctoribio.