RHP prospect Colina called up; Bailey DFA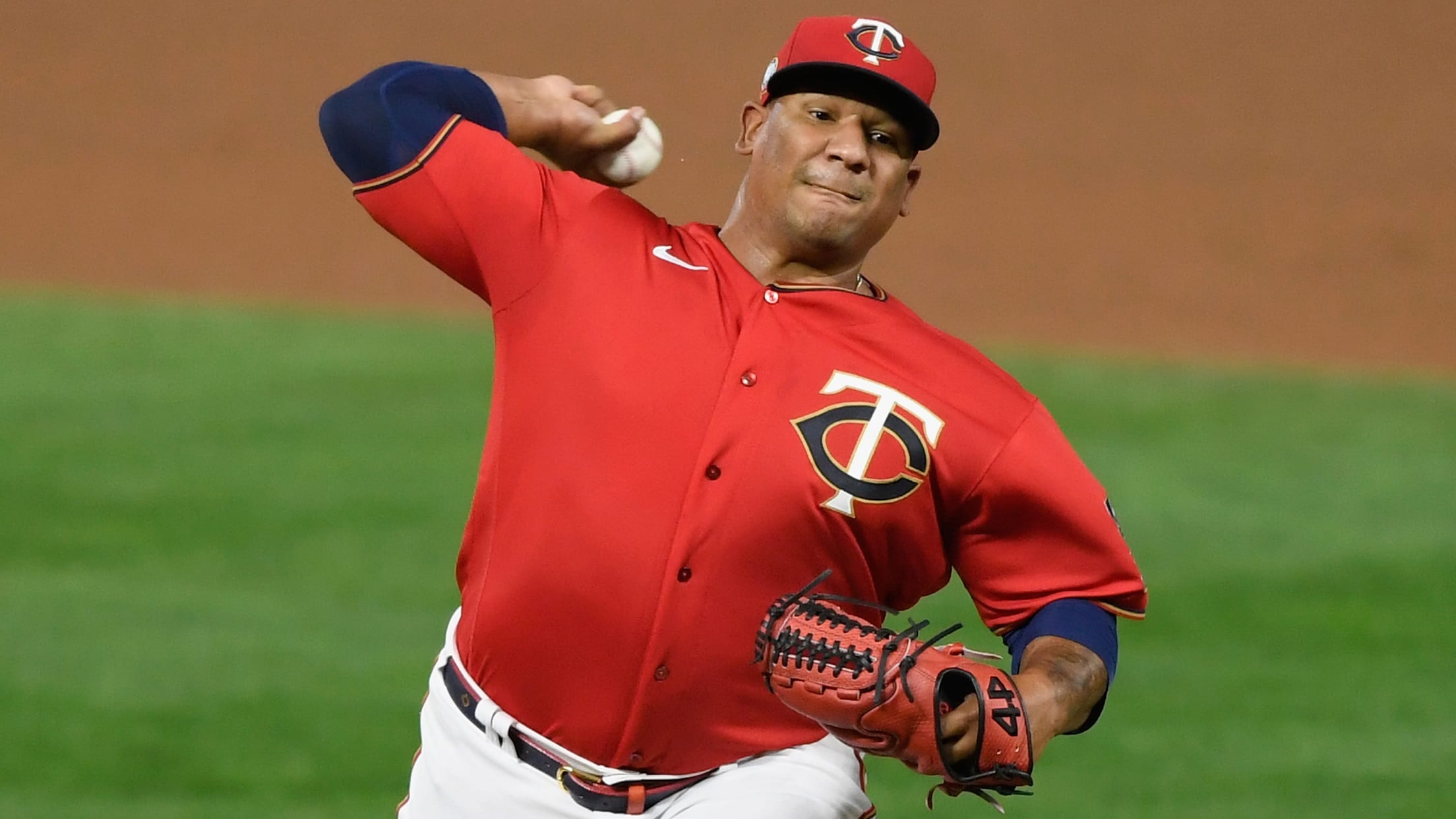 MINNEAPOLIS -- Last week, the White Sox called up young left-hander Garrett Crochet, who immediately started pumping triple-digit fastballs as a possible bullpen wild card for the final stretch and playoffs. Well, two can play at that game. The Twins' answer is 23-year-old flamethrower Edwar Colina, their No. 16 prospect
MINNEAPOLIS -- Last week, the White Sox called up young left-hander Garrett Crochet, who immediately started pumping triple-digit fastballs as a possible bullpen wild card for the final stretch and playoffs. Well, two can play at that game.
The Twins' answer is 23-year-old flamethrower Edwar Colina, their No. 16 prospect per MLB Pipeline, who received his first Major League callup on Friday in a late move that surprised even the young right-hander, who was already thinking about heading home and starting to prepare for next season.
"He's a very exciting young arm, the kind of guy that has the stuff that potentially can be dominant in a shorter-stint type of role," manager Rocco Baldelli said. "We have an excellent group in our bullpen. We probably had these innings covered for a period of time, but you want to use all your bullets."
Veteran starter Homer Bailey was designated for assignment in a corresponding move.
Twins leadership has spoken highly all year of Colina's raw stuff, headlined by a power sinker that touches the triple digits and his best pitch, the slider, which he has been working on at the alternate training site in St. Paul, Minn., in an effort to be more aggressive with the offering. That stuff pushed him to a 2.80 ERA across 324 2/3 innings in the Minors, mostly as a starter.
Colina had a 2.96 ERA with 102 strikeouts in 97 1/3 innings across three levels in 2019, with most of his time split between Class A Advanced Fort Myers and Double-A Pensacola. He got off to a late start in '20 after testing positive for COVID-19, but he was part of the Twins' 40-man player pool for the playoffs announced on Wednesday and is eligible for the postseason.
Now, he'll have three days to show the Twins if he can be a surprise factor in their playoff bullpen.
His first test didn't go as well as he would have hoped. He faced seven batters in the ninth inning of Minnesota's 7-2 loss to the Reds on Friday night and retired only one. He allowed a leadoff homer to Mike Moustakas and followed it up with a walk, two singles, another walk, another single and a groundout, allowing three runs to score.
"The outcome was not what he would draw up or hope for, but it's an opportunity for him to throw," Baldelli said. "These experiences are valuable. It doesn't feel like it at the moment, but he'll look back on this and learn a ton from it. He's a guy who has a very bright future, and a guy that we're going to be relying on in the future to get very important outs at very important times."
The move likely ended a brief Twins tenure for Bailey, who signed a one-year, $7 million deal during the offseason to serve as the club's fifth starter but pitched only eight innings across two starts in 2020 due to right biceps tendinitis that pushed him to the 45-day injured list for most of the season.
With Bailey's departure, the Twins still have up to six starting options for the playoffs: Kenta Maeda, José Berríos, Michael Pineda, Jake Odorizzi, Rich Hill and Randy Dobnak.
Arraez (ankle) to run on Friday; Odorizzi likely set for playoffs
Friday could be an important evaluation day for second baseman Luis Arraez, who took some swings in the indoor cages before he was expected to run on the field to test his sprained left ankle, which he injured during an intrasquad game at the alternate training site on Monday.
"I think he's doing better," Baldelli said.
Baldelli indicated that Arraez's ankle wasn't yet at 100 percent, and it remains unclear if he'll be healthy enough to play in the Wild Card Series. If last season is any indication, a mild sprain wouldn't necessarily rule the 23-year-old out of the postseason. Arraez suffered a similar injury in the final week of the 2019 regular season -- a right ankle sprain -- and played through the issue during the American League Division Series against the Yankees.
Odorizzi (right middle finger blister) has been throwing since he was placed on the 10-day injured list following his start last Thursday in an effort to build up toughness on the skin in the area. He told Baldelli that he should be ready to go for the postseason. Baldelli previously indicated that it's likely Odorizzi will be on the roster for the Wild Card Series.
"With Jake's chance to give us some innings in the playoffs, we don't want to use him too much," Baldelli said. "We want to let him heal up."
Twins tidbits
• Baldelli celebrated his 39th birthday on Friday. He is still younger than two of his players: Hill (40) and Nelson Cruz (40). One year ago, Minnesota clinched the American League Central title on Baldelli's birthday.
A birthday message from Mom & Dad! HBD @roccodbaldelli 🎉 pic.twitter.com/P1vrVGVOb7

— Minnesota Twins (@Twins) September 25, 2020