Notes: Sanó, Astudillo check in; Buxton arrives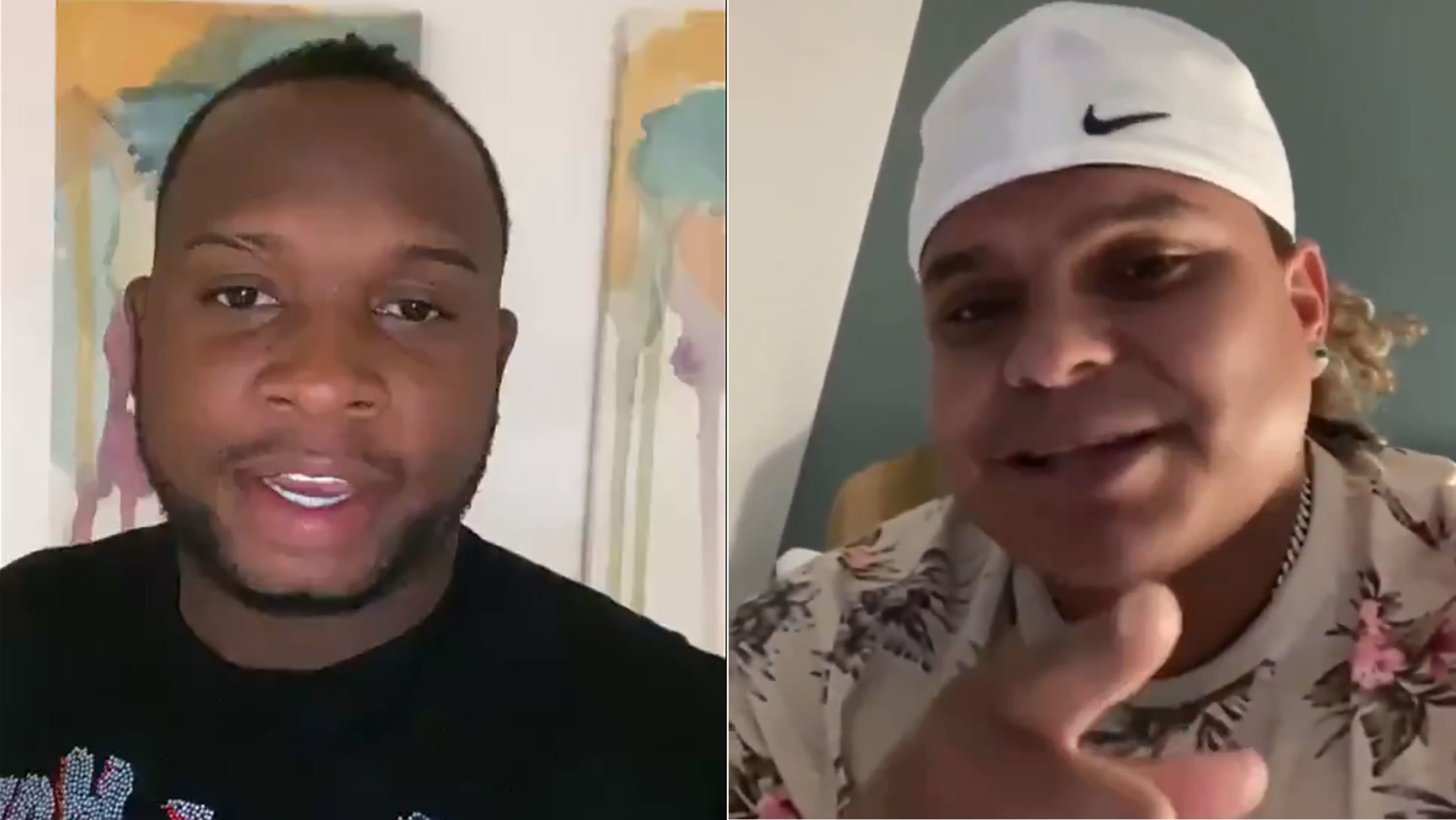 MINNEAPOLIS -- Miguel Sanó and Willians Astudillo may be missing from camp after testing positive for COVID-19, but they want Twins Territory to know that they're feeling fine and eager to rejoin their teammates at Target Field when ready. Both players released video messages on their Instagram profiles Saturday in
MINNEAPOLIS -- Miguel Sanó and Willians Astudillo may be missing from camp after testing positive for COVID-19, but they want Twins Territory to know that they're feeling fine and eager to rejoin their teammates at Target Field when ready.
Both players released video messages on their Instagram profiles Saturday in which they publicly connected with fans for the first time since the club announced their test results earlier in the week.
"I know I got a positive on the test for coronavirus, but I don't have any symptoms in my body, and I want to tell everybody how I feel," Sanó said. "I feel great, and I don't have any problems. I'm only waiting to see a couple of tests, and as soon as I get cleared, I'm going back to the field. I miss my team. I miss my fans. 2020. We love you."
An update from @SanoMiguel on his positive COVID-19 test. Stay healthy & safe, #TwinsTerritory! #MNTwins pic.twitter.com/zMdjOKwKxy

— Minnesota Twins (@Twins) July 5, 2020
Astudillo also showed off his trademark good cheer and humor when he finished off his message by roaring, "You know what I'm saying, bro?" into the camera.
"I'm feeling great," Astudillo said. "I'm feeling good. See you soon, my people. I love you."
A quarantined Willians Astudillo has words of encouragement for fans on his Instagram page.https://t.co/BwibNGh4Y8 pic.twitter.com/xx3uYJcqhA

— Do-Hyoung Park (@dohyoungpark) July 5, 2020
Manager Rocco Baldelli said Sunday night that Sanó and Astudillo are doing "really well" and he doesn't anticipate either player needing much time to acclimate to game speed once eligible to return. The Twins can begin transitioning each player into camp once he has tested negative twice in a row.
Buxton arrives in Minneapolis
Center fielder Byron Buxton arrived in the Twin Cities as planned on Sunday morning and is currently being processed through the intake protocol, Baldelli said. Buxton did not report to camp on time because his wife, Lindsey, gave birth to the couple's second son, Blaze Jett Buxton, on Friday.
If all goes well, Baldelli hopes that Buxton can join the Twins on the field by midweek. It's likely that Buxton will initially acclimate to camp on an individualized program before he joins the club as part of intrasquad games.
The ongoing COVID testing notwithstanding, Buxton is expected to be completely healthy as he rejoins the team. He did not hit with the team for much of Spring Training as he continued his recovery from a procedure to repair a torn labrum in his left shoulder last September. The injury cut short a promising season in which Buxton posted an .847 OPS with 30 doubles -- both career highs.
Buxton and Cody Stashak were the only players absent from Summer Camp for non-COVID-related reasons. There is not yet a timeline for Stashak's return to the team after his wife, Taylor, also gave birth to a son in June.
Rosario goes yard twice in live batting practice
The Bomba Squad had a few near-misses in the first two days of live batting practice, but no baseballs left the yard until Sunday, when Eddie Rosario clubbed a pair of blasts to right -- one apiece off Kenta Maeda and Devin Smeltzer. Towards the end of the extended session, Ehire Adrianza outdid Rosario with a towering blast well into the upper deck in right-center field against Sean Poppen.
"I think in the first couple days of live BP, I think we've seen [pitchers] just working on things," Baldelli said. "They're locating, they're trying to do certain things that maybe they haven't done in the past -- making adjustments -- and I think the hitters have been able to go up there in a fairly comfortable situation knowing these things and put some good swings on the ball."
Fun evening at Target Field! #MNTwins #SummerCamp pic.twitter.com/qZLaMdgPAV

— Minnesota Twins (@Twins) July 6, 2020
Twins open alternate camp in St. Paul
Long before the Target Field workout got underway at 4:20 p.m. CT on Sunday, Baldelli made the drive over to CHS Field in St. Paul to christen the first day of alternate training camp under assistant Minor League pitching coordinator J.P. Martinez.
The Twins will have a group of fewer than 20 players in St. Paul, while the majority of the Major League camp of players contending for the Opening Day roster works out at Target Field. Baldelli said the alternate camp will be staffed mostly by the organization's Minor League coaches and coordinators.
Some of those players could shuttle back and forth between Minneapolis and St. Paul in the coming weeks because the limited numbers at CHS Field will hamper that group's ability to organize intrasquad games of its own. Most of the activity at that site will involve workouts to keep those players fresh.
"If we're playing in September or hopefully even after that in October, there's going to be one or more or many of those players on our team and potentially contributing in a big way," Baldelli said. "There's no way to ever know who those guys are going to be. But I would bet on that happening."
Worth noting
• The Twins plan to begin intrasquad games on Wednesday.
• Sunday's pitchers in live batting practice included Maeda, Smeltzer, Poppen, Sergio Romo, Taylor Rogers, Trevor May, Jhoulys Chacín and Matt Wisler. Baldelli noted that many of the pitchers' timelines converged on Sunday ahead of an abbreviated workout day planned for Tuesday.