Twins catchers impressing behind, at the plate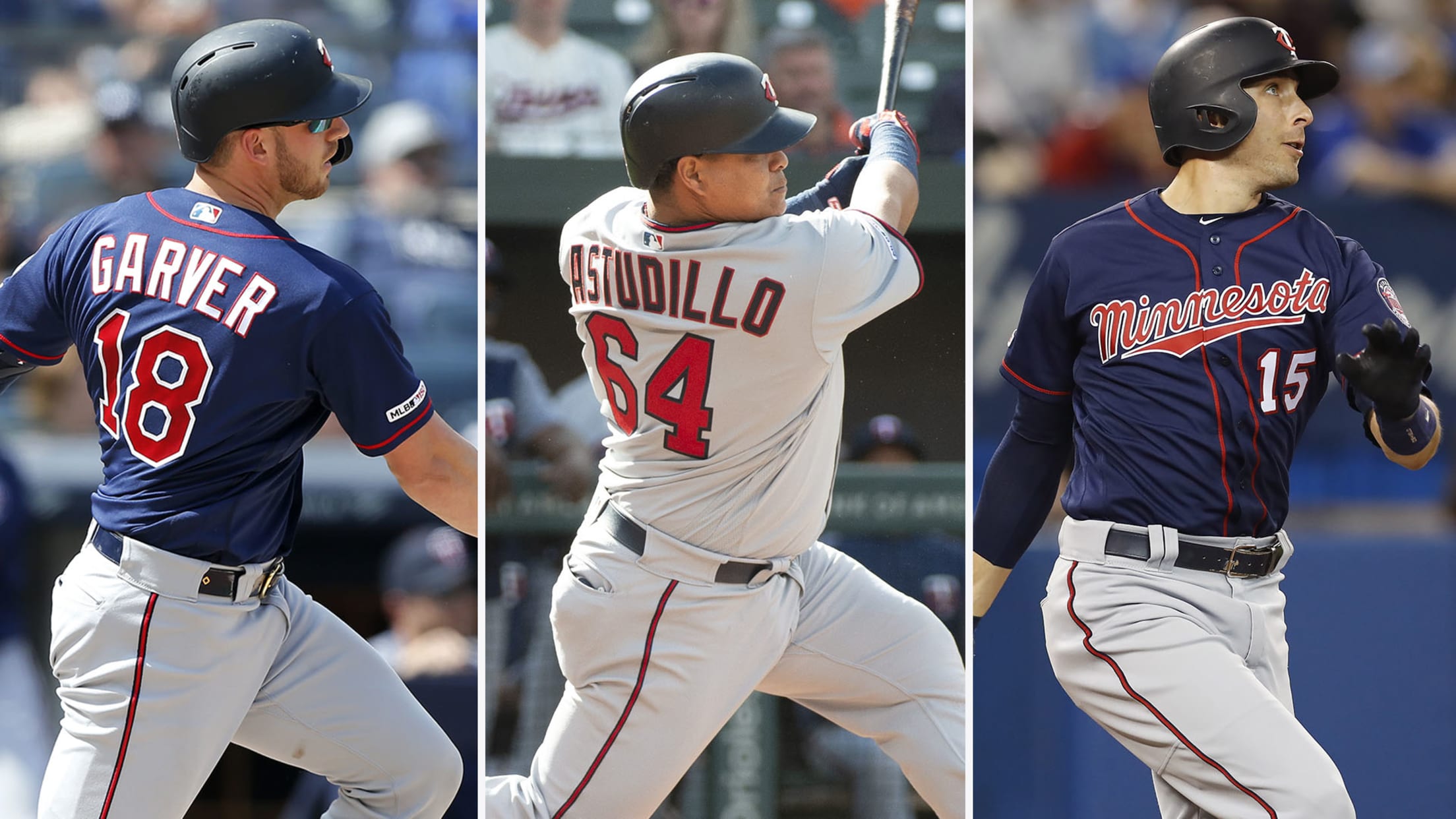 TORONTO -- Catchers haven't necessarily needed to be bat-first players in the modern game, but don't tell that to the Twins' trio of Mitch Garver, Willians Astudillo and Jason Castro, who have all posted well-above-average numbers as backstops to begin the 2019 campaign. "It could be a hot month," Garver
TORONTO -- Catchers haven't necessarily needed to be bat-first players in the modern game, but don't tell that to the Twins' trio of Mitch Garver, Willians Astudillo and Jason Castro, who have all posted well-above-average numbers as backstops to begin the 2019 campaign.
"It could be a hot month," Garver said. "It's a long season and things could even out. Obviously, I think very highly of our catchers, and us as a group, we're strong together and we compete against each other and against the league. But it's always for the better. That's kind of the fun part of it."
The Twins lead the Majors with 12 homers from the catcher position. Minnesota's backstops are hitting a combined .336/.412/.735 this season, giving them the best batting average, slugging percentage and OPS from their position in MLB and ranking them second in on-base percentage.
Much of that production has come from second-year catcher Garver, who leads all Twins hitters with a 216 wRC+ thanks to his .367/.424/.783 line and seven homers in only 19 games. Castro isn't far behind with a 154 wRC+, and Astudillo has posted a 125 wRC+ while playing catcher, infield and outfield this season.
"I think it's tough to say that your expectation levels for anyone are at that level," manager Rocco Baldelli said. "If you look at the numbers, they are pretty incredible."
"It's nice to kind of have that back and forth, to have those guys around you pushing you to achieve yourself," Castro said. "It's always nice to have. We've seen it pretty much all up and down the lineup that any night, anyone is able to provide that key hit, and that kind of motivates everyone around to really do the best that they can to try to contribute every night."
Perhaps more impressive has been the fact that all of the Twins' backstops have been posting such numbers despite receiving irregular playing time, as Baldelli has made an effort to regularly rotate in all three catchers early in the season.
The Twins had played 34 games this season entering Wednesday. Garver has played in 19, while Castro and Astudillo have played 16 apiece.
"Normally, you would make the argument that more at-bats is always good," Baldelli said. "Timing matters to Major League hitters getting more opportunity at the plate generally leads to good results. With catchers, I don't know if it is a little different. Their job consists of them beating themselves up every night. There's a lot of wear and tear on their bodies and maybe some of the time off is helpful."
Castro said that he hadn't played in such a significant rotation since 2012, when he returned from a major knee surgery to split time behind the plate with Chris Snyder. Garver said that he had experienced something similar in Triple-A Rochester in 2017, when he had been on one-day-on, one-day-off and two-on, two-off rotations, but acknowledged that this kind of timeshare is certainly unusual.
"It's definitely a change from what I've been used to," Garver said. "You've got your catcher days, two or three days in a row, and making sure that you're getting in the gym, taking care of your body, and getting enough sleep the days that you don't play, but you're also preparing for the chance that you could. It's a constant grind and just trying to get ready."
But fear of being unorthodox certainly hasn't been a barrier to the 2019 Minnesota Twins, and it's tough to argue with the tremendous results early in the season that have gone a long way in lengthening the Twins' deep lineup.
Moreover, Castro in particular feels that the regular time off has helped him feel more fresh in his starts. Garver doesn't feel that the rotation has been too disruptive to his preparation, especially now that the Twins' schedule has stabilized and the catchers find themselves sitting for one or two days at a time, as opposed to three or four, which had been the case early in the year with all of the team's off-days.
"Physically, I feel -- other than getting hit in the arm -- I feel really good," Castro said. "I think having a day off here and there is, for the long run, a good thing, from a physical standpoint. It allows your body to recover a little bit more and get you back to feeling a little bit more fresh for the games that you are starting."
Castro recalls Fiers' first no-hitter
Castro harbors a special connection to A's starter Mike Fiers, who threw the 300th no-hitter in Major League history on Tuesday night against the Reds, as the Twins' backstop was the catcher for Fiers' first career no-no in 2015, when they were both with the Astros.
But Castro said he didn't have any awareness at all of his former teammate's special accomplishment on Tuesday night until Wednesday, when Twins play-by-play broadcaster Dick Bremer asked about it. Castro said that helped make sense of texts he was getting from friends at home that were A's fans.
"I had no idea what they were talking about, because I didn't even look," Castro said. "I just thought he pitched well or something, and they were talking about it, and [my friend] told me, he was like, 'Oh, you caught Fiers' first no-hitter, right?' And I was like, 'First no-hitter? Oh, did he throw a no-hitter last night?'"
Not knowing about the feat was nothing new for Castro; in fact, he remembers not realizing until the sixth inning of Fiers' first no-hitter that history was in the making. He said he looked up at the scoreboard, saw no hits, and then realized that his teammates were scrupulously avoiding Fiers in the dugout. Especially given Fiers' high pitch count, he remembers entering the ninth inning hoping that the game plan would hold up.
"Obviously there's going to be an adrenaline component, but doing it in that many pitches is, I would guess, a little bit more difficult," Castro said. "So for him to do it twice is obviously pretty special."
Twins sell out flash sale; more tickets to come
The Twins have sold out an allotment of around 20,000 tickets in select seats for all remaining May home games as part of their "flash sale" that was announced on Tuesday. All of the tickets were sold during a 18-hour period from 7 p.m. Tuesday to 1 p.m. Wednesday.
Due to the response to the sale, the Twins have made "Ballpark Access" tickets available for remaining May home games for $5 -- with no service fees -- from now until 10 p.m. CT on Thursday at twinsbaseball.com/flashsale.
"With the tremendous response by Twins fans to yesterday's flash sale, we are excited to provide additional Target Field access to watch their American League Central-leading club and build the best home-field advantage in baseball," Twins president & CEO Dave St. Peter said.