Hill (shoulder fatigue) latest Twins SP on IL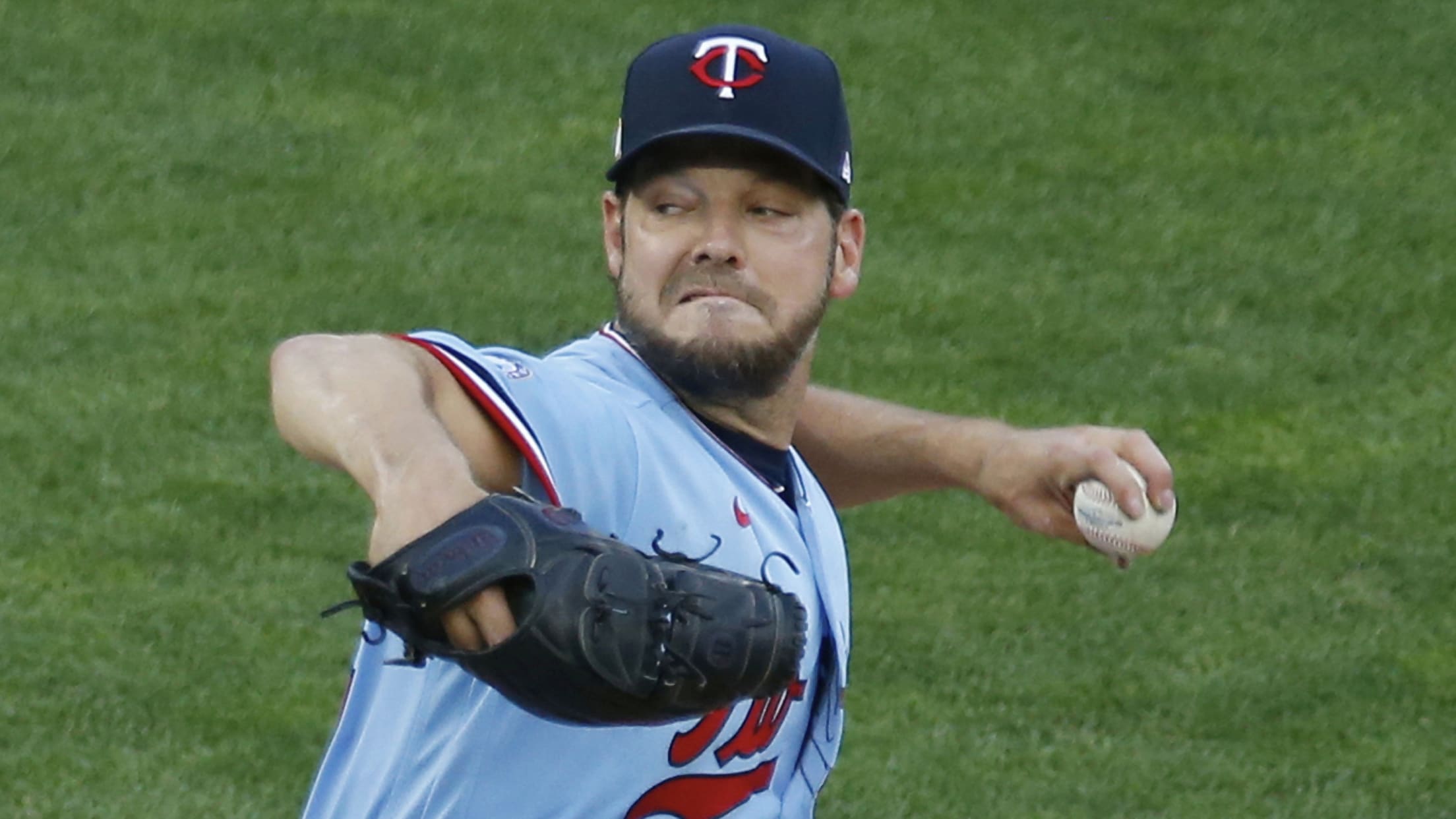 MINNEAPOLIS -- The Twins are already down two members of their projected Opening Day rotation with both Jake Odorizzi and Homer Bailey on the 10-day injured list. Now, Rich Hill finds himself on the 10-day IL with shoulder fatigue, the team announced after Monday's 5-4 walk-off win over the Pirates.
MINNEAPOLIS -- The Twins are already down two members of their projected Opening Day rotation with both Jake Odorizzi and Homer Bailey on the 10-day injured list. Now, Rich Hill finds himself on the 10-day IL with shoulder fatigue, the team announced after Monday's 5-4 walk-off win over the Pirates.
The Twins did not immediately announce a corresponding addition to the 30-man roster.
Minnesota manager Rocco Baldelli said before Monday's tilt that Hill had been experiencing fatigue and mild soreness in his upper back following his start last Wednesday against the Cardinals. Hill threw 68 pitches, allowing two hits over five shutout innings. It's not expected to be a long-term injury, but the Twins want to use the roster spot to keep other arms fresh, especially with roster reduction approaching.
"He's been throwing throughout, but with the rosters going very soon to 28, knowing that we were going to have innings we were going to have to cover and fewer bodies to do it, we probably weren't going to be able to last that amount of time between making starts." Baldelli said after Monday's win. "So we were just talking and decided this is the best thing."
Rich Hill is going to the 10-day IL with shoulder fatigue. No corresponding move announced.

— Do-Hyoung Park (@dohyoungpark) August 4, 2020
Wednesday marked the 40-year-old left-hander's first regular-season start since he underwent a primary repair surgery on his pitching elbow in the offseason. The Twins originally anticipated that Hill would miss the first half of an ordinary regular season, but when the COVID-19 pandemic delayed the season's start, the hope morphed into him pitching the entirety of the 60-game season.
"We're going to keep checking on him, monitoring him and seeing when he's going to get into the bullpen [for throwing sessions]," Baldelli said. "But he's still throwing the ball and feels all right. That being said, we're going to keep taking every opportunity we can to keep our guys fresh and feeling good, and when our guys take the mound, we want them ready to go. That's what this is all about."
Hill would originally have been scheduled to pitch Monday night's series opener against Pittsburgh, but rookie Lewis Thorpe, the club's No. 10 prospect, made the start, allowing six hits, four walks and three runs to score in four innings. José Berríos, Randy Dobnak and Kenta Maeda will all make their next starts on schedule -- in order -- in the remaining three games against the Pirates.
Fortunately for Minnesota, its starting depth has been more than enough to weather the early-season issues. Odorizzi has been on the 10-day injured list to start the season, but Dobnak has allowed one run over nine innings across two starts in his place. Entering his start on Monday, Thorpe had thrown 4 2/3 scoreless innings of relief. Devin Smeltzer allowed one run in 2 2/3 strong innings as part of a bullpen game on Sunday.
"[Players'] routines change from everything they've been used to doing, so with all of that taken into account, we knew that depth in a year like this was going to be very, very important -- both position-player wise and pitching wise," Baldelli said. "So no, I'm not really surprised that we and teams throughout the league are being tested, that's for sure."
Odorizzi expected to start in KC
In a promising development, Odorizzi reported feeling "great" after a 52-pitch simulated outing at the club's alternate training site at CHS Field in St. Paul, Minn., early Monday. Baldelli indicated that Odorizzi could rejoin the starting rotation this upcoming weekend in Kansas City.
Odorizzi could pitch Saturday's game on four days' rest, or take an extra day and make his season debut in Sunday's series finale.
"I think that's a very realistic option for us," Baldelli said. "He looked great today. Came out all smiles. Said he felt great. [Pitching coach Wes Johnson] was over there, said everything went perfectly, so exactly what we wanted to see and he should be ready to go."
Rocco also said that the #MNTwins saw exactly what they wanted to see from Jake Odorizzi today. Sounds like they expect him to make his next start in turn, sometime this coming weekend in Kansas City.

— Do-Hyoung Park (@dohyoungpark) August 3, 2020
The All-Star right-hander began the season on the 10-day IL due to a right intercostal strain that scratched him from his final start of Summer Camp and halted his buildup for the regular season. Though the injury -- which impacts the muscles between the ribs -- has since subsided, Odorizzi has needed extra time to ramp his arm back up to a starting pitcher's workload.
Thielbar selected; Wade optioned
Eleven months ago, Augustana University in South Dakota announced that left-hander Caleb Thielbar would join its staff as a pitching coach. On Monday, more than five years removed from throwing his last Major League pitch, Thielbar found himself back in a big league uniform with his hometown team after the Twins selected his contract and added him to the active roster ahead of the season opener against the Pirates.
LaMonte Wade Jr. was optioned to the St. Paul training site in a corresponding move. Wade appeared in only one regular-season game as a defensive replacement.
It's been a long road back for Thielbar, who posted a 2.74 ERA over 109 relief appearances for the Twins from 2013-15. A native of Randolph, the left-hander was designated for assignment after posting a 5.40 ERA in '15, later pitching for the St. Paul Saints of the independent American Association from '16-17 before spending the next two years in the Tigers' and Braves' organizations.
Thielbar never got a callup with Detroit despite going 7-1 with a 2.05 ERA across Double-A and Triple-A in 2018, and his 3.22 ERA and 94 strikeouts in 78 1/3 innings weren't enough to earn him a shot in '19, either. The Twins gave him a Minor League contract with an invite to Spring Training this season, and now he's back in the Majors -- and at home -- at last.
"I'm looking forward to watching him going out there and pitching and doing his thing," Baldelli said. "We've been watching him for a while in his first time around in Fort Myers. Seems like a really good guy, teammate, but also a guy that can contribute in our 'pen, and we knew it from the start."
Donaldson likely to travel
Baldelli and the Twins maintain that they expect Josh Donaldson's right calf tightness to be a minor issue despite the third baseman's history of calf injuries, and the skipper said on Monday that he expects Donaldson to travel with the club on their upcoming road trip through Pittsburgh, Kansas City and Milwaukee.
Donaldson hasn't played since he was removed from Friday's game against Cleveland. Ehire Adrianza and Marwin Gonzalez have seen additional action in his absence.
Twins tidbits
• The Twins added right-handed pitcher Juan Minaya to their 60-man player pool. Minaya, 29, recorded a 3.93 ERA over 125 appearances in parts of four seasons with the White Sox from 2016-19. He signed with the Twins as a Minor League free agent prior to the season and is working out at the club's alternate training site.