Twins remain confident in Duffey amid struggles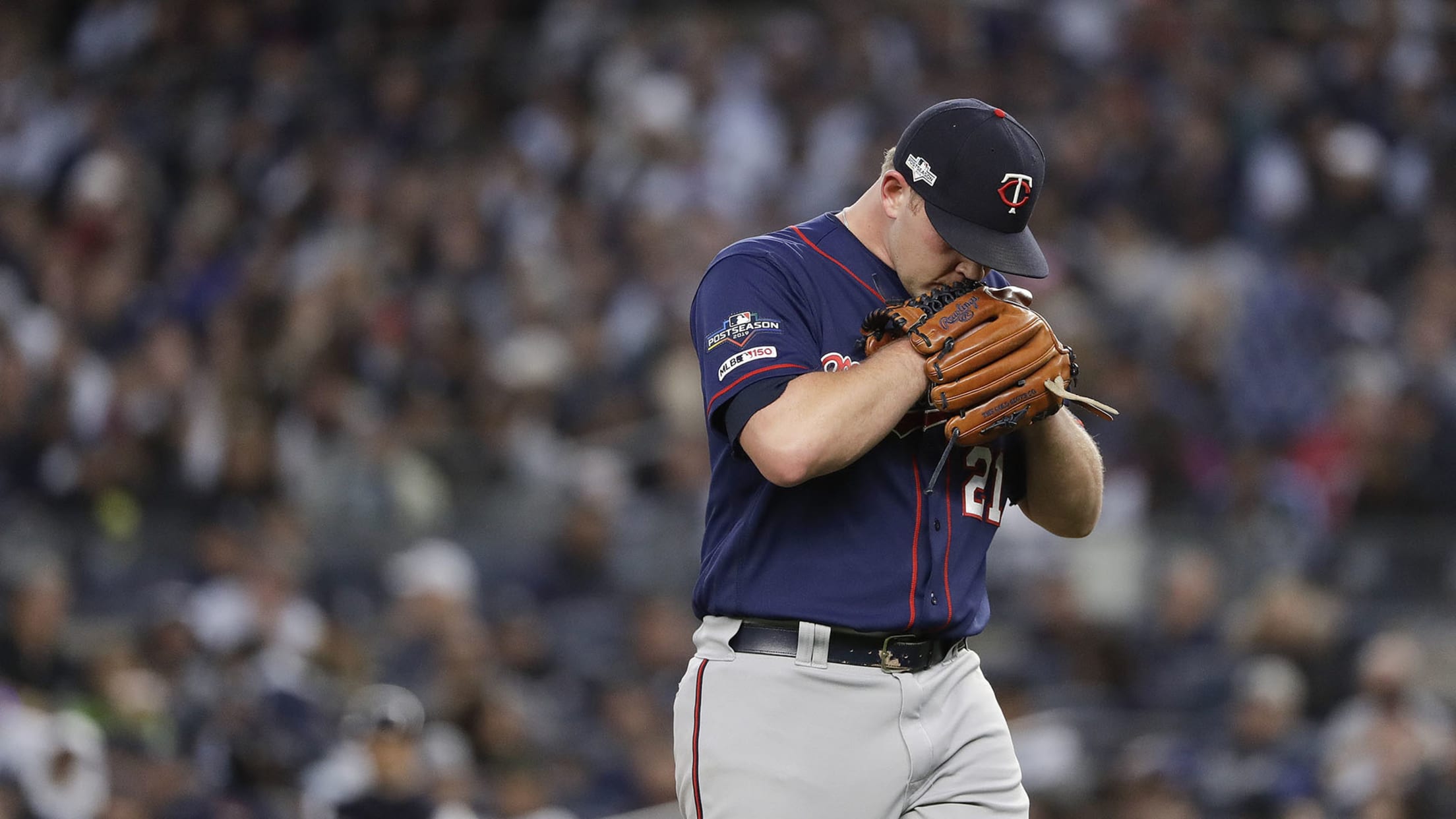 MINNEAPOLIS -- Right-hander Tyler Duffey transformed into one of the best relievers in baseball in the second half this season, but when the Twins have needed him the most in the American League Division Series against the Yankees, he's failed to deliver. Duffey was brought into huge moments in both
MINNEAPOLIS -- Right-hander Tyler Duffey transformed into one of the best relievers in baseball in the second half this season, but when the Twins have needed him the most in the American League Division Series against the Yankees, he's failed to deliver.
Duffey was brought into huge moments in both Games 1 and Game 2 at Yankee Stadium, and both times, he couldn't keep the game close in eventual six-run losses. Duffey, who had a 1.53 ERA in the second half that ranked fourth among MLB relievers, gave up a critical two-run double to Gleyber Torres in the fifth inning in Friday's Game 1, before struggling in a bases-loaded situation in the third in Saturday's Game 2 that saw Torres smack an RBI single and Didi Gregorius crush a grand slam that essentially put the game away.
But Twins manager Rocco Baldelli still has confidence in Duffey and believes things will turn around now that the series is shifting to Target Field for Monday's Game 3.
"His execution as a whole, I thought was OK," Baldelli said. "In those particular late-in-the-count-type situations, probably wasn't as good as it normally is, but, again, we're going to go to Duffey in those types of spots consistently. We're going to continue to go to him."
As Baldelli noted, Duffey got ahead of hitters on Saturday, as he was up 1-2 on Giancarlo Stanton but allowed a sacrifice fly on a curveball in the zone, was ahead 0-2 on Torres but allowed an RBI single on a fastball over the middle, was up 0-2 on Gary Sanchez but hit him with a fastball and was ahead 0-2 on Gregorius but gave up a grand slam on a 1-2 fastball up in the zone.
Duffey's key to success in the regular season was his ability to elevate his four-seam fastball, mostly ditching the two-seamer that he leaned on heavily early in his career. But he had trouble locating his fastball against the Yankees, which allowed them to tee off despite him being in favorable counts. Duffey's strength has always been his breaking ball, but he said they laid off it so much he had to attack with his fastball.
"They were really good, especially on breaking balls," Duffey said. "If you weren't close to the plate, they didn't think about swinging. That was their game plan coming in. I know all our guys are working hard in the back room to figure out what the next step is. This game is a game of adjustments."
Duffey believes he can make the necessary adjustments going forward, and he'll have the comfort of pitching at home instead of in front of a raucous crowd in New York. Duffey, 28, finished the regular season on an incredible run, posting a 0.73 ERA with 42 strikeouts in 24 2/3 innings over his final 27 outings dating back to July 28. It led to his increased role in the postseason, and while it hasn't worked out the way he hoped, he believes he can learn from it.
"It's good to be relied on in those moments," Duffey said. "It's great to get those moments and do it well. Giving up the runs, you've got to keep the positivity and realize you were in there for a reason. I haven't lost confidence or anything like that. I know what mistakes I made, and I'm not going to do it again."
Duffey also has the support of his teammates, including closer Taylor Rogers, who was the club's most consistent reliever this year but has yet to see action out of the bullpen through the first two games of the series.
"Duffey in that situation, we'll take that all day," Rogers said. "He's done that plenty of times this season and has done well. It's just the way the ball fell. But if a similar situation happens on Monday, I'm more than confident with Duffey in there."