Cubs shut down Morrow after recovery setback
Veteran reliever did not respond well after throwing earlier this week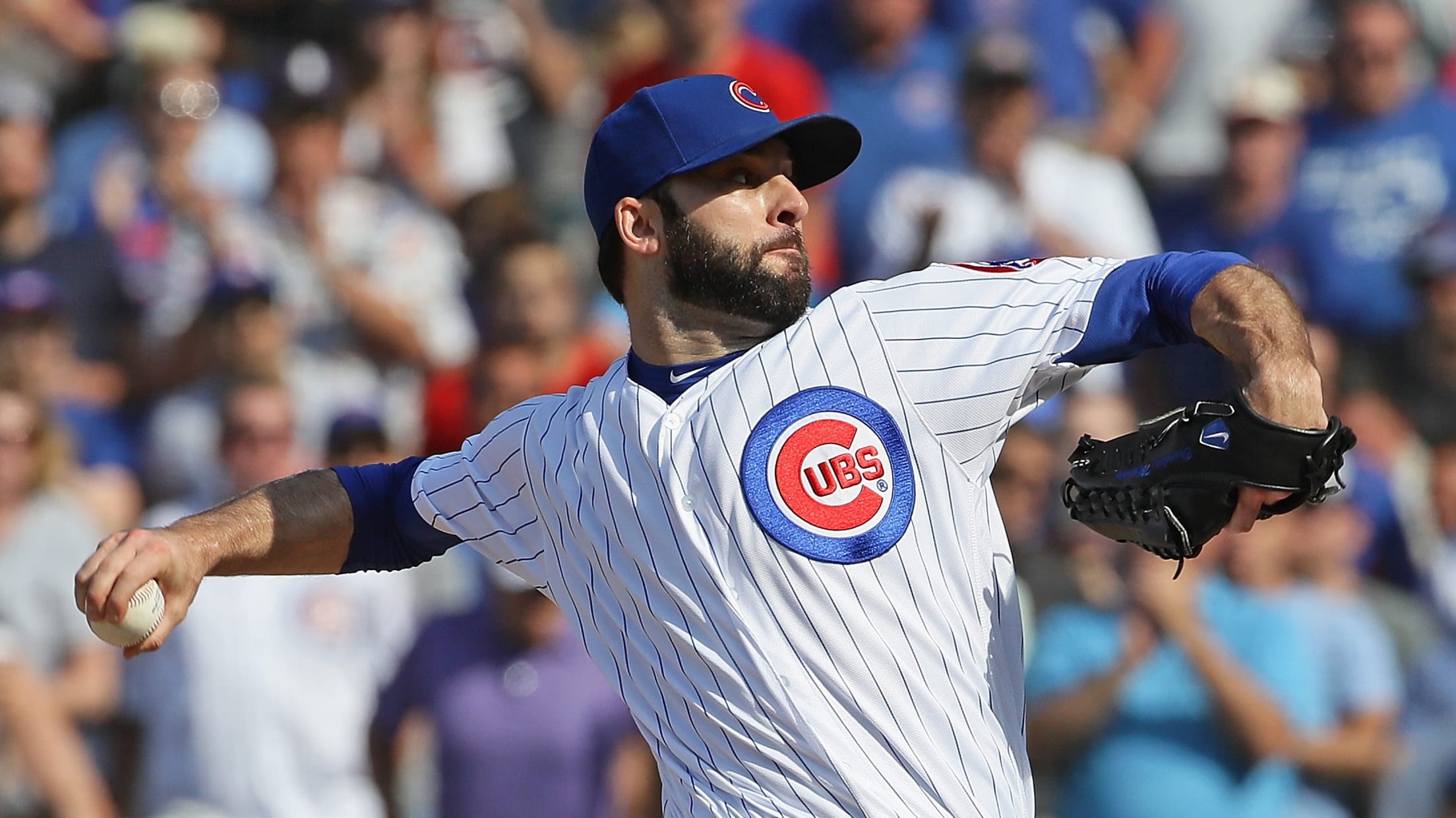 CHICAGO -- The Cubs were hoping to have closer Brandon Morrow miss only the season's first month, but the pitcher's comeback from a right elbow injury has been put on hold. Cubs manager Joe Maddon noted on Saturday that Morrow (on the 10-day injured list) did not recover well from
CHICAGO -- The Cubs were hoping to have closer Brandon Morrow miss only the season's first month, but the pitcher's comeback from a right elbow injury has been put on hold.
Cubs manager Joe Maddon noted on Saturday that Morrow (on the 10-day injured list) did not recover well from a mound session earlier this week, forcing the club to shut down the reliever for the time being. There is currently no announced timetable for the 34-year-old -- signed to a two-year, $21 million contract prior to last season -- to return to the mound.
"The bounceback after the last time out wasn't as good," Maddon said. "So, we've got to back off of him once again and just slow things down. That's just where he's at. It's not unlike what had been going on [at times last season]. It was all trending very well and then, like I said, this last time, just not as good. So, we just have to pay attention to what he's saying."
Without Morrow, Chicago's bullpen has endured some ups and downs through the season's first few weeks, but has been trending in the right direction lately. Over the team's first seven games of the season, the bullpen posted an 8.54 ERA with 31 strikeouts against 21 walks in 26 1/3 innings. Entering Saturday, the Cubs' relief corps had a 2.65 ERA with 36 strikeouts and 19 walks in 34 innings in 11 games dating back to April 6.
Righty Pedro Strop has served as Chicago's primary closer without Morrow in the picture and will continue to do so at least until Morrow returns.
Morrow posted a 1.47 ERA in 35 appearances for Chicago last season, but endured two stints on the injured list. His season ended on July 19, due to a bone bruise in his right forearm and right biceps inflammation. After Morrow continued to experience discomfort, a CT scan later in the year revealed an osteochondral defect (what Morrow described as a "divot" during the spring) in the humerus bone. That led to a debridement procedure to clean up the joint in November.
Morrow threw bullpen sessions near the end of Spring Training and the hope was that he could be ready for activation by late April or early May. The latest setback -- one without clarity regarding the righty's upcoming throwing schedule -- makes it difficult to project when Morrow might be available again.
"Especially when you're having a really good year -- maybe your best year -- it's disappointing," Morrow said during Spring Training about his injury issues during his Cubs tenure. "You feel like you let the team down and fans and things like that. There's nothing you can do but try to get back."
Lester throws sim game
Cubs veteran Jon Lester might not have been thrilled with how his pitches were operating on the mound at Wrigley Field on Saturday morning, but Maddon liked what he saw. Lester completed a 45-pitch simulated game -- the lefty's first mound work since injuring his left hamstring on April 8 -- and the manager was impressed.
"He was very hypercritical of himself. I thought he looked good," Maddon said prior to Saturday's game against the D-backs. "He did not hold back at all, so that's very encouraging. The next step is tomorrow, and see how he feels coming off that: 'How does the leg feel? How does your arm feel?' And then, once we get our minds wrapped around that, we'll definitely make our plans."
Between the simulated innings, the Cubs' training staff had Lester go through a series of agility drills in foul territory to further test the pitcher's legs.
"It was more indicative of an actual pitching event," said Maddon, who added that "it's not impossible" to think Lester might be able to come off the 10-day injured list at some point next week.
Worth noting
• Heading into Saturday's action, the Cubs' rotation had a 1.56 ERA with 57 strikeouts and eight walks in 52 innings in the eight games following Lester's trip to the injured list. Catcher Willson Contreras said after Friday's win that he felt losing Lester helped hone the focus of the other arms on the staff.
"They've gotten really sharp," Maddon agreed. "But, it's also what they're capable of. Maybe you've just got to get kicked in the pants a little bit, but it's all what they're capable of. This is what we could look like. This is absolutely what we can look like as a pitching staff."
• Maddon made a point to check in with Ian Happ (currently at Triple-A Iowa) during the Cubs' recent road trip. Said the manager, "I did actually talk to Ian while we were in Miami. Good conversation with him. He felt like he was making some progress. And that's it. I just wanted to let him know that I was staying in touch and watching what was going on."
• Right-hander Tony Barnette (10-day IL, right shoulder inflammation) is scheduled to begin a Minor League rehab assignment with Triple-A Iowa on Sunday. Lefty Xavier Cedeño (10-day IL, left wrist inflammation) was slated to continue a Minor League rehab assignment with Double-A Tennessee on Saturday.