Inbox: What is Contreras' trade market?
Beat reporter Jordan Bastian answers questions from fans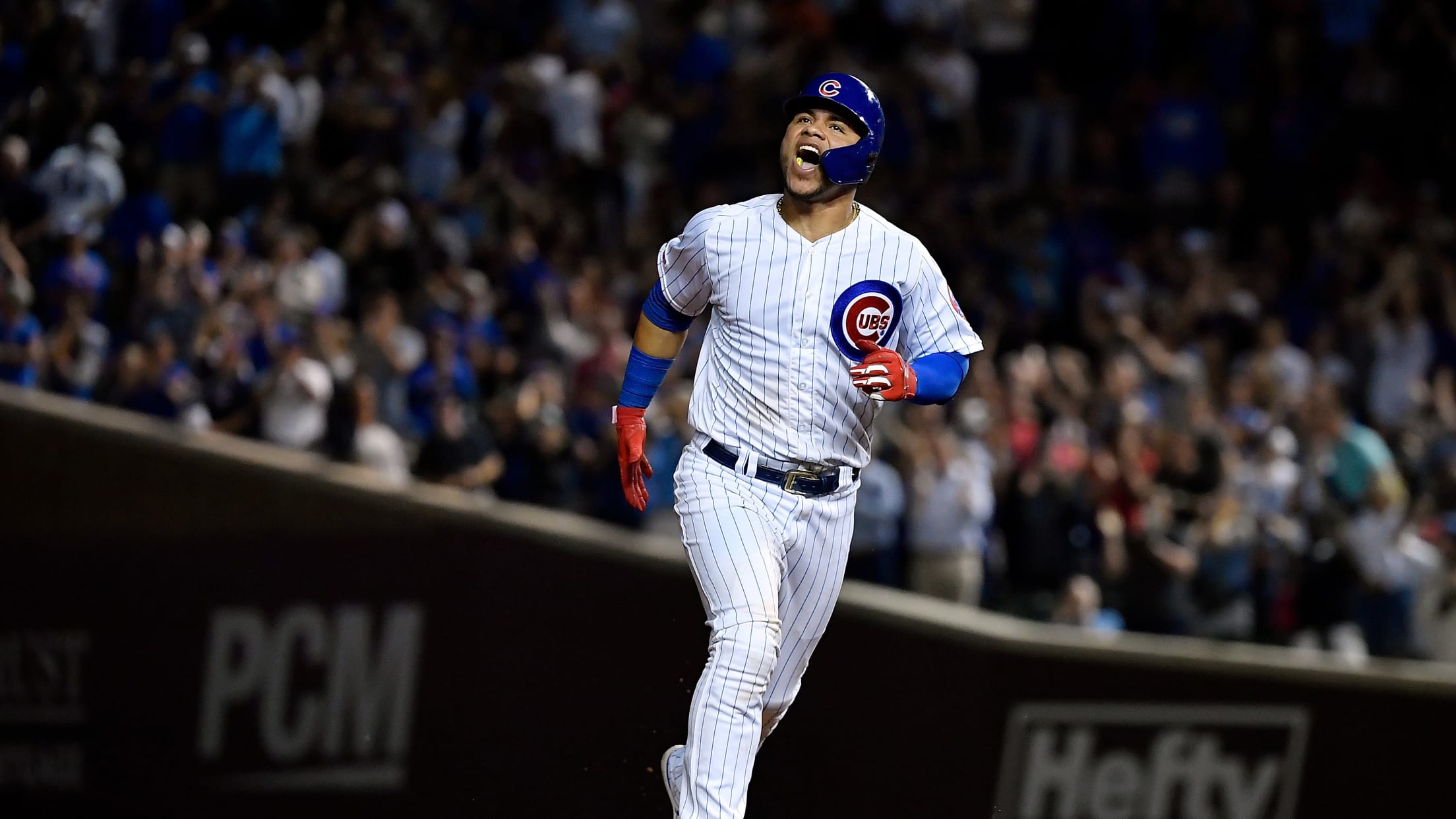 How might Yasmani Grandal signing with the White Sox affect the trade market for Willson Contreras? If the Rays target Contreras, could you see Emilio Pagán coming back to the Cubs in the deal? -- Greg K., Lake Villa, Ill. Grandal was without question the top catcher available on the
How might Yasmani Grandal signing with the White Sox affect the trade market for Willson Contreras? If the Rays target Contreras, could you see Emilio Pagán coming back to the Cubs in the deal?
-- Greg K., Lake Villa, Ill.
Grandal was without question the top catcher available on the free-agent market, so it goes without saying that teams that had hoped to reel him in will now have to adjust their sights. Travis d'Arnaud looks like the next-best option on the open market, and then there is a mix of different catcher types in the lower tiers of the free-agent pool.
If the Cubs make Contreras available, he would easily be the best catcher up for grabs now that Grandal is locked into a contract. The White Sox signed Grandal to a four-year, $73 million pact. Contreras' financial cost in 2020 will be well below that $18.25 million AAV, and Chicago's All-Star catcher comes with three years of control.
According to FanGraphs, Contreras was worth $21.7 million in 2019, when he compiled 2.7 fWAR to go with a .272/.355/.533 slash line in 105 games. He did that while earning $684,000. Contreras will be eligible for arbitration for the first time this offseason, making him a cost-effective option either for the Cubs or an acquiring team.
The Rays are in the market for catching help, and targeting an affordable impact player like Contreras would certainly seem to fit the franchise's M.O. The Reds are another club in the hunt for catching, but a trade within the same division can naturally complicate matters.
And sure, I think it goes without saying that a player like Pagán would be of interest to the Cubs if the Rays were involved in any trade talks. The hard-throwing righty posted a 2.31 ERA with a 36-percent strikeout rate across 70 innings in 2019, averaged 95.5 mph on his four-seamer (per Statcast) and comes with four years of club control. It's no secret that Chicago is on the hunt for some impact arms for its bullpen.
Before we get to the next question, some background. Last week, I tweeted...
Going through some '19 Cubs stuff today and feels like as good a time as any to remind that...

Kris Bryant had an .887 OPS with RISP, a .955 OPS with RISP/2-outs and a .965 OPS with a 153 wRC+ in high-leverage situations.

Carry on.

— Jordan Bastian (@MLBastian) November 15, 2019
That prompted this question...
Why so few RBIs then with those numbers? The numbers don't add up. With these numbers, the RBIs should be at or above 100.
-- @JodyAWood
RBIs are a testament to a hitter's skill, but they are also directly linked to the production of the hitters ahead of said player. Kris Bryant ended 2019 with 77 RBIs after spending most of the season as the Cubs' No. 2 hitter (57.4 percent of his plate appearances). Chicago produced a .212/.294/.383 slash line out of the leadoff spot in '19, which was 26 percent below league average. As a No. 2 hitter, Bryant slashed .289/.396/.529 in '19.
Bryant ended the season ranked 128th in the Majors in at-bats with runners in scoring position. His 44 RBIs in such situations were as many or more than 30 players with more at-bats with RISP than him in '19. Bryant compiled an .887 OPS with RISP and a 124 OPS+, which means he was 24 percent better than league average in those scenarios.
Are there any players who were designated for assignment on Rule of Draft protection day this week who could be on the Cubs' radar?
-- @NikolaiVonShack
With the Cubs in need of bullpen depth, I could see righty Nick Goody being on the radar. There were peripheral red flags in 2019 (4.62 FIP, 5.02 xFIP and a 12.7 percent walk rate), but he still had a 3.54 ERA in 40 2/3 innings for the Tribe. The 28-year-old is more of a fly ball pitcher, but he can miss bats (28.9 percent strikeout rate in '19) and offers plenty of experience.
Matt Duffy is coming off a rough year, but he can play multiple infield positions and has good bat-to-ball skills (84.0 percent contact rate and 7.3 percent swinging-strike rate for his career). The Cubs have a slew of utility types, so Duffy may be redundant as the roster currently stands. If he's available on a Minor League contract, though, it could be worth a flier.
And the Cubs have moved in on one player designated for assignment, as they acquired Jharel Cotton from the A's on Saturday in exchange for cash considerations.
Who is your top choice for bounce-back Cub of 2020? I would imagine Craig Kimbrel, Daniel Descalso and Albert Almora Jr. are front-runners, assuming they are back on the team.
-- @MJMcElwee
Yeah, I think Kimbrel is the easy answer to that question. The Cubs are really banking on a normal offseason and Spring Training helping Kimbrel get closer to his career track record.
Almora still has enough value and affordability to avoid being a non-tender candidate, and his 2019 campaign really hurt his trade stock. The Cubs are probably best served by keeping him in the fold and hoping last season was one big fluke. Almora hit .295 (.742 OPS) with a 101 wRC+ against lefties in '18, and then fell off a cliff against southpaws in '19 (.213 average, .532 OPS and 37 wRC+). Platoon production can be volatile year to year, so there is some natural hope for positive regression.
With the framing comparisons of Contreras and Victor Caratini, I was curious how Cubs manager David Ross did in that statistic over his career as a catcher.
-- @mulepoker
More recent numbers are most reliable on this front, so let's look at Ross' last two Major League seasons as a catcher for the Cubs. Per Baseball Prospectus, Ross ranked 21st in MLB with 6.4 Framing Runs in 2016, and he did so with the fourth-fewest chances among the top 21 catchers. In '15, he had 5.8 Framing Runs, which ranked 22nd. So even at the tail end of a 15-year career in the big leagues, Ross rated very well when it came to pitch presentation.