Cubs place Strop on IL, call up Underwood
Righty dealing with tight neck; Hamels may be ready for Crew series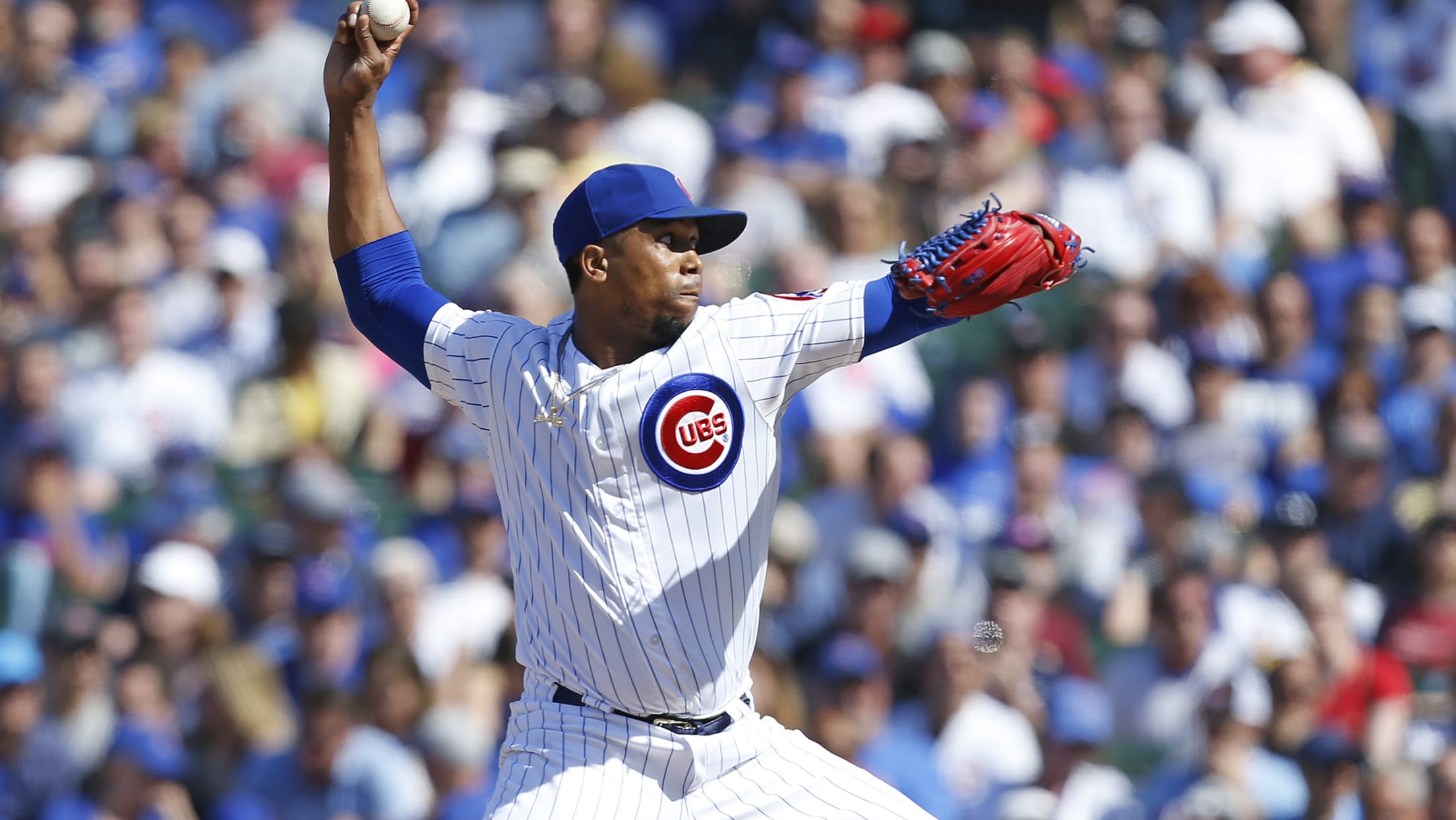 ST. LOUIS -- The Cubs have been waiting all season for Pedro Strop to revert back to his usual dominant form as a setup man. Chicago is once again hitting the reset button with the right-hander. Prior to Tuesday's game against the Cardinals, the Cubs placed Strop on the 10-day
ST. LOUIS -- The Cubs have been waiting all season for Pedro Strop to revert back to his usual dominant form as a setup man. Chicago is once again hitting the reset button with the right-hander.
Prior to Tuesday's game against the Cardinals, the Cubs placed Strop on the 10-day injured list with tightness on the left side of his neck. Chicago recalled right-hander Duane Underwood Jr. from Triple-A Iowa to assume the vacated spot in the nine-man bullpen.
"There's all the different things that compound when somebody's off a little bit physically," Cubs manager Joe Maddon said of Strop. "Just give him a chance to settle that down, get back to his normal delivery and build his strength level up, and then let's rock and roll. Listen, he's so important to us. Without question, what he's done over the last several years, he's still going to do again the rest of this season. We just want to make sure he's right."
As the clock ticks down to Wednesday's 3 p.m. CT Trade Deadline, the Cubs also acquired righty David Phelps and cash from the Blue Jays on Tuesday in exchange for prospect Thomas Hatch. Phelps is expected to join the Cubs on Wednesday, when he will need to be added to the active roster.
Strop dealt with a right hamstring issue during Spring Training and then had a stint on the IL between May and June with a left hamstring injury. Dating back to May 6, when the left hamstring injury flared, Strop posted a 6.88 ERA with a .530 opponents' slugging percentage and an .877 opponents' OPS in 17 innings (21 appearances).
In nine innings in July, Strop turned in a 7.00 ERA with a .997 opponents' OPS, while experiencing another drop in velocity. On the season, the 34-year-old righty has averaged 93.8 mph on his sinker and 93.7 mph on his four-seamer, per Statcast. That is down from his 2018 rates (95.1 mph on the sinker and 95 mph on the four-seamer) and '17 (96.2 mph on the sinker and 95.8 mph on the four-seam).
Strop said the neck issue flared while he was playing catch on Sunday.
"It was just weird," Strop said. "And I then told them something about it. I said, 'Hey, my neck is really tight.' I worked on it during the game [on Sunday]. It was like that. Joe told me, 'Let me know how it goes.' ... I woke up today and it wasn't feeling that good, either. So, I told them. We don't know how many days, but also I don't think that it's going to keep me sidelined that long, either."
Strop was not sure if this was simply a case of sleeping wrong, or if something in his delivery lately may have contributed to the problem.
"It could be some different movements," Strop said. "I've been having some issues mechanics-wise, too. And I noticed that I'm trying to create a little velo and I'm doing something unusual. Maybe it could be that, too."
Expecting RHP Pedro Strop to be placed on the 10-day IL before tonight's game. Cubs have not announced anything. No word yet on injury specifics. @thekapman on it first.

FB velo down all year, and another recent dip. Dealt with left and right hamstring issues earlier this year. pic.twitter.com/i0bmNdgQzR

— Jordan Bastian (@MLBastian) July 30, 2019
Over 32 outings this season, Strop has a 5.20 ERA with 29 strikeouts against nine walks in 27 2/3 innings and nine saves.
Underwood, 25, has a 5.23 ERA with 85 strikeouts and 38 walks in 74 innings this season in Triple-A, in which he has made 28 appearances (10 starts). Since moving to the bullpen in late May, the right-hander has spun a 3.04 ERA with 35 strikeouts and 10 walks in 26 2/3 innings.
Hamels nearing return
Lefty Cole Hamels, who is on the 10-day IL with a left oblique issue, made a Minor League rehab start for Triple-A Iowa on Sunday (59 pitches in three innings) and is scheduled to throw off a mound in a bullpen session on Wednesday in St. Louis. If all goes well, Hamels might be poised to come off the IL to start against the Brewers on Saturday at Wrigley Field.
"We haven't nailed it down yet, but it's not unlikely," Maddon said. "We just have to make sure that he comes through well, and then, once he does, then we'll finalize all that. But, yes, he's on the horizon. No question."