1 reason for every fanbase to be thankful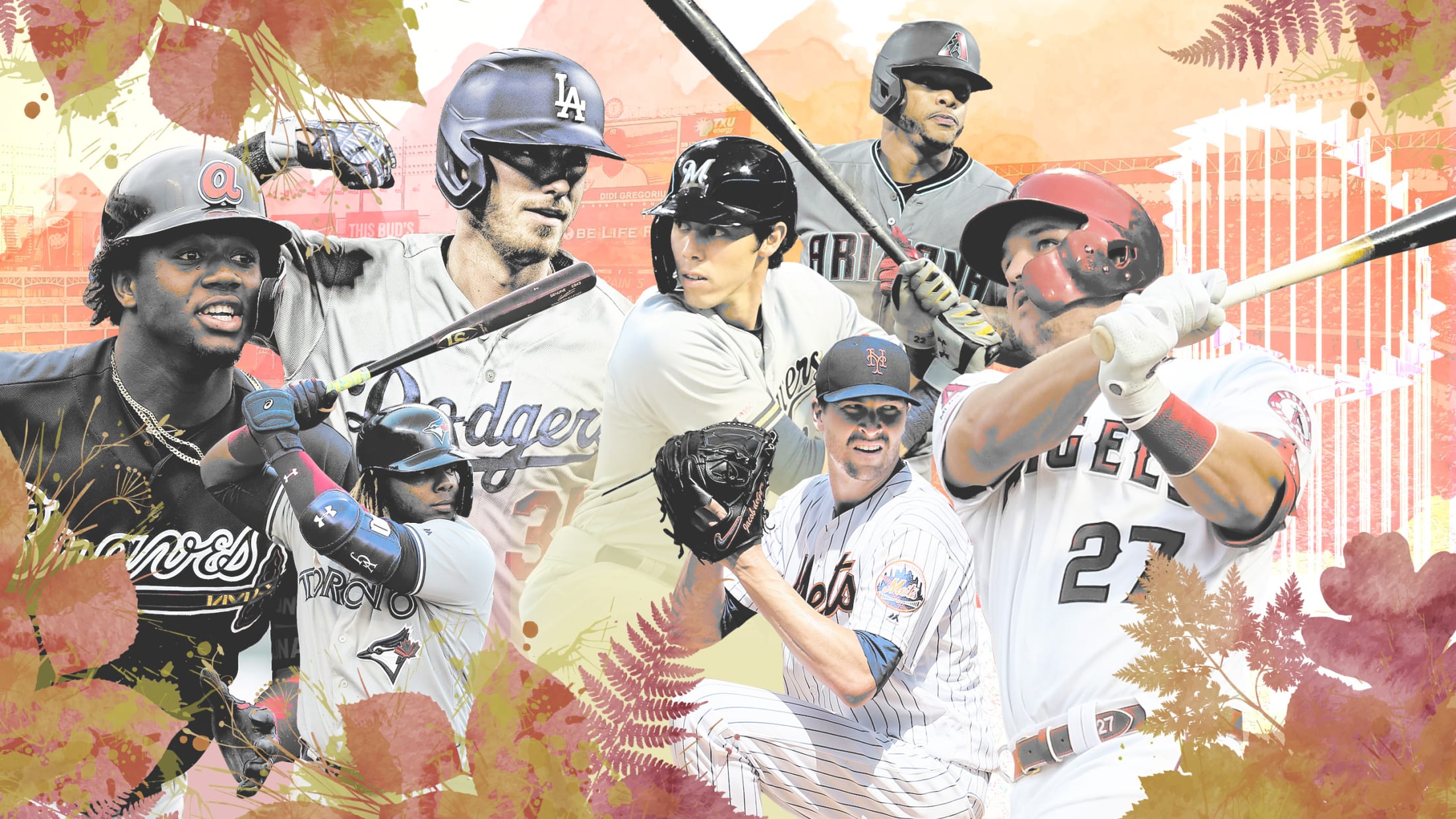 Thanksgiving is the day baseball fans set aside each year to count their blessings. That's the bottom line, right? Like appreciating Jackie Bradley Jr. playing center field and Nolan Arenado taking our breath away at third. We're thankful for Mike Trout and Ronald Acuña Jr. and Buster Posey. Yeah, all
Thanksgiving is the day baseball fans set aside each year to count their blessings. That's the bottom line, right? Like appreciating Jackie Bradley Jr. playing center field and Nolan Arenado taking our breath away at third.
We're thankful for Mike Trout and Ronald Acuña Jr. and Buster Posey. Yeah, all that and lots more. Happy Thanksgiving!
Here's every team's reason to be thankful:
AL EAST
Blue Jays: The future. Blue Jays fans have one of the most interesting teams in the Majors, and watching players like Vladimir Guerrero Jr. and Bo Bichette grow over the next few seasons is going to be so much fun.
Orioles: There is a plan in place. In his first season in charge of the O's baseball operations, Mike Elias has reshaped the franchise at every level, including bringing in 59 new players into the Minor League system via the Draft and international signings. Elias cut his teeth with the Astros, and the rebuild happening here feels like what started in Houston earlier this decade.
Rays: Baseball's smartest front office? Possibly. One of baseball's most entertaining teams? Definitely. Pretty much no one does things better than the Rays, who just produced a 96-win season and a five-game battle with Houston in the American League Division Series.
Red Sox: Xander Bogaerts, now that's entertainment. He debuted at 20 in 2013 and had some growing pains along the way. These last two seasons have seen him emerge as one of the best players in the game. And unlike some of the other young stars in Boston, such as Mookie Betts and Rafael Devers, Bogaerts is locked up (through 2025 with a '26 option), so fans know he'll be here for a while.
Yankees: A larger-than-life player for a larger-than-life franchise. Aaron Judge creates a buzz by simply stepping out of the dugout, and his at-bats are can't-miss moments in every game.
AL CENTRAL
Indians: Shane Bieber provided one of the highlights of the 2019 All-Star Game in being named the game's MVP in his home ballpark. He's also symbolic of a pitching staff that is as good as almost any in baseball. Even if the club ends up trading Francisco Lindor (as has been rumored), the pitching staff will keep giving fans a reason to stay locked in.
Royals: Hunter Dozier's breakout season filled up a stat line with 29 doubles, 26 homers and 10 triples. That he was not an overnight star after being drafted with the eighth overall pick in 2013 made his breakthrough '19 season even sweeter.
Tigers: Miguel Cabrera is a Hall of Fame lock, and that makes every chance to see him special. Few players have ever had more fun. No discussion of the best players of this generation is complete without dropping his name.
Twins: This is the player the Twins believe Miguel Sanó can be. That's the guy who hit 34 home runs in 105 games in '19 and appears set to be a cornerstone for the Twins for years to come.
White Sox: They're right on the cusp of being very, very good. They just signed one of baseball's best catchers, Yasmani Grandal. Eloy Jiménez has arrived, Luis Robert is on the way and Lucas Giolito just had a breakout season. This is going to be fun.
AL WEST
Angels: Mike Trout is going to finish his career as one of the greatest players of all time, and every opportunity to see him play is a privilege.
A's: Matt Chapman's second AL Plantinum Glove is a reminder that we are witnessing a defensive player who deserves to be mentioned alongside the best third basemen of all time.
Astros: José Altuve is methodically building a Hall of Fame resume with three batting championships and a 31-homer power surge in 2019. Beyond that, his attitude represents how the Astros would like to be seen.
Mariners: Yes, they have the longest playoff drought in the game, but there is a core of exciting young talent on the way. Jarred Kelenic, Julio Rodriguez and Evan White -- who the club just signed to a historic contract -- are the faces of the next great Mariners team.
Rangers: This franchise is getting the state-of-the-art, climate-controlled ballpark it has long deserved when it moves across the street to spectacularly beautiful Globe Life Field in 2020. And the Rangers will get to see Joey Gallo, one of the game's premier sluggers, mashing homers from Day One.
NL EAST
Braves: Ronald Acuña Jr. represents this new era of Braves baseball with power (41 homers) and speed (37 steals) and energy as they go for a third straight division title.
Marlins: With Sandy Alcantara, Jordan Yamamoto, Pablo López and top prospect Sixto Sanchez, there are a lot of really interesting young arms in this organization. They all have some work to do, but it's not hard to envision one of the more dynamic young pitching staffs in MLB in a year or two.
Mets: You want Pete Alonso and his 53 home runs? Or Jacob deGrom and his second straight National League Cy Young Award? Or the breakout seasons by J.D. Davis and Jeff McNeil? How about all of the above? The Mets are going to be really good in 2020.
Nationals: No team delivered a more improbable championship or a sweeter ending than this one. That World Series trophy is a reward for eight seasons of consistently excellent baseball. No fanbase has more to be thankful for right now.
Phillies: Bryce Harper is so much fun to watch, and if Phillies fans were disappointed in his first season in Philadelphia, they maybe didn't pay close enough attention to 35 homers, 36 doubles, 99 walks and an .882 OPS.
NL CENTRAL
Brewers: Christian Yelich very well might be the best player in the NL, and he's signed through 2021 with a team option for '22. And let's not forget Lorenzo Cain, who plays defense with an attitude, and we mean that as the highest of compliments. He plays defense in center with an aggressiveness and daring that delivers a string of highlight-reel catches.
Cardinals: Adam Wainwright is returning for a 15th season, and he represents all that's good about the Cardinals. Here's to more good times.
Cubs: Few players are as entertaining as Javier Báez. He makes the Cubs go with his defense, baserunning and offense. He's a huge reason Chicago is going for a sixth straight winning season and a fifth playoff appearance in six years.
Pirates: New general manager Ben Cherington will deliver, Pirates fans. His track record in Boston was excellent, as he was in charge when the Red Sox won the 2013 World Series and also put together the core that won the '18 crown. His reputation around the game is sterling.
Reds: Aristides Aquino burst on the scene last summer, and shortly after that started hitting the baseball over the fence, including 10 in one 11-game stretch. He's one of many reasons to believe in the 2020 Reds.
NL WEST
D-backs: Ketel Marte's 36 doubles, nine triples and 32 home runs spoke volumes about why the D-backs were one of baseball's surprise teams in 2019.
Dodgers: Cody Bellinger is the Dodgers' best offensive player and perhaps best defensive player. That's the definition of a Most Valuable Player. Did we mention he's only 24?
Giants: Oracle Park has emerged as one of the Giants' biggest stars along with Buster Posey and the three World Series trophies from the past decade that are on display. It should be on every fan's bucket list. Try the garlic fries.
Padres: Fernando Tatis Jr. could not have been more hyped leading up to his Major League debut on Opening Day 2019. The 20-year-old was even better than advertised until a back injury ended his season on Aug. 13.
Rockies: Go see this man play third base! Nolan Arenado just won his third NL Platinum Glove to go with five All-Star appearances and an .897 career OPS.