How the bullpens stack up for NLCS Game 7
Just like the Astros and Rays did on Saturday, the Braves and Dodgers will play for the seventh consecutive day on Sunday, when they meet in the winner-take-all finale of the National League Championship Series at Globe Life Park in Arlington.
Just like the Astros and Rays did on Saturday, the Braves and Dodgers will play for the seventh consecutive day on Sunday, when they meet in the winner-take-all finale of the National League Championship Series at Globe Life Park in Arlington.
An NL pennant and trip to the World Series are on the line, and managers Brian Snitker of the Braves and Dave Roberts of the Dodgers will be ready to use every arm at their disposal to come out on top. Snitker will go with star rookie Ian Anderson in Game 7, and Los Angeles announced on Sunday that Dustin May will start on one day of rest.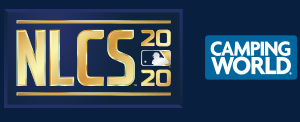 No matter what, there figure to be a lot of pitchers involved as these two teams fight for a pennant and a trip to the World Series. Here is a breakdown of the available arms, leaving aside the starters (Anderson and May), as well as the two Game 6 starters (Max Fried, Walker Buehler).
BRAVES
Locks to appear
Mark Melancon, RHP: The veteran closer has not appeared since getting the final out of Game 2 on Tuesday and has thrown a total of 16 pitches in the series, so he should be relatively well-rested. So expect Melancon to get an inning, and could he be asked for more? The 35-year-old hasn't recorded more than three outs in an appearance in 2020.
Tyler Matzek, LHP: His return to the Majors and huge success has been one of the best stories in MLB this season. Matzek allowed a run and struck out two over 1 1/3 innings in Game 5 on Friday while pitching on no rest for the first time in the Majors, but Snitker was able to stay away from him in Game 6.
Shane Greene, RHP: Snitker gave him Game 6 off after Greene threw at least an inning in each of the three previous games.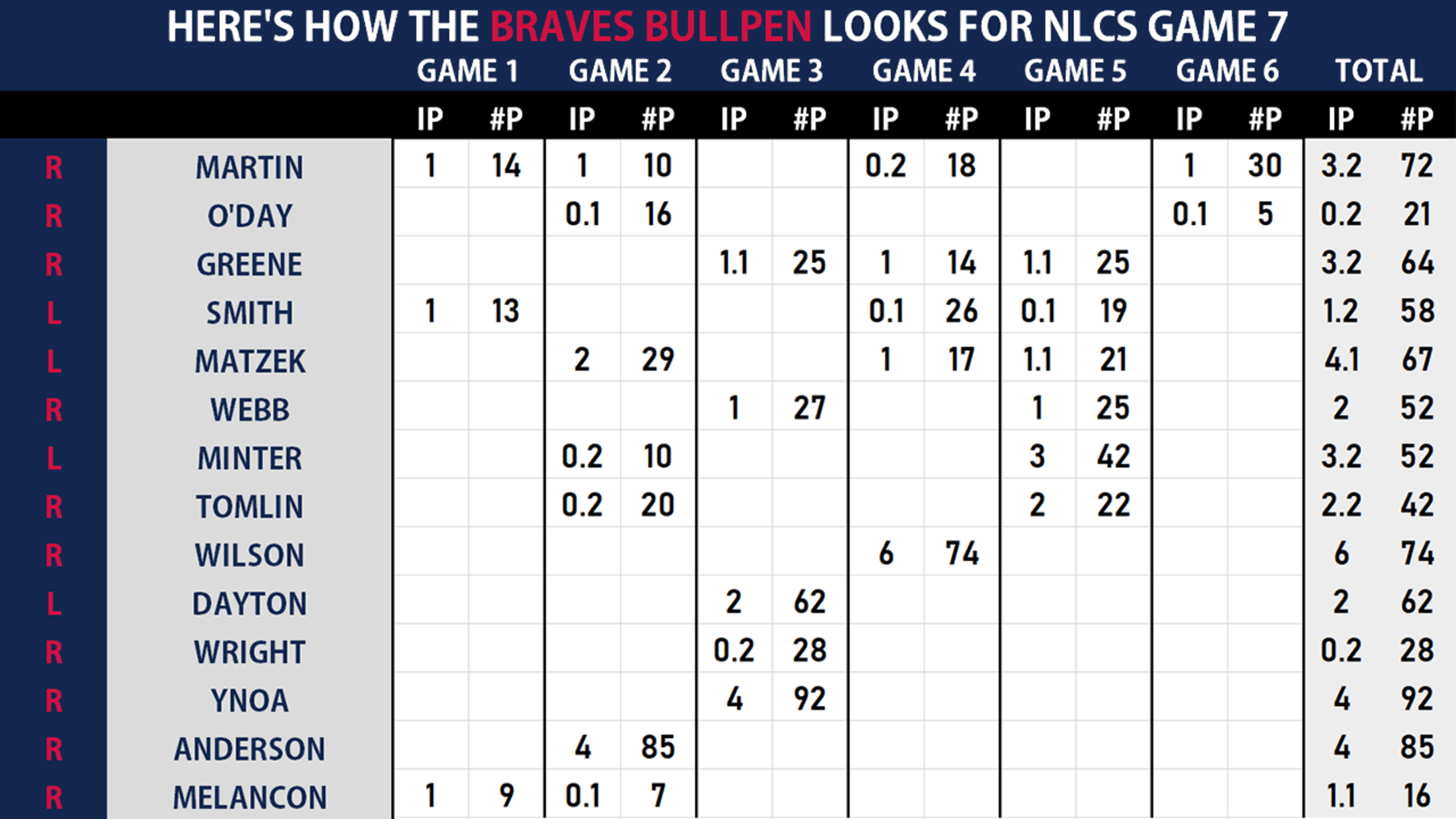 Likely to see
Will Smith, LHP: He was fantastic in his first seven appearances this postseason, but he struggled in Thursday's Game 4 and again in Game 5, retiring only two of seven batters combined and allowing a go-ahead three-run homer to his Dodgers counterpart Will Smith. Still, given the Dodgers' big lefty bats, it wouldn't be surprising to see him get another chance.
Chris Martin, RHP: He's been one of the team's most effective relievers, but he burned a season-high 30 pitches getting through one inning in Game 6. As Snitker said afterward, though, "Everybody's available tomorrow."
Darren O'Day, RHP: He's faced almost 80 percent right-handed batters this year, so Snitker may look to match him up while being careful about the three-batter minimum. See Game 6, when O'Day entered with two outs and retired the Dodgers' Will Smith to end the inning.
Next men up
A.J. Minter, LHP: He was brilliant in a three-inning game-opening appearance in Game 5, but he threw a season-high 42 pitches, so how much gas will he have in the tank on one day's rest in Game 7?
Jacob Webb, RHP: He hadn't allowed an earned run in 10 appearances in 2020 before giving up three in one inning in Game 5.
The rest
Bryse Wilson, RHP: Atlanta could not have dreamed for better from Wilson in his Game 4 start (six innings, one hit, one run), when he threw 74 pitches. Would Snitker dare go back for more?
Kyle Wright, RHP: It would be quite a story if Wright got the chance to avenge his disastrous start in Game 3 on Wednesday, but such a scenario does not seem likely.
Josh Tomlin, RHP: The Dodgers nailed him for three runs in Game 2 -- his 2020 postseason debut -- and his only appearance since was in a low-leverage spot in Game 5.
Huascar Ynoa, RHP: He came up huge with a bullpen-saving four-inning effort in Game 3, but he is most likely a source of emergency innings in Game 7.
Grant Dayton, LHP: His two-inning, eight-run appearance in Game 3 was almost certainly his last in this series.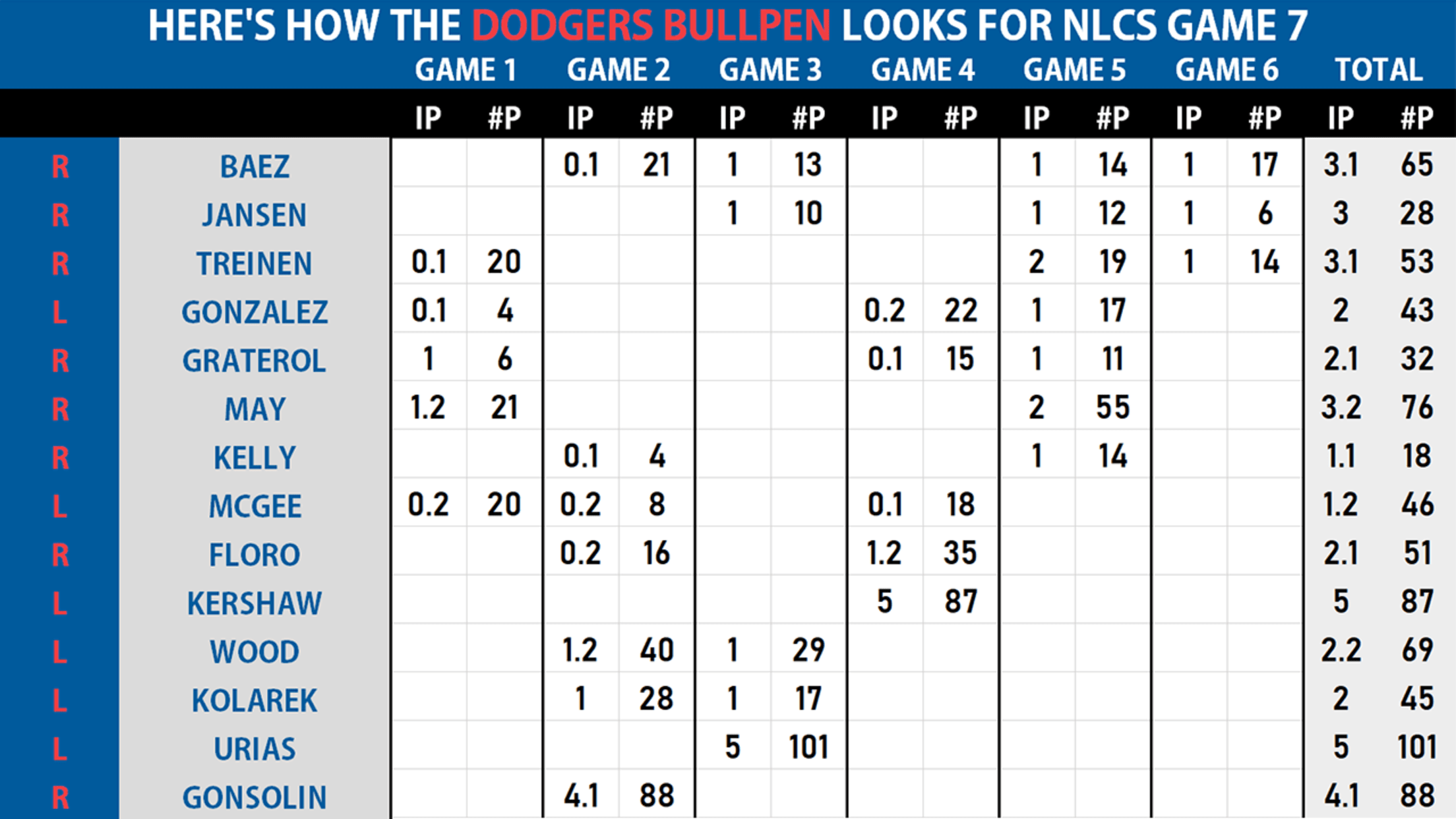 DODGERS
Locks to appear
Tony Gonsolin, RHP: The rookie will play a significant role in Game 7, Roberts indicated. Gonsolin could be utilized as a "bulk" pitcher behind May.
Kenley Jansen, RHP: Entering this series, Jansen's role was unclear. But he's thrown three consecutive scoreless innings, including striking out the side in Game 5 and recording a 1-2-3 ninth on just six pitches in Game 6. While pitching on three consecutive days might not be ideal for Jansen at this point, the Dodgers probably have a lot more confidence in him than they did a week ago.
Brusdar Graterol, RHP, and Victor González, LHP: These have been two of the Dodgers' key relievers in 2020, and Roberts wanted to stay away from them in Game 6 after both pitched in Games 4 and 5. He did, setting them up for prominent roles in Game 7.
Likely to see
Julio Urías, LHP: He's been fantastic this postseason (13 innings, one earned run), including a Game 3 start. Now with three days' rest, Urías seems like a strong bet to serve as a middle-innings bridge to the Dodgers' top relievers.
Joe Kelly, RHP: He's only pitched to eight batters this postseason, so he should be ready if needed.
Next men up
Pedro Báez, RHP: After pitching on back-to-back days and four of the past five, it's unclear how much Báez can give the Dodgers in Game 7.
Blake Treinen, RHP: He also has pitched on two consecutive days and scuffled a bit in allowing a run in Game 6. Treinen still could be an option for a matchup against a tough righty or two.
Clayton Kershaw, LHP: He's made seven postseason relief appearances before, but the most recent (2019 NLDS Game 5) ended in disaster. Kershaw also was scratched from his Game 2 start due to back spasms and wasn't all that sharp when he took the ball in Game 4. Yes, the future Hall of Famer theoretically is available for an inning or so, on two days' rest. But Roberts may be better off steering clear this time around, especially if it means facing the Braves' big right-handed bats.
Jake McGee, LHP: While quite effective in the regular season, McGee is clearly not high in the bullpen hierarchy at this point.
Dylan Floro, RHP: He struck out three in his last appearance (Game 4), but he also served up a homer to Marcell Ozuna.
The rest
Adam Kolarek, LHP: The results this postseason (2 2/3 innings, 11 baserunners, five runs) have not inspired confidence.
Alex Wood, LHP: He provides some insurance, but a lot would have to occur for Wood to see a high-leverage situation.