Kershaw gets day off after frustrating 'pen
Roberts won't 'overplay' early discouraging spring practice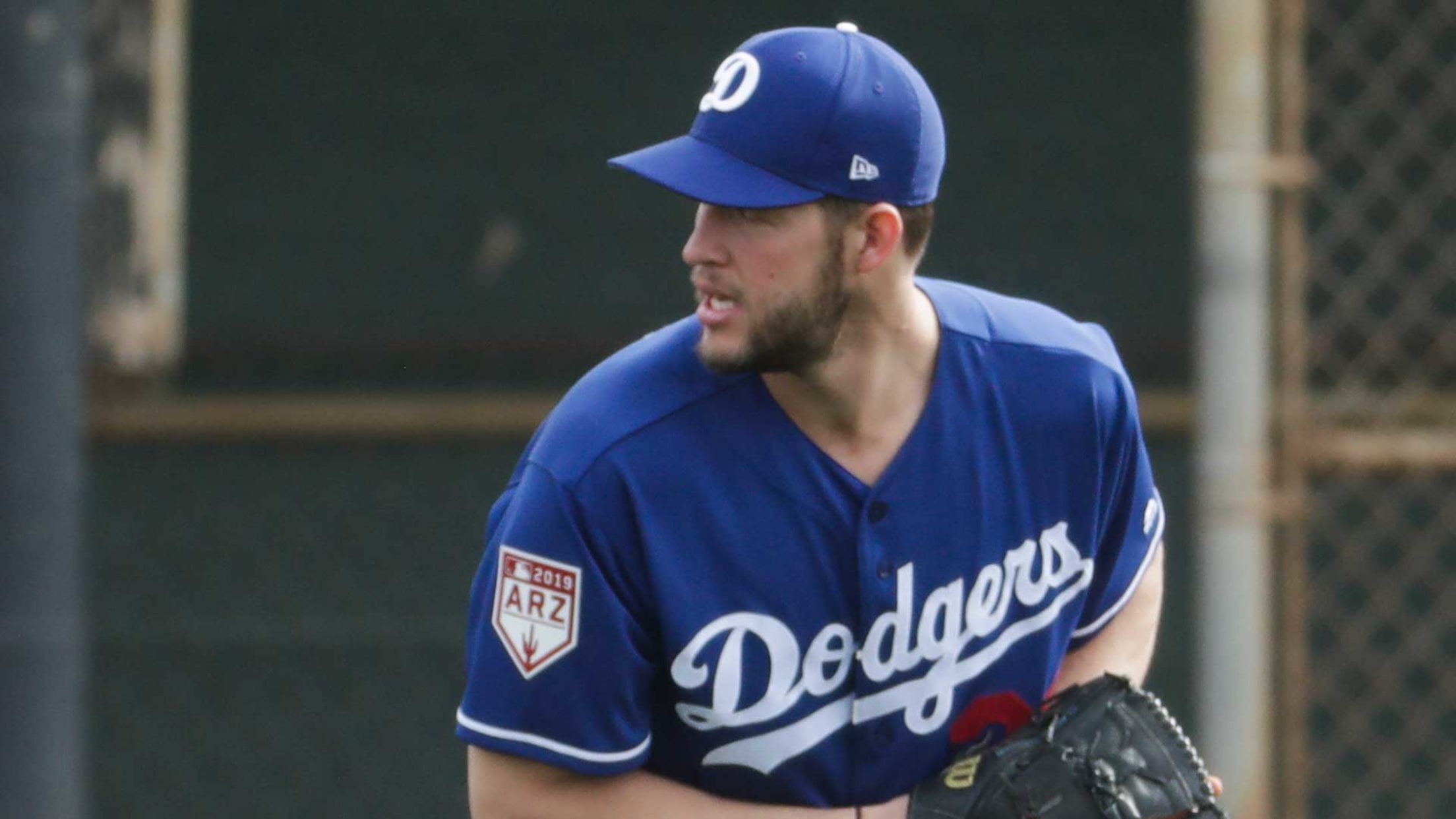 GLENDALE, Ariz. -- Dodgers ace Clayton Kershaw, discouraged after throwing a bullpen session on Wednesday, was given Thursday off by manager Dave Roberts. Kershaw, named the Opening Day starter for a ninth consecutive season on Tuesday, also told Roberts he wasn't happy with his session throwing live batting practice on
GLENDALE, Ariz. -- Dodgers ace Clayton Kershaw, discouraged after throwing a bullpen session on Wednesday, was given Thursday off by manager Dave Roberts.
Kershaw, named the Opening Day starter for a ninth consecutive season on Tuesday, also told Roberts he wasn't happy with his session throwing live batting practice on Monday after two sharp bullpen sessions that opened camp last week.
"He didn't feel his best and we knew it was going to rain today so I told him to just go home," said Roberts. "He's a little down, so I just said go home. He just didn't feel right."
Roberts said Kershaw didn't mention an injury and Roberts didn't want to "overplay" a situation of a veteran having a discouraging day early in camp.
Nonetheless, after signing a contract extension that pays him $93 million through 2021, Kershaw spent the offseason trying to feel right after battling back injuries the last three seasons, plus a shoulder injury last year, resulting in a loss of fastball velocity.
At the time of the signing, Kershaw said he had a chance to prove a lot of people wrong after growing suggestions his career was in decline. Kershaw turns 31 next month.
Though reluctant to provide much detail, Kershaw spent the offseason working on syncing his body and mechanics by improving his flexibility. He also sought outside help, including one bullpen session with his high school pitching instructor and now University of Oklahoma head coach Skip Johnson.
"I don't want to overplay it, because I'm going to give him some days off this spring anyway," said Roberts. "He didn't say he was hurt, just that it didn't feel as good as he wanted to feel. Just some frustration. He worked really hard this offseason. I know it's vague, but right now there's nothing more to it than that."
The franchise's best pitcher in a half-century opted out of the final two years of his contract to sign what amounted to a one-year extension. His potential value on the market was complicated by the back and shoulder issues that put him on the disabled list and likely contributed to the diminished velocity. He adjusted by essentially becoming a breaking-ball pitcher, reliant on his slider.
For most of this decade, Kershaw has been the best pitcher of his generation and the greatest Dodgers pitcher since Hall of Famer Sandy Koufax, with whom he has developed a close friendship and to whom he is often compared.
Kershaw is a three-time National League Cy Young Award winner, an NL MVP and a seven-time All-Star. Despite two injured list stints in 2018, he finished with a 2.73 ERA -- good for fourth in the NL had he thrown enough innings -- and went 6-1 in the second half.
Despite back-to-back World Series appearances, Kershaw still hasn't won a championship, and he was again unable to rewrite the narrative of his postseason struggles by losing Games 1 and 5 in the Dodgers' World Series loss to Boston. Kershaw is 9-10 in the postseason for his career.
In 11 seasons, however, Kershaw is 153-69 with a 2.39 ERA and 1.00 WHIP -- the lowest ERA and WHIP in the live ball era. He has won five ERA titles and has led the NL in wins and strikeouts three times.
Ken Gurnick has covered the Dodgers for MLB.com since 2001.