Dodgers drop sweep, lose Seager to injury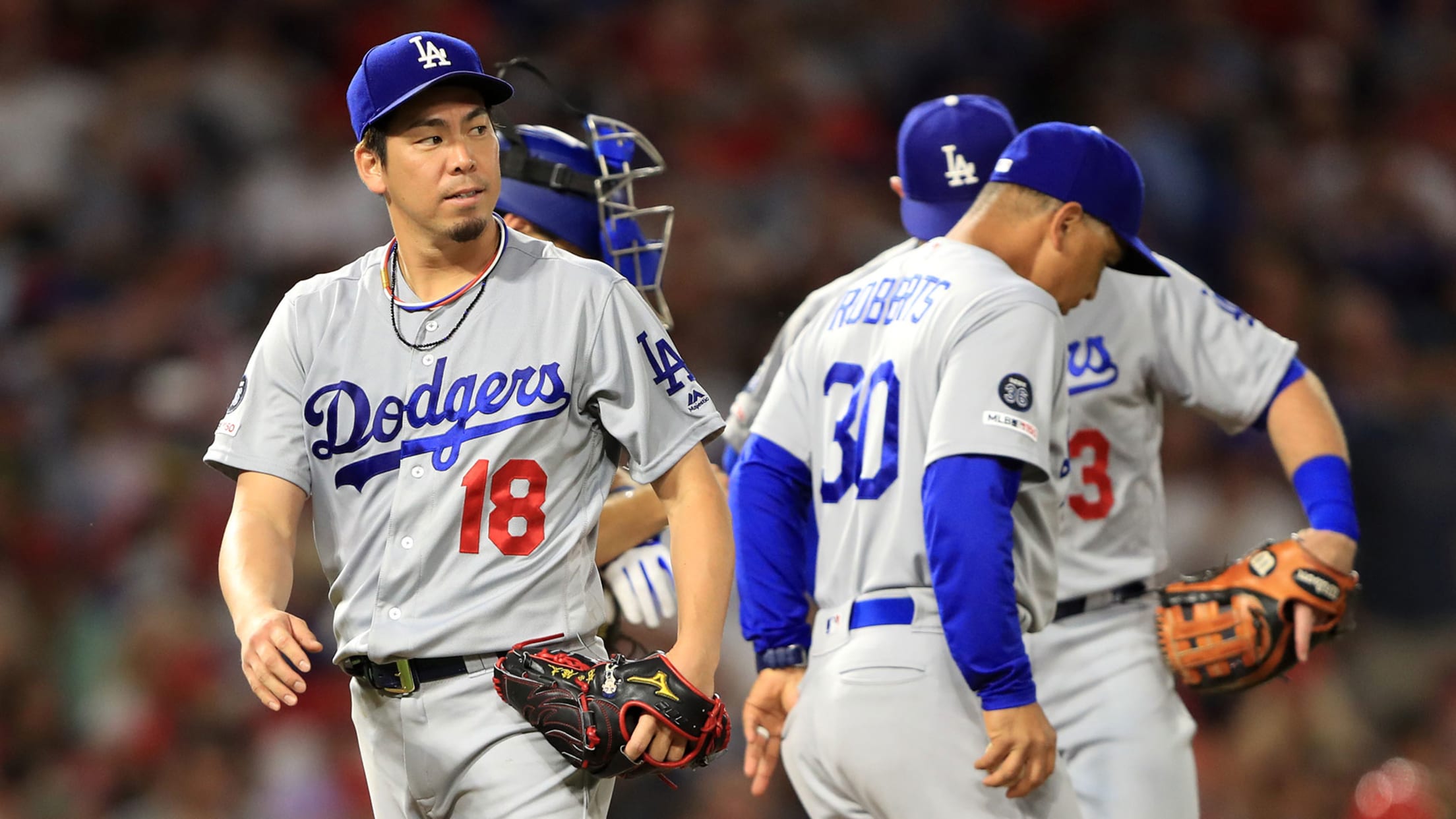 ANAHEIM -- The Dodgers lost a game, a series and a shortstop on Tuesday night. • Box score They lost the game to the Angels, 5-3, after Kenta Maeda was shellacked for five runs with two outs in the first inning, a deficit that even a pair of homers by
ANAHEIM -- The Dodgers lost a game, a series and a shortstop on Tuesday night.
They lost the game to the Angels, 5-3, after Kenta Maeda was shellacked for five runs with two outs in the first inning, a deficit that even a pair of homers by Max Muncy and one by David Freese couldn't overcome.
The Dodgers lost their first series since Apr. 29-May 1 and have lost four of the last six games. And they lost shortstop Corey Seager to a hamstring injury with an early unofficial estimate of four to six weeks on the sidelines.
All losses count the same, but this one caused enough angst that the media was locked out of the clubhouse for 20 minutes, time probably spent chewing over how the offense could go 2-for-13 with runners in scoring position and strand 15 runners in a game started by reliever Cam Bedrosian, who pitched an inning in Monday night's Angels win.
"Even with [Maeda's] start, we should have won that game," said Dodgers manager Dave Roberts. "We had a chance to win the game in the ninth inning and that's even, situationally, being bad tonight. Really bad. Over the last week to 10 days, we're seeing a lot of spin with runners on base and we're not adjusting. We're just not doing a good enough job."
The ninth inning opened with singles by Seager and Alex Verdugo, with Seager being injured as he was in motion to score and cut the deficit to one run. Instead, he pulled up hurt. Chris Taylor and Enrique Hernandez took third strikes and Russell Martin grounded out to end the game.
"In situations where we put a ball in play and we get a point, and we couldn't do it four times tonight," bemoaned Roberts. "We've got to be better."
Roberts said Maeda needed to be better as well. He had no issue with Shohei Ohtani's solo homer that started the rally and didn't even mention the three-run blast by Justin Bour that ended it. The at-bat Roberts focused on was a walk to right-handed hitter Jonathan Lucroy after Maeda hit Kole Calhoun with a pitch. Maeda made 36 pitches in the inning.
"The walk to Lucroy was a big blow," said Roberts. "That's a hitter, the way Kenta is throwing, right on right, he should get him out, nothing against Jonathan."
Roberts again focused on what has become a recurring issue with Maeda -- his reluctance at times to use his fastball.
"For me, I thought Kenta wasn't as aggressive as he's been when he's pitched well," said Roberts. "I say aggressive, when you're not going after guys with your secondary pitches and your fastball is non-competitive. He really didn't use his fastball. The second time through he was considerably more aggressive. You have to be able to trust your fastball at times to keep those guys off the secondary pitches. They were sitting soft and I think we played into it."
Maeda (7-3) didn't allow another hit, but he was removed after 4 1/3 innings with a pitch count of 97. He struck out four (including Ohtani) but walked three after issuing one walk in his previous four starts. He is the first Dodgers starter not to complete five innings since May 4, a run of 32 starts. Maeda had allowed 10 runs in his previous seven starts.
Maeda rejected the suggestion that the Ohtani home run rattled him.
"It was just a solo shot after two outs," said Maeda. "It didn't really affect me."
Ken Gurnick has covered the Dodgers for MLB.com since 2001.