Dodgers' Opening Day roster nearly set
Verdugo, Garcia, Floro, Ferguson make team; Roberts to add one reliever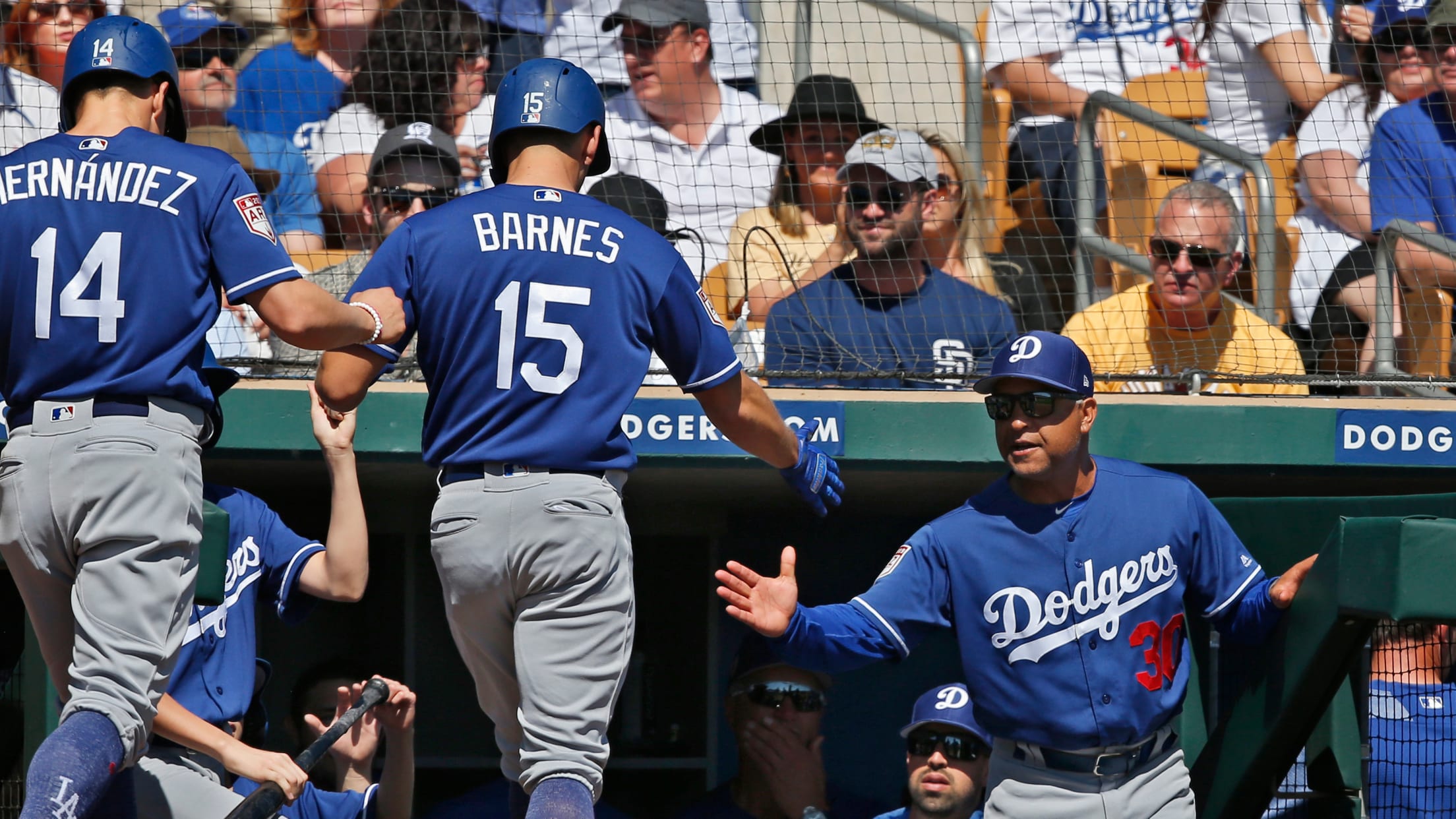 GLENDALE, Ariz. -- Except for uncertainty with the last pitching spot following Rich Hill's knee injury, the Dodgers' roster appears essentially set, manager Dave Roberts indicated on Friday. After Brad Miller opted out of his contract on Thursday, Roberts said Alex Verdugo, Yimi García, Dylan Floro and Caleb Ferguson had
GLENDALE, Ariz. -- Except for uncertainty with the last pitching spot following Rich Hill's knee injury, the Dodgers' roster appears essentially set, manager Dave Roberts indicated on Friday.
After Brad Miller opted out of his contract on Thursday, Roberts said Alex Verdugo, Yimi García, Dylan Floro and Caleb Ferguson had made the club.
So, it appears these 24 are defined:
Catchers: Austin Barnes, Russell Martin
Infielders: Max Muncy, Enrique Hernández, Corey Seager, Justin Turner, Chris Taylor, David Freese
Outfielders: Cody Bellinger, A.J. Pollock, Joc Pederson, Alex Verdugo
Starting pitchers: Hyun-Jin Ryu, Ross Stripling, Kenta Maeda, Walker Buehler, Julio Urías
Relief pitchers: Kenley Jansen, Joe Kelly, Pedro Báez, Scott Alexander, Caleb Ferguson, Yimi Garcia, Dylan Floro
One reliever needs to be added, preferably one that can go multiple innings, and Brock Stewart is as good a guess as anybody. Although Stewart was already sent down to the Minors, he will make Saturday's start in place of Hill, he's already on the 40-man roster and he has pitched long relief in the Major Leagues in the past.
Non-roster candidates still in camp include Tony Gonsolin, Stetson Allie, Kevin Quackenbush and Dustin May. Other pitchers on the 40-man roster already optioned are Dennis Santana and JT Chargois.
A sick feeling
The Dodgers scratched scheduled starter Gonsolin on Friday morning due to illness. He was sent to the Minor Leagues following Friday's 10-4 loss to the D-backs at Camelback Ranch.
In the game, Turner and Jeren Kendall homered. It was Turner's third home run and upped his average to .474 this spring. Santana, who made the start in place of Gonsolin, allowed three runs, including a homer to Adam Jones, in three innings, with five strikeouts and two walks.
Around the horn
• Pederson, who left Thursday's game with back spasms, was not in Friday's lineup, but Roberts said it was precautionary and that he expects Pederson to play all three games of the Freeway Series that opens on Sunday.
• Clayton Kershaw threw a bullpen session on Friday before leaving for Los Angeles. He will open the season on the injured list as he rebuilds arm strength after earlier shoulder tenderness.
Up next
Stewart makes the start at 12:05 p.m. PT on Saturday against the White Sox in place of Hill with a chance to sneak back onto the roster after having been optioned to the Minors on March 11. The game can be seen on MLB.TV.
Ken Gurnick has covered the Dodgers for MLB.com since 2001.